The SwingLogic SLX Golf Simulator is a game-changer for golfers to enjoy the game in a new way. It uses an optical swing sensor to capture and analyze your swing and a high-resolution projector or TV to display the game on a large screen. It is one of the best golf simulators for home TV.
SwingLogic SLX allows you to simultaneously improve your skills by having a realistic golfing experience. With its advanced technology, the SwingLogic SLX can accurately simulate real-world golfing conditions, including wind speed and direction, ball spin, and terrain. SwingLogic SLX Play is a product JS Youn created before joining Swing Logic.
JS Youn is an engineer who loves golf. He created a wearable golf training aid called Tittle X Play while working for ULIKE Co. Ltd. Now, he is the CTO of SwingLogic, where he uses his engineering skills to help develop technology for the golf industry. So, don't get puzzled by the terms Tittle X and SwingLogic SLX.
This article will review the SwingLogic SLX Golf Simulator, its features, benefits, and drawbacks, and help you determine if it's a suitable investment.
SwingLogic SLX Golf Simulator Review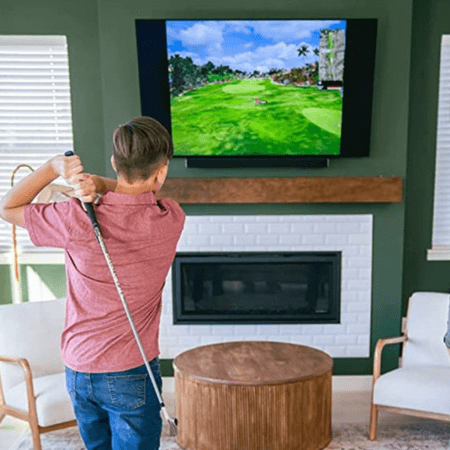 We reviewed many high-quality, low-cost simulators and published a list of the best golf simulator packages. SwingLogic SLX is the latest. We evaluated this simulator based on its quality, performance, features, and benefits. Finally, here is an in-depth review of the SwingLogic SLX golf simulator. 
Looks and Performance
The SwingLogic SLX Golf Simulator features an impressive, sleek, modern design. You can add a golf mat that has a realistic feel to have a more authentic golfing experience. Besides, it is compatible with large screens such as projectors and TV with stunning graphics, making you feel like you're playing on a real golf course.
The SwingLogic SLX Golf Simulator's performance is top-notch. It runs on a high-performance computer capable of handling the demanding graphics and calculations required for an accurate swing analyzer and course simulation.
The simulator's software is also highly customizable, allowing you to adjust settings like ball speed, wind, and course difficulty to suit your preferences. Additionally, the simulator is compatible with various gaming systems, including PlayStation, Xbox, and PC, making it easy to integrate into your existing setup.
Virtual Reality Experience
For an even more immersive experience, the SwingLogic SLX Golf Simulator offers virtual reality mode. This lets you feel like you're on the course, with 360-degree views and realistic sounds.
Accuracy of the SwingLogic SLX Golf Simulator
The SwingLogic SLX swing analysis accuracy is satisfying, especially when you compare it to similar price range products. Its most impressive feature is the SwingLogic SLX Golf Simulator's optical swing sensor. It captures the movement of your club as you swing, measuring critical metrics like clubhead speed, ball speed, launch angle, and spin rate.
The simulator's accuracy is further enhanced by its ability to simulate real-world conditions. It can also use advanced algorithms to calculate the ball's flight, considering factors like wind, temperature, and humidity. It offers a range of course options, including famous courses like St. Andrews and Pebble Beach, allowing you to practice on courses you may not have access to in real life. This data is then used to provide instant feedback on your swing and suggest improvements to help you play better.
Game Modes and Multiplayer Mode
The SwingLogic SLX Golf Simulator includes a variety of game modes designed for players of differing skill levels. Whether you're new to the sport or a professional golfer, there's a game mode for you.
The simulator offers standard modes, such as stroke play and match play, as well as fun and challenging modes, like target practice and mini-golf. The SwingLogic SLX Golf Simulator also offers a multiplayer mode, allowing you to compete against other players worldwide. You can challenge your friends or participate in online tournaments, adding excitement to your practice sessions.
Pros
It provides accurate data and feedback on their swings, ball speed, and trajectory, which can help golfers identify areas where they need to improve.
SwingLogic SLX Golf Simulator provides a realistic golf experience with virtual courses, hazards, and weather conditions.
SwingLogic SLX Golf Simulator can be an entertaining activity for families and friends. It offers a unique experience that combines technology and golf, making it a popular choice for parties and events.
Cons
SwingLogic SLX Golf Simulator requires regular maintenance, such as cleaning the sensors and replacing parts.
Phigolf vs SwingLogic SLX: Which Golf Simulator Is Better?
Phigolf and SwingLogic SLX are popular indoor golf simulators designed to help golfers improve their game. While both simulators offer similar features, some key differences can make one more suitable for your needs than the other.
Both simulators have received positive reviews from customers. SwingLogic SLX has a higher rating on average, indicating that it is a better choice for those looking for a high-quality golf simulator.
The choice between Phigolf and SwingLogic SLX comes from personal preference and budget. While Phigolf is a more affordable option that offers a variety of mini-games, SwingLogic SLX offers more advanced technology, a more comprehensive selection of courses, and the ability to play with multiple players.
Conclusion
SwingLogic SLX golf simulator is an excellent choice for enthusiasts looking for a high-quality indoor golfing experience. With its advanced technology, realistic simulation, and wide range of game modes and courses, SwingLogic SLX will provide hours of entertainment and help you improve your golf game. Let us know what you think of the SwingLogic SLX golf simulator.
We'd love to hear your thoughts and opinions on this product. If you found this review helpful, please share it with your friends and family who might also be interested in purchasing a golf simulator.