This post may contain affiliate links and we may earn a small commission for no extra cost to you.
This is how we keep NiftyGolf free. Learn more about our affiliate disclosure here.
Overhead launch monitors are a relatively new concept. And only a few brands have introduced such kinds of golf launch monitors. Uneekor is one of the top brands in this segment. The EYE XO is another top-performing overhead launch monitor from Uneekor. It is an upgraded version of the Uneekor QED.
When it comes to the ceiling mount launch monitor segment, the EYE XO is arguably the fastest, most precise, most sophisticated, and most data-filled ceiling mount launch monitor yet. But compared to all other golf launch monitors, how effective is the EYE XO?
We will be reviewing the Uneekor EYE XO and discussing its pros and cons of it in this article. If you plan to buy an Uneekor eye xo launch monitor for your indoor home golf simulator set, this article can help you make the right decision.
Uneekor EYE XO Launch Monitor Review
Since 2020, when the Uneekor EYE XO was first introduced, it has outperformed the uneekor QED for its hands-off experience for left-handed and right-handed golfers. Besides, it offers detailed ball and club data analysis features with enhanced video recordings of the moment of impact. More importantly, you can use this launch monitor without the marked metallic golf balls, unlike the Uneekor QED.
But using the eye xo outdoors is still a challenge. Due to the ceiling mount feature, it is hard to install outdoors. If you play golf outdoors too often then it would not be a good choice for you. However, if you are looking forward to using it indoors only, Eye XO's performance is very satisfying.
The Uneekor EYE XO has two ultra hyper-speed cameras with more than 3000 fps or equivalent. These camera sensors read ball and club motions directly and provide real-time footage. Here are the data that Unekor EYE XO can track:
ball speed
carry distance, total distance
distance to apex
side and backspin
launch angle, side, and total angle
angle of descent
clubhead speed
club path
smash factor
angle of attack
club loft angle, club lie angle
vertical impact point, horizontal impact point
dynamic loft
Technology and Performance
The Uneekor EYE XO uses Photometric technology in its launch monitors. Photometric technology uses cameras to continuously record the golf swing's motion and then analyze the data based on the photos. In this technology, they use different camera angles for better accuracy.
The photometric system launch monitors are better for indoor golf simulation. Because it provides precise data readings to a limited area. Besides the photometric technology, the eye xo golf launch monitor features infrared sensors. This combination provides fast and accurate results.
On the other hand, radar system launch monitors are a better choice if you love to use launch monitors outdoors and indoors. You can consider TrackMan or some SkyTrack models in this regard.
In addition, the EYE XO is compatible with simulation software such as the TGC2019, E6 Connect. Different software adds a different dimension to its performance. The combination of EYE XO View and TGC software offers over 100,000 golf courses to choose. It also lets golfers design their own golf courses. E6 Connect software comes with multiplayer game mode and world-renowned golf courses.
How accurate is Uneekor EYE XO?
The Uneekor eye xo generates more than 95% accurate data readings. The use of advanced technology like reflective clubface helps the device achieve such accuracy. Considering the ceiling mount launch monitor segment, the accuracy margin is good.
Space requirements
Being a ceiling mount launch monitor, the Uneekor EYE XO requires considerably more space than other portable launch monitors. Installing the EYE XO is a complex process. You can't install it alone, as you need someone to hold the launch monitor to attach it to the ceiling.
Therefore, the Uneekor engineers suggest mounting the EYE XO on the ceiling at a height between 9′ and 10.5′ and approximately 3.5′ behind the ball position so that you can swing freely with the ceiling mount implementation.
Difference between EYE XO and QED
If you know both the product features, you will find that there is not much difference between QED and EYE XO. Both the models have similar built quality, similar technology, and features, but the EYE XO costs $3,000 more than the QED. The differences are as follows.
The eye xo offers better video resolution than QED
You don't need any metallic marked golf balls to track the ball data
With the help of Swing OPTIX, you can enjoy multiple shot reviews in the eye xo model
The eye xo provides enhanced ball impact on the clubface
Compared to all other golf launch monitors, the significant difference is the lack of portability and user experience. In a similar budget to the eye xo, you can have launch monitors like foresight GCQuad, some other SkyTrak and TruGolf models which are very accurate and portable at the same time.
When it comes to software compatibility, the eye xo is compatible with TGC too apart from the golf simulation software.
Best Golf Simulator Packages with Uneekor EYE XO
Uneekor EYE XO launch monitor requires a reflective clubface sticker for tracking the data. Besides, the launch monitor needs a computer or laptop connected to it to provide the tracking results. Moreover, the EYE XO is a ceiling mount launch monitor. So you will require an enclosure including a hitting mat, side barrier netting, and impact screen to use the launch monitor properly.
In short, you need to have a golf simulator setup to use the EYE XO. For a better simulation experience with the EYE XO, you should have the best projector with one of the best impact screens that display clear images.
In addition, the best simulator package from Uneekor should have options to choose a variety of simulation software and an option to buy a laptop simultaneously. Here are our top picks: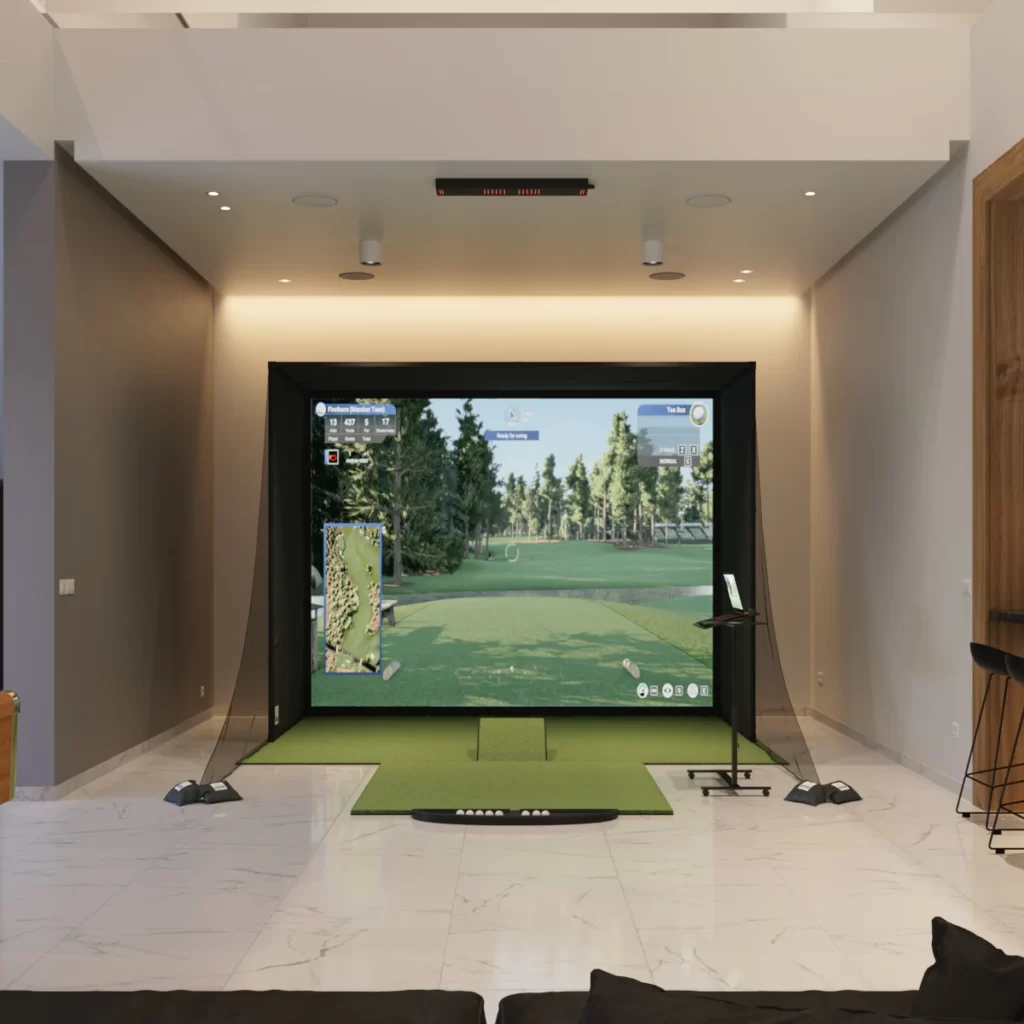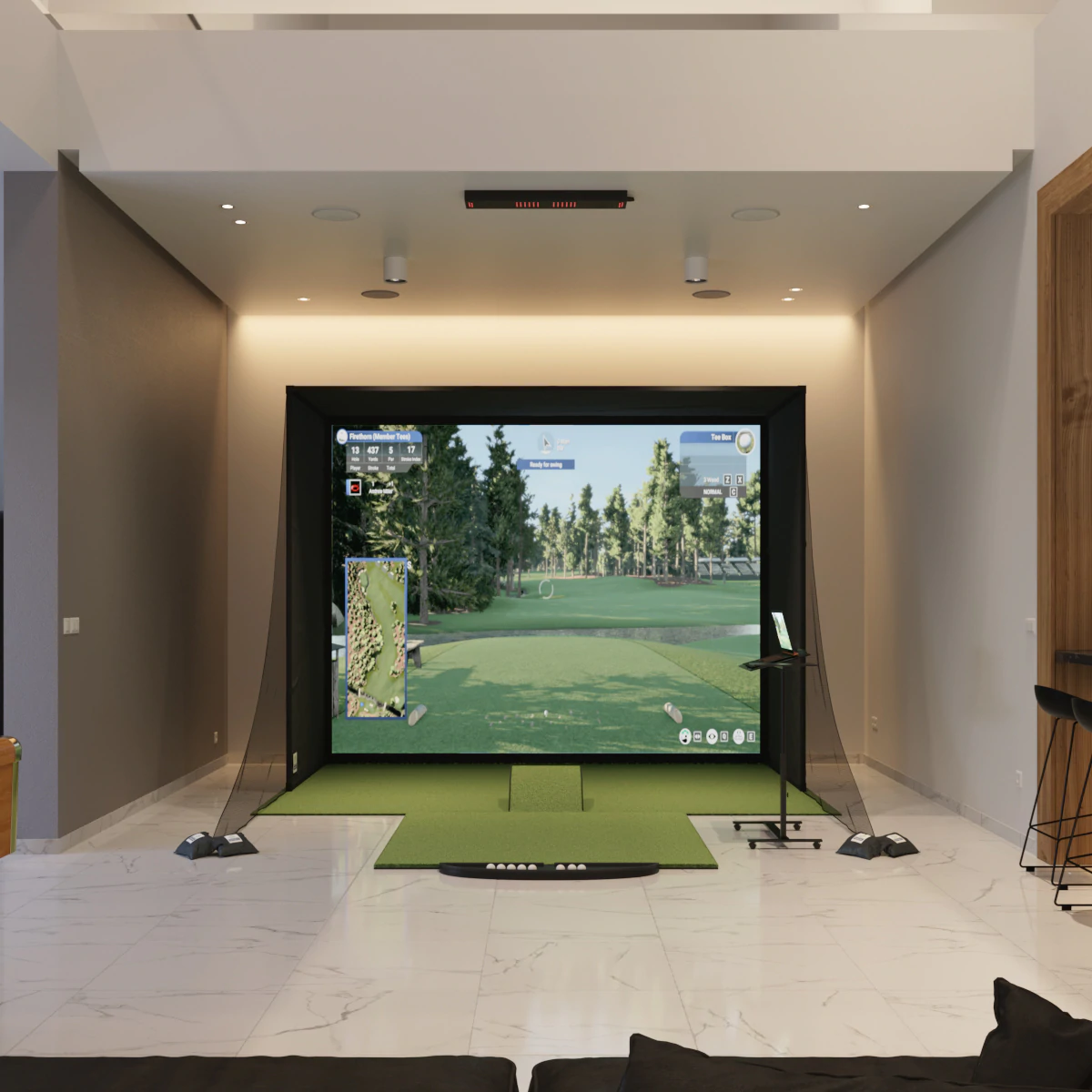 The package includes a Uneekor EYE XO Launch Monitor with a choice of golf simulation software, SwingBay hitting enclosure, Optoma 1080p HD Short Throw Projector. Besides, you will get a golf mat, side netting, and other accessories to install the launch monitor properly. You can also include a compatible laptop and laptop stand to connect and operate the eye xo launch monitor.
Based on your choice of software and hitting mat, this package can cost you between $16,700 and $20,000.
Check Price at Rain or Shine Golf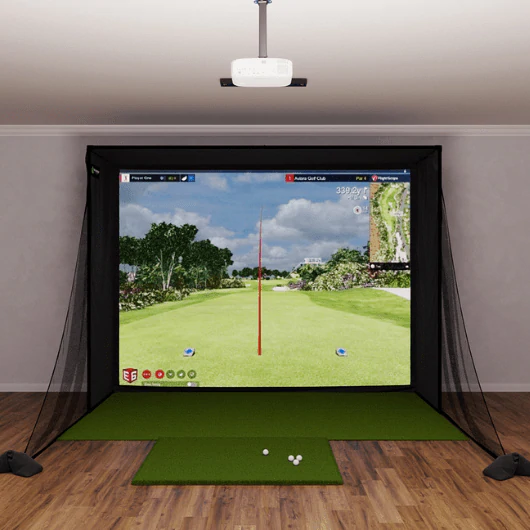 The SIG packages often bring the best combination for a golf launch monitor and provide you best results. For example, the Uneekor SIG12 package includes Panasonic VMZ50U Golf Simulator Projector and SIG12 Golf Simulator Enclosure along with Uneekor EYE XO Launch Monitor and simulation software. Unfortunately, there is no laptop or computer included in this package. So if you don't have any laptop or other device to operate the Uneekor EYE XO, you will need to buy one besides this package.
You need to have a minimum budget of $16,400 to buy this SIG12 golf simulator package. But SIG12 flooring enclosure and view+succeed software will cost you a total of $22,500.
Check Price at Shop Indoor Golf
Final Verdict
Uneekor has been doing well in producing top-quality ceiling mount launch monitors in recent years. We have reviewed their latest EYE XO launch monitor in this article. Considering the price and the performance, the EYE XO would be a better choice for golfers who love to use overhead launch monitors for practicing indoors.
We won't recommend the EYE XO if you are not fancy using an overhead launch monitor. The EYE XO can be a good purchase only for indoors and if you are ready to take the hassle of installing it. But the price needs to be revised. Let us know your experience with Uneekor Launch monitors.
If you want to learn more about other golf launch monitors, we suggest you read our review on the best launch monitors as well.