If you didn't born lucky to inherit a lot of lands or having a house right next to a golf course, then buying a couple of practice golf balls is the only option you are left with to improve your golf shots.
Practice golf balls are designed for use in a narrow space such as home or backyard. Training Golf balls are usually made of plastic or foam materials. So, you must keep a few critical notes about practice golf balls and its difference with a real golf ball:
Practice golf balls are designed specifically for use in a limited space
They weigh quite less than the real golf balls and will give you less traveling distance when hit.
Although they will not generate the same feelings as the real ones, a good quality golf ball will still mimic the actual shot.
They are not that durable and have their own drawbacks, yet let you practice without having worries about smashing your windows or damaging other objects.
You May Also Like: Best Golf Ball For Seniors
Having these notes in your concern, if you make up your mind to buy the best practice golf balls, then you might want to read further to discover how practice golf balls work to improve your golf shots; what factors you should consider while buying the best practice golf balls; and what are the best practice golf balls currently taking over the market.
Just one thing you need to bear in your mind till the end of this article and that is- you cannot compare them with a real golf ball, no matter what. So, let's continue!
Difference Between Foam Practice Golf Balls and Plastic Practice Golf Balls
The main difference between a real golf ball and a practice golf ball is the space where you are performing your shots with them. Practice golf balls are constructed with such features that you can use them in a more confined space without expecting any damages to the objects they hit. It makes it easier for a beginner golfer to practice at home, maybe in the backyards or even inside the house.
Practice golf balls are also most often designed to mimic the flight of a real golf ball. But, apparently, how accurately it would simulate a real golf ball will vary with the type of material the practice golf ball is made of. Considering the material, the practice golf ball can be classified into two categories: Foam and Plastic.
Though any of these two types of training golf balls will do just fine for indoor practitioners, the plastic and foam practice golf balls sometimes vary in durability, cost and the perfection of mimicry of their flight.
Durability
An essential difference between different types of plastic golf balls and foam golf practice balls is durability. Like some users of The Sand Trap, a renowned golfing site noted, plastic balls are often experienced to get cracked or smashed after several full shots of practicing.
Although deformation can be a problem in less expensive foam balls, it is known that some advanced models of golf practice balls, like the Almost Golf balls, have been noted to have a longer life in reviews.
This means that even though foam practice golf balls may cost a little more, they are more durable than the plastic practice golf balls, which is supposed to make them a better and long-term investment.
Cost
As with standard golf balls, there is a notable difference in the price of different types of training golf balls. For example, at the time of publication, at Dick's Sporting Goods, a pack of 18 plastic practice golf balls will cost $ 6.99, and therefore each ball will cost you about 39 cents per ball.
BUT! A pack of 30 foam practice golf balls from the same manufacturer will cost you $19.99, which means each ball is costing about 67 cents. On the other hand, the most advanced models of foam balls, such as the Almost Golf brand, can cost about $1 per ball, depending on the type and amount purchased.
Ball Flight Mimicry
One of the most significant areas where plastic golf balls and foam golf balls are different is the way it simulates the feel of a regular golf ball and its flight. As in the golf blog "On Par" of "The New York Times" points out that low-end foam and plastic golf balls are almost as close to regular ball flight, slicing or hooking if the swing results in a sliced or hooked shots.
However, one of the disadvantages of these balls is that they cannot create the same feeling about the impact as a regular golf ball, and their flight path can vary significantly from the proper ball flight path. This is one of the key advantages of using advanced foam practice golf balls with a compressed core, like Almost Golf Balls and many other brands as you would find in the next section below. It is such because they are able to replicate the feel better when the clubhead makes contact with the golf ball.
The 10 Best Practice Golf Balls for 2019
1. PrideSports Practice Balls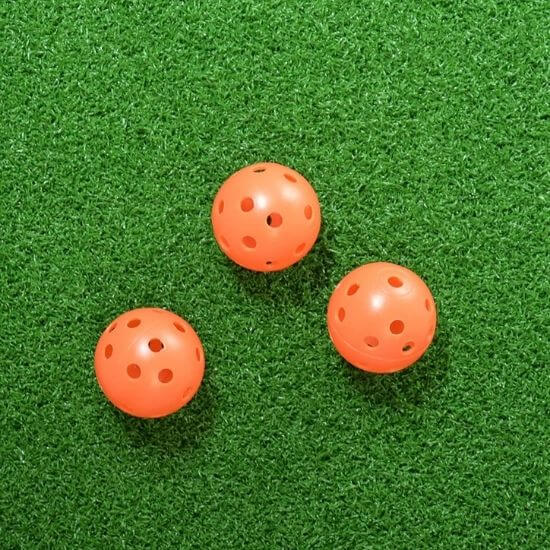 If you just don't want to spend your money over a practice ball then, PrideSports practice balls may be the best option for you. These training golf balls are made of soft dimpled foam. These balls are ideal for both indoor and outdoor practice. Soft materials make them safe enough to reach anywhere, as they will not hurt anyone or damage anything. The PrideSports balls fly straight up if you hit it correctly so you can get an idea of whether you are making good contact. They can also carry a reasonable distance if hit perfectly, so be careful when you make full swings!
PrideSports golf balls allow you to swing around indoors or outdoors. Lightweight PrideSports golf balls let you improve your impact wherever you want.
One drawback of these balls is that they are a bit soft for some golfers, so they lack a "real feel" of impact on the golf ball. However, they are still ideal for training your overall swing and maintaining your physical fitness at the time of the stop working. It is especially suitable for home practice on a rainy day.
You may also like: Putting Aids
Things we liked
Great balls for kids
Perfect for indoor or outdoor use
Great practicing tool
Better performance than most plastic practice golf balls
Dimpled foam
Can also be used to practice putting
Lightweight
Very spongy & soft
Won't harm your wall
Much cheaper
Things that can be improved
A little too soft for some golfers
Very lightweight for some golfers
Do not generate the real feel of impacting.
Less distance
Doesn't suit with a driver
Why PrideSports Practice Balls?
The PrideSports practice balls are light, but responsive in flight and are one of the safest golf balls. The ball flight is more realistic and resistant than plastic balls. It is also ideal for working on ball contact and grooving your swings.
2. SKLZ Impact Golf Balls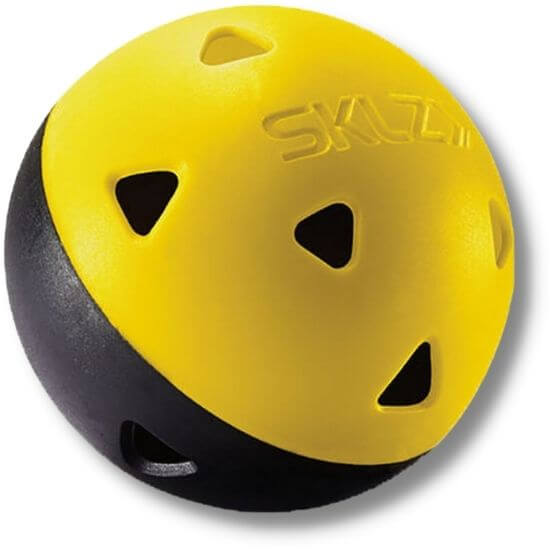 The SKLZ Impact golf balls look very solid, the response and ball flight work well with the short irons (PW through 7 Iron usually).
But most of its users complained that the " half black" side of the ball is disappointing since it makes it difficult for them to see the dark green grass. So, it seems like it would be better if they had made it a solid yellow golf ball with a different black bar instead of the colors of SKLZ Company need a glimpse on the ball.
However, these practice golf balls are good with wedges as well as short irons. So you better not use the woods or the long irons while doing a shot with these balls.
I would recommend you to use these golf balls while practicing baseball if you want to improve your hand-eye coordination. This way you would get used to the color contrast of these practice golf balls.
However, the best thing about the SKLZ training golf balls is that they have an excellent review of their durability. Many golfers even mentioned that they have been practicing with the same balls for more than 4 months. Isn't that an amazing fact?
These balls are definitely one of the best training balls you can ever use. They only travel at a certain distance, no matter which club you are using or how hard you are hitting them.
Things we liked
Constructed with pop-back technology intended to help ensure long-lasting use
The limited-flight design is excellent for everyday home-practice sessions
EVA cover material offers strength while resisting dents
Very durable
Safe to hit around house as ball doesn't travel much far
React like a real ball
Things that can be improved
Poor Impact Feel
Constant Flight
No Instruction Manual
Color isn't satisfying
A little bit disappointing flight pattern
Why SKLZ Impact Golf Balls?
Despite the little drawbacks, SKLZ practice golf balls are extremely durable for use and also worth the money. But make sure you have other balls in your tee bag for your longer clubs.
For Women: Best Golf Balls For Women
Check Price at PGA Tour Superstore
3. Crown Sporting Goods Polyurethane Plastic Golf Balls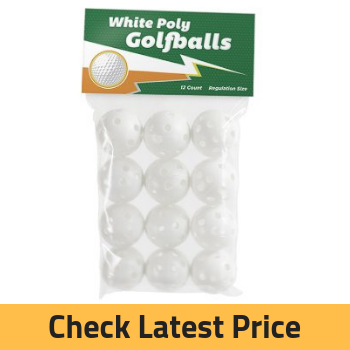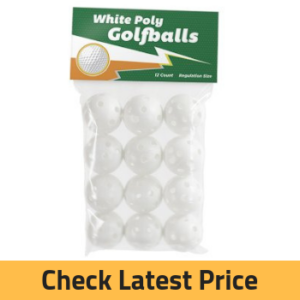 Golfing is all about practice. The more you practice your swing, the more you would be able to deliver a more perfect shot. And that's why the Crown Sporting Goods Plastic Golf Balls are on our list. Whether you are practicing at your home, backyard, or just at the golf range, this plastic practice golf ball will serve you very well to practice your swing and putter.
The thing that makes it worthy of being in our 10 best practice golf balls is its material quality. These training golf balls are made of highly durable material, polyetheramine. They are designed in such a manner with the best quality material that ensures the golf balls don't split or get cracked or damaged after multiple uses.
The Crown Sporting Goods practice golf balls are perfect for both indoor and outdoor use. Naturally, like an actual golf ball, these will not break your window glass or vase while practicing.
So, you won't have to worry about it.
Another surprising fact about this item is, if you are someone who is looking for the best deal at the cheapest cost for plastic training golf balls, then this item is definitely the best choice for you. The Crown Sporting practice golf ball is expertly designed that has passed the test of time. You cannot find any better deal for that cheap cost.
Things we liked
High-quality polyurethane plastic

Durable
Designed for both indoor and outdoor golf practice.
Great for everyday use
Protected from damage
Doesn't crack, split or smashed after multiple uses
Visibility is great.
Better accuracy for the symmetrical design.
Things that can be improved
A little pricey
Not as ideal as the traditional golf balls
Perhaps not the best practice balls for chipping
Why Crown Sporting Goods Polyurethane White Plastic Golf Balls?
If you consider the quality of the material and the price at the same time, then there is no other better option than the Crown Sporting Goods Polyurethane training golf balls. These balls offer you multiple uses without damage, firm use in both indoor and outdoor, better accuracy and the lowest price. What else do you need?
4. Callaway HX Practice Golf Balls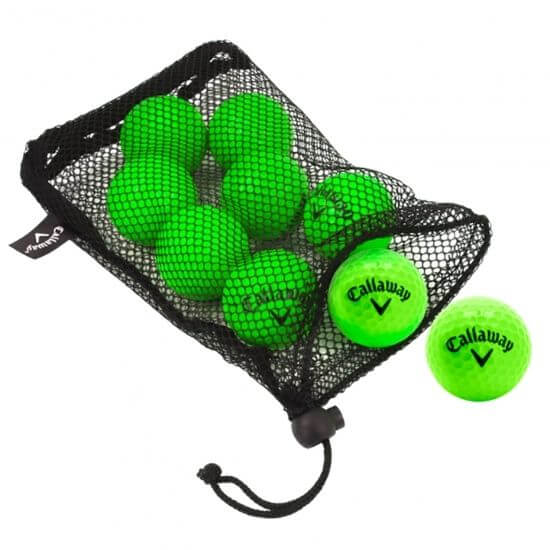 The Callaway HX practice golf balls offer sharp golfing. The Callaway HX practice golf balls are made of EVA high-quality foam, and they have been designed with a unique hex pattern to the surface of the Callaway practice golf balls. Such mode of a practice golf ball helps to simulate a more accurate ball flight of a real golf ball at scaled-down.
The HX foam practice golf balls come in different bright and vibrant colors so that you can find them very quickly.
The whole package of Callaway HX training golf balls comes with a carrying case for you. You can just grab it and head out to your golfing zone for your short or long game. These practice balls will allow you to control the distance it takes, which makes it quite handy for your shots.
More or less the Callaway HX training balls will allow you to achieve your expected flight with your balls, but it will not deliver the feel of a real golf ball. These foam practice golf balls will save things to get damaged if hit with the ball, but at the same time, it cannot act so properly as an indicator of ball flight as the actual golf balls would do.
Things we liked
Unique Hex Pattern helps to simulate the flight of a real ball
Bright and Vibrant colors help to find them easily
Convenient carrying case
Comes in pack & 9 pack sizes
Reacts like a real golf ball
Very durable
Soft, dimpled foam
Based on HEX dimple pattern
Things that can be improved
Flies high
A bit softer relating to the real balls
A little lighter for some golfers
A little pricey
Might be dangerous indoors without hitting into a net
Why Callaway HX Practice Golf Balls?
The Callaway HX foam practice golf balls are made of soft yet solid EVA foam that simulates pretty much accurate ball flight. If you don't really compare them with the real balls, then this can be an excellent choice for your backyard practice.
5. Almost Point3 Golf Balls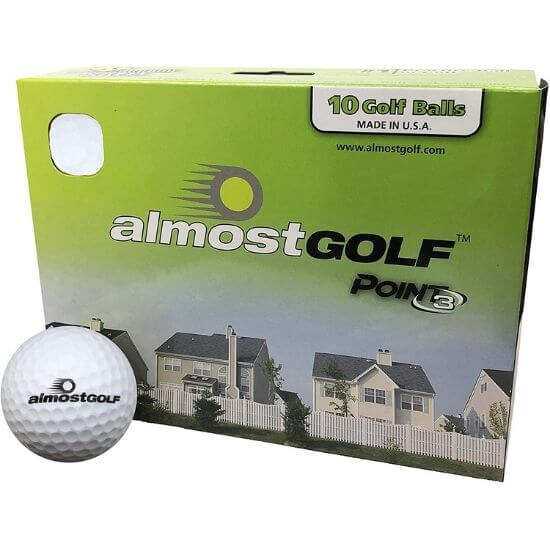 The Point3 golf ball is the first solid, limited, and limited-field ball that provides field performance on a secure golf ball. Play hollow plastic golf balls and foam ball balls as it contains a real trip and impressive accuracy for the golf ball. These balls float in water. It's one of the most realistic practice golf balls of AlmostGolf brand.
Perfectly balanced on the Point3 golf ball for proper rotation, track, and accuracy. The internal interior foam and inner pressure determine the value of a scale of 32, about one-third of the conventional golf ball. As a result, Point3 is slightly compressed in effect like a real golf ball, giving it a real "bob" with a stick face and long-lasting durability. But because of its basic construction, the Point3 is very smooth, making it safe in the backyard.
Beat it in a straight line, or slack. The real flight properties of Point3 allow you to evaluate the swing accurately, hit the ball, and follow your path. It is no longer necessary to guess whether you hit the ball well because Point3 responds as if it were real. These balls perform like real golf balls. You can use this ball anywhere you want as it doesn't cause any harm to the surroundings.
Golf balls are almost similar to the famous neon plate. They are nearly the same size as a regular golf ball, look like dew, bright yellow is very handy when they reach twelve and try to find them in the garden. Being made of a material similar to foam, it is obviously lighter and lighter than a traditional golf ball.
These balls weigh only 1.1 pounds and look very fly. You are able to connect/cut the ball with real ease. So the distance was beautiful. Not so short that I could not see the ball's journey … not so far that I had to walk a great distance to get it back! I hit a wedge from about 50-65 meters away. The P3 Golf Fund suggests that the driver must travel just over 100 meters. I did not try balls with my drivers, but I had no reason to believe that was not true.
Things we liked
Smooth ball flight
Better control
Best mimicry of real golf ball impact
Safe to use anywhere
Doesn't cause any damage to the wall
Configured to simulate true spin, trajectory, and accuracy
Very durable
Things that can be improved
Yellow color rubs off on everything they touch though, so colour should be brighter.
Perhaps not the best ball for putting practice.
If you use a driver or wood, you may require enough space.
Why Almost Point3 Golf Balls?
If you're looking for a realistic, realistic flight ball, it's obvious and does not break the glass of the house … Take a set of golf balls with you. It's relatively cheap, and I cannot understand why twelve of them have not lasted for at least a year.
6. The Floppy Indoor Practice Balls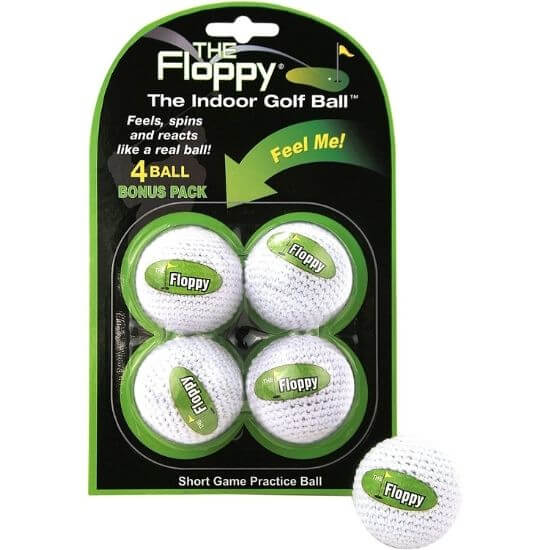 If you as a golfer are a fan of Phil Mickelson or just somehow read his "Secrets of the Short Game" then you are probably looking for the best practice golf ball that will allow you to groove a consistent hinge and hold. Well, this item- The Floppy Indoor Practice Golf balls have been enlisted for you guys, especially in our 10 best training golf balls.
If you use a carpet where you practice your indoor golfing, then the Floppy balls are more likely to react very close to an actual golf ball. These balls check-up very well, and they even can spin back a little bit as long as you are using a carpet. Therefore, whether you hit it high or low, you can predict its ball flight.
It's an undeniable fact that these balls are great for only indoor and practicing your short games. The Floppy Indoor practice golf balls have a bit more weight than the other practice golf balls. So, you better be careful while stroking it hard as it might do damage.
Overall Floppy practice golf ball is a cool choice for indoor golf practice. But you must make sure that you are using a golf mat or practicing on short grass to get the best outcome.
Things we liked
Gives excellent feedback while playing with a mat
Great for short games
Have a little weight that helps to act like a real ball
Great for indoor golf practice
Excellent durability
Doesn't cause any to the windows or walls
Can be used even in unfavourable weather
Things that can be improved
Fragile
Low flight and too many of spin
The flight path is not even close if you are not using a golf mat
Cannot be used in backyard
Loses shape with bigger clubs
Why Floppy Indoor Practice Ball?
Although the Floppy practice golf balls can be used for long games, you should not use it for that purpose until you get yourself a net to take full swings with the Floppy golf balls. But for the short game indoor practice, I would highly recommend this practice golf ball in particular because no other training golf ball will give you such feedback as the Floppy will.
7. Orlimar Golf 36 Practice Balls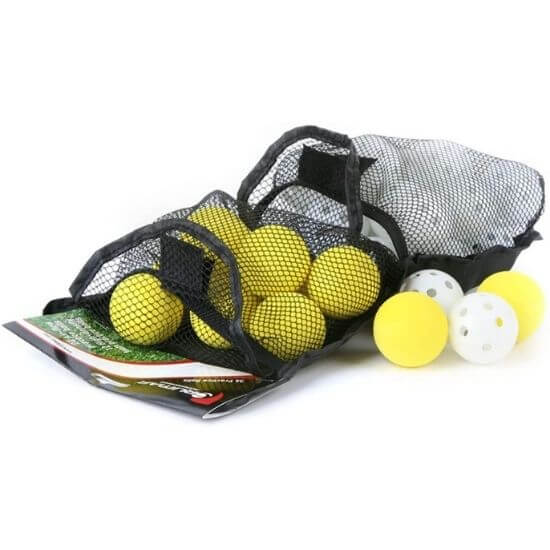 You want these cheap Orlimar golf balls packed in a giant pack of 36 to 24 plastic balls with air vents (wiffle balls) and 12 balls in high-density foam. You can use it from home and abroad and will definitely improve your swing without damaging the surrounding environment.
These balls are ideal for the rear yard because the distance is limited. Unfortunately, they sacrifice part of this "real feeling" and have no idea about the distance and path of the ball, especially in plastic balls "wiffle." But in general, they are excellent for practicing to swing at home and keeping fit during the winter months.
One drawback is that plastic balls tend to get damaged easily. However, you will only find 30 cents in the ball, you will not find golf balls is cheaper than these.
Things we liked
Great for practice swings within a limited space
Recommended for those who have short drive range.
Best practice golf balls for kids
Doesn't break anything precious
Safe to practice both indoor and outdoor.
Can be used in backyard
Very lightweight
Made from durable materials
Gives good distance & height
Affordable
Things that can be improved
Fragile
Too light for some golfers
Won't fly on true
Slightly too small
Why Orlimar Golf 36 Practice Balls?
If your practice tee has a limited launch area and you need a training golf ball having just a limited flight, then Orlimar golf 36 is the perfect one you are looking for. Despite the fact that these practice golf balls are a little fragile, they are super affordable. So it's still a great deal!
8. Intech Golf Foam Practice Balls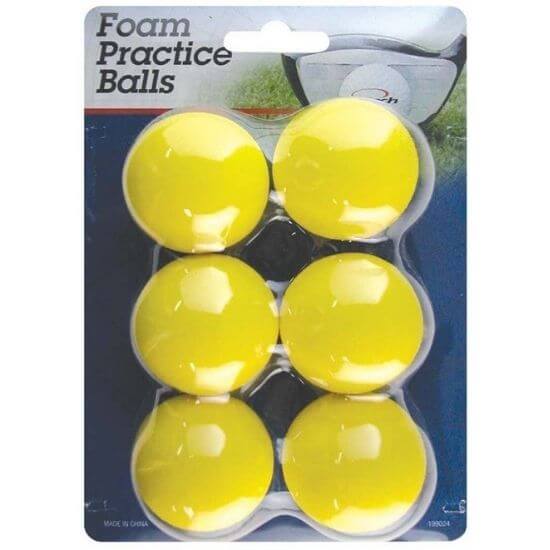 Intech Golf represents the best quality at affordable prices on all types of golf equipment. Golf balls, clubs, gloves, tees, complete sets of golf or training kits: Whatever your golf requirements, Intech Golf will satisfy. Golf balls are one of the best-selling products among all golf products and accessories promoted by Intech. You can choose from several types of Intech practice golf balls, which are distance balloons, training balls, standard balls, women's balls, and recycled balls.
Intech training golf balls with a thin cover and high power core for long distances cover with perfect degree and accuracy around the green. Its 432 dimple pattern based on advanced aerodynamics is responsible for the excellent flight of the ball. The soft material of the ball cover is reactive and powerful. The high-definition and clarity Intech golf balls are rugged and ideal for tour performance.
Intech golf balls are available in foam and solid. They are also available with holes. Foam balls are safe to play at home or in the backyard. You can choose between the holed version and the foam version of the balls. Solid balls are available in one pack or 12 balls. They offer you a color choice to make between pink and white. These golf balls are suitable for children to practice in the backyard. Do not worry about accidents or fractures, because they are made of high-quality plastic.
Things we liked
High-quality foam
Offer you both holed version and foam version
No Damage or accidents
Perfect for tour performance
Safe way to play indoors or out
Long lasting
Things that can be improved
Wind affects the ball flight quite a bit
Doesn't show the spin well
Restricted flight and bad shape
Only perfect for chipping
Why Intech Golf Foam Practice Balls?
Intech Golf foam practice balls are the better version than its plastic version, and they give you quite an enjoyable golf practice in your backyard. Why not give it a try?
9. MAXZOLA INC Luminous Night Golf Balls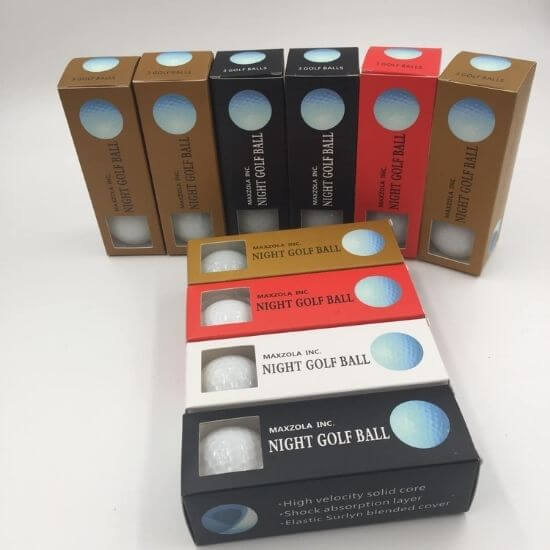 The Maxzola LED night golf balls are the best option for those golfers out there who cannot make time for their golf practice in the daytime. These LED night golf balls come in different vibrant colors like blue, pink, red, and multi-color flashing lights which allows you to find them very quickly and even observe the ball flight yourself.
For any golfing enthusiast, the Maxzola LED practice golf balls are a must-have item for its brilliantly shining light.
After each hit, these rechargeable practice golf balls continue to glow for 7 to 8 minutes which is crazy. No other luminous golf balls will offer that great glow. The exciting thing about this night practice golf ball is that you can charge it either with a charger or with the sunlight.
The Maxzola night golf balls for practice come with a regular size and diameter and simulate the real golf ball flight quite well. These 45g weighing practice night golf balls might feel a little hard and heavy for some golfers whereas many users like it well for the weight.
Things we liked
Comes with intelligent LED chips
Moderate weight
Impressive 48 hours battery life
Two-way recharging system
Great durability
Easy to play at night
Satisfaction guarantee
Less expensive
Performs like a regular golf ball
Fun to use
Can be used over & over
Things that can be improved
Slightly heavy and hard
Battery in the flashlight doesn't serve well
Doesn't stay lit
Not much brighter like LED styles
Doesn't glow long enough
Why MAXZOLA INC Luminous Night Golf Balls?
With an impressive long-lasting battery life as well as intelligent LED chips, the Maxzola Luminous practice golf balls will allow you a more accurate swing for your nighttime practice. Apart from all the technical features, these balls are very fascinating to work with.
10. SKLZ Limited-Flight Practice Golf Balls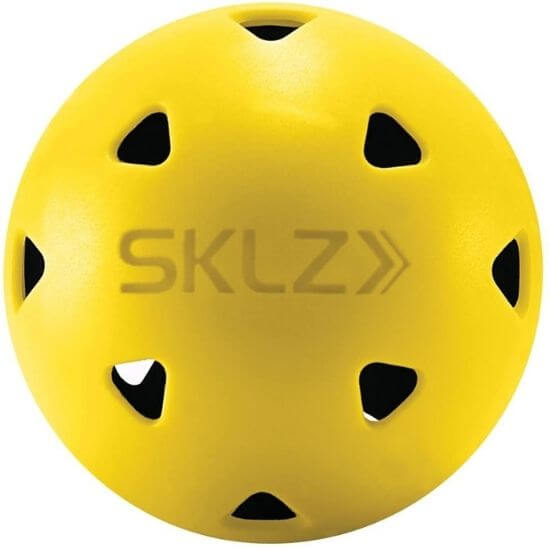 Don't go over the title 'MINI' of SKLZ Mini plastic practice golf balls. These mini golf balls perfectly work for the batter of any age. Its bright yellow color makes them highly visible in the ground.
These mini practice golf balls are lightweight so they will not damage anything at your home or backyard. The SKLZ mini plastic practice golf balls have been reviewed much time as durable ones which can withstand multiple beating.
These mini-training golf balls are perfect for your kids practicing in your backyard. However, so far, these balls have achieved an excellent reputation for its instant feedback and well mimicry of an actual golf ball flight. So you might also want to give it a try.
Things we liked
Mimic very well of the real golf ball flight
Gives you perfect swings
Great for backyard practice
Good for kids
Durable
Very lightweight and never breaks
Less expensive
Highly Visible
Improves hand-eye coordination
Things that can be improved
Smaller in size
Dent very easily
Color should better
a little harder to hit over
Why SKLZ Mini Practice Balls plastic?
It's an indisputable fact that if you are someone having an issue with the smaller size of a practice golf ball then better simply avoid this item. But if not, then you are more than welcome to give it a try at least. You are going to love it!
FAQ To Know About Practice Golf Ball
How do I choose the right practice golf ball?
While other factors, such as the number of losses and price are considered, the different construction material of golf balls means that it is technically possible to get one to improve performance. So we recommend that you have a golf professional or advise you if possible and if not, then you should try out a few different brands and different materials of the practice golf ball.
What does the Reason for the Golf Balls have Dimples?
The reason that golf balls have dimples on the surface is to do with endurance. The moment you hit the ball, it slows down. The well-beaten golf shots push the ball around 120 miles per hour across the air, and the humidity and pressure work well in the air and slow down the ball.
The reason that golf balls have dimples on the surface is to do with endurance. The moment you hit the ball, it slows down. The well-beaten golf shots push the ball around 120 miles per hour across the air, and the humidity and pressure work well in the air and slow down the ball.
The less space you have on the golf ball surface, the less the area must be affected by air. Golf dimples affect the air molecules that affect the flight of the ball. The dimples make the ball roll and bounce around creating air turbulence on the golf ball surface.
Are Lake Balls As Good As New?
Lakes balls look like an attractive investment, but are they as good as new ones? Well, the answer is a "NO."
Water impact tests were conducted on balls that settled on the bottom of the lakes and found that the balls that spent time in the water traveled less than the new water, or merely the dry golf balls.
How golf are balls X-Out different?
X-Out is factory overruns or golf balls with aesthetic flaws, but they are also entirely new compared to the buckets of the lake or used balls in some shops. Those who have company logos or brand names are the best in the group, where new balls should not have flaws.
How To Buy The Best Practice Golf Ball
If you want to improve your golf swing, you should train yourself to hit many golf balls. Unfortunately, you may not always have the time for practicing on a golf course. However, there are plenty of options in the market nowadays for various practice golf balls which can help you practice at your home or in your backyard.
But before you go and pick one for your golf practice, you certainly need to know about the fundamental difference between a real golf ball and a practice golf ball.
The practice golf balls are designed for use in narrow spaces. They weigh quite lighter than a regular golf ball and also they cannot travel that far like a real golf ball. You must not expect the feel of a real golf ball. But still, high-quality training golf balls still mimic the feeling and confusion of hitting a real golf ball. Some of these can be used indoors.
To make the best choice for a practice golf ball, you need to consider some factors before purchasing any. Here are the factors you need to consider while buying a practice golf ball-
Material
Making a perfect golf swing requires repetition to strike the ball accurately. Practice golf balls are designed in a way that allows you to work on a swing in smaller rooms, like the backyard, garden, or indoors. The most practical golf balls are made of plastic or foam. Although both can be used, there are differences in the sensation and cost of different types of golf balls.
Plastic practice golf balls tend to be cracked after some shots whereas foam practice golf balls are sometimes very soft to hit upon. Both materials have their own drawbacks, but with better quality, both can perform well once you learn which one is suitable for your shots.
Price
Many factors must be taken into account when choosing a practice golf ball, and the price is one of the most obvious. You may have to pay between $0.50 and $4 for practice golf. For some of you passionate golfers, it may not be a fact to care about the price, it can be a crucial factor for others since you will use them for practice.
If you think your options are limited by the price, we would suggest you check out the golf balls used. There are a lot of sites that sell high-quality golf balls for a fraction of the new price. Another option for you can be looking for offers in previous models. While there are improvements from year to year, they are generally modest.
There is also an expanding market for companies that produce excellent balls at prices much lower than those with big names. You might have found some of those in our best practice golf ball review list above already.
Dimpled Surface
When it comes to golf ball covers, if the cover is made of urethane then there is everything else. But since practice, golf balls are not as defined as the real ones. So, when you are thinking of buying plastic golf balls or foam golf balls, you should have a check whether they have dimples on the surface. Dimpled practice golf balls will help you make a better shot.