You must get annoyed when you see your brand new golf balls in mud, ponds, or bushes. Well, who won't! But at the same time, no one would want their stylish golf shoes to soak in water, mud, or sand. You may get scratches, too, if you put your hand in the bushes. And just leaving that golf ball and starting with a new one is a too expensive habit to fall into.
A golf ball retriever can be the best solution in situations like these. There are lots of golf ball retrievers available that will fit in your golf bag along with the other golf clubs. And some retrievers are so compact to even fit in a pocket. So, we analyzed several ones and picked the 10 best golf ball retrievers based on their features, performance, quality, durability, experience, and even analyzed the reviews posted by customers. Hope it helps!
10 Best Golf Ball Retriever Reviewed
1. Callaway Golf Ball Retriever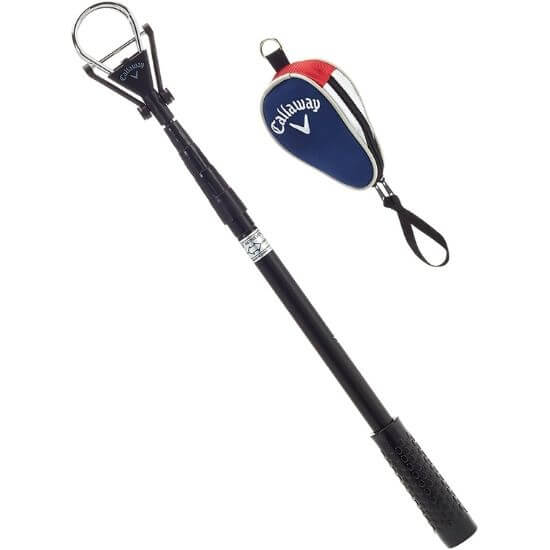 The Callaway Pocket and Ball Retriever comes in with 2 different size extenders. One is a 15' length, and another is a 6' length. When it is covered with a dual zip headcover provided with the package, it looks just like another club and fits in your bag.
In addition, the ergonomic sure-grip used in this ball retriever makes it easy to hold the ball. Moreover, it comes with a unique head design that looks like a pair of tongs. As a result, you need to press it lightly to get the ball inside.
Stainless Steel mechanism and aluminum alloy ensure quality and flexibility. It also helps to minimize bending when it's fully extended. And the pocket version fits nicely in most bag apparel pockets.
Things we liked
It has an Ergonomic sure-grip
Stainless steel retriever mechanism ensures durability
The handle comes with a dot pattern to prevent it from slipping
Looks like another club when covered
Things that can be improved
It is comparatively heavier
The top part may break after a few uses
2. ProActive Sports Retractable Golf Ball Retriever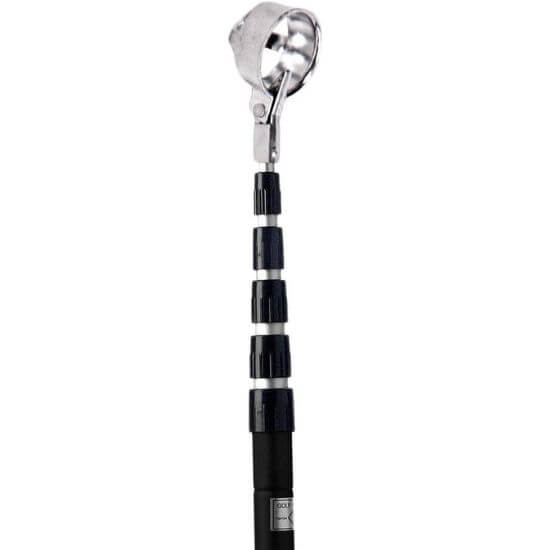 ProActive Sports has made an easy-to-use hinged cup ball retriever. It allows you to retrieve your ball from hard-to-reach places like bunkers, water, and small trees where you can't put yourself in. The telescoping pole mechanism of the hinged cup retriever is effortless to use, ensuring your reach to the ball in almost any situation.
It just traps and secures the ball. The lightweight design makes this retriever easy to use and carry. You will find this retriever in 3 different sizes of 12 feet, 15 feet, and 18 feet extended poles.
Things we liked
Hinged cup design easily traps and secures the ball
The telescoping pole extends to 12 feet
Comes with lightweight aluminum tubing
It has a rubber Handle
Things that can be improved
3. IGOTCHA Golf Ball Retriever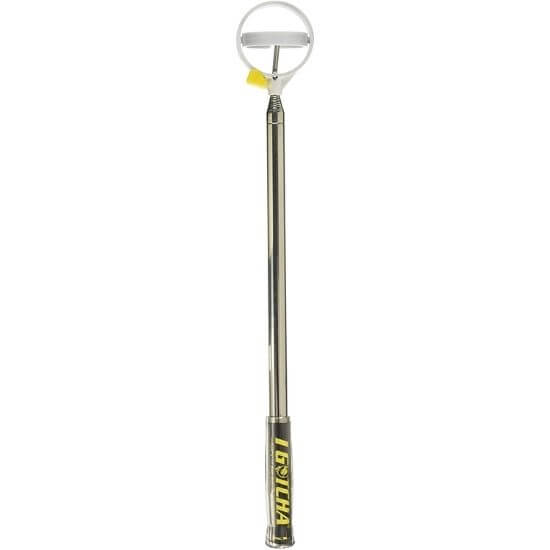 IGOTCHA is famous for its patented shafts, head designs, and easy locking devices. And it weighs only 10 ounces and hides in the side pocket of the bag. This is one of the best-selling models for its convenient portability.
This ball retriever from IGOTCHA has a compact design; its telescoping shaft design collapses to less than 21 inches and stores easily in your golf bag but can reach a maximum of 14-foot distances.
Things we liked
Patented stainless steel shaft makes it last longer
It has a compact design with a telescoping shaft
Comes with a spring release-ready head and locking clip
The compact design collapses to less than 21 inches and stores easily in your golf bag
Things that can be improved
The shaft bends too easily
4. ProActive Sports Super-Lite Golf Ball Retriever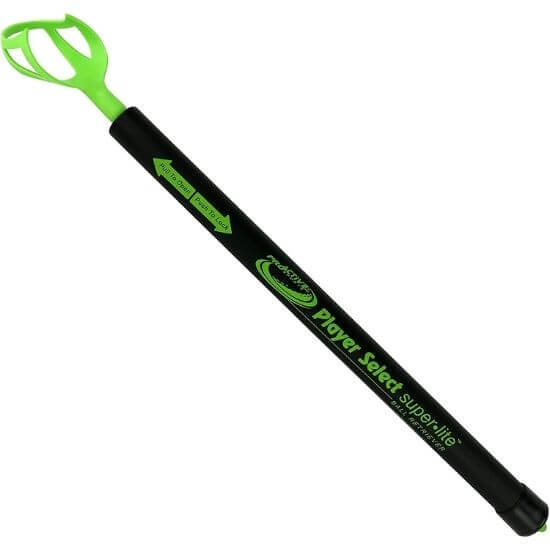 The Ultimate Golf Ball Retriever from ProActive Sports is one of the lightest golf ball retrievers in the market, weighing only 7 ounces, with a ball locking head design feature. In addition, the push-button release unlocks the shaft to extend up to 9 feet, while the high visibility neon-green head makes seeing dark places much more effortless.
Moreover, the unique head with push button shaft lock and release system securely captures the ball to be effortlessly retrieved. It is made of fiberglass instead of heavy metals to ensure quality and durability despite being lightweight.
Things we liked
Fits in your golf bag
High visibility of head makes it easier to retrieve golf ball from underwater
Comes with push-button shaft lock-release
It is non-corrosive
Fiberglass construction makes it light in weight
Things that can be improved
9 feet long is a bit less than other retrievers in the market
5. Search and Rescue Retriever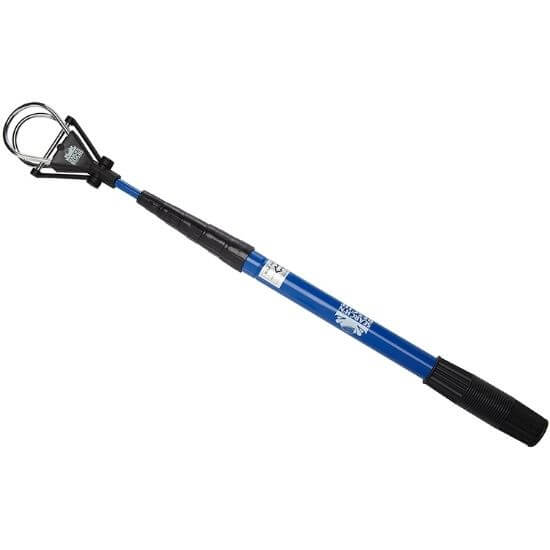 You can recover the ball by placing your retriever head over the ball and lifting it. Thus, one of the easiest ways to recover a ball mechanism was introduced by Search and Rescue. It is constructed with durable stainless steel rings and a weather-resistant powder-coated aluminum assembly.
The head is made with rings and a lock bar. You can easily grab and get the golf ball with it. The dual zip headcover protects the retriever head and makes it look just like another club in the bag.
Things we liked
It has a unique head design with stainless-steel rings and a lock bar
It is comparatively lightweight
Comes with a dual zip headcover
Things that can be improved
6. Search 'N Rescue Stretcher Golf Ball Retriever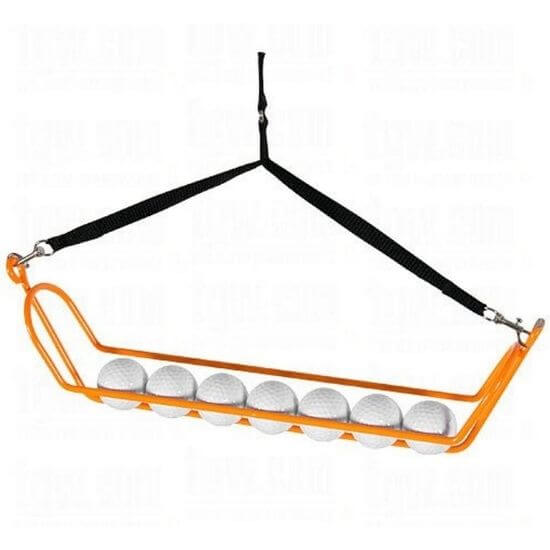 The Rescue Stretcher Retriever by Search 'N Rescue is one of the longest retrievers ever, with its 35-foot. In addition, it comes with a heavy-duty nylon cord. This design has an 8 ball capacity so that this head can make quick work of any pond.
You just need to drag the head back toward you by pulling the cord to retrieve the golf balls. The orange-colored head is highly visible even underwater. Moreover, you can store this retriever easily in your golf bag.
Things we liked
Offers high visibility with orange-colored head
Can retrieve many golf balls at a time
It can be easily stored in the golf bag side pocket
Things that can be improved
It is a bit difficult to use
Not very sturdy
The clips may not last long
7. Stainless Telescopic Extendable Golf Ball Retriever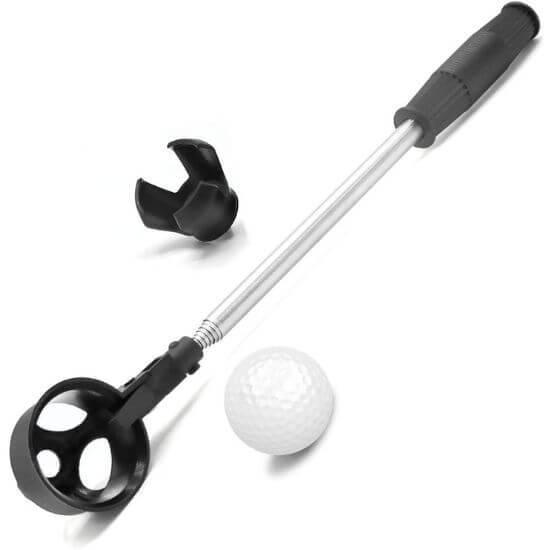 Just as its name says, Stainless Telescopic Golf Ball Retriever comes with a telescopic stick made of stainless steel. It makes it non- rusting even though it is immersed in the water. Despite being made of steel, it is comparatively lightweight. In comparison, the metallic look of the stainless steel shafts matches your golf irons.
The retriever can grab the ball on the ground easily without making you bend over to retrieve the ball. In addition, the automatic locking mechanism on the head prevents the golf ball from being dropped while recovering. Moreover, it comes with a non-slip handle design to offer you a good grip on the retriever.
Things we liked
It has a telescopic design
Lightweight but strong enough
Comes with Automatic Locking Scoop Cup Design
Can be used with golf putter clubs
Things that can be improved
The head design may make it a bit difficult to use
8. JP Lann Golf Ball Retrievers
JP Lann Golf Ball Retriever features a telescoping shaft design that makes the retriever easy to carry. You can extend it up to 15 feet when needed. In addition, it is constructed with a black anodized aluminum shaft to ensure its durability and quality. Recovering a ball with this retriever is as easy as you like.
It traps the ball and will not fall out until turned upside down. The orange head remains very much visible even underwater. 2 variants are available for this retriever. The other is with a hinged cup.
Things we liked
It has a telescoping design
Comes with a Black anodized shaft
EZ-View orange pressure head increases visibility
It has a rubber handle
Things that can be improved
The Push-button feature could have been better
9. Golf Equipment 2M Golf Ball Retriever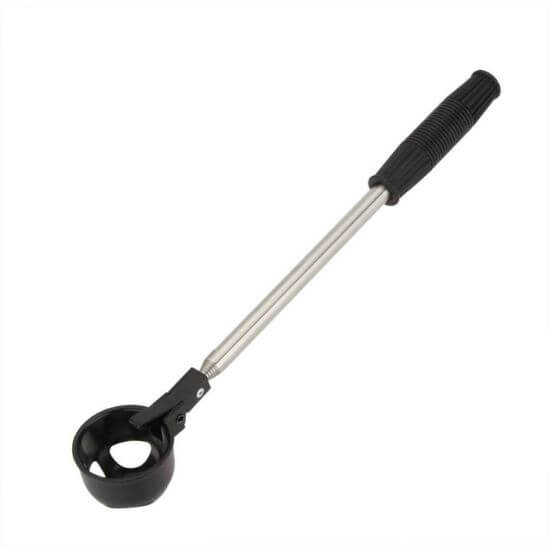 The golf ball retriever from Bleou helps to recover your golf ball or any other similar size balls from anywhere; no matter whether it is in a pond or beyond a boundary fence. The ball retriever features a telescopic design shaft, which can reach a max distance of 2m.
The quality of the product is ensured with a stainless steel shaft which makes the ball retriever lightweight and strong. In addition, the automatic locking device on the scoop prevents the ball from being dropped on retrieval.
You will get an easy holding with its comfortable handle grip. And it turns into a compact size when folded to fit easily into a soft bag. It is available in 2 colors. However, for blackand silver, choose the best according to your preferences.
Things we liked
It has a stainless steel shaft
It is comparatively lightweight and strong
The automatic locking system makes it easier to retrieve the ball
Comes with a comfortable handle grip
Things that can be improved
It is flimsy and unstable
10. Pelican Golf Ball Retriever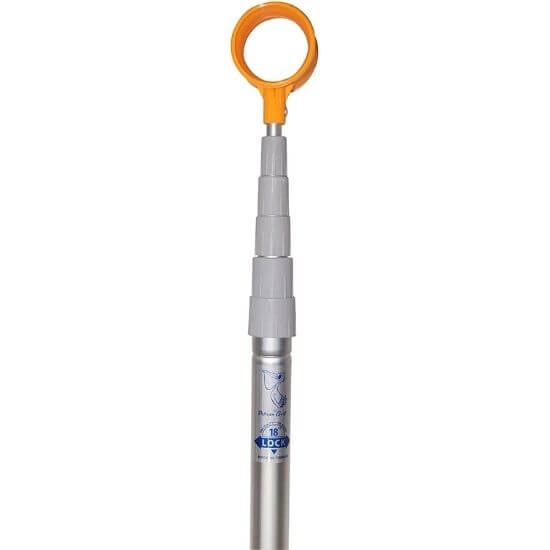 Pelican golf ball retriever is constructed with an aluminum alloy shaft which makes this retriever as lightweight as only 1.6 lbs. The yellow nylon cup on top looks great and helps you know where the retriever is directing to, even underwater.
The handle is comfortable as well. And it comes with a telescopic design that allows you to adjust the length of the retriever up to 18 inches. Moreover, it is available in 3 sizes of maximum length 12′, 15′, 18′.
Things we liked
It has a Yellow Nylon Cup to offer increased visibility
Available in 12 and 18 Foot Maximum Length
Aluminum Alloy Shaft ensure durability
Things that can be improved
The cup keeps rotating
It's a bit flimsy
How to Choose the Best Golf Ball Retriever
Shaft length and head design are the first things you should consider while choosing the best golf ball retriever. And then, you need to choose the suitable top, the yellow nylon cup material, and handle design to ensure increased comfort, durability, and stability. So let's get down to it to have a clear concept.
Head design
The purpose of a retriever is to grip the ball and get it securely to you. Thus, the head design is the first thing to look at. Of course, the ideal type of head for you depends on the type of golf course you usually play on.
For example, if you play on a golf course with many ponds, then a raked design is a good choice for you. That helps to get many golf balls out of the water hazard at a time. But it doesn't hold the ball tightly. In comparison, the one with a spring release head design holds the ball tightly while getting it out of the hazard. But usually, it can retrieve only one golf ball at a time.
You also need to check the color of the head. Colorful heads come in handier while retrieving golf balls from ponds as they are more visible.
Shaft length
Size does matter for a good ball retriever. If you have a ball retriever with a short length, you won't be able to reach balls deeper in hazards or ponds. The longer the shaft, the greater your chance to retrieve your ball.
The shaft length options of a golf ball retriever are usually 6 feet, 9 feet, 12 feet, 15 feet, or 18 feet. Sometimes it has options for a 24 feet long shaft too. However, for playing on most courses, a retriever with a 9 feet shaft is usually enough.
But if you play on a course with many bushes and deep ponds, it is better to go with those with a shaft of 12 feet or longer than that. The longer the shaft is, the more balls you can retrieve from ponds and bushes.
Handle
Choose a retriever with a comfortable and anti-slip handle. A golf ball retriever with an uncomfortable grip design or who can slip easily will cause more problems for you. The retriever itself may fall in water, sand, or bushes. So, the handle is also an essential factor to consider. A handle with a rubber grip is easy to clean and comfortable to hold. Look at the pattern of the grip as well. The one with a dot pattern or line pattern stops the retriever from slipping away.
Stability
Here stability means, when the retriever is extended to its full length, does the ball retriever bend so much that it may break anytime? So again, you should be looking towards those retrievers that are lightweight. But remember, they tend to bend more and are less durable than heavier options. In comparison, the heavier ones are more durable and bend less. But the problem is that it will add more weight to your club bag. Find a comparatively lightweight and sturdy retriever.
Material
As a golf ball retriever is mainly used to get the golf ball out of the water hazard and mud, it is essential to choose a non-rusting material. Or, choose one with a non-rusting coating. That will make the retriever last longer. Aluminum, alloy, stainless steel, etc., are good options for the material of a golf ball retriever to get a heavier retriever for more stability. While the retrievers are made of plastic, fiberglass is lightweight and rust-resistant.
Frequently Asked Questions
Why do you need to buy a golf ball retriever?
You need a golf ball retriever to save yourself from the frustrating chase behind the golf balls. And also from the annoying feeling when you have to leave your golf ball in the water. It's not compulsory. It's just good to have one to let yourself enjoy the game a little more.
It's a waste of a lot of your time on the course that you paid for playing, not for chasing golf balls. If you have the luxury of hiring a personal caddy to chase the runaway golf balls, you may not need a retriever. However, quality golf balls are expensive. Losing golf balls on the course is like throwing money away. It feels really bad. So, if you are tired of spending money because of losing balls and bending over and wearing your back out, it is high time to own a golf ball retriever.
How does a golf ball retriever work?
Ball retrievers assist you in retrieving balls from water hazards, deep rough, or even the occasional sand trap, where it is difficult to reach. It looks like another club that can extend and grab the balls from water using the swiveling cup at the end.
Does a ball retriever count as a club in your bag?
According to USGA, Umbrellas and golf ball retrievers are not golf clubs as described in Appendix II. Thus, they are not counted as part of the player's 14 clubs to apply Rule 4-4. So, you won't have to worry much about carrying your golf ball retrievers.
Conclusion
It's not compulsory to use a golf ball retriever. But it is legal to use one. And it comes to your rescue in annoying situations when a ball gets stuck to an unplayable condition or even falls into a water hazard. That saves your fashionable clothes and your time as well.
So, we have brought these 10 best golf ball retrievers reviews to help you get yourself the ideal one. We have also added a buying guide to judge on your own. You may like to see the FAQ section to take a look at what others ask. And if you have any questions, then no worries! We are here for you. Feel free to leave your inquiries and opinions in the comments section.
Happy golfing!