Disc Golf bags are specially designed to help you carry your favorite golf discs with you. There are a numerous number of bags available with different styles, features, spaces and so on.
It might be confusing to choose the best the a large number of bags in the market. Here in this article, we have enlisted the best from our perspective which will eventually help you to carry all your frisbees and accessories with ease and comfort.
10 Best Disc Golf Bag Review
The following are the best disc golf bags you will find in the market with expert opinions.
1. Dynamic Discs Trooper Disc Golf Backpack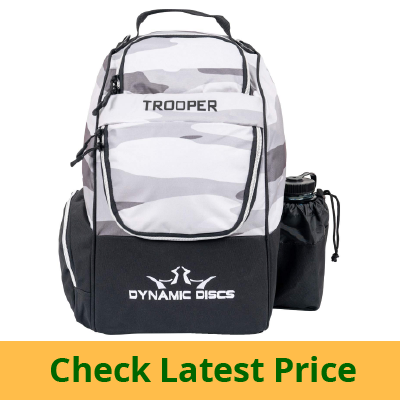 Dynamic Discs is a specialized institution in selling disc golf-related brands products. They are a passionate sponsored team & staff amongst the vast field of retail competitors. The Trooper disc golf bag provides a suitable space to handle all of your disc golf needs.
It can hold more than 18 discs in its main compartment. It also has an upper compartment that can hold anything from more discs to articles of clothing. Besides this bag features 3 (three) additional pockets, the Trooper can handle all accessories needed for a full disc golf round.
One side of the pack features a drawstring-enclosed water bottle holder and valuables pocket above. On the other side, a larger side pocket is featured in addition to another valuable pocket.

Things we liked
Engineered with a low center of gravity
Three additional pockets
Color combinations
A very comfortable fit
Lightweight
Things that can be improved
Great bag, but not durable.
2. Dynamic Discs Commander Backpack Disc Golf Bag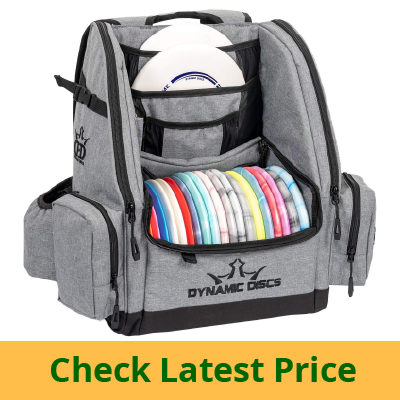 The Dynamic Discs Commander Disc Golf Bag has a main compartment that allows you to carry about 20 frisbees. In addition, the backpack features two pockets on the vertical wall that allow for more disc golf discs to be stored before heading out to the course.
So in total, you will be able to carry more than 20 frisbees at a time in this bag. The two full length vertical zippered pockets can hold all of your extra gear and accessories like a light rain jacket, or clothing, or any other must-have disc golf accessories. The Commander Disc Golf Backpack is an incredibly lightweight and durable bag that will be a favorite among casual and tournament disc golf players alike.
You will be able to carry two water bottles on its bottle holders. Other than these the bag features an umbrella strap and two phone-sized zippered pockets on either side of the bag.

Things we liked
Incredibly lightweight and durable
Pockets on the vertical wall
Two water bottle holders, as well as two cell phone, sized zippered pockets
Things that can be improved
not that comfortable to wear around
3. Disc Living Disc Golf Bag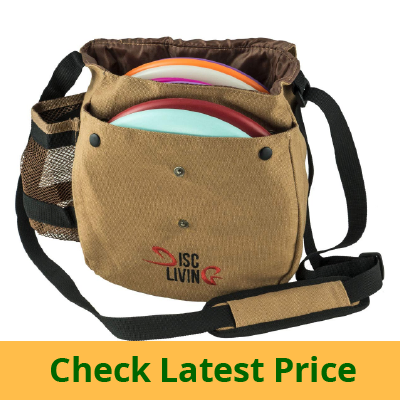 Disc Living Disc Golf Bag is one of the lightweight bags you will find in the market built with high quality reinforced stitching construction for secured play. The bag is designed to keep consumer comfort and its lightweight with convenient padded sling belt loops.
So that you can carry or sit the bag tight on your waist belt for hands-free movements. It's slim and gives you a stylish look even with bottle holders and accessories holders with a golf disc capacity up to 10 pieces.

Things we liked
Stylish bag for men, women or teens
High quality reinforced stitching construction
Provides your hands-free experience
Things that can be improved
Strap needs better support
4. Innova HeroPack Backpack Disc Golf Bag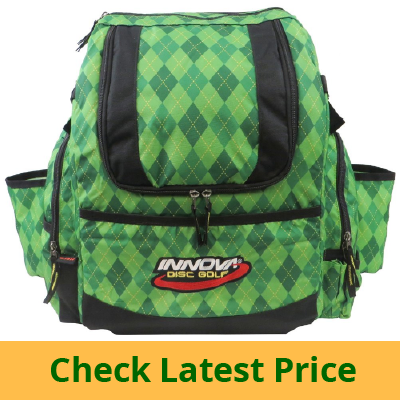 The Hero pack from Innova is the ultimate disc golf bag you might be looking for. Innova has made this backpack available in 4 and more different colors.
The bag features large side pockets and dual drink holders and water-resistant fabric has been used in this extra-large spaced bag. You can keep up to 25 or even more sometimes frisbees in this bag.
Things we liked
Water-Resistant
Dual Drink Holders
Colorful Outlook
Large Side Pockets
Things that can be improved
More space for accessories like keys, cell phones would be better
5. Dynamic Discs Ranger H2O Disc Golf Bag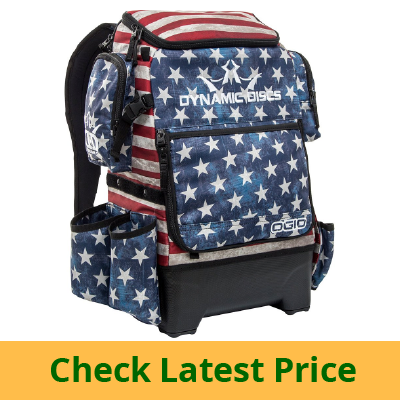 Dynamic Discs Ranger H2O is constructed with 600D Poly ripstop and 210D, and designed with a contoured and padded ergonomic back panel with cross directional airflow which keeps you ready for any weather gameplay. The bag can keep a minimum of 18 discs in the main compartment.
The other compartment is capable of holding 2 frisbees there. 2 (two) upper exterior pockets for storing valuables like cell phones, keys and exterior pockets for scorecard, pencils, mini marker, and accessories.

Things we liked
Contoured and padded ergonomic back panel with cross directional airflow
Streamline dual padded shoulder straps with adjustable sternum strap
Removable rain hood with quick access to discs
Two upper exterior pockets for storing valuables
Designated bag tag attachment loop
Things that can be improved
Heavy and bulky, especially when full of discs
6. Athletico Disc Golf Bag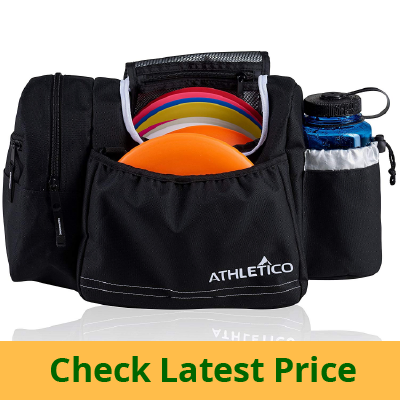 The Athletico Ace Frisbee Golf Bag designed to accommodate disc golf players of all ages, this frisbee golf equipment bag lets disc golf players easily carry all of their gear in one bag. The bag is built to keep all of your frisbee gear in a convenient tote with easy access to all of your most-used frisbees.
Technically designed padded, detachable shoulder strap allows you to configure the disc golf bag to the most comfortable position and length. The bag is made with durable 600D polyester fabric and a shoulder strap that features metal hooks that are meant to last.

Things we liked
Adjustable Straps adds Comfort
Durable fabric for all environments
Easy, lightweight and with plenty of storage.
Things that can be improved
Straps could be better stitched
7. NutSac Disc Golf Bag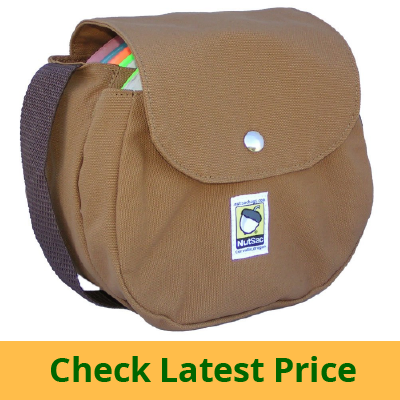 Good players win with fewer discs. The NutSac allows you to have 6-7 discs in this bag. It's lightweight, comfortable, and durable. The lightweight bag and adjustable straps allow you to throw discs while wearing it.
Made in the USA from the same tough-as-nails, Cannonball canvas as your favorite work clothes. The American made. High quality. Lifetime guarantee.

Things we liked
Lightweight, minimal, comfortable.
Looks great.
Things that can be improved
8. Prodigy Disc BP-2 Disc Golf Backpack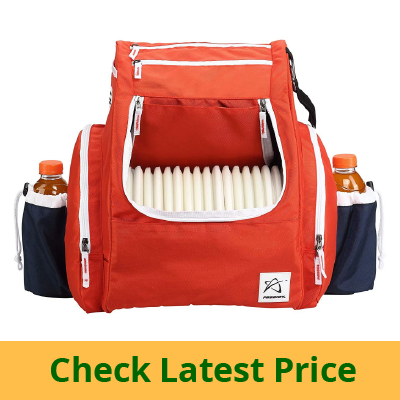 You will love the BP-2 Backpack from prodigy as most at all levels choose this one as their first choice. The same functional but upgraded design with new side panels features a sleek array of colors. The newly redesigned, optional rainfly fits more easily and allows easy access to the umbrella sleeve.
The extremely lightweight Prodigy BP-2 Backpack allows you to carry approximately 25 discs and so much more with its multiple compartments. Redesigned back straps help distribute pressure more evenly, keeping you on top of your game round after round.

Things we liked
Putter pocket
Microfiber-lined compartment
Umbrella sleeve
Multi-functional accessory clip
Things that can be improved
Quite heavy and big to carry when fully equipped
9. MVP Disc Sports Voyager Backpack Disc Golf Bag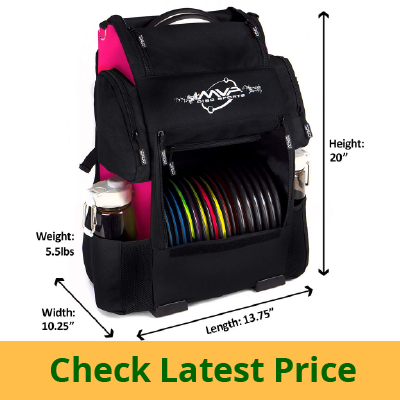 The Voyager Disc Golf Backpack with smart design and heavy-duty construction is a medium-sized entry-level bag in MVP Backpack Bag Series. The Voyager ensures a high standard of quality, comfort, and value with enough storage space for a 20-disc setup, a jacket and plenty of accessories like scorecards, minis, and pencils at the ready.
The bag is designed with 2 large drink holders and comfortable back and shoulder thick strap padding. The upper compartment has a unique 3-way closure option, with the cover panel for the large upper storage compartment and putter pocket available fully open, half-closed, or ready-closed for quick access and protection for valuable accessories.

Things we liked
Large upper storage compartment,
3 Convertible upper and putter pocket closures,
2 side zipper pockets
Umbrella Straps
Things that can be improved
Stitching can be improved
10. Throwback All Day Pack, Frisbee Disc Golf Bag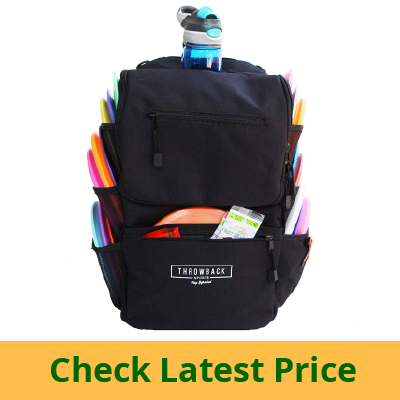 The Throwback All Day Pack took all of your favorite things about disc golf and made a bag for them. The bag consists of a built-in cooler that can fit all your beverages and snacks along with an ice pack or 2 to keep things cold for the entire round. You just need to unzip the main compartment and fill up your bag with all the refreshments you need for a day at the course.
Every disc is stored on the outside of the bag meaning there are no zippers, velcro, or anything else to fool with to find the right disc. Best of all, if you carry less than 16 discs the stretch pockets still feel like the right fit for you.
Things we liked
Every disc is stored on the outside of the bag
Built in cooler
Classic outlook
Things that can be improved
Bottle is short to hold longer bottle
How To Choose The Best Disc Golf Bag?
To take your game to the next level, the first thing you should do is buy a nice disc golf bag. A bag, specially tailored for your needs and make things fun and exciting. But, if you don't know where to start, then these tips can help you in choosing the best disc golf bag.
The capacity of the disc
Your first priority should be the space availability in the bag. If your bag can not provide enough space to locate your required frisbees, you must not own those. A typical disc golf bag will be able to hold around 8-25 discs. It also depends on the level at which you are playing and the purpose behind it.
Water bottle holders
Most of the modern disc golf bags come with bottle holders these days. They have pockets and pouches that will allow you to store cans and bottles of different shapes and sizes.
Comfort level
As you will be carrying the bag for a long time even at the time of your play. So, whichever bag you buy the first thing to look out for is the comfort that it provides. Padded shoulder straps or the quality of the panel in the back will give you more comfort than others.
Material
Waterproof materials made bags can protect your valuables from water and prevent wear and tear.
Style of the bag
You will find different styled bags like backpacks as well as side strap style bags. This factor might hesitate you more. The style is your personal choice but backpacks generally allow more space for frisbees than side strap ons. And side straps often tear off.
Frequently Asked Questions About Disc Golf Bag
There are few questions mostly asked about disc golf bags are
How to clean a disc golf bag?
You can wash your bag as you wash your clothes in hand. You can give your disc golf bag up for cleaning at the dry cleaners. But it is not advised to wash or dry bags in a machine.
The golf bag tags are highly stylish and multifunctional products that are used for personalizing the bag of a player. The main purpose of the bag tags is the identification of clubs and players in the competitions. The tags can be customized for reflecting the personality, tastes, and style of play by a player. You can also promote the local businesses and golfing events in the area using the bag tags.
Conclusion
Our review shows all the facts we liked and disliked about those particulars besides we have tried to highlight the core information you may look for in a disc golf bag.
Besides we have shared our experience and tips to select the best frisbee bag.