Having the best golf simulator in your local club or pro shops can increase your number of members all year. Did you know that? Yes, you can even expect more customers in your hotels and restaurants if you just keep one or more golf simulators there.
"If you have the space, it is an added benefit; it goes beyond just offering your client the chance to golf."

– Steve Young, director of golf at The Fairmont Banff Springs
Just think, rain or snow, cold or hot, your place is always crowded by the customers. And for this, you don't have to invest a lot. Golf simulators can generate a fair amount of revenue from low investments.
Here we created such a list of the 6 best commercial golf simulators. This analysis will show you the comparison between our picks and others on the market. Find out the one which is going to be your revenue-generator.
6 Best Commercial Golf Simulators
1. TruGolf Vista 10 Golf Simulator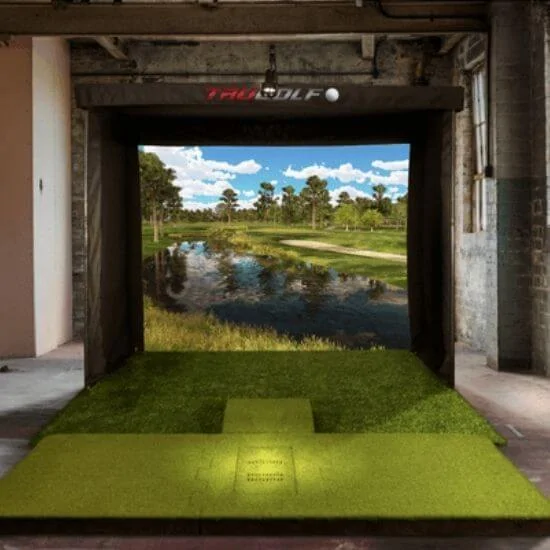 TruGolf Vista 10 can be the bang for your buck if you want a quality golf simulator on a mid-range budget. This simulator is another renowned entry among the vista series. The accuracy, portability, and full swing option make it an ideal choice as a commercial golf simulator.
TruGolf is well known for its graphics. The high-definition image on a large screen makes it more appealing to golfers, even those who have never played in a simulator. The minimum space requirement is 15'W x 10'L x 20'H
Vista 10 golf simulator comes with an enclosure, premium fairway mat, TruGolf level (1) computer, HD projector, impact screen, touchscreen display, TruTrack2 tracking system, overhead light bar, and E6 connect software.
It has two models. Vista 10 base unit and Vista 10 pro. The only difference is the Vista 10 pro provides level 2 computer whereas Vista 10 base has level 1 computer. These two devices differ in the capabilities of processors. Level 2 PCs perform better than level 1.
Things we liked
Accurate tracking system
Stunnian play at once
Easy to set up with a good direction
Lightweight and portable
Package doesn't include balls
Courses are second to none
Larger screen
Things that can be improved
Putting is not as great as most of the simulators
Final verdict
If you really want to let your customers play in one of the most advanced golf simulators, TruGolf Vista 10 is the best commercial option for you. It will definitely be worth your money.
Know more about the TruGolf simulator.
Check Price at Shop Indoor Golf
2. Foresight Sports GCQuad SIG10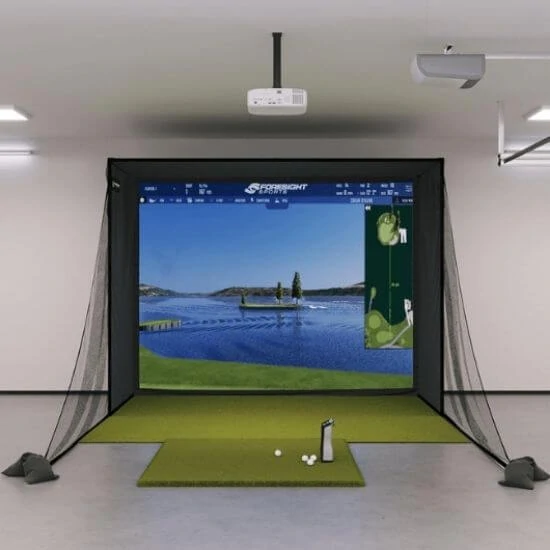 Once, buying the best commercial golf simulator like Foresight Sports GCQuad was a matter of spending over $30,000. Today it's available for around $20,000.
This simulator offers enough space to swing each club perfectly. And this will make your customers or guests as happy as playing on a real golf course. If you need to relocate your business, don't worry! It's portable.
This simulator comes with a GCQuad launch monitor that ensures accuracy. It's a great opportunity to let your clients know how accurate they are playing. On this note, see how accurate a golf simulator is. The minimum space requirement of this simulator is 12'W x 18'L x 9'H.
Along with the launch monitors, you get a power adapter, alignment stick, club marker dispenser, FSX software, SIG10 enclosure, side barrier netting, landing pad turf, choice of golf mat, laser projector, AV cart, and 15′ HDMI cable.
Things we liked
Portable and accurate
Versatile
Real golf experience
Premium full-screen simulation
Landing pad turf protects the floor from ball strikes
Maximum brightness
Easy to use
Things that can be improved
Hitting structure could be more well-constructed
No multiplayer playing option
A bit costly.
Final verdict
To make the users comfortable by giving a realistic simulation experience, we recommend the GCQuad for you. A complete commercial golf simulator package!
Learn about the other golf simulators of Foresight.
Check Price at Shop Indoor Golf
3. Uneekor EYE XO SwingBay Golf Simulator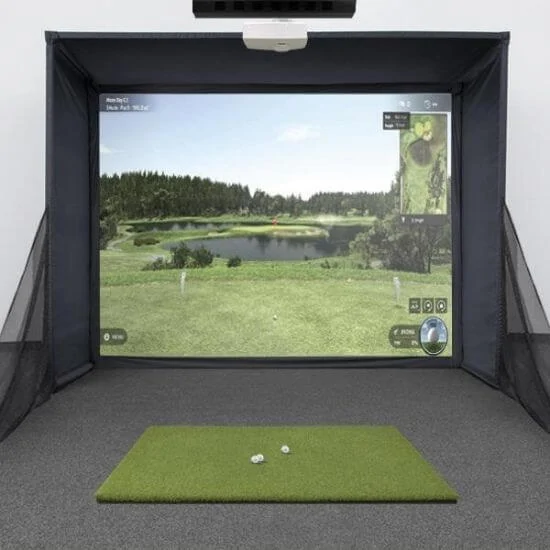 If you want a combination of multi-features in one commercial golf simulator, Uneekor EYE XO SwingBay is for you. Here you get multiple practice ranges, multiple playing modes, various skill challenges, and so on.
There are over 100,000 courses to choose from. All these features come at around only $15,000. Whether your club members are beginners or professionals, they can play regardless of their levels. Because it's suitable for all handicapped players.
You need at least 9′ high x 12′ wide x 16′ deep space to set up EYE XO. As it doesn't require much height, people of all heights are flexible to play with comfort. XO also accurately tracks shots from 10cm to 435 yards.
This golf simulator comes with an EYE XO bar, SwingBay screen & enclosure, HD projector, choice of hitting mat, ceiling projector mount, and Side Barrier Netting.
Things we liked
Accurate data measurement
Best for indoors
Both right hand and left-handed players swing freely
Budget-friendly
Easy to assemble
Stunning graphics quality
Built to last
For all level players
Things that can be improved
Not suitable for outdoor use
Multiplayer playing option is missing
Final verdict
If you want just not only to let your customers spend some quality time but also help them improve their skill levels, you should try EYE XO. This commercial golf simulator is worth buying.
Check Price at Rain or Shine Golf
4. TruGolf Vista 12 Golf Simulator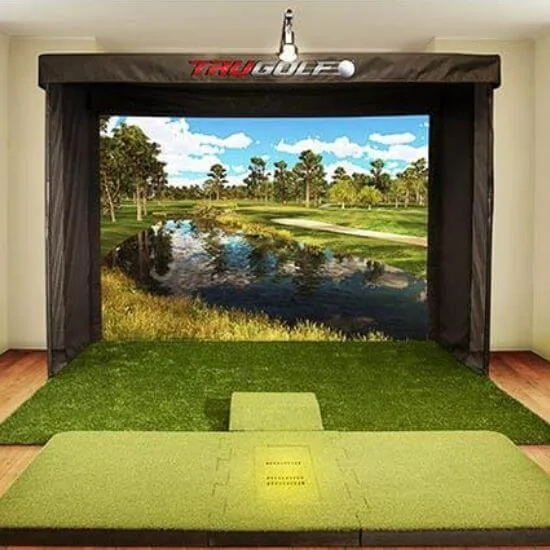 If you like the TruGolf Vista series and budget isn't your concern, try Vista 12. Because it costs over $18,000. But it's not just the bigger one; the better, the brighter one too. Though this commercial golf simulator is big enough, it's very lightweight to carry.
Vista 12 is one of the most advanced golf simulators proven by cutting-edge technology. It ensures you the latest features and developments. And it's very easy to use. The package comes with TruGolf's own projector that provides the best graphics. Learn about the best projectors on the market.
There is a multiplayer playing system that lets your customers have more quality time in the off-season. Even during a pandemic like Covid-19, they can make the best of their time by playing together.
It comes with E6 connect software, TruGolf level (1) computer, HD short throw projector, deluxe fairway turf, touchscreen monitor, TruTrack2 tracking system, audio speaker, side nets, and duffel bag. The minimum space requirement for vista 12 is 15'W x 20'D x 10'H.
Things we liked
Crystal clear simulation
Realistic simulator
Stunning high definition pictures on a larger screen
World's most renowned golf courses
Easy to carry
For both beginners and experienced golfers
Instant and accurate shot tracking
Enhanced swing analysis capability
Things that can be improved
Expensive
Only for indoor use
Final verdict
TruGolf Vista 12 is Recommended for you if you want the best graphics as well as the largest screen. It really ensures the user's satisfaction. A great opportunity to attract people to your premises!
Check Price at Rain or Shine Golf
5. GC2 SwingBay Golf Simulator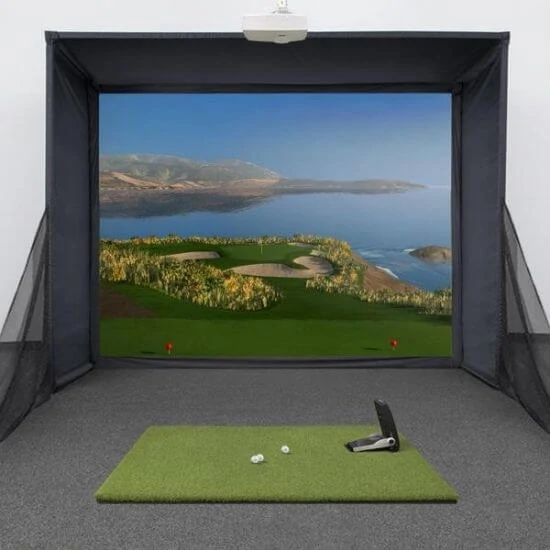 The Foresight Sports GC2 is a complete setup and ideal commercial golf simulator. If your priority is about giving a realistic simulation experience for your customers, you should try this simulator. It's both for indoor and outdoor use.
GC2 is around $13,000. Despite being such an accurate golf simulator, GC2 is less expensive than other commercial golf simulators on the market. So to start your business, you can go with GC2 SwingBay.
The software for GC2 works into club fitting and golf simulation categories. Club fitting software is wonderful both for a single user and for the whole clubhouse. Whereas the simulation software offers a lot of courses to play.
GC2 SwingBay golf simulator comes with FSX software by Foresight Sports, SwingBay screen & enclosure, choice of the mat, HD projector, ceiling projector mount, and side barrier netting. The minimum space requirement for GC2 is 9' high x 12' wide x 16' deep.
Things we liked
Extremely accurate
Accurate data measurement
World's best golf courses
Easy club fitting
Durable and high definition display
High-performance netting
Things that can be improved
No multiplayer playing option
Final verdict
For both entertainment and practice purposes, the Foresight GC2 golf simulator is highly recommended. You don't have to spend time showing the customers what to do. Because it's very easy to use.
Check Price at Rain or Shine Golf
6. FlightScope X3 Premium Golf Simulator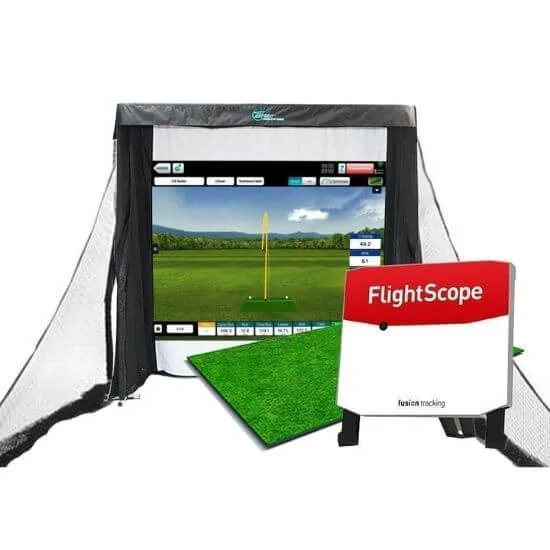 FlightScope X3 Premium golf simulator is best for outdoor and indoor use that gives you maximum safety assurance. And it doesn't compromise with accuracy. You can try this commercial golf simulator for your business and see it by yourself. 
It can accurately analyze both swing and ball flight data. Whether your club members are beginners or professionals, FlightScope X3 is suitable for both.
This simulator tracks the entire ball trajectory data from impact to landing. The most interesting thing about this simulator is you can change the environment anytime you want, even without changing your location. All these come within $18k-$19k.
X3 comes with FlightScope X3 launch monitor, 5 E6 golf courses and, 17 practice ranges, the net return simulator series golf net, screen, and the net return pro turf. You need at least 9' high x 12' wide x 16' deep space to set up this simulator.
Things we liked
High-quality graphics
Suitable for both indoors and outdoors
Accurate swing analysis
Portable
Best projectors with maximum brightness
Things that can be improved
A bit pricey
No multiple playing modes
Final verdict
To give the customers high simulation and real experience, we recommend the FlightScope X3 golf simulator. Whether it's your country club, hotels, or shops, make it a wonderful conference center simply by grabbing this commercial golf simulator. It is also one of the best home golf simulators.
Buying Guides for Buying Commercial Golf Simulator
You should obviously consider some things while investing in something. Because it's going to increase your revenue. You need to know what your clients want. The main reason you are here is to make their life easier, to give the best quality golf simulators, and to ensure them a great simulation experience. It's not easy to pick the most demanding one. So to do that, let's dig into the things you need to know.
Tracking system
The first thing you should consider is the tracking system. You need to make sure the simulator is accurate. And for this look for those simulators that have accurate data tracking systems or accurate launch monitors. Check out the best launch monitors from our other blog. Provide quality software too as it ensures the opportunity of virtual golf courses.
Features
The features that ensure not only game improvement but also a fun experience can really help your clients. They will probably love to play with their friends together. So a multiplayer golf simulator is better. They may want to have various practice modes and skill challenges. Look for these too.
Portability
If your golf simulator is lightweight and portable, you can carry this while changing the location while replacing it. You should prioritize portability for your commercial choice.
Budget
Budget is the factor that is both of you and your customer's concern. Keep a balance between these two. First, you should look for the one that goes with your budget. Now ask yourself if it will be worth buying for your customers too. We recommend more than $10k for a commercial golf simulator. There are some options for you to choose golf simulators under $5000 and a golf simulator under $1000. But keep in mind that these are not for commercial purposes.
Conclusion
Having the best commercial golf simulators can change your life within days. But the question is, "which ones are the best?". And that's why we arranged this review to help you in your navigation. You can now make a revenue-generating powerhouse by utilizing every commercial facility. Just put yourself in the customers' shoes. You will know-how. Happy starting!