This post may contain affiliate links and we may earn a small commission for no extra cost to you.
This is how we keep NiftyGolf free. Learn more about our affiliate disclosure here.
Who won't love to play golf with fun and entertainment? You will probably love too. And here is Protee golf simulators that come with accuracy and fun features. At the same time, Protee requires a lot of space too. So if you can ensure that you have enough room to place all the pieces of equipment and then an extra space to swing with comfort, you can try Protee Golf Simulator.
We gave time for days on a wide field of technical research of this brand and their simulators. This research helped us analyze the very necessary things such as the products they manufacture, their selling method, simulator packages, pros, and cons, etc. And finally, we gathered them together in this article to help you in your navigation. First, let's be introduced to the brand and their products.
Protee Golf Simulator Review
Protee started their journey in 2001 and since the founding date, they have been playing a vital role in the simulator market. Though Protee is a well-known brand to the golfers, yet it can't be as demanding as the other top rated golf simulators in the golf industry. 
Nothing to get surprised. Protee has some demerits too besides a lot of advantages. Some more effort by the company can overcome those shortcomings as they are a very renowned manufacturer.
Simulators of this brand are designed in such a unique way that they allow golfers to experience the ultimate 3D golf simulation. It also needs to admit that using protee golf simulators, you might not get the feel of playing in a real environment according to your expectation.
If you are serious about golf, you need a simulator system not only for fun purposes but also for having accurate data in every measurement. Because accuracy is a must to go to the next level of skill. That's what protee needs to implement in their simulator system.
Products That They Manufacture
1. ProTee Golf 2.0 Simulator Software: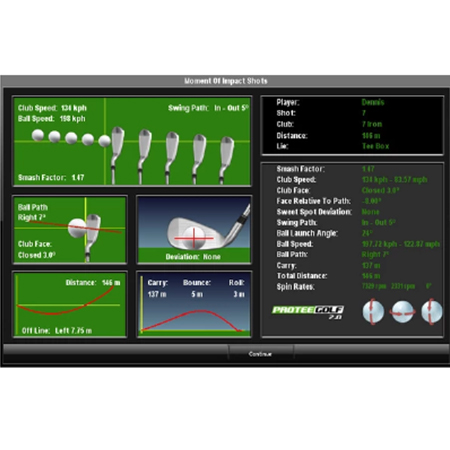 Protee golf simulation software collects necessary data of every shot from the ball's trajectory to the ending point through its 'ultra 4k Hd graphics'. And thus it will help you get ready for the next shot. However, to fully enjoy this immersive experience, it's crucial to have a reliable computer to run the software and invest in the best impact screen for your golf simulator.
By using Protee golf simulator software, you get swing analyzer information in detail. But sometimes it may not give you all the data as accurate as of the other brand. Besides, after all, it's a device, not completely flawless. However, Protee golf simulator software calculates 17 different swing factors on every swing. So you get one more benefit here.
This software also allows you to build your golf courses. There are 100,000 different protee golf courses. Yes, it's 100,000! These courses are displayed on the projector screen or viewed on the computer monitor. You won't have to spend money on expensive paid courses. And you can hit with your own clubs like playing on a real course.
2. Protee Base Sensors: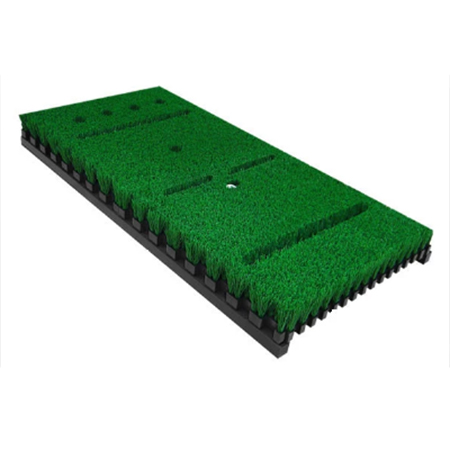 Protee base sensor mat finds out the club-head speed, sweetspot position, swing path, swing tempo, club face angle, ball speed, and ball path and then responds to the player. You can practice your swing with the sensor mat and continue playing a full round of golf.
Two high-speed cameras are mounted horizontally and vertically to this base sensor. And to set up this whole system, you need one more person with you. Because unlike other simulators, protee always requires a bit of extra setup.
3. Protee Putting Sensors: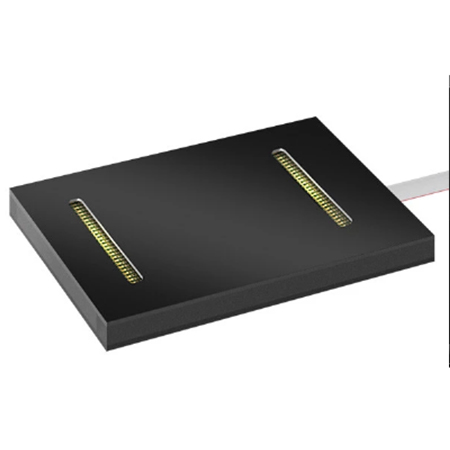 Before purchasing Protee putting sensors, we would like to suggest that If you are a beginner, you don't need a putting sensor. You can start your game without using a sensor. Now let's go to the point.
Using a flat cable, the protee putting sensor connects to the Protee Base Sensor System. This sensor measures necessary data and thus putting is simulated by rolling the ball over the sensors. It's true that this feature will help you hit the ball accurately and increase your putting experience if you are a pro. But for a beginner, it might be a wastage of money.
Through regular practicing golf, you can gradually be a good golfer. When you can be comfortable with the green speeds and learn how to read the curves of the green, putting will be a great part of your simulator and the sensor will make it better.
4. ProTee Vertical Launch Camera: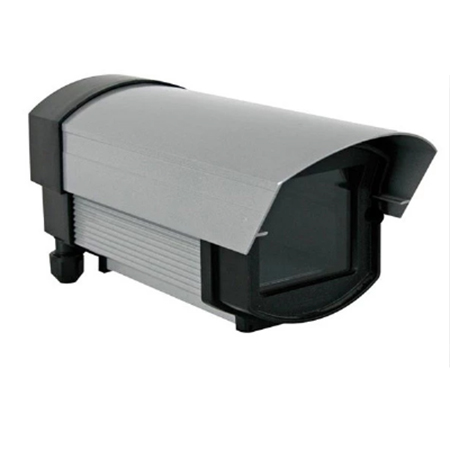 Ball flight in mid-air will be captured by the vertical launch camera.
Features it includes:
Vertical Ball Launch Angle is captured through this camera
Camera housing
Floor Mounting Bracket
Some golfers found the Protee sensor mat is not working accurately when they completed the whole setup process. It might be frustrating to anyone. So before setting up the vertical launch camera, make sure the sensor mat is working correctly.
To know how to set up the vertical launch camera, check the configuration setting.
5. ProTee Horizontal Camera: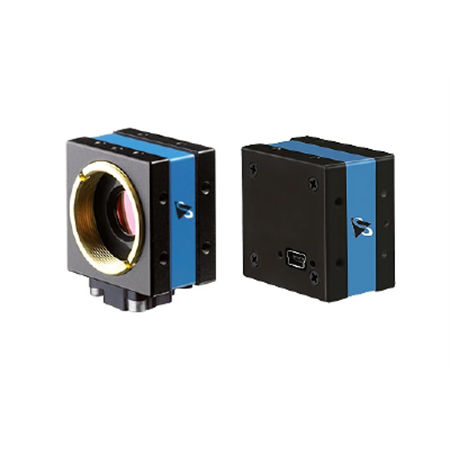 Horizontal cameras capture your ball flight data for the next shot. When your software measures ball flight by collecting information from the sensor plate, you need a horizontal camera to capture it.
Keep in mind that once you set the vertical and horizontal cameras, you can do nothing except adjusting them. That means you cannot move the cameras even two feet to the right or left once they are mounted.
Features this camera includes:
Captures the ball flight
Captures Horizontal Ball Direction
M4 Tripod Mount
Wide Angle Lens
USB Extension Cable 5meter/16feet
See the instructions of Protee Horizontal Camera setup
6. ProTee Simulator Halogen Light System: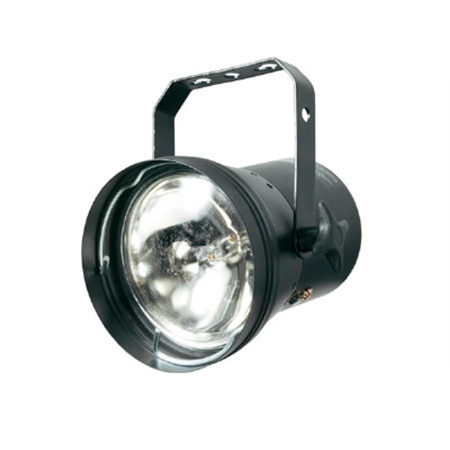 Halogen bulbs are more competent than traditional bulbs. In golf, halogen lights are very energy efficient. As Protee halogen lights burn brighter and longer, you can play with a clear view.
7. ProTee Dual Sided Impact Screen: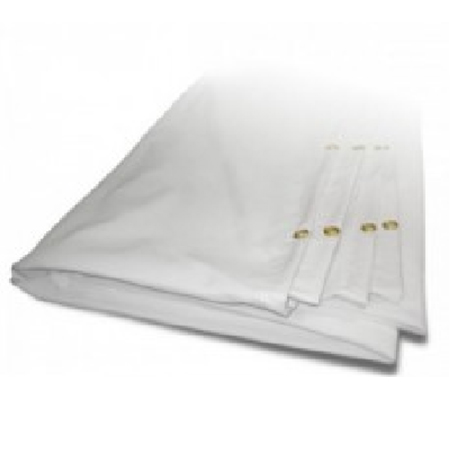 Features this screen has:
Seamless height is max 310cm (10.17′)
Absorbs ball impact
Reduces impact sound
Low noise
Double-sided (2 layers: screen can be turned if one side is damaged or has stains from ball impacts)
8. ProTee Sensor Mat Replacement Grass Panels: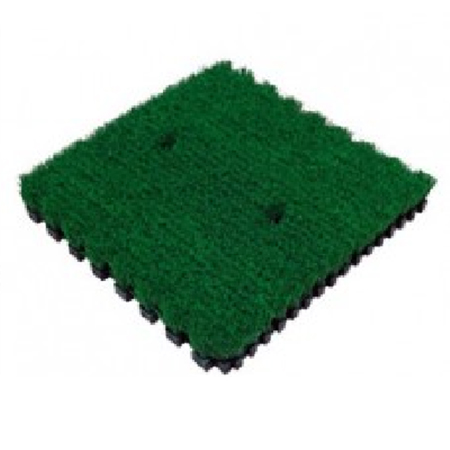 Sensor mat tracks the movement of a golfer. It mainly works for monitoring the speed, calculating the angle, measuring the ball direction, and analyzing complete swing. Though the mat is easy to replace, it really has a cheap look.
How Much Does a Protee Golf Simulator Cost?
When it comes to Protee, the price range can vary significantly, with high-end options reaching upwards of $30,000. For example, the Protee golf simulator offers packages with stunning software graphics that can cost around $20,000. Protee is renowned for its brand reputation and premium, albeit expensive, simulators.
However, if you have a lower budget, there are still excellent golf simulators available around the $5000 mark. These options provide a balance between affordability and quality, ensuring you can enjoy a realistic golfing experience without breaking the bank.
If the $5000 budget is still beyond your reach, don't worry. We have you covered with our comprehensive reviews of golf simulators around the $1000 range. Regardless of your budget, we have a suitable golf simulator recommendation for you.
Top 2 Protee Golf Simulator Packages
If you want to use the Protee golf simulator, then we may help you consider which simulator package will be appropriate for you. Here are the descriptions of major Protee golf simulator packages. Let's see them at a glance.
ProTee Base Pack 2 Golf Simulator
ProTee Base Pack TGC
Let's know in detail.
1. ProTee Base Pack 2 Golf Simulator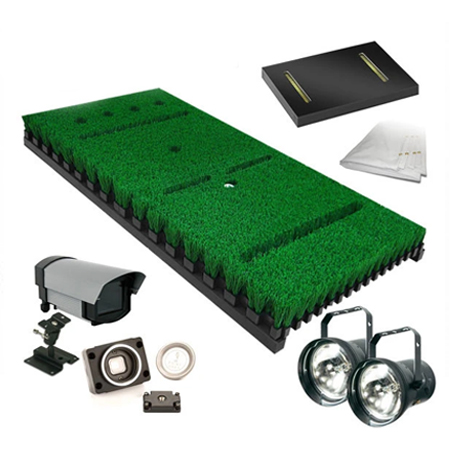 If you are a beginner in golf, you should choose a more simple simulator. But if you are a serious golfer, Protee Base Pack 2 is perfect for you because it will allow you to practice with your own golf clubs and golf ball. So play with comfort in your home or office.
This package includes:
E6 /TGC / ProTee 2 golf software
High impact screen
Sensor mat
Putting mat/lights (12v requires transformer)
high-speed cameras
USB cables etc.
Quality
It will help you improve your golf swing.
In this simulator system, you are allowed to play on thousands of golf courses.
You will be provided with the most realistic golfing simulator experience.
This system will easily blow the competition out of the water.
Benefits you are going to enjoy
It is good for both tracking the ball and the club.
2 high-speed cameras for ball tracking
In both software and hardware, the latest technology is used to ensure the most accurate ball flights.
Things you need to consider
Doesn't include a golf simulator net
Little bit complicated setting
Need to buy some pieces of equipment separately.
Requires a lot of time in installation and setting
2. ProTee Base Pack TGC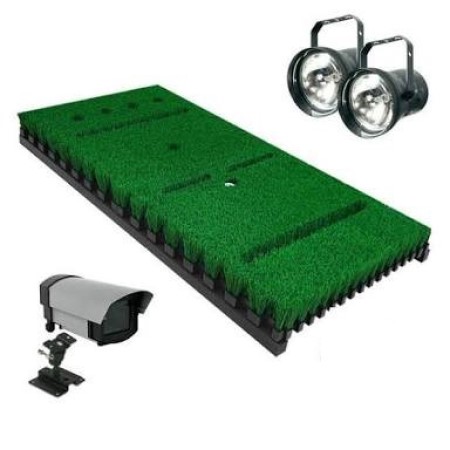 Protee Base Pack TGC is for home, professional and commercial use. In this simulator system, you can use your own clubs but it may not make you feel like playing in a real course. Because your draws and slices in this simulator cannot give you the same feel of a real environment. It's true that the impressive graphics may amaze you by providing the ball's trajectory precisely.
This package includes:
ProTee Professional Sensor System.
High Speed Vertical Launch Camera.
Double Halogen Light System (requires 12v AC 150w transformer)
The Golf Club Simulator edition.
The Golf Club 2019 Simulator edition.
USB to Serial convertor.
Universal power supply.
USB extension cable.
Quality
Most advanced and affordable 3D golf Simulator
Uniquely designed
1 high-speed camera for ball tracking
Benefits you are going to enjoy
Latest technology based
The most accurate ball flights
Professional sensor system
Impressive graphics
Things you need to consider
Net is missing
Need to purchase the projector separately
Installation Instructions
Now, this process will help you install the protee golf simulator. Try this.
First, you should know what's included in your package.
Now install the sensor system. Before making it done, make sure that your floor is leveled.
Install the vertical camera given with your package.
If there are two cameras, you should plug one into the front of the computer and the other on the back.
It's time to install the halogen light system. But keep in mind that you should always install two lights whether you have the putting sensor or not.
Now install the protee golf interface and the camera driver.
Installation of the whole package is done.
Conclusion
We tried to gather all information about the Protee golf simulator including the top two Protee simulator packages. Before buying a Protee Golf simulator, consider all of the above-mentioned things. Because, if a brand of indoor golf simulator cannot satisfy your thirst for the query, you can try simulators of another brand and their products. Now it's up to you what will be on your purchase list according to your requirements.