Electric golf cart is an eco-friendly way of speeding up your ride. It is comparatively less expensive and requires no regular maintenance as well. But it is a bit tricky to choose one electric cart out of so many in the market. Especially when everything appears good.
As everyone has their own taste and choices, it's hard to find the best one for all. Keeping that in mind, our expert team researched dozens of electric carts and came up with these 9 best ones. Our electric golf cart reviews emphasize your requirements, comfort, safety, and taste. Let's find out the one that fulfills your needs most.
10 Best Electric Golf Cart Review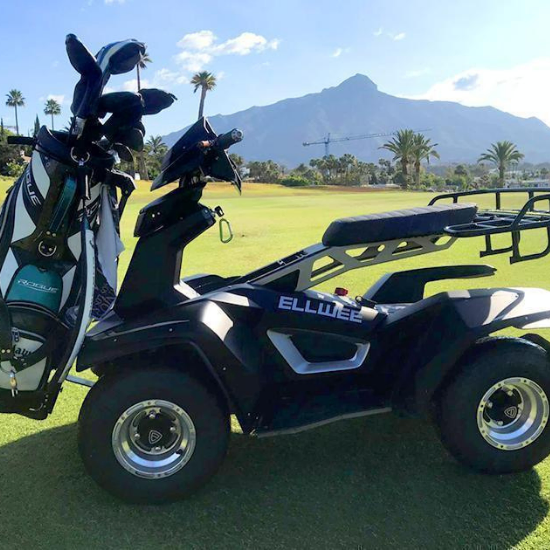 Ellwee is the name of a proven leader in the electric 4-wheeler class. They mainly focus on ease of movement with fast speed. Their electric golf carts have large and lightweight wheels that require less air pressure. And this lets you have a smooth and comfortable ride. Ellwee tests have shown that along with comfort, the single rider electric carts of Ellwee make your rounds 25% faster than a traditional two-seater cart.
But these carts don't have any canopy or windshield to protect you from direct rain and sun. You need to buy a golf umbrella separately to protect yourself and your valuables from sudden rain.
Things we liked
Cool look
Comfortable and faster ride
Less turf damage
Engine brake for safe downhill riding
The geo-fencing feature keeps you away from off-limit areas
Gyroscope saves the cart from tipping over
The seat is big enough for 2 people
Things that can be improved
Tires may wear off comparatively quicker
No weather protection
Less air pressure of the tires may eat up more battery
Final verdict
If you are looking for a single rider with a combination of captivating looks and great performance, Ellwee electric cart is a great choice to go. You just need to consider the "no weather protection" feature.
You may also like: Electric Golf Scooter
2. Precedent i3 Fleet Golf Cart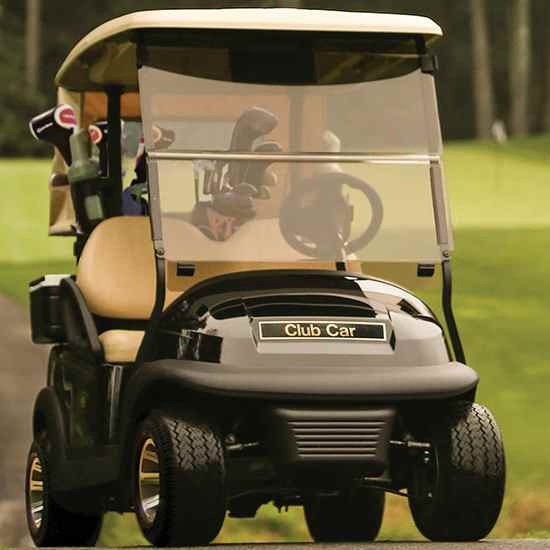 The Precedent i3 Fleet comes with standard connected technology features. For example, it has GPS zone messaging that can be set to promote shops, foods, sales, etc. You have an option to email with the electronic scorecard among the golfers and others. The electric golf cart lets you check the current mileage and battery status of the cart from anywhere just with your smartphone.
This cart also delivers car control, car tracking, tournament software, and much more. Moreover, you can charge all your USB-charged devices with the available dual port USB in the electric cart. This includes your tablet as well, that too in full speed.
But keep in mind that the cart will need professional repairing as it has so many settings and features. That will cost you more for maintenance.
Things we liked
Different speed settings
GPS zone messaging
Can charge all your USB charged devices with the cart's dual port USB
Available in Beige, White, Cashmere, Platinum, and Green color.
Things that can be improved
Not much adjustable on uneven ground
Speed settings and features may look a little bit complicated
Final verdict
Precedent i3 Fleet Electric Golf Cart is recommended if you desire to keep up with the latest golf cart technologies. Either you want to have a slow ride or go with the maximum speed, it serves you for both.
3. 2 Passenger Onward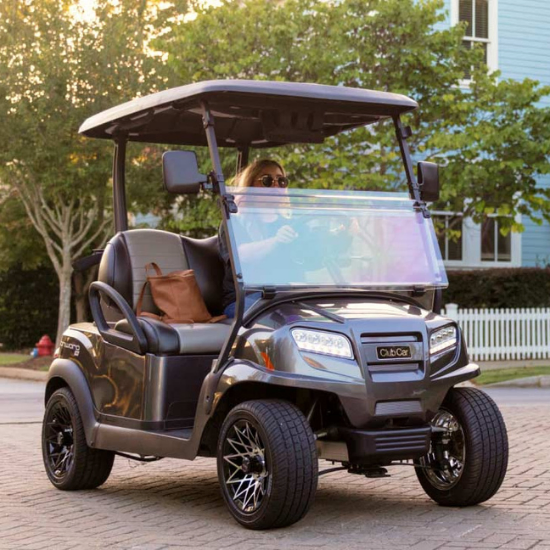 2 Passenger Onward comes with Club Car Connect that makes your on and off-course rides more worry-free and fun. It constantly displays speed, mileage, and battery status to avoid sudden shutdowns.
There is a rangefinder provided by Club Car Connect that helps you to measure distance and range from your cart. And with the built-in Bluetooth speakers, you can enjoy your favorite audio.
Things we liked
Comfortable ride
Easy to handle
Standard LED headlights and turn signals let you drive in dark as well
Club Car Connect feature
Available in 7 different colors
Things that can be improved
Not much suitable in bumpy roads
Final verdict
Recommended for a comfortable, speedy, and safe ride. Also, the amazing Club Car Connect makes it a great fun ride for you.
You May Also Like: Best Golf Cart Speakers
4. Club Car XRT1550 SE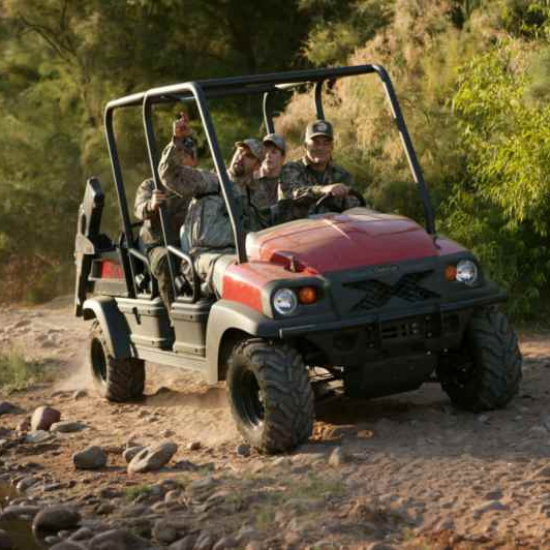 XRT1550 SE electric cart lets you drive at a maximum speed of 25 mph. But that doesn't make it hard for you to control. Because the cart has an automatic all-wheel-drive system. It senses your location and shifts the gears as needed. All you have to do is to select 'forward' or 'reverse'. You won't have to compromise with your comfort for the speed or automatic driving system. Since the cart has terrain tires, a front, and rear suspension system ensures a smooth ride both on even and uneven ground.
But the aggressive tread design of the tires might heavily damage the grass of the golf course. So, you need to drive the cart away from the green part of the course.
Things we liked
Excellent performance on rough terrain
Easy to drive
25 mph maximum speed
Smooth ride
Suitable for both even and uneven ground
Things that can be improved
Has a possibility to damage the grass of the course
It may cost more to change the 12-volt batteries of the cart
Final verdict
XRT1550 SE is recommended for its maximum speed and easy drive system. Regardless of even or uneven ground, it is great for both.
5. Club Car Villager 2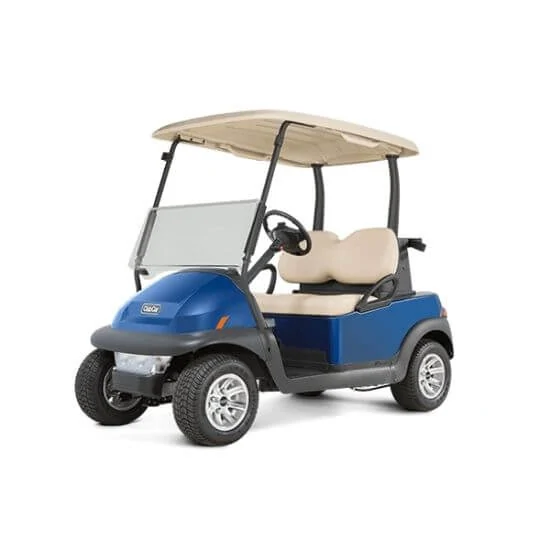 Club Car Villager 2 gives top priority to your safety. Along with a basic brake system and park brake; it also has headlights, tail lights, and a horn to ensure your safety even in the dark. The front and rear safety reflectors make you more visible to other drivers and save you from accidents.
This electric golf cart has 7-speed settings options. Thus, you can slow down the cart to get some fresh air around your neighborhood. At the same time, you can rush to the next game and get more time to practice. Even if you choose to have a speedy ride, you won't have to compromise your comfort. Because the steering and suspension system of the cart ensures a smooth ride.
Things we liked
Has headlights, tail lights, and a horn to ensure safety in the dark
Safety reflectors help to avoid accidents
Comfortable ride
Different speed settings
Great handling performance
Things that can be improved
Speed settings may look complicated
Not suitable for rough terrain
Final verdict
Club Car Villager 2 is recommended for its safety measures, great handling performance, and different speed settings. If you don't intend to drive it on rough terrain, it is a great choice to go.
6. Cushman SHUTTLE 6 Electric Golf Cart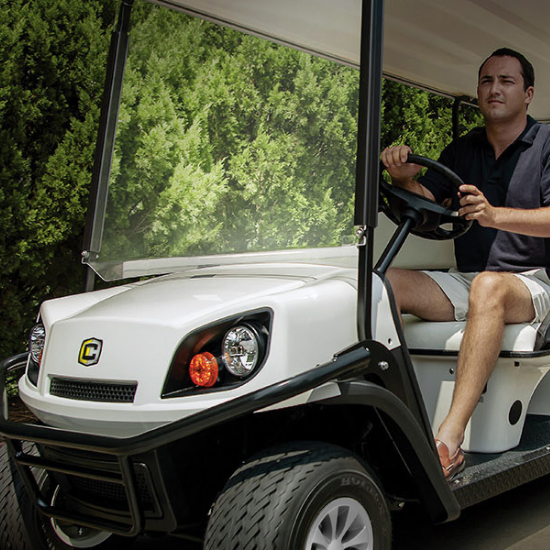 The Cushman Shuttle 6 is a spacious version of the shuttle with 6 passenger seats. This electric golf cart has about 544 kg load capacity. Therefore, you can enjoy your golf course rounds with a whole friend group. As the cart comes with a LED kit, you can also enjoy going out with your family early in the morning or in the evening.
The electric golf cart needs 6 batteries to run that too of 12 volts. Therefore, you need to spend more on maintenance once the battery's lifespan gets over.
Things we liked
Can carry 6 people
Comfortable seating system
About 544 kg load capacity
Included LED kit lets you drive even in the dark
Superb handling performance
Things that can be improved
Needs six 12 volt batteries to run that increases maintenance cost
Not much great for bumpy roads
Final Verdict
Cushman Shuttle 6 is highly recommended for going around with groups. If the battery cost doesn't bother you, this is a good choice and worth buying!
7. DRIVE2 SUPER HAULER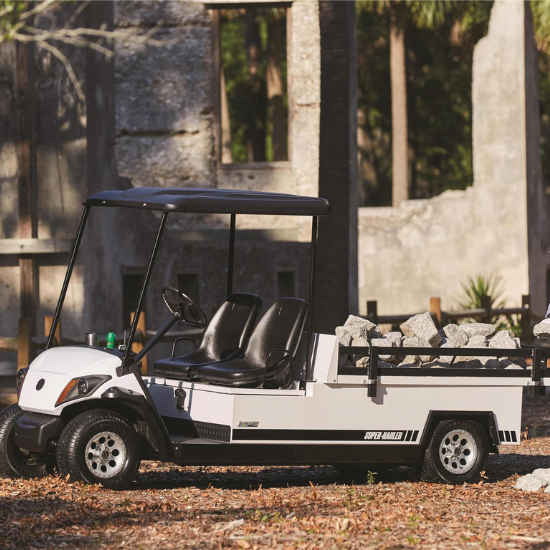 Drive2 super hauler comes with a supersize cargo bed with a load capacity of 363 kg. As a result, you can use it not only for carrying golf tools but also for hauling other household and business goods. Especially while setting up a big event, it'll save you from having extra trips.
The super hauler allows you to have a speedy ride with its maximum speed setting. At the same time, it has front and rear wheel suspension to ensure a smooth ride for you.
Things we liked
Cargo bed capacity 363 kg
Speedy ride
Comfortable
Things that can be improved
Only available in Glacier color
Final verdict
Driver 2 super hauler is recommended not only for carrying your golf tools but also for setting up big events, replacing water heaters or transporting your business goods, etc.
You May Also Like: Best Golf Cart Heaters of 2022
Check Price at Yamaha Golf Car
8. Cushman SHUTTLE 2 Electric Golf Cart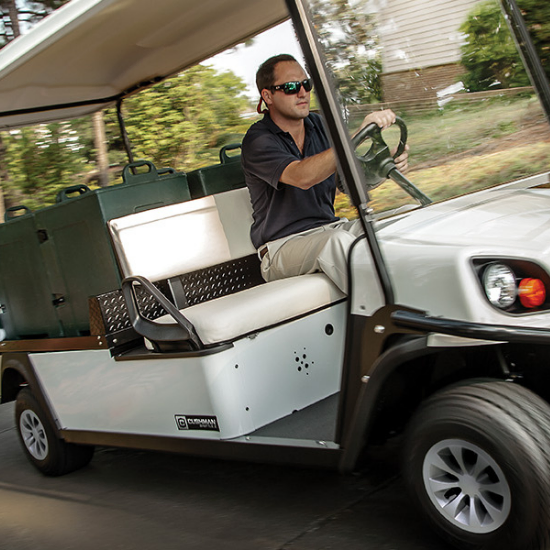 Shuttle 2 electric golf cart is a versatile cart. With this cart, you can speed up your rounds on the golf course and then haul cargo on the way back home. It is more of a transport vehicle with a huge cargo deck.
This electric cart has a 454kg load capacity. From several golf club sets to heavy business goods, it has room for everything.
Though the cart allows you to have a speedy and cargo-loaded ride, it doesn't compromise your comfort. The suspension system of the cart ensures a smooth ride.
Things we liked
454 kg load capacity
Comfortable ride
Smooth and speedy ride
Versatile
Things that can be improved
May not perform well on uneven roads
Final verdict
If you are looking for a 2 seater electric golf cart with a high load capacity, Shuttle 2 is recommended. Either for golf tools or for heavy business goods, this electric golf cart is a great choice for both.
9. GARIA STREET LEGAL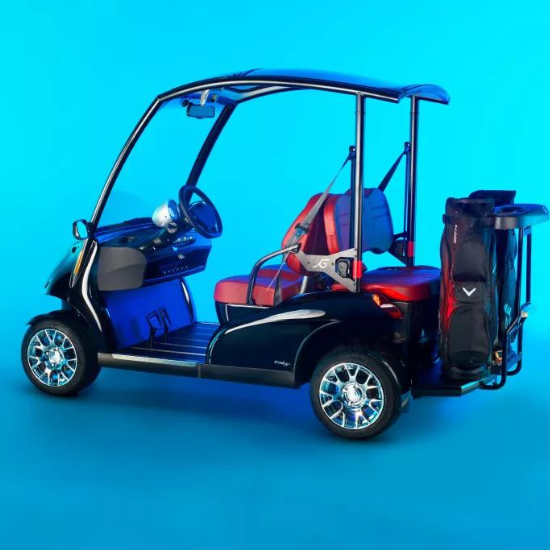 Garia street legal is an excellent combination of great performance and versatility. The cart speeds up your rounds and ensures your safety as well. It has an LED head, tail lamps, and horns to make you more visible to the other drivers even in the dark.
Along with that, it has a storage box behind the seat to ensure the convenient transport of your golf tools. There is a mounted tee and golf ball holder too. Check out the best golf balls.
This electric golf cart comes in only white color. But with some additional cost, you can customize the cart as you want. You can choose the color, seat type, battery type, rims, roof, accessories, etc. of your choice.
Things we liked
Luxurious look
Ensures safety even in the dark
Transports your golf tools conveniently
With the USB outlet of the cart, you can charge your devices
You can customize the cart as your wish
Things that can be improved
Only available in white color. There will be an additional cost if you choose any other color.
Final verdict
Garia street legal is recommended for its luxurious look and excellent performance. As you can customize it according to your choice with some additional cost, it is a great one to buy.
Things to Consider Buying Electric Golf Cart
Benefits and drawbacks of electric cart
Before going for an electric cart, know the benefits and drawbacks that come with it. Though electric carts are great for use, you should be aware of some facts before buying. It might not be suitable for you if you don't prefer to handle certain issues. Let's have a look.
Benefits
Don't make much noise
More eco-friendly as it doesn't have an emission problem
Don't require regular maintenance
Comes at a comparatively cheaper price
Drawbacks
Charging the cart is troublesome sometimes as it takes much time to charge fully
The speed of the cart lessen with the increment of weight
Needs professional repairing as it contains more technology
If you are willing to enjoy the benefits considering the drawbacks of an electric cart, the next step is to buy the one that makes the most of your money. Let's know-how.
Things to consider before buying
1. Battery
Battery type
The battery is the most basic thing to check before buying an electric cart. It determines the performance of the cart. Moreover, mainly battery lifespan determines your maintenance cost. The 3 most used golf cart batteries are-
Lead-acid battery
AGM (absorbed glass mat) battery
Lithium-ion battery
Lead-acid batteries have a lower purchase price. As a result, with these kinds of batteries, you get to buy the cart at a lower price. But these batteries have a short lifespan. They are very heavy and require the most maintenance.
AGM (absorbed glass mat) batteries are a variation of lead-acid batteries. It needs less maintenance than the traditional lead-acid ones. But it costs more.
Lithium-ion batteries are the best ones for your cart as they have an extended lifespan at a low cost. They are not heavy but comparatively more efficient. Moreover, lithium-ion batteries take less time to charge. The voltage doesn't usually drop even with less charge. As a result, your electric golf cart runs well until the battery is dead. But as the voltage doesn't drop, you never know when the charge is fading away. Thus, the cart might stop in the middle of the course.
Battery voltage
Check the battery voltage before buying. You will usually find 6, 8, or 12-volt batteries. Higher voltage batteries are good for the speed. But they are comparatively more expensive. Therefore, later when you will need to change the batteries, it will cost accordingly. So, make sure to buy the one that fits with your maintenance budget.
2. Charging time
An electric golf cart usually takes 8 to 10 hours on average to get fully charged. It isn't something fixed. Different electric carts take much more or less time according to the model, performance, speed, etc. But it is better if it doesn't take 12 hours or more. Because that will make you wait half of the day. Check the golf cart specifications for knowing charging time. Moreover, consider the fact that batteries take more time to charge with time.
3. Tire condition
Though you can change the tires later, it is better to choose the cart with the type of tire that suits your preferences from the very first. There are mainly 3 types of tires-
Turf & street golf cart tires: It is the most common type and this is what you get with the golf cart usually. This type is designed specially so that it doesn't tear up the sensitive turf of the course.
Off-road/knobby golf cart tires: It is the type to drive through mud and sand. As a result, you get a very uncomfortable ride if you use them on the street.
All-terrain golf cart tires: This type of tire give you a smoother ride for both off-road and on the street. But it is not recommended for use on the green of the golf course. Because the aggressive tread of these tires will damage the sensitive turf heavily.
4. Features
Before deciding to buy, make a list of the features that must include according to your preferences. For example, if you intend to use your electric golf cart both day and night, you need to have headlights in your cart.
Features are not just about fulfilling the necessity but also about luxury. If you want to have a fancy cart, buy one with custom leather interior seats. Having a radio and sound system in the cart will give you golf updates of the day on your way to the course.
5. Golf laws in your state
Every state and city has different laws for golf carts. Even your golf course owner might have put some restrictions. Make sure to confirm with your golf course owner if you're allowed to use a certain cart on the course or not. Moreover, if you intend to use your golf cart for going to a shopping center, clubhouse, or somewhere else outside the course, you need to buy a street-legal cart. Learn the facts that make a golf cart street legal.
6. Warranty
Warranty is a key factor while buying electric carts. The manufacturer or the dealer provides you the services. As a result, the reputation and reliability of the manufacturer and dealer are important for getting the warranty advantages effectively. It is not necessary to buy from the major manufacturers or dealers for a good service. Just make sure to buy from the reliable one who is capable of giving great service in your area.
7. Price
This is the most important factor while buying electric carts. You need to choose differently to keep pace with your budget. Therefore, it is important to check whether the cart you are buying is worth your money or not. Compare your choice with several electric carts of the same price range.
Frequently Asked Questions
Why does your electric golf cart go slow uphill?
The reason for going slow uphill is mostly the weak batteries. Because an electric cart needs more power to go uphill. As a result, when the cart does not get more power supply, it slows down. Wire corrosion, brake solenoid damage can also make your electric cart go slow uphill.
Should you leave your electric golf cart plugged in all the time?
The answer differs with the manufacturer of your cart. For example, Club Car suggests leaving the cart plugged during storage and the computer will determine if it needs charging or not. Whereas, Yamaha tells you to remove the batteries from the cart and store them separately. So, check the instructions with the cart.
How long will an electric golf cart run on a charge?
A fully charged electric cart usually runs 45 minutes to 90 minutes. It actually can not be said accurately. With different models and manufacturers, the answer changes. Moreover, the electric carts with the extra load, low air pressure of the tires, and older batteries tend to have a lesser run time.
Conclusion
Choosing the best electric golf cart is important for making your game better in an eco-friendly way. For you, maybe it is important for outside game rides as well. That's why knowing the best options and how to determine the best is crucial for you. With these electric golf cart reviews and buying guides, we have tried to help you a little bit in that process. Feel free to give your reviews and opinions in the comment section. Also, let us know about your inquiries. We would love to answer. Happy golfing.