When you are looking forward to improving your stroke play's accuracy, a good rangefinder can surely help you. Nothing can be compared with a rangefinder to score less and win matches like pros. You may practice with a golf simulator indoors to know the distance you hit. But when you are outside and cannot take the whole simulator with you, you need a distance finder that will make your tracking easier.
Then comes the golf rangefinder to help you.
You will get other devices like wearable watches, apps etc that are available in the market. These devices allow you to measure the distance you need to hit and check which club is best for the job to improve your accuracy. But a laser rangefinder stands out from all of these with some latest technologies like slope mode, pin seeking mode, etc.
​It has become part and parcel for any serious golfer who wants to hit the target accurately​. After the USGA approval on the sage of distance measuring devices, you should take advantage of rangefinders' best. Here, in this article, we will be reviewing the ten best golf rangefinders in 2021, along with some tips that may help you make the right decision before buying one.
Top10 Best Golf Rangefinders in 2021
There are several types of distance measuring devices available in the market, like GPS watches, Handheld GPS, laser rangefinder, and many more. Lots of rangefinders are doing an outstanding performance in the market. Here are the top 10 rangefinders you can have.
1. TecTecTec VPRO500 Golf Rangefinder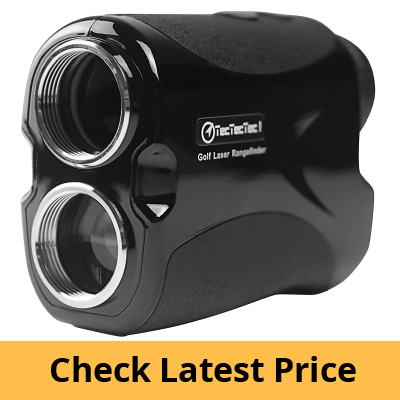 TecTecTec is known for the latest technology and budgetary products for mid-range sportsmen. The VPRO500 uses the latest technology for more accurate and flexible outcomes. Its advanced pin-sensors lets you measure overlapping targets accurately and measuring the distance to pin location and wooded areas. It has 3 (three) different scanning modes that are suitable for every situation. It perfectly measures distances quickly, letting you improve your game like a pro. The laser rangefinder also has diopter adjustment functionality to provide a clear view. Whether you're near or farsighted, you'll be able to see the object you're measuring clearly and find its distance using the fast­ measuring technology.
The VPRO500 weighs just 185g with a water and dust resistant durable body, so you can carry this anywhere you are looking forward to. The Pin-Sensors technology provides fast measurement with 1-yard accuracy and you will have a through the lens display. The display is premium, ultra-clear with multilayered optics with an easy read. TecTecTec provides you 2 years Guarantee on this rangefinder but online registration is needed.
Package Includes
Premium carrying pouch,
CR2 battery,
Wrist strap,
Microfiber cleaning cloth,
Quick start guide
Pros
Advanced Pin-Sensor technology
Water resistant body
Continuous measurement mode for fast, convenient measurements
Cons
Difficult to fix on a pin requires an extremely steady hand.
2. Precision Pro Golf NX7 Pro Slope Golf Laser Rangefinder with Slope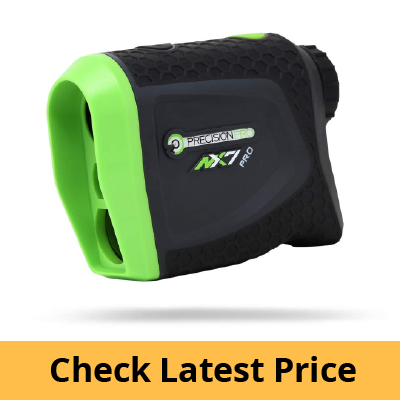 Precision Pro, The name justifies its performance. NX7 Pro has an addictive accuracy even professional players love this. Precision Pro NX7 is built with crystal clear optics, 6X magnification, and precise technology, the NX7 Pro Slope Golf Rangefinder produces quick yardage of a golf ball's distance to the hole and is easy to use, even for golfers with shaky hands.
The rangefinder has a capacity of 400-yard range capacity and delivers a short vibration when you shoot the target. It comes with a lifetime warranty replacement service if you are registered with the product. NX7 Pro Slope golf laser rangefinder is infused with Pro Slope technology that makes it user friendly and provides a "play as" distance to make club selection simple. The slope function can be easily turned off for legal tournament play.
Package Includes
NX7 Pro Slope Golf Rangefinder
Premium Hard Carrying Case
CR2 3v Battery
Instruction Manual
Lanyard
Cleaning Cloth
Pros
Provide accurate distances on sloped or flat surfaces
Pulse Vibration Technology & Adaptive Slope Measurement
Water resistant
3. Bushnell Tour V4 JOLT Golf Laser Rangefinder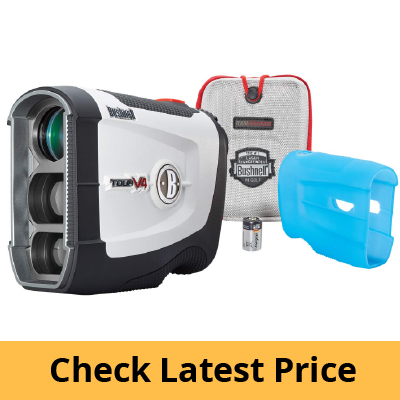 Bushnell golf introduces you to the next evolution of pin seeker with jolt technology in the Tour V4. This laser rangefinder has an unbelievable feature like pin seeker with jolt technology you love and delivers the unrivaled accuracy that you expect from Bushnell in a smaller and faster package. Bushnell jolt technology provides you with short vibrating bursts to reinforce the laser is locked onto the flag. The Tour V4 is legal for tournament play and provides ranges from 5 to 1,000 yards with one-yard accuracy. It provides yardages to flags from as far as 400 yards out. A carry case and battery are included. You will get a two-year limited warranty.
Package Includes
Protective skin
CR2 battery
Carry case
Pros
Multi Coated
Field of View 368 feet at 1000 yards
Class 1 laser with less than 0.5 mW average power output
Cons
Battery performance can be improved
4. Callaway 300 Pro Golf Laser Rangefinder with Slope Measurement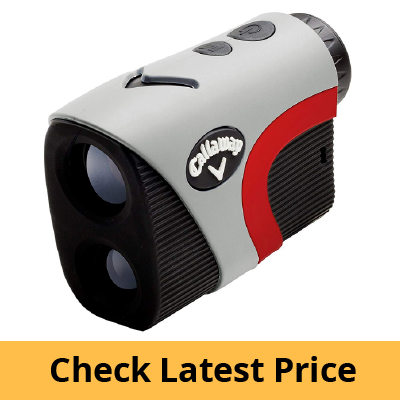 Callaway 300 pro golf laser rangefinder comes up with slope management. Slope management technology is famous for measuring the angle of incline and decline automatically and calculates the slope adjusted distance. Besides Callaway introduces Pin Acquisition Technology which lets you pin from up to 300 yards away, still ensures accuracy when objects like trees are in the background.
The sleek and sophisticated design with the usage of technologies like PAT and Slope makes the Rangefinder stand out from the rest. Exclusive Birdie feature delivers audible 'chirp' to confirm distance acquisition to the flagstick. 6x magnification can give you accurate results ranging from 5-1000 yards with one-yard accuracy. And the scan feature provides you to acquire multiple targets at once.
Features
Measures in yards or meters
Sleek, ergonomic, soft casing design
Water and fog proof
Includes CR2 3V lithium battery
6x magnification
'Birdie' technology chirps when locked on the pin
Pros
6x magnification
Pin acquisition technology quickly locks onto the pin from up to 300 yards away
Slope technology adds accuracy
5. Wosports Golf Rangefinder with Slope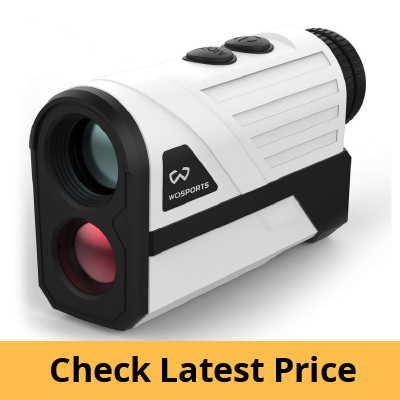 The Wosports Golf Rangefinder features 6X Magnification with 7.5-degree field angle and distance range from 5 yards to 650 yards. It is capable of providing the true measurement accurate within ±1 yard. Looking at the rangefinder you might be surprised to see no battery cover. Don't worry about that because innovative design from Wosports made the battery cover and rangefinder inseparable.
The Advanced Flag Acquisition Technology filters out background objects ensuring you shoot the flag, not what's behind the flag. It also includes a diopter adjustment feature which allows you to have a clear view from near and far.
Features
Range and Scanning Mode
Flag Lock with Vibration
Slope Adjusted Distances
Pros
Meter and Yards Switching within 3 seconds
Flag Lock with Vibration
Innovative battery cover design
Cons
Only works well within 150 yards; more distance gives inaccurate outputs
6. Saybien Golf Rangefinder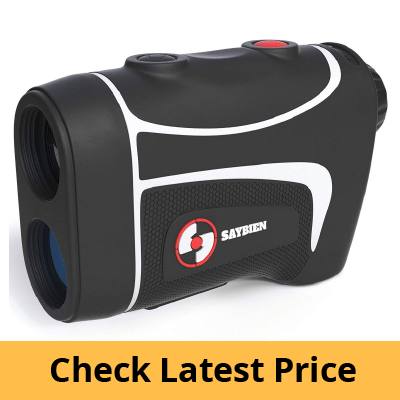 Saybien Golf Rangefinder is designed with the latest technology so that you can have the most accurate, quickest reading to any flag or other objects on the course. It has both slopes on and off mode. It will even give slope-adjusted distances to help you choose the right club for every shot.
Slope-mode can be turned off as well, making this must-have device tournament legal, complying with USGA rule 14-3. With an easy two-button operation and simple twist eyepiece diopter adjustment, a crystal clear picture is easy. No worries about taking this rangefinder with you anywhere because it is lightweight, portable and waterproof at the same time. With a rubber body, this device can easily withstand drops on the cart-path and it feels great in the hands.
The package includes a magnet carrying case, microfiber cleaning cloth, wrist strap, CR-2 battery, and user manual. So you can set it up quickly and use it for a long time with care. Other than this, Saybien offers you a 1-year warranty for any manufacturing defects.
Features
Options with and Without Slope
Laser Rangefinder
Scan Mode
Flag Lock
Pros
Easy 2 button operation mode
Lightweight, portable and waterproof
The package includes all the accessories you may need, i.e., a magnet carrying case, microfiber cleaning cloth, wrist strap
7. TecTecTec VPRODLX Golf Rangefinder – Waterproof Laser Range Finder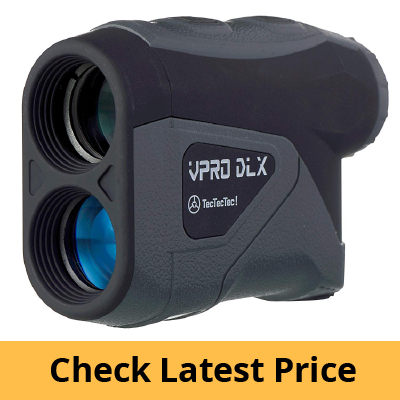 The TecTecTec VPRO DLX with a waterproof body and more extended measurement range features the latest technology that makes it more accurate and flexible than any other measuring device. It is quick and precise in providing results and letting you improve your game like a professional.
The diopter adjustment functionality installed in the rangefinder offers a clear view in both near and farsight; you'll be able to see the object clearly and find its distance using their fast-measuring technology.
VPRODLX has three different scanning modes that are suitable for every situation. Its advanced Pinsensor lets you accurately measure overlapping targets and is perfect for measuring the distance to pin location and wooded areas. Its measurement locking function will give you even better confidence.
Package Includes
Premium carrying pouch,
CR2 battery,
wrist strap,
microfiber cleaning cloth
quick start guide for easy setup
Pros
Shock-resistant case
Portable and reliable
Smart, high visibility, yellow design
8. TecTecTec ULT-X Golf Rangefinder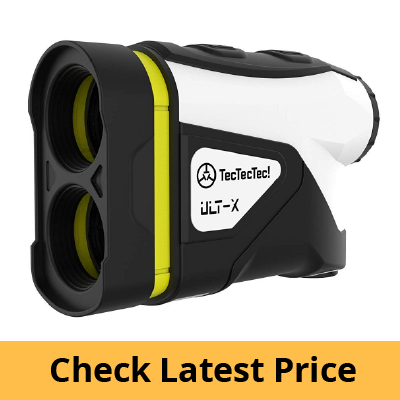 The next generation rangefinder is presented by TecTecTec named ULT-X. The ULT-X is incredibly clear and precise with a range capacity of 1000 yards. Along with the slope measurement feature the ULT-X has Target Lock Technology with 6x magnification for clear and bright visuals.
This is the rangefinder that will give you the most accurate and reliable measurements using the latest optical technology. It is as simple as you like using a rangefinder. A highly visible faceplate ensures that your rangefinder is legal for tournaments. Playing fair is just as important as playing well.
Package Includes
A carry pouch,
CR2 battery,
wrist strap,
microfiber cleaning cloth
quick start guide for easy setup
Pros
Laser Range Finder with 1,000 Yards Range,
Easy Flagseeker and On/Off
Scan modes
Cons
Image stabilization would be better for 1000 yards cover
9. PEAKPULSE 6Pro Golf Laser Rangefinder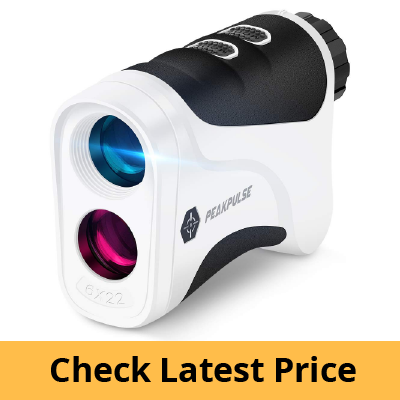 The PEAKPULSE 6Pro golf laser rangefinder is a perfect combination of size, accuracy, vibration, and Slope. Slope-Button Technology lets the golfer easily toggle in and out of PEAKPULSE Slope function. Disabled slope mode rangefinder is legal for tournament play.
Advanced Flag Acquisition Technology filters out background objects ensuring you shoot the flag, not what's behind the flag. And the flag acquisition with vibration technology provides you with short vibrating bursts to reinforce the laser has locked onto the flag.
Package Includes
6Pro Golf Laser Rangefinder
Carrying Case
CR2 Battery
Instruction Manual
Lanyard
Cleaning Cloth
Pros
Flag acquisition with pulse vibration technology
Slope-Switch technology and fast focus system
6X magnification, and precise technology
Cons
Poor Instruction manual does not clearly state usage policy and method
10. Wosports Rechargeable Golf Rangefinder with Slope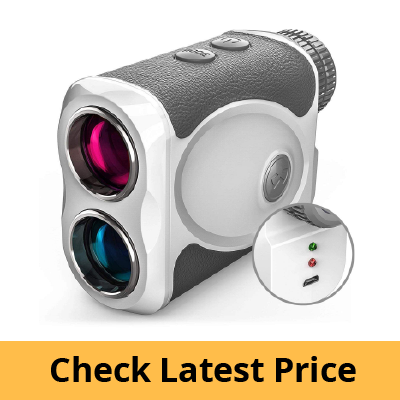 Wosports brought this rangefinder to you with a slope management feature that includes rechargeable technology. Usually, you will find rangefinders that are operated with batteries that can be replaced. But Wosports Golf Rangefinder is equipped with 3.7V 750mah rechargeable lithium battery, and micro USB cable (included) could be charged from any regular charging port.
The regular features like slope management and flag locking with vibration also exist. The features worth mention are the followings:
Magnification: 6X
Field of view: 7 degree
Lens Coatings: Fully Multi-Coated (FMC)
Battery: Built-in Rechargeable Lithium-ion 3.7V 750mAh
Low Battery Indicator: Yes
Flag-lock: Yes
Scan Mode: Yes
Water Resistant: Yes
Package Includes
Wosports Rechargeable Rangefinder
Carrying Case
Charging Cable
Instruction Manual
Rechargeable battery
Cleaning Cloth
Pros
Rechargeable
Slope with 6x magnification
Continuous Scan Measurement
11. Bushnell Pro XE Golf Laser Rangefinder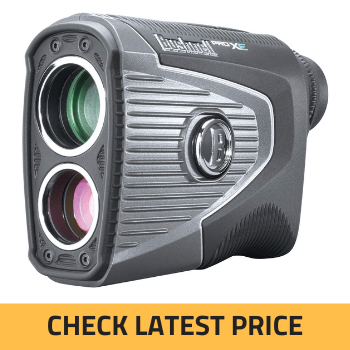 Bushnell is a trusted name in the rangefinder industry. Products like Tour V4, Tour V5 have already earned some reputation among the golfers. The Pro XE the latest in their portfolio. It has a slope feature that can be turned off with a simple button too. Apart from that, the pin-seeking jolt technology will amaze you.
JOLT has been advanced with the all-new 'Visual JOLT.' A red ring now flashes as JOLT vibrates to give the golfer even more fantastic feedback and confidence to know you have locked onto the flag.
You can carry the Pro XE anywhere with you as the package includes a very stylish pouch with a carabiner. not just that, you can bring the rangefinder in your cart, too, with its magnetic mount feature. You need not worry about the weather, also, as the Bushnell Pro XE is waterproof.
Package Includes
Rangefinder
Carrying Case
Charging Cable
Instruction Manual
Pros
Built-in bite magnetic cart mount
Access to 36,000+ Courses
7x magnification
Cons
Pin-seeker performance is not very satisfying.
12. Garmin Approach Z82, Golf GPS Laser Rangefinder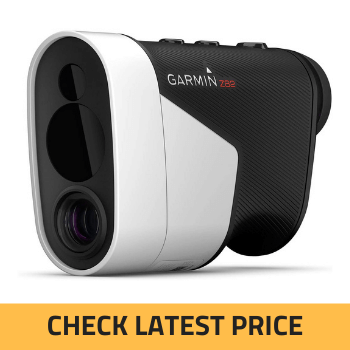 Garmin Approach Z82 is a hybrid rangefinder. The Laser Range Arc feature draws an arc on the 2-D CourseView map at a distance the laser ranges so that you can see everything in play at that distance. It has both laser beam technology and GPS technology built in with 41000-course maps preloaded. These maps can be viewed in 2-D mode as well.
Garmin Approach Z82 has a range of 450 yards. It is one of the most accurate rangefinders you can find in the market. And the image stabilizing feature helps you to have a clear view overall. You can check the hazards in between the golf course using the GPS map feature. Hazard view allows you to scroll through each hazard on the map quickly.
Package Includes:
Approach Z82 golf laser range finder;
Carry case with carabiner clip;
MicroUSB cable;
Documentation
Pros
Hybrid Rangefinder has both GPS and laser technology.
More than 41000 pre-loaded maps
2-D CourseView map
Buying Guide: Things to consider
This might be a challenging task for you to choose the best rangefinder from many products, especially when there is a little to differentiate. Even though we have listed the best rangefinders, it's challenging to select from these too. That is why here is a list of factors you need to consider before making any decision.
Accuracy:
Well, a rangefinder's major objective is to provide accurate data to have a good attempt to shoot and perform better by scoring less to put the ball in the hole. It is wise to choose a rangefinder that provides more accurate information even with a shaky hand. We found a few rangefinders which are capable of delivering real results but need stable hands to operate. If you don't have steady hands, then we will recommend not to buy from those.
Features of the rangefinder:
Each rangefinder offers some standard features that you must look for. Magnification is the first feature you should look forward to.
The higher magnification, the better view you will have, and it will help get an acceptable range. The more coverage, the easier it is to aim. When you have more magnification and range capacity, you will be able to get more accurate information.
Technologies behind the result:
Technological advancement has always worked as blessings for humans and made our regular activities easier. In the case of a rangefinder, technology has made it easy to track your target with features like slope management, target locking, and pin acquisition, and scan modes.
Portability:
When you plan to practice golf outside, you will look for a lightweight and portable rangefinder. The best we chose are portable and light; a few of them are also waterproof as well.
Battery Performance:
Battery performance plays a crucial role in Rangefinders' performance. The latest technology in rechargeable batteries. Nevertheless, old replaceable batteries perform well as well.
FAQs About Golf Rangefinder
What is a rangefinder?
A rangefinder is a binocular-like device but meant to be held up to one eye only that determines how far is your target to shoot, whether it is a flagstick, a tree, a bunker face, or whatever. Most rangefinders have a button on top to activate a laser beam that shoots at your target and rebounds to the sensor beneath your eyepiece to measure the distance.
Are rangefinders legal in golf rules?
The answer could be both Yes and No.
Yes. If you're playing golf in a professional tournament or you're trying to qualify for the US Open. Even some professional tournaments will allow them via a local rule. Technically, rangefinders must be allowed via a "local rule" but essentially every non-PGA Tour tournament allows them, including USGA national amateur championships. But it depends on tournament organizing committees some of them may disallow this distance measuring device.
Should I buy a rangefinder with slope calculation?
Slope calculations are not legal to use in either recreational golf or tournament play. But you can use it while practice to precise your shots. Most rangefinders have a button to switch on and off between slope mode. You can buy slope calculation featuring rangefinder but be sure about its usage policy before going for any tournament.
What is a Hybrid GPS Rangefinder?
Rangefinders with both laser beam technology and GPS technology built-in are called Hybrid Golf GPS.Garmin Z82 in this list is a Hybrid GPS rangefinder. Apart from that, Bushnell has recently launched a hybrid rangefinder with no slope. That means this can be used in competitive games as well.
Final Words
RangeFinders makes you feel confident in your yardage and take dead aim with the superior accuracy to measure around 5-1000 yards. You can scan the landscape to acquire distances to multiple targets, like greenside bunkers and water hazards and still be accurate when connected properly.
Rangefinder is incredibly compact and pocket friendly, and most rangefinders come with a water-resistant body so that you can easily bring it everywhere. Besides you will be able to find some models with shock-resistant cases that guards against impact and poor weather.