When you say 'golf cart', you mainly get two options. One is a push cart to carry golf bags, and the other is a get-in and drive golf cart.
Manual push carts usually come in around $350. The electric caddies price start from $650 and can cost more than $1,500 for carts with advanced features like remote control or follow mode. As for the new get-in and drive golf carts, the price range is about $4,000 – $20,000 as of 2023.
This article isn't for stating constant numbers. It rather focuses on giving you an idea of what you should expect in a particular price range or required budget for buying different types of golf carts in today's market. Let's know more about them.
Cost Of A New Golf Cart
1. Golf push carts' price
Golf push carts usually range from $200 to $3,000. Other than the accessories or upgrades, the prices differ greatly depending on the cart type. Let's get to know these types and their prices.
A. Manual push cart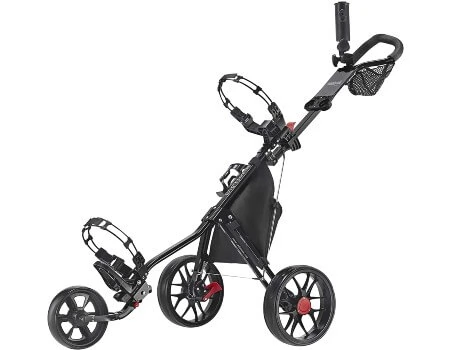 Manual push carts or simply known as push carts, are the most affordable golf carts. These are the most inexpensive carts for carrying golf clubs and other golf accessories. For manual push carts, you usually need about $200 to $500.
Pros
Most affordable golf cart
More energy saving than carrying the golf bag on your back
Folds smaller than electric carts
Very easy to use
Don't need charging and are always ready for the next use
Cons
This cart requires the most energy to go around with
Final verdict
Manual push carts are the best choice for golfers looking for the most affordable cart without the hassle of charging or refueling. But it is also the cart that drains out most energy. That might hurt your game.
B. Electric golf push cart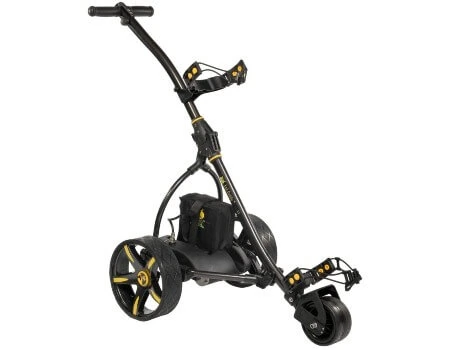 Electric golf push carts or battery-powered push carts cost about $650 to $3,000. They use lead-acid or lithium-ion batteries. The main reason for choosing an electric golf push cart over a manual push cart is saving your energy for golf. But you need a comparatively bigger budget for this.
When you buy a motorized push cart, you get 3 more options. They are non-remote or manual electric push carts, remote control caddies, and push carts with follow mode. One cart might have all 3 modes in them or 2 of them.
i. Non-remote or manual electric golf cart
The manual in its name doesn't mean you need to push the cart. It means you need to reach the cart's handle to dial in where you want it to go. These are the most inexpensive electric push carts. It usually gives you options for direction, speed, and distance. Advanced ones even have built-in GPS with preloaded golf courses to let you command it to go to an exact spot.
Pros
Most affordable electric carts
Cons
You need to reach cart's handle to dial in the command
Not a great choice for hilly courses
Final verdict
This one is for those who don't usually play on a hilly course and want to get an affordable electric push cart. Consider the fact that you always need to stay very close to it.
ii. Remote control golf cart
Remote control push carts usually come in $1,000 to $2,000. You can command it within a limited area through the remote. They don't require you to reach the handle and are more affordable than carts with follow mode.
Pros
You can control the cart from a distance
Cons
Doesn't work outside the limited area
Final verdict
These carts have a lesser possibility of flipping over than non-remote carts, as you can constantly control them from a distance.
iii. Push carts with follow mode
These are the most advanced push carts. It has sensors to automatically follow you around the golf course. But they are the most expensive push carts too. They require about $1,500 or more.
Pros
You don't need to dial in commands constantly
Cons
These carts may take time to follow
Final verdict
These carts are for those who don't mind walking a little slow and increasing the budget.
2. Golf scooters: Affordable alternative of traditional get-in carts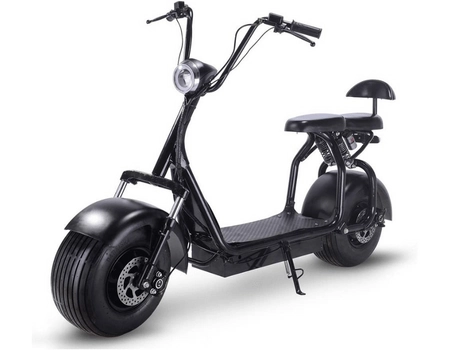 Golf scooters are usually 2-3 wheeler suitable for 1 person ride. Among them, the ones with a golf bag holder and 3 wheels are more convinient and cost more too. Even then, you can easily get a quality electric scooter with a golf bag holder and other accessories under $5000.
Pros
Comparatively affordable price
Get alone time to think about the next shot
Less maintenance and operating cost
Cons
It might be difficult to maintain stability
Final verdict
Golf scooters are for those who are looking for a personal ride at an affordable price.
3. Get-in and drive golf carts price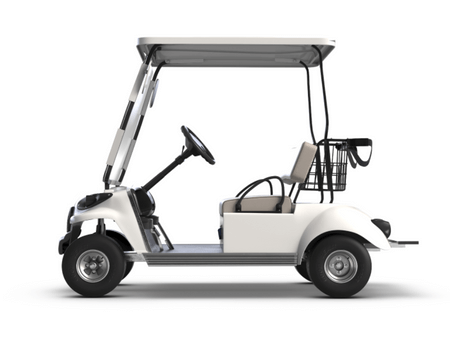 Get-in and drive golf carts are needlessly more expensive than push carts. They require about $4,000 to $20,000. The price depends on various factors. Some of the main factors are size, brand, model year, features, gas or electric, upgrades, street legality, etc.
Who should buy get-in and drive golf carts?
Either a gas or electric cart, both require maintenance and a place to keep them along with the high buying price. So, get-in carts are for those who have a garage or enough space to keep it, are ready to commit to maintenance, and intend to use it all year.
On the bright side, this type of cart helps to save your energy for the game. Especially for seniors, juniors, or golfers with injuries, these carts are very beneficial. However, it is better for healthy young golfers to walk as much as possible. That's a good form of exercise to improve golf. Get-in carts are for those situations when walking drains out the energy and affects the game badly.
Gas golf cart vs. electric carts' price
For get-in carts, you have two types of golf carts to choose from. They are gas and electric golf carts. The price difference between a new gas and an electric golf cart is mostly between $500 to $1,500.
A. Gas golf cart
Pros
Quicker refueling
Has extended range
Suitable for rough terrain and carrying heavyweight
Cons
Comparatively expensive in terms of price, operating, and maintenance costs
Not good for the environment
Final verdict
Gas carts are for playing many rounds without waiting 8-10 hours for charging or thinking about the charge running out. Used gas carts have more value than electric carts if you intend to sell them later. But gas carts are comparatively harder to maintain.
B. Electric golf cart
Pros
Eco-friendly
Quieter ride and doesn't give off smell
Less operating cost than gas golf carts
Cons
Need battery replacement every 4-6 years
It usually takes 8-10 hours to charge fully
Final verdict
In terms of price and comfortable ride, electric golf carts are a better choice. They don't harm the environment like gas carts as well. But it's for those who have access to a standard electrical outlet, are ready to wait 8-10 hours while it charges, and spend on battery replacement every 4-6 years.
Factors That Influence The Cost Of A New Golf Cart
A golf cart's price depends on many factors. You need a clear concept about them to get the best golf cart for yourself within your budget. Some of the main factors are discussed below.
1.Type of cart
Push cart is for those looking for the most affordable choice. Among different types of push carts, a manual push cart is the most inexpensive one, and electric carts with follow mode are the most expensive ones.
In comparison, even a basic get-in cart usually requires more than ten times the price of the electric push carts. Gas golf carts are mostly more expensive than electric ones.
2. New vs. used carts
Get-in carts have more marketplace for used golf carts since they are pretty expensive than push carts. Depending on the carts' age and history, the price difference between a new and used cart can be a lot. Especially used electric carts become very much affordable. Private sellers might give you a lower price too. However, it is better to buy from a dealer to get a better-maintained cart from a wide range of options. Even then, expect to spend at least $2,000 for a quality used get-in golf cart.
3. Golf cart size
The size greatly impacts the price for get-in golf carts. The passenger count determines golf carts' size. The increased price for every pair of seats is about $1,500 to $3,000. Single riders usually come at around $4,000 to $7,000. While the 2-seaters range from $6,000 to $10,000. The 4-seaters cost about $9,000 to $15,000. Range for 6 seaters is around $12,000 to 20,000.
4. Brand and model year
Depending on the brand and model year, carts' prices differ a lot. CaddyTek, MGI, Motocaddy, Stewart Golf, Powakaddy, etc. are famous push cart brands. While Club Car, E-Z-GO, and Yamaha are popular brands of get-in golf carts. Newer models from reputable brands cost more.
5. Accessories and upgrades
Some features come as the basics in golf carts, while some will add extra fees. Scorecard holder, bottle holder, tee holder might come free with the push cart. But advanced features like the USB port in caddies can make it more expensive.
For get-in carts' features and accessories like built-in GPS, speaker, attached cooler, storage option, seat cover, golf cart cover etc. influences the price of the cart.
Conclusion
Summing up, your budget needs to be around $200 or more for a manual push cart. You can get a good electric push cart for under $1,500. But for the ones with follow mode, you might need more than that. In comparison, you need a budget of around $8,000 or more for a quality new golf cart from a reputable brand. And for used ones, expect to spend $2,000 at least.
We have tried to give you a concept of the price ranges. Hope that you get the best deal in your budget. All the best!