Can the cold weather stop a golf lover from playing golf? Of course, not. Playing golf in the winter is sometimes even more enjoyable than in summer. The courses stay quieter and it becomes easier to get good deals in your schedule. Another plus is that you won't be as sweaty as you are in summer.
But it is also true that muscle stiffness because of cold air can have a very bad effect on your grip on the club. That can make your game go wrong. You may also need to keep your clubs and balls indoors, use cart cover from beforehand, wear golf gloves or do warm-up exercises to feel less cold for a while. However, these can't keep you warm for a longer time. Instead, treating yourself with the best golf cart heater is a long-lasting solution.
The 8 Best Golf Cart Heaters in 2022
We have made a list of the 8 best heaters. Additionally, we have added a buying guide to help you understand the process of choosing the right one. After long research and analysis, we pointed out both sides of these heaters. That is to help you decide which one will be the best golf cart heater for you according to your preferences.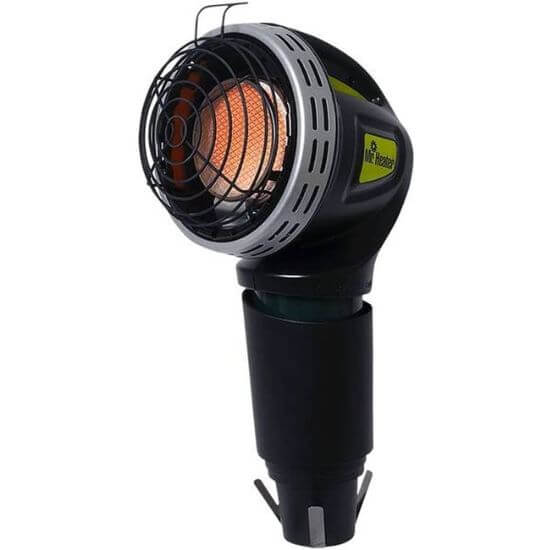 Mr. Heater F242010 MH4GC is a certified outdoor golf cart heater. It has a safety switch to shut it off automatically when it tips over. It also comes with an oxygen depletion system. That shuts the heater off if the oxygen level is too low for the cart.
The powerful heat output of 4,000 BTUs helps to keep your cart warm all the time. It lasts about a round easily. It lets you focus on the game and helps you make better golf ball hits.
This portable golf cart heater comes with an easy grip handle to make it easier and more comfortable for you to use.
In addition, it has a wind-resistant burner and pilot system to keep the users warm even in windy weather or while driving. Though the cup holder adapter may not fit all the golf carts, it fits in most of them.
Things we liked
Has a safety switch to shut off the heater if it tips over.
Oxygen depletion system helps to save users from the danger of low-level oxygen.
Comes with a cup holder adapter.
Easy grip handle makes it more comfortable to use.
Things that can be improved
The heavy top may make it tip over.
Does not have a heat regulator.
Final thoughts
The Mr. Heater MH4GC stands out for its additional features like a wind-resistant burner and pilot system. The high heating power with efficient safety features and easy installation system makes it a great option for a golf cart heater.
Texsport Sportsmate portable propane heater can produce up to 3,000 BTUs. That can provide pretty good warmth and comfort during the rides.
It comes with an auto shut-off valve that cuts off the fuel supply once the flame goes out. It also has an aluminum reflector safety grid to lessen potential accidents and ensure safety.
This golf cart heater is light and compact. Because of its portable design, you can use it for camping or other outdoor tours as well. The stainless steel design makes this portable golf cart heater more durable.
But you need to hold the button of the heater for a while to make it stay lit. It also may take time to heat up.
Things we liked
It is comparatively affordable.
Comes with an auto shut-off function.
It is comparatively more durable.
A cup holder comes free.
The large paddlefoot plastic base ensures the stability of the propane fuel cylinder.
Things that can be improved
May shut off after a while.
The flame system may seem risky to you.
It may take some time to heat up.
Final thoughts
Texsport Sportsmate portable propane heater comes with a powerful heat output at an affordable price. It meets the needs for both golf carts and other outdoor uses like picnics.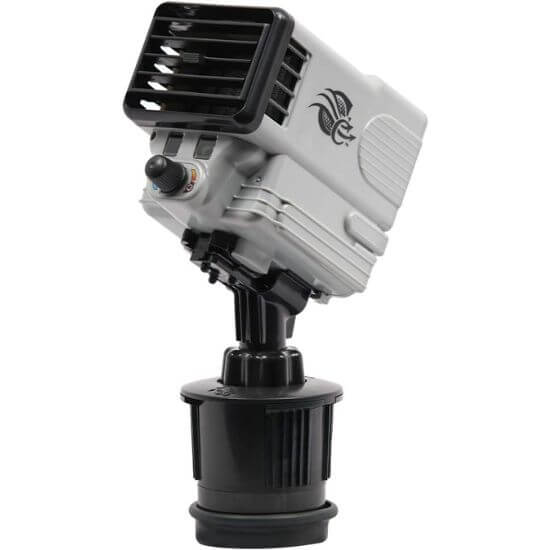 Climate Caddy heater is the best electric golf cart heater on our best golf cart heaters list. It is designed to fit all 48V electric golf carts. It has 3 different mounting options; portable cup mount, permanent cup mount, permanent dash mount. This cart heater comes with an adjustable cup base to make it easier to install.
The patent pending technology of this heater can generate warm air of 100° or more and also cool air during summer without draining the battery much . You can use this in both summer and winter.
Covering the cart with golf cart cover from beforehand and using it with cart enclosure will help you get optimal results. It is more suitable for small golf carts.
Things we liked
This heater is comparatively durable.
Can be adjusted in different directions.
Comes with a battery fail-safe sensor.
Has an adjustable cup base.
Made of UV-resistant plastic with weatherproofing protection.
Things that can be improved
It is comparatively expensive.
The wiring may seem complicated to you.
You need to use it with a golf cart enclosure to get optimal results.
You may find it noisy.
Final thoughts
Climate Caddy 48V electric golf cart heater is for using both in winter and summer. It can provide both warm and cool air. It is pretty durable too as it is made of quality plastic.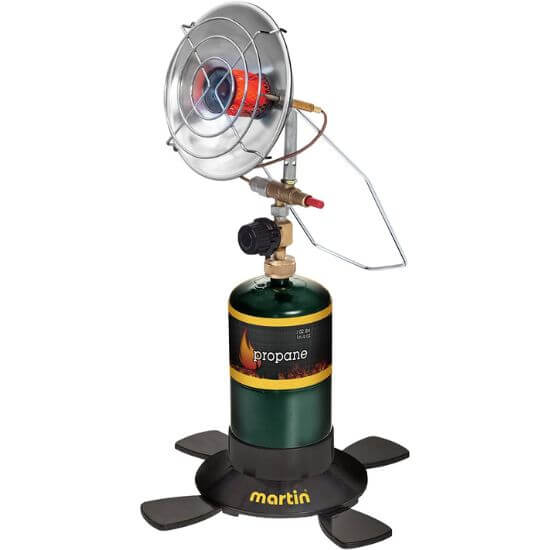 Martin portable infrared heater comes with a safety grid and auto shut off feature. These features ensure safety if the flame goes out.
It has a large paddle foot base for stability so that you can place it anywhere to stay warm.
It has 3,100 BTUs of heating power. It works with a 1lb propane bottle and keeps the cart warm for hours. You can adjust the heat according to your preference. And you can easily refill the propane tanks with a refill adapter as well.
Though the setting of this heater is pretty basic, you may find it a little complicated sometimes.
Things we liked
Comes at an affordable price.
The auto shut-off fuel valve shuts off the fuel supply when the flame goes out.
The large paddle foot base and extendable cylinder base ensures stability.
3,100 BTUs of heating power.
Comes with heat adjusting settings.
Things that can be improved
Doesn't come with a cup holder adapter or a portable cup holder.
The lighting method and heat adjusting settings may look complicated.
Final thoughts
For adjustable heating settings, Martin portable outdoor camping infrared propane gas heater is a good one to consider. Though it doesn't come with a cup holder, the large paddle foot base makes it pretty stable.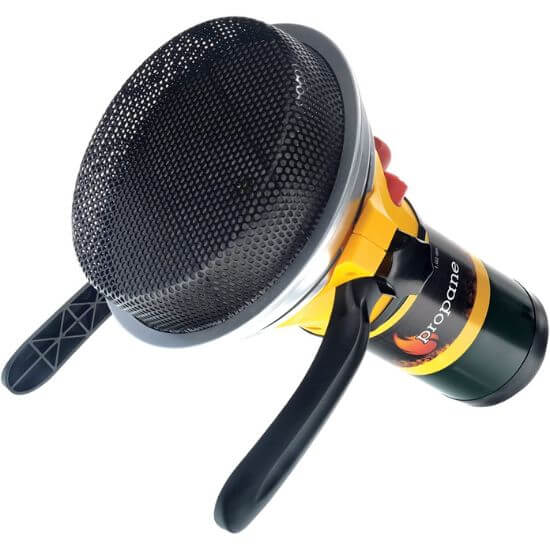 Martin portable gas catalytic heater is a flameless heater that can provide 3,000 BTUs of heat for about 7 hours. That too with a single lb propane cylinder.
The efficiency of the heater is 99.98%. That means it will be saving money in the long run.
It is very easy to use. You can set this on high or low according to your preference at different times. As it has a flameless design and safety fuel shut off feature, you won't feel unsafe.
The foldable legs make it easier to set it up anywhere. This portable heater can be a companion on camping and picnics as well.
But for securing it in a golf cart, you need to arrange the mounting system separately as it doesn't come with any.
Things we liked
Comes with a high efficiency.
It is portable.
Has an easy-to-use design.
The heating power is 3,000 BTUs.
It can have a long runtime of 6-7 hours per 1lb propane cylinder.
It has foldable legs.
The flameless design will help you feel safer.
Things that can be improved
It is comparatively expensive.
Doesn't come with any hook or cup holder adapter or portable cup holder.
As it is flameless it may seem complicated to determine whether it is lit or not.
Final thoughts
Though Martin portable gas catalytic heater is a bit expensive, it saves money in the long term because of the 99.98% efficiency. It also has a long run time of 7 hours.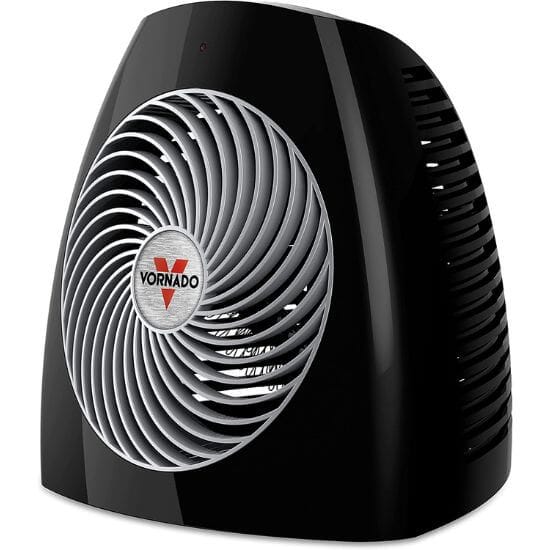 Vornado MVH heater comes with 3 powerful heat settings. With the highest heat setting of 1500 Watt, it can warm up your cart easily on a very chilly day. The Vortex heat circulation technology of the heater helps to distribute the heat throughout the space, not only in one direction.
For keeping you safe, it comes with tip-over protection. There is an automatic safety shut-off system too. The heater exterior doesn't heat up much as well.
The concern is that it doesn't have a separate mounting system to attach with the cart. But the good thing is, the base is pretty stable. Additionally, this heater has a handle for better portability.
Things we liked
It has an internal thermostat to help maintain optimal warmth.
It is energy efficient.
The fan of the heater is pretty quiet.
This heater has a compact size to fit easily in the cart.
Things that can be improved
It might be difficult to find the optimal setting as the heater changes the heating according to the temperature of the surroundings.
You may need to use it with cart enclosure for best results.
Final verdict
If you don't want to take the hassle of a propane heater and want to go for a compact and easy-to-use option, this heater is a great choice. The cool-touch exterior just makes it a better one to place anywhere on the cart.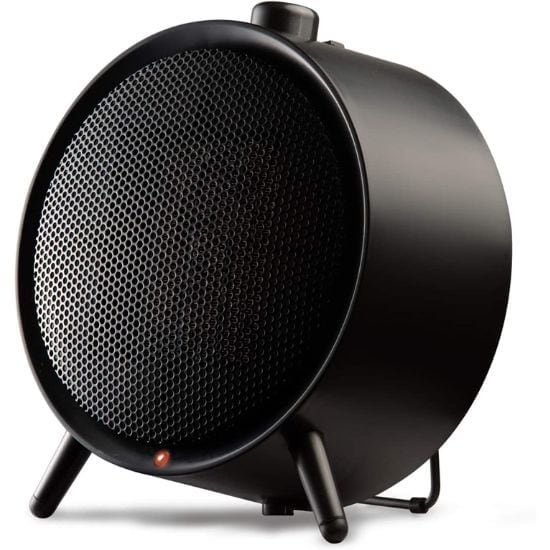 Honeywell UberHeat Ceramic heater has a compact and stylish design. The size is pretty much like a table clock. It won't be a problem to find a place for it in your cart.
For safety, it has a tip-over switch. Additionally, the housing stays cool. So, it will be ok if you touch the heater accidentally while driving.
The 1500 watt heat can easily warm up your cart. The heat setting is adjustable. This heater also won't overheat as there is an overheat shut-off protection feature.
But it is better not to place it directly toward you. That will make the fan's fast airflow directly fall on your skin. It may get uncomfortable for you.
Things we liked
The heater itself comes at a lower price and is energy efficient. This saves up both upfront and later expenses.
It automatically turns itself off when you pick it up or when it tips over.
The maximum power option helps to warm up the cart quickly.
The heat lasts comparatively longer even after switching off.
Things that can be improved
The noise coming from the heater is easily noticeable. It can be quite disturbing.
The thermostat may cause uneven heat sometimes.
There is no mounting system to set it tightly with the cart.
Final verdict
If you are looking for a stylish, portable heater and don't mind the noise, this Honeywell heater is a great choice. It is both inexpensive and energy-efficient.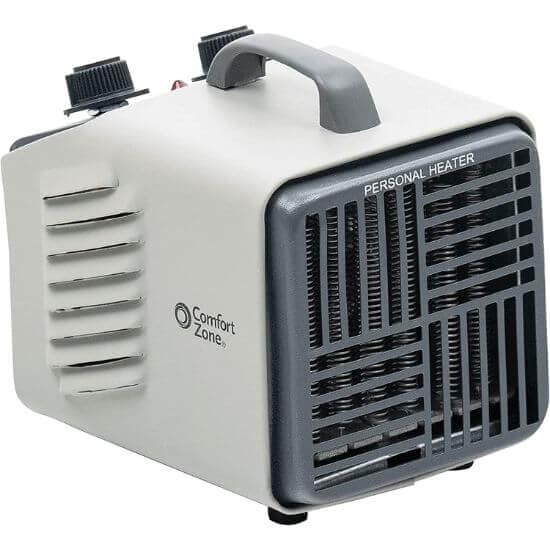 This Comfort Zone heater is another 1500 Watt heater on our list. What makes it different is its rectangular design. It provides stability even when you put it on a slightly uneven surface.
As it has a cool-to-touch housing, you won't have to worry about accidentally touching the heater. What adds more to it is the handle of the top. You can move the heater easily using the handle.
Not just the design, the warming performance is pretty good too. This heater comes with adjustable heat settings including 1500 watt maximum heat setting. It lets you choose according to different situations.
Additionally, the overheat protection sensor ensures that your cart doesn't heat up too much.
Things we liked
The controls are very easy to understand and use.
It heats up the room quickly.
The heater has a caution light to help you stay safe.
The tip-over switch automatically turns off the heater to save you from accidents.
Things that can be improved
The handle is slightly small to hold it comfortably.
The heater isn't whisper quiet.
Final verdict
This one is a good option for those looking for a powerful electric heater at a comparatively lower price. The different heat settings, safety features, rectangular shape make it a good choice to go.
Things to Consider Before Buying The Best Golf Cart Heater
Choosing the best golf cart heater is not only about keeping you warm but it also needs to have proper safety measures. It would be very disappointing to get poor performance after spending your hard-earned money. Whereas, it will be worrying and annoying if the heater needs fixing after every little while to ensure safety. So, consider certain things to save yourself from these troubles while choosing a golf cart heater. Let's know in detail.
1. Electric Heater Vs Propane Heater
The first question before buying a golf cart heater is which type to buy. Should it be an electric one or a propane one? Well, that depends on personal preferences. Both of them come with certain benefits and drawbacks. Let's learn about them.
i) Propane heater: Usually less expensive but requires regular fueling
Propane heaters are comparatively less expensive and more efficient at heating. These are generally more portable than electric heaters. These can work in both gas and electric golf carts.
But the downside is, a propane heater has more later expenses for the fuel. In many countries, fuel is more expensive than electricity.
You also need to stay very careful about the safety measures while using a propane heater. Using an outdoor propane heater in an enclosed place can lead to carbon monoxide poisoning.
ii) Electric heater: More upfront price but requires less safety cautious
Electric heaters don't need any fuel or come with any open flame system to be uncomfortable with. They usually come with various kinds of temperature controls and advanced technologies. You will need to follow fewer safety precautions while using these heaters.
But the drawback is, the upfront price of an electric heater is comparatively more. Most of the time, it is less portable than propane heaters and drains the cart battery quickly.
2. Safety: Need To Have Tip-over Switch Or Auto-shut Off
Whether it's propane or an electric heater, you need to follow certain precautions to stay safe. Like following the proper guideline while switching on or off, keeping yourself at an optimal distance, not letting it tip over and so on that are mentioned in the manual. To ensure safety more effectively, most of the manufacturers provide certain safety features that are very helpful. Let's know in detail.
i) Shut- off function
An automatic shutoff function will shut the heater off when there are possibilities of danger. For example, it cuts off the fuel supply once the unit falls in propane heaters. In electric heaters, it saves the battery from draining out.
Low oxygen shutoff is another amazing safety feature. It cuts off the fuel supply when the oxygen level is too low. That saves you from carbon monoxide poisoning.
ii) Other safety features
There are some special safety features like a tip-over switch, pressure regulator, secure installation option and so on that helps to increase safety. A tip-over switch shuts the heater off when it falls.
A pressure regulator is another additional safety feature that is useful while playing at altitude. It helps to control the pressure of fuel to keep you safe. Also, having a proper setup option like a hook or cup holder lessens the potential risks.
3. Heat Output (watt or BTUs): Choose Higher BTUs For Bigger Golf Cart
BTUs (British Thermal Units) represent the heating power. The higher the BTU number is, the more warmth the heater can provide. What BTU is ideal for your golf cart depends on the size, enclosure of the cart and the level of warmth you prefer.
A small-sized or golf cart with an enclosure requires a comparatively less powerful heater. Also, while using an enclosure with a propane heater, you will need to keep one of the enclosure flaps open for the proper ventilation for the heater to ensure safety. That would let more cold air in the cart. You will need more BTUs. Consider all these facts before choosing a heater with certain heating output.
4. Easy Installation And Portability: Cup Holder Adapter Or Portable Cup Holder Is A Plus
It is better to choose a heater with a cup holder mounting system. That will let you stay at ease without worrying about tip over. Having a hook system heater is also suitable as that is also secure and stays at a distance. You need to be careful if you place it overhead to avoid accidents.
Choosing the one with a permanent mounting system with the cart is a great idea as that is the safest option and lets you stay more worry-free. But then you won't be able to take it anywhere with you or give it on rent. Thus, portability is important too.
The heaters with no specific mounting system are highly portable and let you take them anywhere. You can also give them on rent easily. You just need to keep them anywhere on the cart surface or before the steering wheel. But the downside is, these have the most risk of tipping over. So, they can be pretty dangerous if you don't stay careful.
5. Other Additional Features: Quiet Operation, Windproof And Waterproof Features
These are not must-have features. But these additional features let you have a better experience with a golf cart heater. Golf cart heaters may work poorly or shut off because of strong wind if it doesn't have wind-resistance features.
Also, you definitely won't want a heater that irritates you with weird noises all the time. A heater with less noise will let you easily notice the sudden noises that indicate problems in the heater. So, the fan of the heater needs to be powerful yet quiet. At the same time, waterproofing helps the heater to perform well even in wet conditions.
6. Budget: Consider Both Upfront And Later Expenses
Golf cart heaters come at different prices according to size and features. Electric golf cart heaters usually have a comparatively more upfront price. Still, they don't need you to buy fuel on a regular basis. But if your cart doesn't have an AC outlet, you will need a portable battery to run it and change it or charge it in a while. That will add up a cost to the price.
Whereas, propane heaters have less upfront price but require fuel cylinder on a regular basis in every 4-7 hours on average. That adds up to the price later on. So, make sure to consider all the later expenses. Also, go through all the options of the same price range to get the one with the most features.
Frequently Asked Questions
Conclusion
Don't let the cold weather hamper your game. Choose the best golf cart heater to enjoy warm rounds on the golf course and play the game without any distraction.
So, which one did you like more? Let us know in the comment section. Also, feel free to visit our golf training guides and other review posts and leave your valuable opinions to help us enhance your golf experience.