You must have a good number of disc golf being passionate about this sport. Carrying all these together could be troublesome sometimes? Golf Bags and Backpacks are good options to carry all these discs. But It must be painful as well to carry bags traveling a lot with it.
Then you can definitely own a cart to carry your bags. You will find quite a few carts in the market. In this article, we are going to cover the best disc golf carts on the market. With protips of choosing the best from the lot.
5 Best Disc Golf Cart Review
These are the top 5 disk push carts you will find in the market: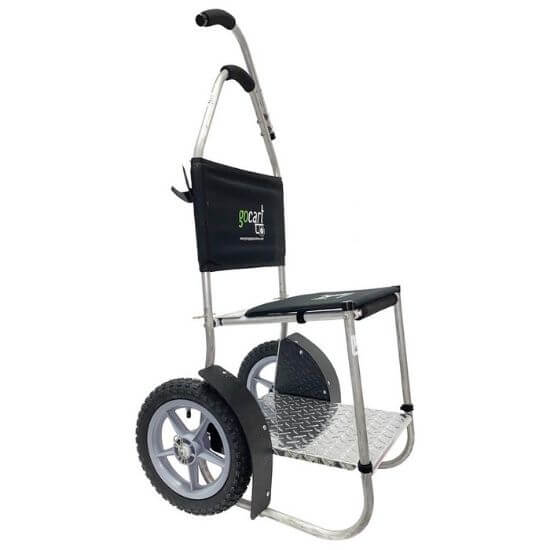 Heavy-duty aluminum-made Go Cart is lightweight and provides comfort & ease as you make your way around the disc golf course. It reduces the load on your body and is as significant as having a caddie. No more carrying your golf bags on your shoulder. Give them a rest with this Go-Cart. The handle features a comfortable grip and large wheels make it easy for maneuvering in just about any terrain. 
Features
Heavy-duty aluminum
Large diameter wheels
Things we liked
Lightweight
All-terrain wheels
Things that can be improved
Connectors are made of plastics
Overpriced
Final Verdict:
Small but compact disc pushcart. Consists of all the features a regular golf push car should have.
You may also like: Electric Golf Scooter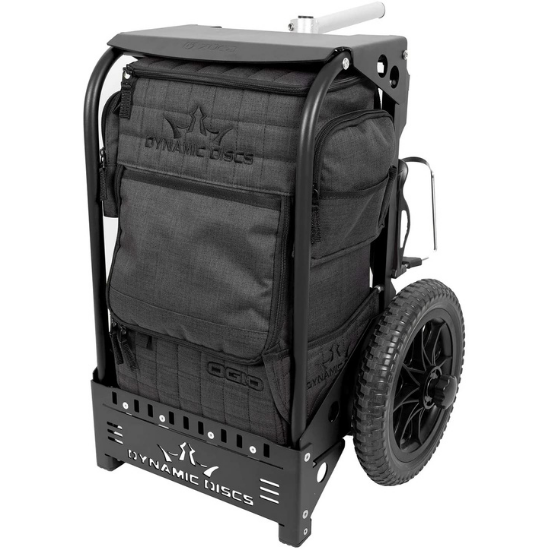 Dynamic Discs is a full-scale golf disc manufacturer specializing in selling all relevant products in disc golf since 2005. Dynamic Discs introducing Backpack Disc Golf Cart that transforms your favorite disc golf bag into a rolling backpack and lets you go with less effort and stress. All-terrain tubeless foam tires keep rolling smoothly on the sand, rocks, snow and rough terrain along with plain surfaces.
This cart gets you there while avoiding back and shoulder strain as well as offering you a seat. The other mentionable features this cart holds are like telescoping long handles, storage setup, and removable wheels. Sealed wheel bearings offer a low-maintenance solution and smooth push or pull. 
Features
Removable wheels for more compact storage
51" Telescoping handle
Sealed wheel bearings
Gear platform to carry additional load
Things we liked
Low maintenance and a smooth ride
All-terrain tubeless foam tires
Fits many popular backpacks
Things that can be improved
Removable wheels found getting detached automatically
Final Verdict:
You will get a good value for what you pay. The cart is easy to put together. And we loved the all-terrain disc cart as the wheels can be easily removed for larger storage.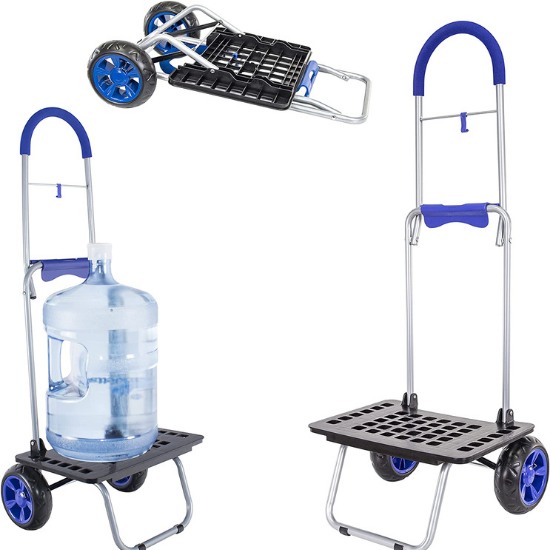 Bigger Mighty Max's personal Dolly from dbest products is one of the best-featured carts in the market. It has all the features that you may look for. The cart has multi functionalities that will help you in your daily life not just for disc golf. The cart is available in almost 9 color shades. Aluminum made frames are capable of heavy lifting even in lightweight.
Its lightweight and compact foldable feature makes it stand out from any hand cart on the market. Larger Toe Plate helps transport large pots, waste bins, laundry baskets, and other large heavy items. The soft ergonomic cushion handle provided in dbest bigger mighty max personal dolly reduces the stress on the hands. 
Features
Folds in 1/2 for Compact Storage
Heavy Duty Beefy All-Terrain Wheels
Ergonomic cushion handle
Things we liked
Collapsible and Portable
All-terrain boofy wheels
Things that can be improved
Final Verdict:
Against the price, they are asking you may not be asking for anything with more features. But the built quality is not so good to try.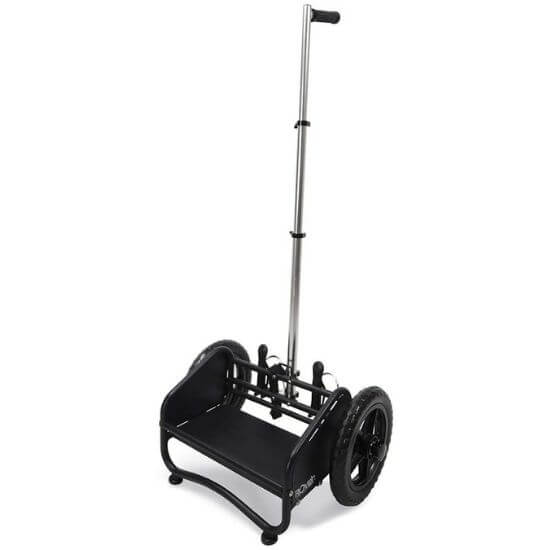 The MVP Rover disc Golf Cart is a lightweight and highly expandable cart that can be extended up to 51 inches. The cart comes ready to explore the package with all your gear included. The MVP Rover Cart is the first cart from MVP designed to take the weight off your shoulders and be your caddy on the go. The cart has dual large drink holders along with an attachment strap to secure your gear. 
Features
Lightweight and highly expandable
Storage Platform 15.75″ Wide x 9″ Depth
Things we liked
The handle detaches easy
Compact size
Budget-friendly
Construction is solid
Things that can be improved
No installation or user manual
Final Verdict:
The cart gives you a compact size storage when the handle is detached and comfortable movement with the highly expandable handle.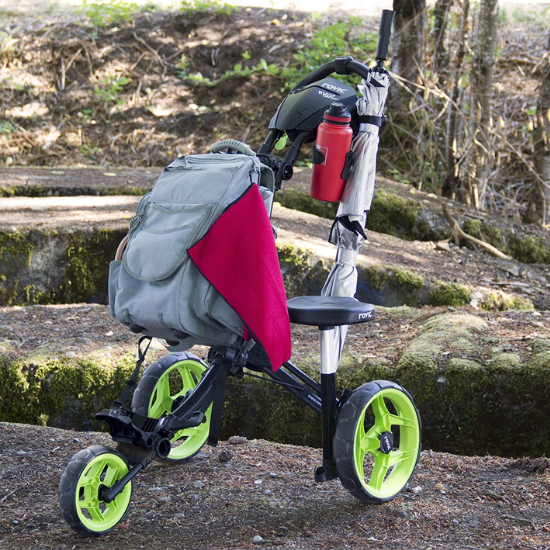 The Rovic RV1D disc golf cart is a lightweight cart that features 12 inches rear wheels with resilient aluminum tubing to tackle any course and terrain. There are so many available accessories to glam out your RV1D cart and keep you throwing all day long.
The built-in storage console of this cart is capable of holding your regular-use valuables like keys, wallets, phones, and so on. The RV1D disc push cart includes an umbrella mount that helps you stay in the shade and out of the rain. And the XL cup holder is capable of accommodating large drink bottles or containers. 
Features
Universal bag hooks
Aluminum tubing
Folds to a compact size
Rugged, airless wheels
Front-wheel mudguard
Storage console
Parking hand-brake
XL cup holder
Umbrella mount
Things we liked
Lightweight and Durable
Storage console, parking hand-brake, umbrella mount features
Accessories included
Things that can be improved
Brake applies on one wheel only
Final Verdict:
You will love the way it expands and retracts. The storage capacity is amazing. And the aluminum tubing ensures build quality with durability.
Tips to Choose the Best Golf Disc Cart
There are certain facts and features you need to look after before buying any cart along with your budget. Definitely, you will choose from those that are in your budget but the following features also require the same importance in your purchase decision.
Wheels:
Usually, you will find carts having 2-4 wheelers. We found 4 wheelers more comfortable and easy mobility than others, but 2 & 3 wheelers with proper support to balance are also good. Bearing plays a crucial role behind wheels. Check out the built quality of wheels for a better quality cart. 
Portability:
Lightweight and easy carry features are a must. Manufacturers have identified the demand and produced most of the carts lightweight and portable.
Foldable:
You will find most of the carts have folding handle features. But what to watch out for in the folding mechanism? Smooth and fast folding with push button is appreciated. The manual folding mechanism takes time and is a bit difficult sometimes to fold or unfold. The automated push-button folding mechanism eases you and lets you enjoy carrying a pushcart. 
Storage capacity:
More storage capacity with pre-installed accessories holders like bottle holders, umbrella holder, and mobile holder will ease your use of the cart. 
Conclusion
Golf push carts ease a golfer's mobility on the course while playing and carrying all the clubs, balls, and other accessories. The latest technologies and features like foldability, 3 wheelers, and large storage capacity add value to the money you spent on a cart.
Here we have analyzed the top 10 golf push carts based on these features and customer feedback in comparison to other carts of the same price range. With the help of the buying guide included you must be able to choose the best of the lot.