The Ellwee electric golf cart is a combination of a cool look and great performance that makes you feel better and play better. With the one-person golf carts of Ellwee, there is no need to get on a crowded cart anymore or pay the golf cart rental fee. You can bring your own single rider and enjoy your game.
Moreover, if you want to take a friend with you, you can do that as well. The seat is large enough for two people. With this cart, you can have a contribution to making the world pollution-free. Because the cart has very little noise and doesn't produce any emissions. Moreover, the cart works like a small truck that carries all the needed accessories for your golf course.
Though the Ellwee carts have a lot of benefits, they have some drawbacks too. What matters before buying is, whether the benefits are worth enough to consider the drawbacks or not? Well, that depends on your personal preference. Let's know a little more about the Ellwee electric golf carts to help you make your decision.
Ellwee Electric Golf Cart Review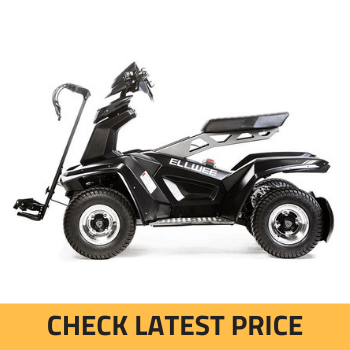 Looks and Design
Ellwee single-seater golf carts grab attention at the very first sight. The captivating and amazing look of these golf carts will make your rounds more amazing than others. The carts are available in mainly three colors; supermatt black, dental white, deep blue metallic. As a result, you have the option to buy the one that sits with your personal taste best.
The design of these carts is inspired by an ATV but it gives the feel of a scooter with its cool look. Unlike an ATV, the cart is engineered differently so that it cannot cause much turf damage. Therefore, the green of your course is much safer. Yet, keep in mind that the carts still do cause a little wear and tear on the grass.
You may also like: Electric Golf Scooter
Overall performance
Speed and air pressure
Tests with Ellwee have shown that the Ellwee electric single riders make your rounds 25% faster than an ordinary two-seater golf cart on average. That gives you more time to play, meaning more practice time for your game.
Ellwee gives you both a fast and comfortable ride. The electric golf cart has large and lightweight wheels that require almost 50% less air pressure than a traditional golf cart. It affects the performance in both good and bad ways. It is bad because the low air pressure tends to make the tires wear down quicker. It also eats up more power. Whereas, it is good because it helps to give you a smooth and comfortable ride. Thus, you get to enjoy your time with the single rider to the fullest. At the end of the day, your comfort is what matters the most.
Battery and charging time
The single-seater golf cart requires 4 AGM 12-volt batteries to run. You can charge the cart by plugging it into any wall socket. This makes it easier to charge and easier to use.
But the drawback with an electronic cart is, you never know when the charge will fade. As soon as the charge goes down, the speed also lessens. It might even stop in the middle of the golf course where there is no wall socket near. As a result, you will fall into a difficult situation where you will have to tow the cart to a nearby wall socket. So, make sure to charge the cart well before starting the game.
Moreover, as the charging time is 8 hours, which is a big period, you need to have a proper routine for charging the cart. If you forget to charge it overnight, you might end up waiting for the cart to charge fully at the time of your game. Moreover, the older the batteries get, the more time batteries take to charge. Consider these facts before buying.
Safety measures
Brakes and safety features
Ellwee electric golf cart gives top priority to your safety. It has two brake systems to ensure basic safety.
Conventional parking brake
Engine brake for your safe downhill riding.
Not only that, the cart has the 'Geo fencing' feature that helps you to stay away from hazard zones or off-limits areas. That saves both your cart and the green of the course even from little wear and tear. Moreover, the Ellwee carts come with a gyroscope that saves the cart from tipping over.
No weather protection
Consider the fact that these one-person golf carts don't have any windshield or canopy. Therefore, you are more exposed to sun, rain, and dust. Everyone indeed needs to stay in the sun for some time to produce certain vitamins and hormones. But staying in the sun for too long can also be really harmful to you. Moreover, you need to keep an umbrella separately to save yourself and your other valuables in case you get stuck in sudden rain. Check out the best golf umbrellas to find the suitable one for you.
Accessories of these one-person golf carts
All ellwee accessories are made in Europe out of premium materials. As a result, all the accessories are a combination of quality and longevity that ensures easy and suitable transportation of your golf tools. Depending on the Ellwee model, you get one or more than one accessory like a helmet storage box, golf bag mount, ATV rack, protective cover, cooler, etc. free with the electric cart.
For example, you will get a front golf bag mount with the Ellwee X Resort golf cart. If you have a slightly higher budget and decide to buy Ellwee Easy Resort, you will get both a front golf bag mount and helmet box along with the cart. Besides, you can add extra accessories of your choice at some additional cost. Check the accessories list before buying the cart and make sure it includes everything you require.
You May Also Like: Best Golf Cart Speakers
Price and options
Ellwee electric golf carts are available in different price ranges. For example, Ellwee X comes at around $6.5k. Whereas, Ellwee Easy Resort costs nearly $8k. Therefore, you have the chance to buy an electric cart in your budget range.
Pros
Cool look
25% faster than an ordinary two-seater golf cart.
Causes less turf damage
Engine brake for safe downhill riding
Geo-fencing keeps you away from off-limit areas
Gyroscope saves the cart from tipping over
Less air pressure of the tires makes the ride smooth
Eco- friendly
Cons
Don't have a canopy or windshield to save you from sun, rain, and dust.
Less air pressure of the tires eats up more power and makes the tires wear off quicker
It takes time to charge
Buy Ellwee Electric Golf Cart Now!
Final Verdict
The Ellwee electric golf carts let you have faster games with a cooler experience. Moreover, electric carts come in different price ranges. That makes it easier for you to reach out. It is recommended if you are looking for a cool, fast, eco-friendly, and slightly different cart for yourself.
But in the end, it is up to your personal preferences whether it is good for you or not. Feel free to ask anything or share your opinions with us. We would love to answer your questions.