Whether you should choose a gas or electric golf cart depends on your needs and how much you are willing to invest. Depending on the type of cart, it will require a different amount of time, money and effort for getting the golf cart ready to use every time.
An electric golf cart is the better option for those who want an eco-friendly, easy-to-maintain cart with less operating expenses and have access to a standard electrical outlet. And if you want a cart for a longer range without the hassle of waiting hours for charging, a gas powered golf cart is better.
Gas Vs. Electric Golf Cart: At a Glance
There are mainly 8 factors that help you choose between a gas and electric golf cart. The table below shows a summarized version of the advantages and disadvantages of these 2 types of golf cars for those running short of time.
| | | | |
| --- | --- | --- | --- |
| | Factors | Electric golf cart | Electric golf cart |
| 1. | Range | 80-180 miles per tank | 15-40 miles per charge |
| 2. | Operating expenses | Usually costs $20-$30 for a 6-gallons capacity tank | Costs $0.4-$3 to fully charge |
| 3. | Intervals between uses | Works as soon as you refuel with gas | Takes 8-10 hours to charge fully |
| 4. | Eco-friendly | No | Yes |
| 5. | Noise level | Engine makes it noisy | No noticeable noise |
| 6. | Smell | Gives off gas smell | No noticeable smell |
| 7. | Maintenance | Mainly checking engine, oil level, signs of oil leaks, and changing oil, filters, spark plug | Mainly charging and checking the battery water level, charger connector, vent cap |
| 8. | Expenses in the long term | Doesn't require a big budget at once | Costs $800- $2000 for a set of 6-pack 8V battery |
So, Who Should Buy An Electric Golf Cart?
Though an electric cart has a range of 15-40 miles, which is much less than a gas powered one, you can easily play one around and return to the starting point per charge. In view of the fact that the average course length even on the PGA Tour is about 4.09 miles.
And the expenses for the battery charging are not even near to the gas refueling charge. If you get 80 to 180 miles per tank for $20-$30, it means you get 2.5-9 miles per dollar. Whereas, for the electric one, you get 5-16 miles per dollar. That's almost double the distance for the same price.
Both types of golf cars require regular maintenance and visits to golf cart repair shops. But electric ones comparatively have less number of things to look after. Gas carts will need money for oil change, spark plug, filters, etc. You can save up that money to buy the battery set later.
You just need to consider if you are okay with the long charging time and battery changing expenses at once every 4-6 years or not.
Who Is A Gas Golf Cart For?
A gas golf cart is better when you don't want to wait 8-10 hours to use the cart again or constantly stress about the battery running out nearly at the end. You might not want to spend a big amount like $800- $2000 at once on a battery set every 4-6 years as well. Gas powered golf carts are more suited for carrying heavy loads too. That's why it doesn't lose speed easily even if you custom-build it later with add-ons.
But before choosing a gas cart, keep the gas expenses along with the oil, filters, spark plug or other moving parts changing costs in mind. If you're okay with that, then go for it.
Advantages and Disadvantages of Gas and Electric Golf Cart
Gas golf carts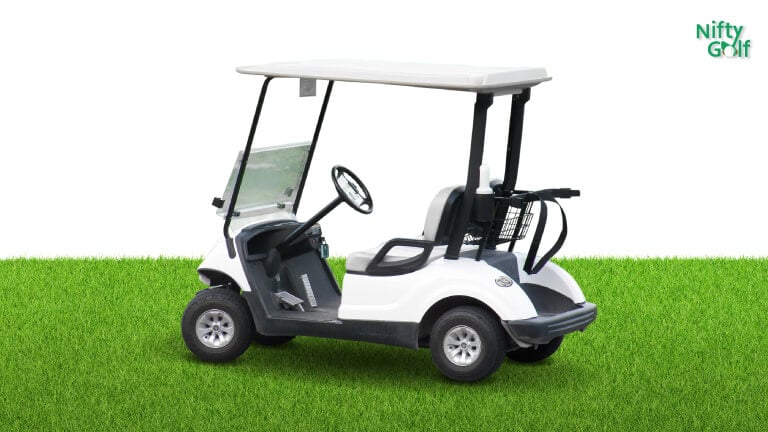 Like most cars and trucks, gas golf carts are fueled with gas. They work through combustion engines. Four-stroke and two-stroke engines are common. Among them, two-stroke engines are usually found in older versions. Four-strokes are more efficient and have a comparatively less harmful effect on the environment.
Pros of gas golf carts
Has an extended range
Quicker refueling
Better for carrying heavy loads
Better for rough terrain and hills
More suitable to be a custom golf cart later
Cons of gas golf carts
Harder to Maintain
It's carbon monoxide emissions are harmful for environment
Creates noise and gas smell
Electric golf carts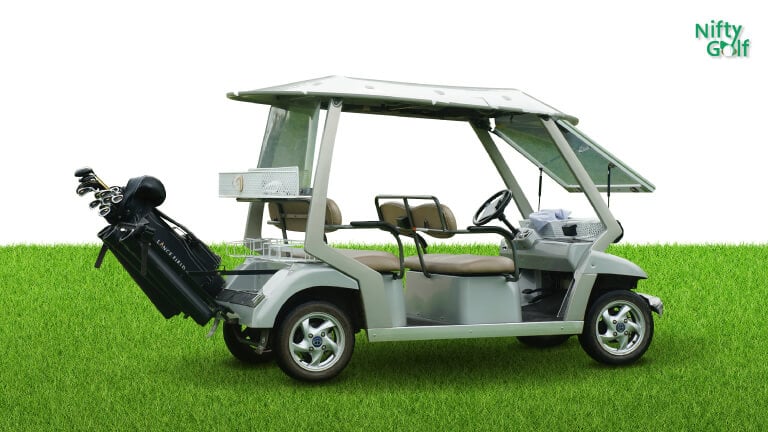 Electric golf carts work with the help of a rechargeable battery set that contains 5-6 batteries. Lead acid batteries, Lithium-ion batteries, and AGM (absorbed glass mat) batteries are the main types used in electric carts. Lithium-ion is the best among them. And if we talk about the system, 36V, 48V, and 72V electric golf carts are well-known ones. While the older versions are usually 36V carts, most electric golf carts now have a 48V system.
Pros of electric golf carts
Eco-friendly
Quieter ride
Less operating cost
Easy maintenance
Less damage to course grass
Cons of electric golf carts
Recharging requires much time
Need battery replacement every 4-6 years
Things To Consider Before Buying a Gas Or Electric Golf Cart
1. Price, maintenance, and operating cost
It differs depending on the brand, model, and features. But expect to spend $8,500-$18,000 for a good quality new golf cart. Used ones will cost less depending on the condition of the cart. But they usually cost more for maintenance. So, in terms of price, maintenance, and operating cost, electric ones are a better choice.
Those looking for something cheaper and require less maintenance than an electric cart, you might want to check electric scooters or Ellwee single riders.
2. Fuel tank capacity and distance to gas stations (for gas carts)
Less distance to the gas station can decrease expenses and save time. Having a fuel tank with a higher capacity will require fewer trips to the station. You will be able to enjoy your ride more peacefully. Usually, 5-6 gallons capacity is most common. Carts that can hold 6-6.8 gallons will be a plus.
3. Access to outlet, charging time, and battery life
Before buying an electric golf cart, ensure access to a standard electrical outlet. Then, charging time is a factor. 8-10 hours is okay. But it's better not to be more than 12 hours as this time eventually increases. It is because when the battery gets older, battery power decreases too. That will take up half or more of your day just to charge it. For battery life, batteries usually work well enough for 4-6 years. It might last longer with regular care.
4. Restrictions set by golf course
The golf course near your house might have a restriction on a specific kind of golf car. Especially gas powered carts might be restricted because of the noise, smell, or bad effect on the golf course. Electric golf carts, not having those issues, are usually allowed on every golf course. Reach out to the course staff to know which types are not allowed.
5. Warranty and brand
Buying carts from popular brands is a much safer option. For example, Club Car, E-Z-GO, Yamaha, etc. are pretty reputable brands. The reliability of the dealer or manufacturer helps you get the proper advantage of the warranty. That makes it easier for you to maintain the cart.
6. Accessories and features
It is good to have accessories like a built-in GPS and sound system. A golf ball holder, seat covers, golf cart cover, wing flares, storage option, attached cooler, etc. makes the cart more useful.
But it's not something compulsory, as you can always buy a ball holder, golf cart speaker or golf GPS separately, or you might already have it. The carts without extra golf cart accessories are cheaper. That will help you get a cart within your budget.
Summing It up
So, the answer to "Should I get a gas or electric golf cart?" entirely depends on your needs. A gas cart is for you if you are willing to pay for gas and golf cart maintenance expenses to get a better range. On the other hand, an electric cart is an eco-friendly option with easier maintenance and almost half the operating cost of a gas powered cart.
So, which one do you think will be better for you and why? Let us know in the comments section.