Which golf club to use is the frequently asked question by most golfers in their early career. Not just beginners, but also some intermediate golfers also expressed such confusion in several forums, groups, or interviews. So we designed this article to provide a detailed answer to all your queries. You can call this article an ultimate guide to golf clubs and their use.
There is no direct answer to this question because there is no hard and fast rule regarding which club to use when. However, the goal is to putt the golf ball in the assigned hole in a golf course with a golf club in the least amount of shots — no matter which golf club you use.
But golf experts have researched, analyzed, and found that it is better to play with different clubs in different scenarios. As a result, with the help of experts, many golf club manufacturers have introduced several types of golf clubs over the years to make your play easier. And now there are six major types available in the market.
If you know all these golf clubs, we are confident that you know half of the answer to which club to use already. If you don't know yet, there is nothing to worry about; you will have a whole idea by the end of this article.
We will be discussing the primary use of different clubs in the latter portion of this article. But, first, let's find out which club to use based on the possible situations in a golf course.
Selecting Golf Clubs Based on Different Situations
According to the GCSAA, sixty-seven percent covers the turfgrass area such as greens, tees, fairways, rough, driving range/ practice areas. The rest thirty-three percent is non-turfgrass areas like landscapes, water bodies, buildings, bunkers, and parking lots.
So, while playing golf, you can hit the ball anywhere in the golf course area deliberately or accidentally. You may hit the ball out of the course too. Let's not consider the rare situation now. It would be easy to understand if we start from the last. And putting is the last shot to play in a round of golf.
Which club to use when you are aiming for putt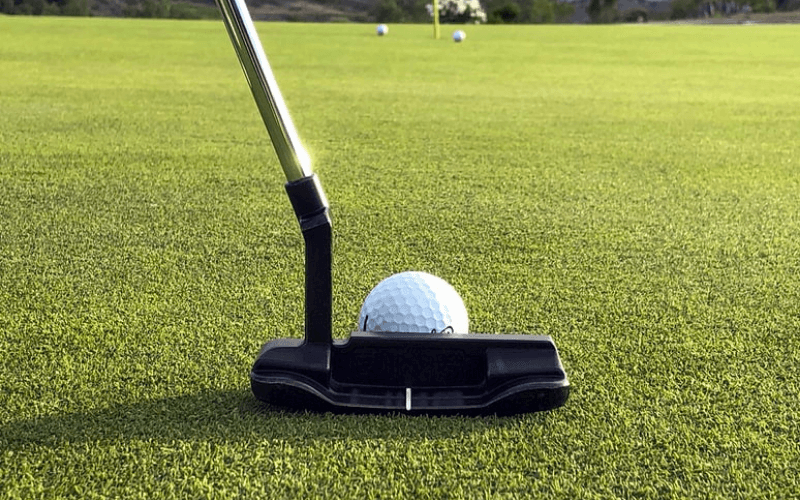 When you are in the final green and playing to putt the ball in the hole, your shot will be different. And your golf club too. Usually, you play to roll the ball towards the spot. So no loft is needed there. And a golf putter is the best choice of clubs in this situation.
But on a different note, you can use an iron to hit the ball flat with more ball speed than a putter. For example, it would be effective when there is an upward curve to the hole from the position you aim to putt.
Use of any other golf club is infrequent in history for putt shots. But you may use other clubs if you feel confident as there is no strict rule about this.
Which club to use when you need to play a chip shot
Sometimes you need to chip the ball to place it in the green from fairways or roughs. Especially, when there is any obstacle in line with your shot as well. You can raise the ball higher in the air and play it in the greens or fairways with a chip shot. If you can chip the ball perfectly, it should result in a long roll.
It would be best if you had golf clubs with higher loft and spin to chip the ball. Wedges have the better loft angles, and lob wedge has the most. So they are suitable for chip shots. But just a club can't help you play it. You need to know how to chip the ball as well.
Which club to use when you are in the bunkers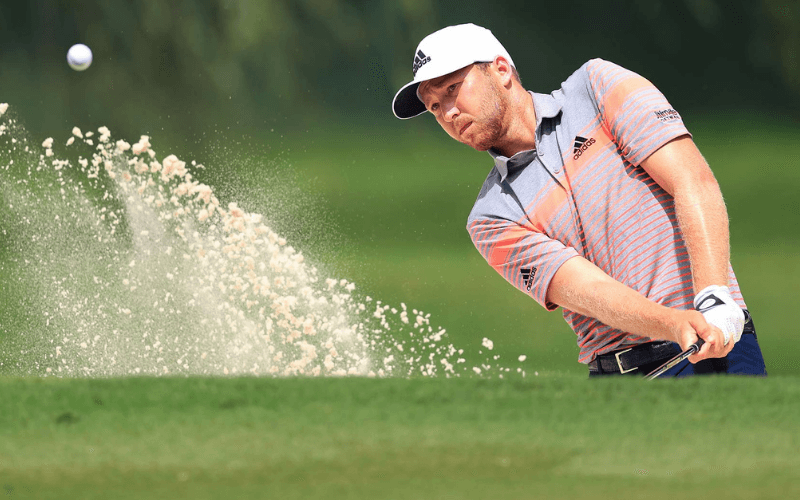 As you know, golf courses are not all green. And you can't use your hand to reposition the ball you played without penalty. Golf balls can often land on the bunkers or away from the fairways, such as the roughs, practice areas, walkways, and many more where you find challenging situations to play regular shots.
In that case, again, you will require golf clubs with higher loft and a higher amount of spin. Use your best golf wedges to get yourself out of trouble. At that time, you need to consider the ball's position beside the distance you need to cover.
For example imagine, you are just 100 yards away, but the ball is the bunkers. Then you can't use your iron; a sand wedge would be a better choice here. But, of course, you can use hybrids also. That's why pro-golfers love them so much. They are very versatile.
You can learn more about bunkers and lofted shots in the following video:
Which club to use when your approach shot needs better control
The approach shots are those shots when you aim to cover a limited distance (for instance, 150 yards or less) and play it safe in the fairways or even in the green. Such a shot requires some help from the clubs that cover a reasonable distance with maximum forgiveness.
Irons are best for approach shots. Based on the distance to cover, you should select any of your best golf irons. Watch the following video for a better understanding of approach shots.
Approach shots don't need to be from the fairway or rough only. For example, in a par three hole, where the tee-off is about 300 yards away from the hole, using a pitching wedge or 9-iron would be better than hitting a driver. Tiger Woods did the same in the 2018 PGA championship.
Which club to use when you need to play a lofted shot
You may find obstacles in a golf course between your ball position and the hole, such as sand bunkers or water hazards. A high lofted shot can help you get over that obstacle. hybrids, drivers clubs like 7-wood or 9-iron can help you in this regard. If you need more distance alongside a high loft, then you can also consider a hybrid. These clubs are beneficial for such situations. Here is the list of clubs with their traditional loft angles.
| Club Category | Traditional Loft Angle |
| --- | --- |
| Driver | 10.5° |
| 3-wood | 15° |
| 5-Wood | 19° |
| 7-Wood | 21° |
| Hybrid | 22° |
| 2-iron | 18° |
| 3-iron | 21° |
| 4-iron | 24° |
| 5-iron | 27° |
| 6-iron | 31° |
| 7-iron | 35° |
| 8-iron | 37° |
| 9-iron | 39° |
| Pitching Wedge | 45° |
| Sand Wedge | 52° |
| Lob Wedge | 60° |
| Putter | 4.5° |
(clubs may have different loft angles apart from the traditional ones)
Beginners are more likely to perform better with high lofted golf clubs. It is easier to control and provides good accuracy and distance. On the other hand, clubs with a lower loft can be hard to control as they offer more spin. If you are struggling with spin and not hitting straight, use higher lofted clubs. It would help.
Not just the skillset determines which club to choose anymore. Things have changed quite a lot in modern times. For example, experienced golfers now also use higher lofted clubs to maximize distance and reduce spin.
Which club to use when you need to cover long distance
There are a few moments when you need to hit very high and cover a long distance. Especially when you are playing in a hole with a par five or more equivalent to 400 yards or more, in such instances, your driver, wood, and hybrid come into play.
The driver covers the maximum distance among all types of golf clubs. At the same time, it is difficult to control your shot while gaining full length. And TaylorMade M6 is the club that provides the most distance. Several top golf drivers give both space and better control. You can certainly choose from there.
But if you are a beginner, experts suggest avoiding using drivers early as misuse of the driver can cause you serious injuries. So which club to use to replace a driver? A 3-wood. Even Tiger Woods tees off with 3-woods on several occasions at PGA tour 2019.
After the driver, if you ask for a ranking of the clubs based on the distance it covers, it would be a fairway wood leading the rank followed by the hybrids, irons, and then wedges. The last would be the putter.
The following chart can help you have a better idea.
| Club | Men's Average Distance | Women's Average Distance |
| --- | --- | --- |
| Driver | 230 yards | 200 yards |
| 3-wood | 210 yards | 180 yards |
| 2-iron | 190 yards | Not recommended; 4-wood or hybrid = 170 yards |
| 3-iron | 180 yards | Not recommended; 5-wood or hybrid = 160 yards |
| 4-iron | 170 yards | 150 yards (consider a hybrid, instead) |
| 5-iron | 160 yards | 140 yards |
| 6-iron | 150 yards | 130 yards |
| 7-iron | 140 yards | 120 yards |
| 8-iron | 130 yards | 110 yards |
| 9-iron | 120 yards | 100 yards |
| Pitching wedge | 110 yards | 90 yards |
| Sand wedge | 90 yards | 80 yards |
| Lob wedge | 65 yards | 6 yards |
Usually, your tee of shots requires the clubs with maximum distance. The first shot of each round is known as tee-off the shot. In most cases, drivers are used for teeing off. However, in present days, many golfers choose woods or even irons (especially hybrids) over drivers for teeing off. Because of their features, hybrids are easier to hit with, and beginners can have the upper hand when using them.
Choosing Golf Clubs Based on Club-head Design
Many golfers overlook the clubhead functions. But, clubhead weight can also dramatically affect your shots. So, it would be best if you also kept that in mind. It's simple. Swing speed is inversely related to the clubhead weight. So, what we mean is that if you have a higher swing speed, look for heavier clubheads. So, you will gain more control.
Golfers with slower swing speeds will gain more velocity with lighter clubheads. If you have a slower swing speed and you are using a heavier clubhead, it's logical that you will lose momentum. Finally, there are Deep faced and shallow-faced clubs. With a deep-faced clubhead, the ball will spin more, and the launch will be lower. That means it's a big no for beginners.
The shallow-faced club has a lower center of gravity. So, the launch will be higher, making it more suitable for beginners. Use this for improving your performance as you start learning golf.
How Many Clubs Allowed in a Golfers Bag?
According to the USGA rules, you can carry 14 golf clubs to play a round of golf at most. And there is no such rule that mentions how many of a single type of club you can carry. So, you can carry clubs according to your preferences.
Selecting those 14 clubs for beginners is a highly complex concept for many golfers. Hopefully, our earlier discussion will help you make a better decision as you know which club you can use in different scenarios. Besides, you can take help from our dedicated article on "How to arrange your golf bag"
Last Few Words
Selecting the clubs for a round of golf is difficult. And again, selecting one from those 14 for a particular shot is more challenging, especially when choosing a golf club with many features.
To help you overcome this challenge, we designed this article with different scenarios you may face on the golf course. In addition, we tried to explain the process in the easiest method. I hope this will help you a lot.
After reading this article, we suggest you get your hands on as many clubs as you can and practice different shots as we discussed. Then, after some shots, you will find what we compiled in this article. The more you swing, the more your knowledge about the clubs will increase. And the easier it will get for you to choose the right golf club.
Share the article with your golfer friends if you find this helpful. And let us know if you have any feedback or suggestions regarding which club to use when.