Still learning the basics of golf? The first thing you should know is which golf club to use and when.
Every golf club has its own unique features and purposes. Whether it's a putter or a driver, you can't hit every time with the same club.
Each individual club has its own variations. We will not go deep down into the variations of the clubs. But if you carefully read to the end of this post, we are sure you will develop a basic understanding of the use of each club.
Let's start from the beginning.
What Golf Clubs to Use for What Distance
| Club | Men's Average Distance | Women's Average Distance |
| --- | --- | --- |
| Driver | 230 yards | 200 yards |
| 3-wood | 210 yards | 180 yards |
| 2-iron | 190 yards | Not recommended; 4-wood or hybrid = 170 yards |
| 3-iron | 180 yards | Not recommended; 5-wood or hybrid = 160 yards |
| 4-iron | 170 yards | 150 yards (consider a hybrid, instead) |
| 5-iron | 160 yards | 140 yards |
| 6-iron | 150 yards | 130 yards |
| 7-iron | 140 yards | 120 yards |
| 8-iron | 130 yards | 110 yards |
| 9-iron | 120 yards | 100 yards |
| Pitching wedge | 110 yards | 90 yards |
| Sand wedge | 90 yards | 80 yards |
| Lob wedge | 65 yards | 6 yards |
Which Golf Clubs to Have in Your Bag
The rules of golf are not too many to trouble you. But there are innumerable choices that you can make.
In golf, you can have only 14 clubs in your bag
Yes, that's a rule and penalty for carrying an extra golf club will be two strokes per hole. You don't want that.
So, you need to plan ahead on what clubs to you need to have in your bag so that you can cover maximum shots with efficiency.
You can carry 14 irons or even 14 hybrids. No one is stopping you from that. But within the rule of carrying 14 clubs, you need to get your combinations right.
A good way to know whether you have an optimal combination of golf clubs is to observe your gameplay. If you are left with shots that you don't have the right club to play, then you need to change your club combinations today.
Let's talk about the best set of golf clubs that you can carry and that can maximize your shot choices
Clubs to start off

You have 14 spots to fill. Let's fill the top two with a driver and a putter. You can always replace your driver with a hybrid but that's totally up to you.
3-wood is also essential. Let's add that in your bag. 3 spots filled now.
We can add 5 more irons (6, 7, 8, 9, and PW wedge).
2+1+5=8
You are done with 8 spots.
You have 6 more spots to fill. This combination totally depends on your skill level and course type. We will give you a draft to follow which you can change any time.
The long clubs

For the 6 spots left, we will fill it with three long clubs.
The three long clubs could be a 4, 5-iron and a 5-wood. It's what we think will be effective for most golfers.
If you are a fan of the hybrid clubs, you can replace 4 and 5-iron both with a hybrid of similar loft. But that's totally up to you and the way you hit shots.
We have seen many golfers replacing the 5-wood with an 18-degree hybrid club. Some clubs work for others, but might not work for you. Experimentation is the key here.
3 more spots left now.
Wedges

We will keep two wedges for the 3 spots left. Whatever wedge you choose, you must keep in mind that there is no large gap between the yardage of those two wedges.
This totally depends on your swing speed and range. If you choose a wedge that gives you yardage of 110 yards, then the next wedge should give you 90-95 yards of yardage.
Most golfers choose a 52-degree wedge. You can use it too.
The key here is a lower gap between the yardage of your two wedges.
That leaves you with only 1 club to put in your bag.
The last club to have in your bag

For the final spot, you can either choose a wedge or a long club.
This is the club you want to choose based on the golf course you play.
For long courses, you can choose a hybrid or fairway wood. So, the lengthy par three shots will become easier to hit.
If you play in a short course, you will need more accuracy around the greens.
Easy. Just throw in a wedge instead of a long club.
Which golf clubs to have in your bag (infographic)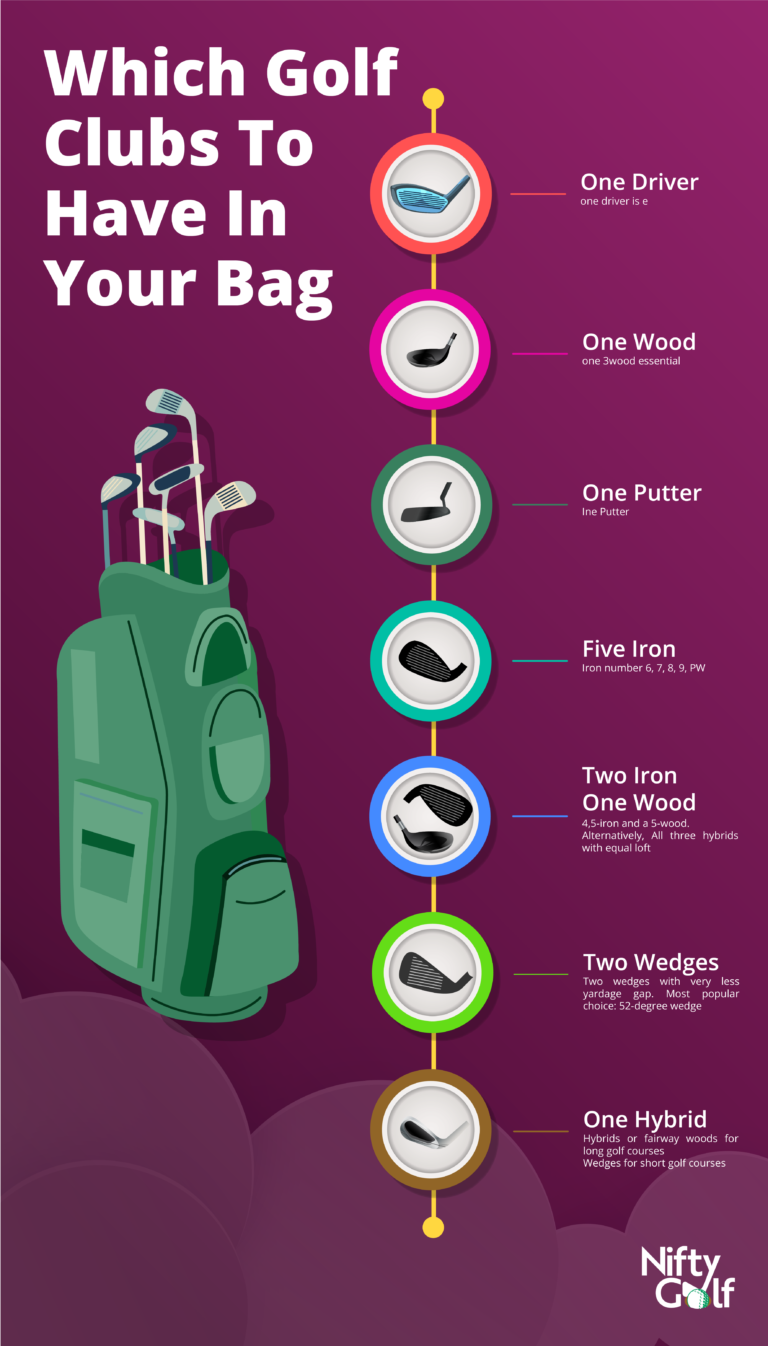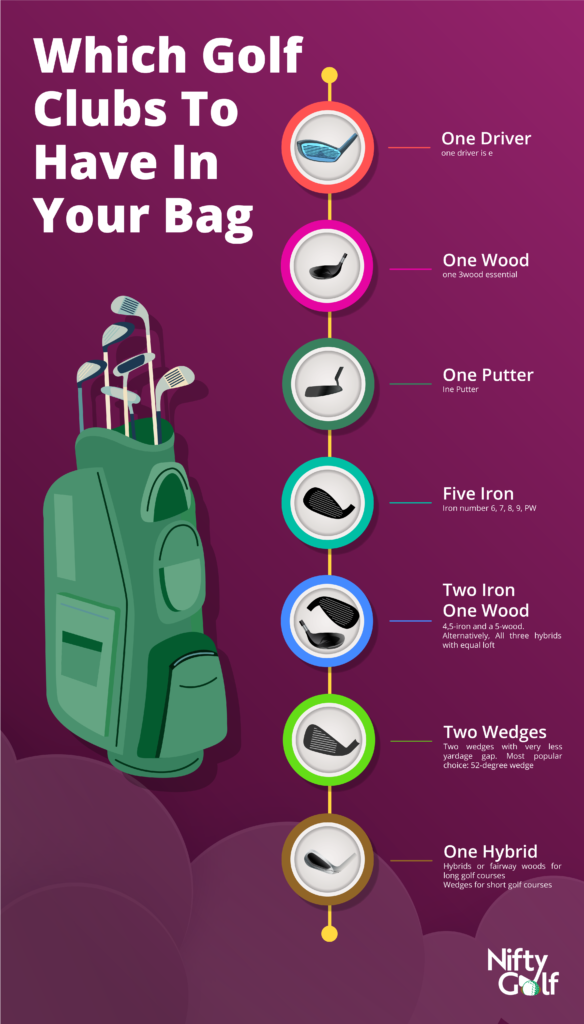 Which Types of Golf Clubs to Choose
Woods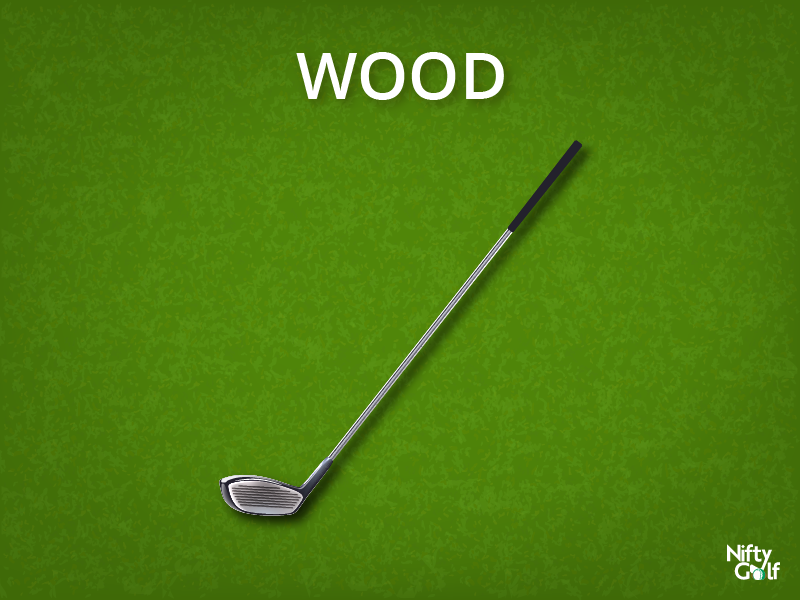 The driver falls into the category of woods and is an indispensable part of golf. It is designed in a way so that you can hit those long shots off the tee.
Although at a beginner level it's pretty hard to master the shots with a driver. This is the stage when you should practice with shorter irons or woods.
For hitting shots from the fairway, experienced golfers often choose a 3 wood or a 5 wood. But for beginners, the shaft flexibility and control is more important. A 7 wood or even higher can help gain that control, although the distance will be shortened.
Irons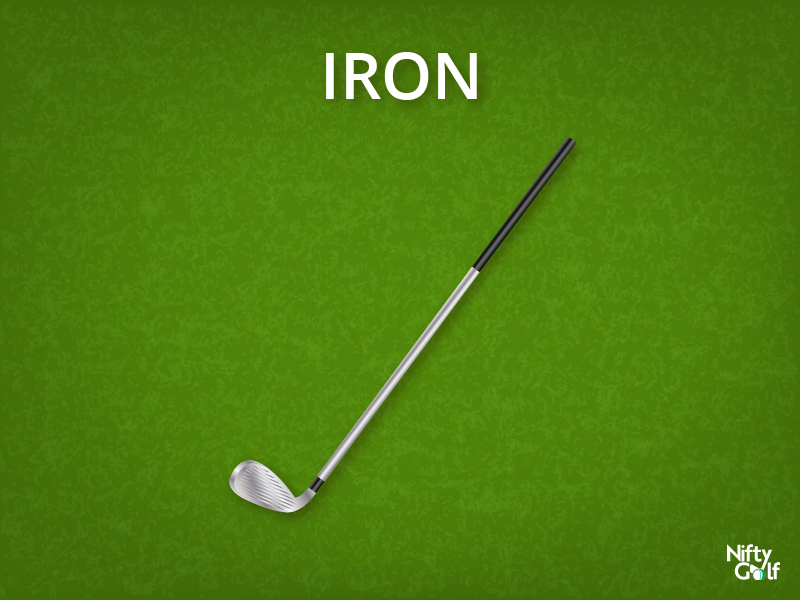 When you are looking for more control, irons should be your absolute choice. You can use short, mid or long irons for your shots.
Short irons = 2 and 3 irons
Mid irons = 4,5,6 irons
Long irons = 7,8,9 irons
When you shift from 2 to 9 irons, the lofts of the clubs become higher.
Mid and long irons are good for high handicappers as the loft is higher in them. The pitch shots and chips shots in the greens can be effectively played with mid and long irons.
With the increase of loft, the ball trajectory also increases with a low rate of ball roll when it lands on the ground.
Experienced golfers use short irons and 4,5 irons to gain higher distance.
Wedges
The pitching wedge is used near the greens and 130 yards around it.
The sand wedge is very specifically used to hit shots off the bunker. The large flange on the sole makes the task easier.
Then there is the lob wedge. It provides a high trajectory on shots where there are hazards or sand trap near.
Hybrids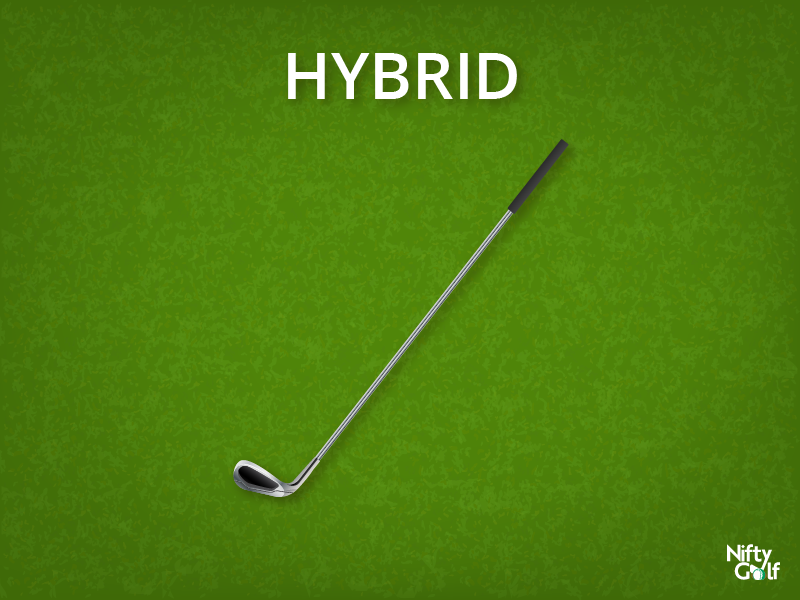 Hybrids have been developed to replace long irons. Their design specification allows golfers to gain accuracy as well as distance in the fairway. The higher spin rate of these clubs provides accuracy as the ball rolls less on landing.
Many high handicap golfers now use hybrid clubs instead of 3,4 or 5 irons.
You can use hybrids instead of wedges to get out of a sand trap.
Putters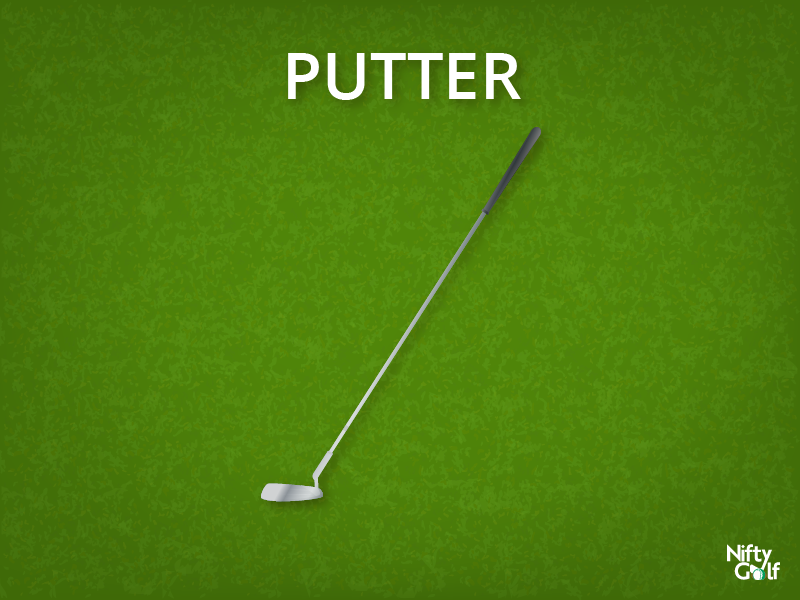 You can't use the putter for any long-range shots. When you are just away from hitting a hole, putters can help you roll the ball smoothly. It is used only in the greens.
Choosing Golf Clubs Based on Length
Other than knowing which golf club to use and when, golf club length is also crucial. The length of the golf club depends on the height of the golfer and the club shaft.
The shaft is what connects the club head and the grip of the club. If you choose longer shafts, you will feel that the ball is further away from you.
We can categorize heights into 3 categories. These 3 categories have different shaft length requirements.
Golfers shorter than 5 feet 5-inch should use a half-inch shorter than standard length.
Golfers from 5 feet 5-inch to 6 feet 1-inch should use standard length.
Golfers exceeding 6 feet 1-inch height should use longer than standard length club.
The swing speed can also affect the shaft style. Golfers with high swing speed should use extra stiff shaft. And golfers with low swing speed can use flex shaft.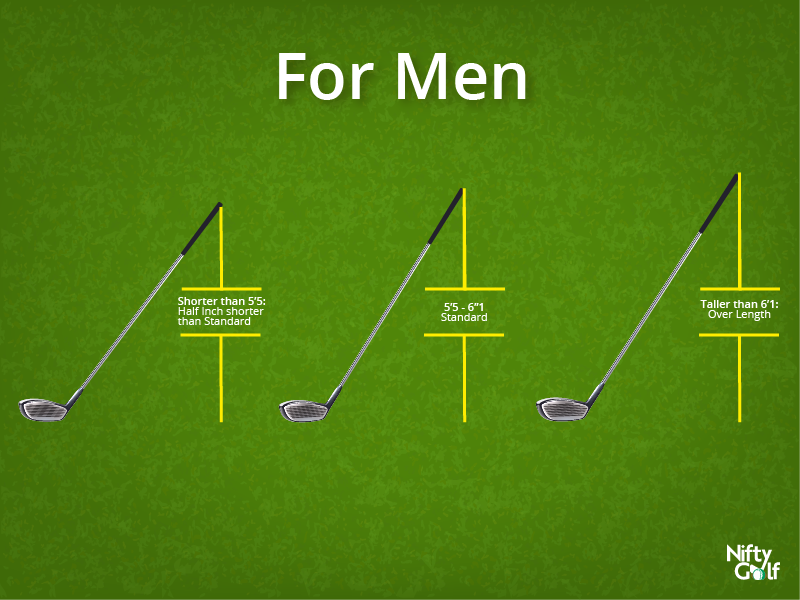 Choosing Golf Clubs Based on Loft
The loft of the clubs can also vary for different types of golfers.
Beginners can perform best with higher lofted clubs. These clubs can offer more accuracy and distance.
Whereas clubs with a lower loft can be hard to control as they offer more spin. But things have changed quite a lot in modern times. Experienced golfers now also use higher lofted clubs to maximize distance and reduce spin.
If you are struggling with spin and not hitting straight, use higher lofted clubs.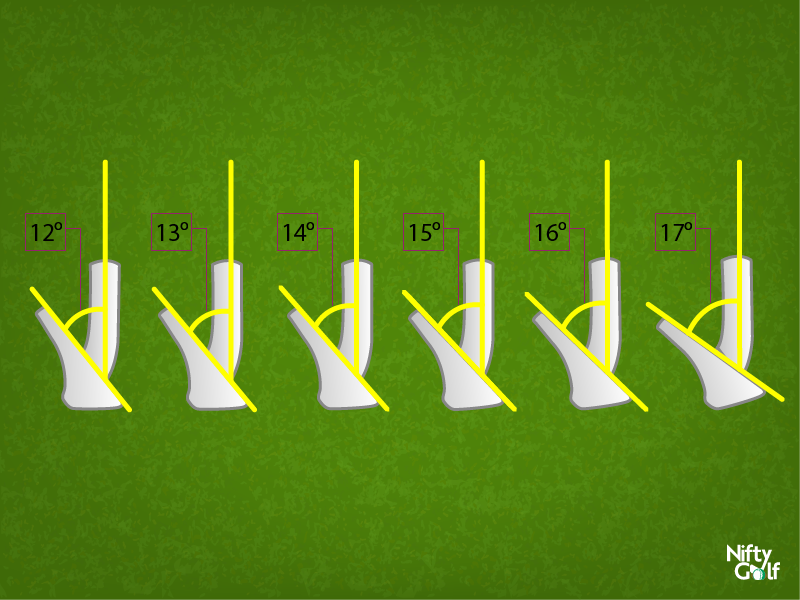 Choosing Golf Clubs Based on Club-head
Many golfers overlook the clubhead functions. Clubhead weight can also dramatically affect your shots. So, you should also keep that in mind.
It's simple. Swing speed is inversely related to the clubhead weight. What we mean is if you have a higher swing speed, look for heavier clubheads. So, you will gain more control.
Golfers with lower swing speed will gain more velocity with lighter clubheads. If you have a lower swing speed and you are using a heavier clubhead, it's logical you will lose velocity.
There are Deep faced and shallow-faced clubs. With a deep faced clubhead, the ball will spin more, and the launch will be lower. That means it's a big no no for beginners.
The shallow faced club have a lower center of gravity. So, the launch will be higher, making it more suitable for beginners. Use this for improving your performance as you start learning golf.
Picking Golf Clubs Based on 3 Basic Shots
Now that you know which golf clubs to use, we can move forward to 3 basic shots in golf. Golf is a complicated game with hundreds or even thousands of variations of shots that you can try. But it is essential to know the basics and the clubs required for those shots.
Teeing Off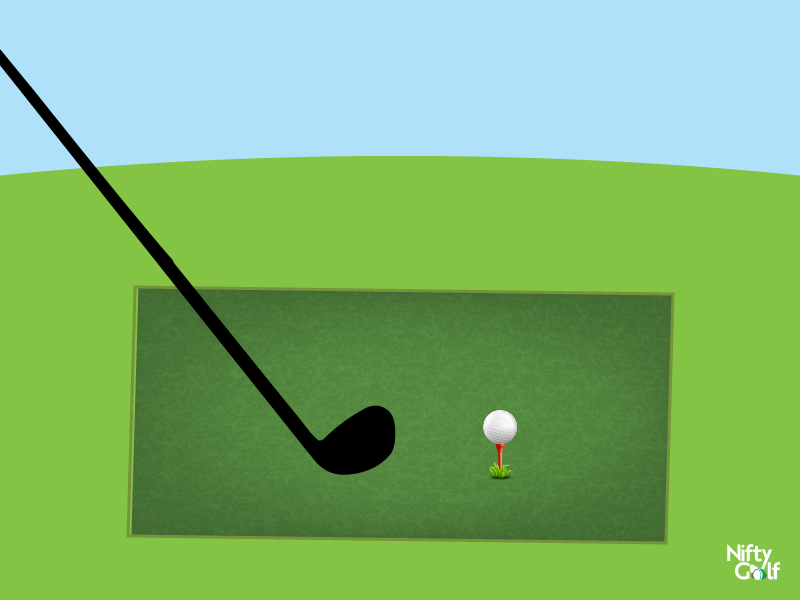 In most cases, drivers are used for teeing off as we have mentioned earlier. We also said it's harder for beginners to master tee shots with drivers, although you can get higher distance with them.
In present days, many golfers choose hybrids over drivers for teeing off. Because of their features, hybrids are easier to hit with, and beginners can have the upper hand when using them.
Approach Shots
The approach shorts are short shots needed every time to land the ball on the greens. Irons are best for these shots. More specifically 8 or 9 irons can do the job perfectly.
If you want to know more about approach shots, take a look at this video from Jon Tattersall.
Trouble Shots
Golf is not all green. Many a time the ball can land on the sand trap. In this case, use wedges to get yourself out of trouble.
You can use hybrids also. That's why we love them so much. They are very versatile.
The below clip comprises a list of 10 trouble shots and how they did it. This should give you a good idea.
Gender Factors For Picking Golf Clubs
Gender can also be an important factor in choosing golf clubs. Male golfers have a higher swing speed than most women. So, the equations are also different.
For men
The fairway 3 wood with 17-degree loft can be a handy club to have always. Be it teeing off or shots off the fairway, this club is super versatile.
We have 3 tips to help you in this matter:
Ignore drivers, use the 3 wood fairway or hybrids. Your golf learning curve will have a headstart.
For more side spin, use a stronger loft. For hitting straight use weaker loft.
A 21-degree, 25-degree and 30-degree hybrid should always be with you.
For women
Women should look for distance more than control as they have a lower swing speed. So, drivers are their go-to club for teeing off.
These tips will come in handy if you are a lady golfer.
Use a 14-degree loft river for teeing off.
In the fairways, 5 through 9 wood will do a good job.
9 iron is a must-have for women.
Last Few Words
Get your hands on as much clubs you can and start hitting some balls. If you have in the back of your mind what we compiled in this post, should help you a great deal.
The more you swing, the more your knowledge about the clubs will increase.