Rapsodo R-motion is an affordable swing analyzer that offers accurate data for a low price. It provides real-time data and metrics on every shot, helping players and coaches make informed decisions to improve performance.
Finding ways to improve performance and take your game to the next level is always important in golf. High-tech golf swing analyzers like the Rapsodo R Motion play a critical role here. This article will examine the Rapsodo R Motion, including its design and features, performance and accuracy, user feedback, and more.
Rapsodo R Motion Review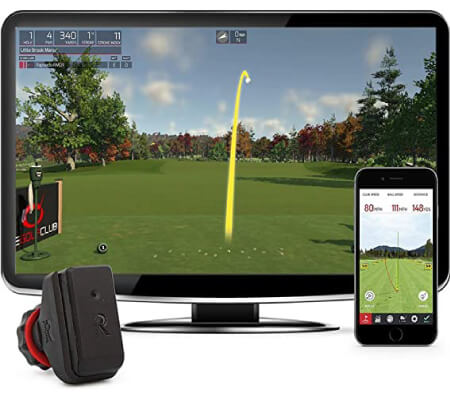 The Rapsodo R Motion is a compact and portable device designed for ease of use. The package includes the tracker, attachments, and a user manual in a sturdy box. It is a versatile indoor and outdoor device. When used indoors, there are a few essential things to consider to ensure the best experience possible.
One of the critical factors to consider when using the Rapsodo R Motion indoors is space. The device requires a minimum of 10 feet of space to capture golf ball data accurately. This means users must have enough space in their home or indoor setup to accommodate this requirement. Additionally, we recommend setting up a net or screen to prevent potential damage to their surroundings.
Regarding accessories, users may also consider investing in a TV or indoor golf projector to display the simulation software. This can create a more immersive experience and allow users to analyze their swing and performance better. However, using the Rapsodo R Motion indoors is not a requirement.
The Rapsodo R Motion can be used on the golf course or a driving range to capture real-time data on your golf swing basics for outdoor use. When used outdoors, users will not need to worry about space limitations, as they will have the full driving range. Additionally, users will not need additional accessories, as the device can be set up on a tripod or other stable surface.
In addition, you can use their free R-motion app by downloading it from the app store. The device is perfect for ongoing use with its sleek design and rechargeable battery.
What can Rapsodo R Motion track?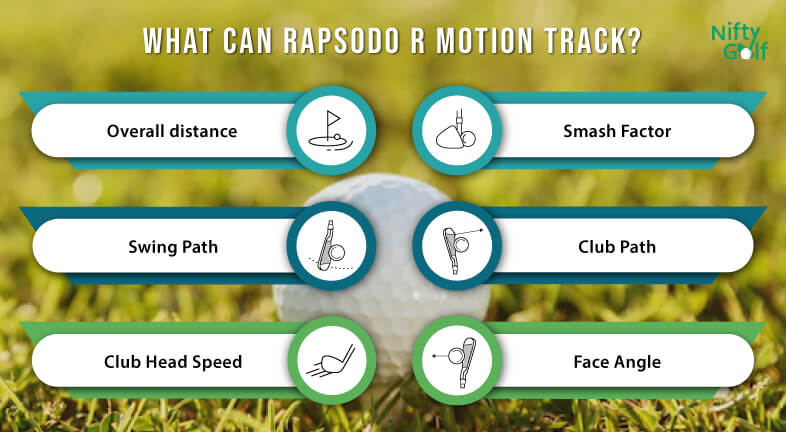 The Raposodo R-Motion has impressive data-capturing abilities. It provides real-time data and metrics on various aspects of pitching.
Clubhead speed
Swing path
Face angle
Club path
Smash factor
Overall distance or carry distance, depending on the one you selected.
This real-time information is displayed on the device so players and coaches can track progress and adjust as needed.
Performance and Accuracy.
One of the significant benefits of the Rapsodo R Motion is its accuracy and real-time data. According to the users' reviews on several online platforms, the Rapsodo R Motion is more accurate and versatile than many golf launch monitors on the market, making it a popular choice among players and coaches of all levels.
Despite the device's accuracy, it's not intended to compete with high-end launch monitors priced over $10,000. R-Motion measures only club data and uses complex algorithms to calculate ball information. It will guide you through identifying areas needing attention and let you know whether your changes deliver the desired results.
The tracked data are not 100% accurate always, but it is consistent. For example, our analysis found that the recorded ball speed is accurate to +/- 1 mph. And Horizontal firing angles are accurate to +/- 2 degrees.
Software Compatibility
This software is included in the "lite" version. It includes access to 15 virtual golf courses and a golf practice range. But the upgraded software offers more virtual courses and exciting competitions with your friends and family through multiplayer mode.
Regarding software compatibility, the Rapsodo R Motion app is compatible with the latest iOS and Android versions and Windows and Mac computers. But the device connects to the App only. And the app connects the swing analyzer to a mobile or desktop, which collects and displays the data captured by the Rapsodo R Motion. You can't use any other golf simulator software with this device.
If you're looking for a reliable launch monitor app to enhance your golf game, consider exploring other options.
The app and software provide a user-friendly interface allowing players and coaches to access and analyze their performance data quickly. The app and software also provide a range of features that enhance the user experience, including the ability to save and store data, view historical performance data, and compare performance metrics over time.
Additionally, users can share their performance data with others and connect with a community of players and coaches for added support and guidance. Moreover, the app and software are regularly updated with new features and improvements, ensuring users can access the most up-to-date technology and features.
Pros
Accurate and reliable data capture
Easy to set up and use
Real-time feedback and data
Compact and portable design
Available for a wide range of devices
Cons

Some users have reported lag with the app or software
The device is relatively expensive compared to other swing analyzers



Final Verdict
The Rapsodo R Motion is an excellent option for golfers looking to improve their game. The device provides accurate and reliable data capture and is easy to set up and use. In addition, the real-time feedback and data it provides can help golfers make meaningful adjustments to their swing.
It is an excellent option for both on- and off-course use. However, the relatively high price and some reports of difficulties with the app make it a less attractive option for some. Overall, the Rapsodo R Motion is a valuable tool for golfers looking to improve their game, but it's essential to carefully consider the pros and cons before purchasing.