It gets tiring to even go back to the golf caddy's handle sometimes. If you have an electric golf caddy, you may not need to push it like a manual push cart. But you still need to go near it if functions are on the handle only. Following electric golf carts also requires you to keep pace with it to track you.
There is no denying that all 3 are best in different situations. However, it is also true that many golfers prefer remote control caddies more as they don't require you to go back to carts. They come at a comparatively cheaper price than follow electric caddies too. In addition, many remote control caddies even come combined with a handle function system or follow mode or both. You can go for different functions at different times on golf courses with them.
10 Best Remote Control Electric Golf Caddies
If you ask which remote golf caddy is the best one for you? That's a tricky question to answer. So, we have come up with a list of the best remote control electric golf caddies. In addition, we have put together both their benefits and drawbacks, comparing the budget, wheel, material, size, motor, battery, etc.
1. Cart-Tek Electric GRi-1500LTD V2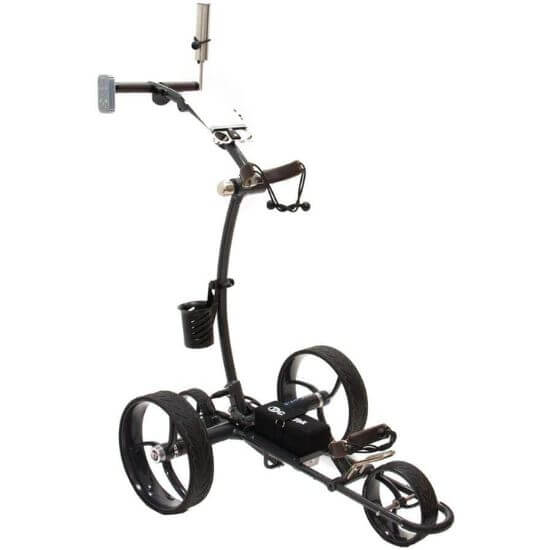 The GRi-1500LTD V2 is a premium option. It has many similarities with the GRi-1500Li V2. But in terms of luxury, the GRi-1500LTD V2 is the choice. Both of them have 24-volt Lithium-Ion battery, programmable remote control, 4-speed settings, slope control, and detachable anti-tip wheel.
But instead of standard caddy parts like the GRi-1500LTD V2, the GRi-1500LTD V2 has an umbrella holder, scorecard holder, locking knob, and brackets made of stainless steel. The grip and golf bag rests are made of top grain leather, making it more comfortable for you. In comparison, motors for GRi-1500Li V2 are 60 mm. While it is 40 mm for the GRi-1500LTD V2.
Things that we liked
The frame design looks very stylish.
You can assemble it easily.
It is comparatively more durable.
Waterproof ECU housing allows you to play on rainy days.
You have the option to set 4 speeds of your preference.
Things that can be improved
The adjustable handle height was 37.5″ when level with a maximum height of 46″ in the GRi-1500Li V2. But in this version, it is 36″ when level with a maximum of 45″.
It is much more expensive than the GRi-1500Li V2.
2. Cart-Tek GRi-1500Li V2 Electric Golf Caddy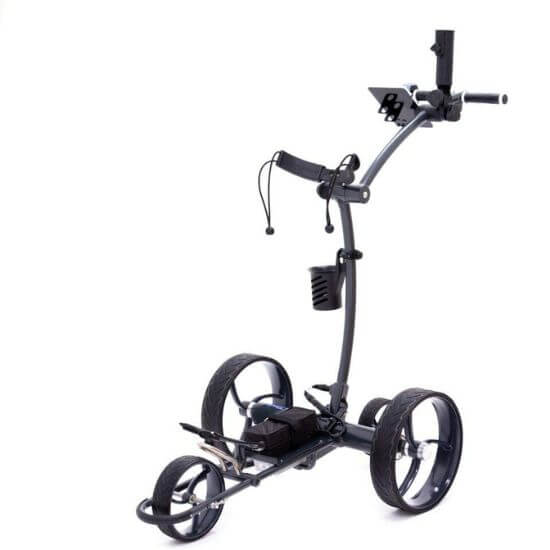 The GRi-1500Li V2 is the upgraded version of GRi-1500Li. While the 4 factory speed settings and 24V dual motors are the same. One of the major changes is that the upgraded version comes with built-in antennas. Adjustability of the handle and the width of wheels have increased. In addition, you can remove, change and clean wheel treads easily.
For accessories, the drink holder can now hold comparatively bigger bottles than the previous model. In addition, the scorecard holder is moved to the side so that keeping the golf score becomes more convenient. However, you won't find any changes to the golf umbrella holder. 
Things that we liked
It folds up neatly and fits in car trunks.
Waterproof ECU housing lets you play golf even in wet conditions.
It comes with Slope control technology that automatically corrects tracking to give a better experience on uneven surfaces, especially on hilly courses.
You can program the remote according to your preferences.
The adjustable handle's maximum height is 46″.
Things that can be improved
It doesn't show the battery percentage. So, you won't exactly know when to charge.
The remote got slightly heavier.
Remote holder isn't strong enough to hold the heavier remote while running it on uneven surfaces.
3. Bat-Caddy X3R Remote Control Cart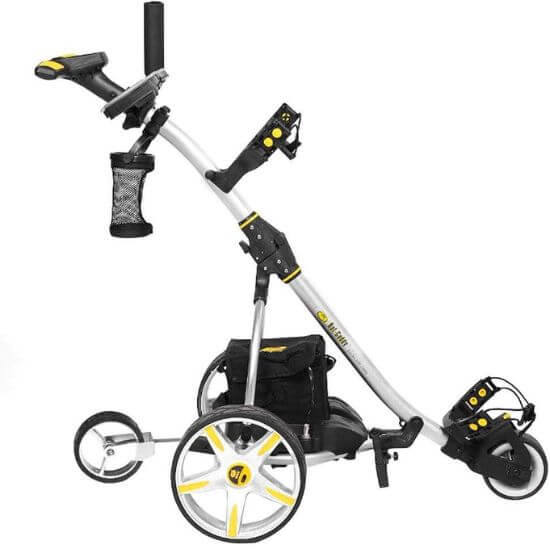 Bat-Caddy X3R is the most affordable option on our best remote control electric golf caddies list. It comes under $1,000. That makes this caddy a good option as a remote golf caddy for golfers with tight budgets. It is natural to think that you may have to sacrifice many things as it comes at a lower price. However, that's not really true here.
The remote control can make this cart run in all directions. As an add-on, it has a time forward advanced function. With this feature, you can set a time after which you want your cart to go forward automatically. While the dual 200 watt motors help ensure an amazing experience throughout the round.
Things that we liked
This remote control golf push cart comes with a cruise-control feature. You get to set a speed according to your preferences.
There is a USB port that allows you to charge your golf GPS, rangefinder, phone, and many other things.
This remote golf caddy has 9 forward and reverse speeds.
There is a battery indicator that lets you know when to charge your caddy. This prevents sudden shut-down.
Things that can be improved
The handle isn't adjustable.
4. Motocaddy M7 Remote Trolley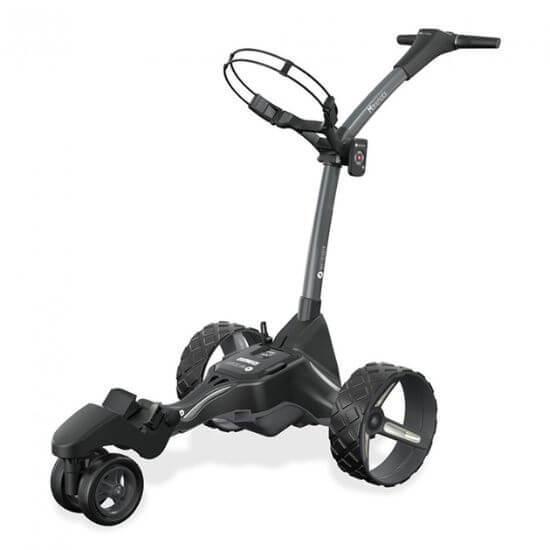 Motocaddy redesigned the remote that helps golfers hit golf balls with a relaxed mind. It comes with a 9 speed setting so that you have the option to opt out of different options in different situations. In addition, this remote caddy has anti-tip wheel, wide wheelbase, and relatively aggressive treads to maintain balance even on uneven ground.
Not just that, it has many other advanced features. The auto stop button after non-use of 2 minutes may especially attract many golfers. Since it decreases chances of run-away incidents. This remote caddy also has an automatic downhill control feature to maintain the speed balance.
Things that we liked
The remote is rechargeable.
It lets you know when to charge the remote.
There is a USB port for you to charge devices.
The anti-tip wheel is removable.
It has a rear-wheel to balance stability.
Things that can be improved
The EASILOCK system may not work for your golf bag. It is mainly designed keeping the Motocaddy bags in mind.
The aggressive treads may damage the grass on the golf course.
Check Price at Fairway Golf USA
5. Callaway Traverse Remote Control Push Cart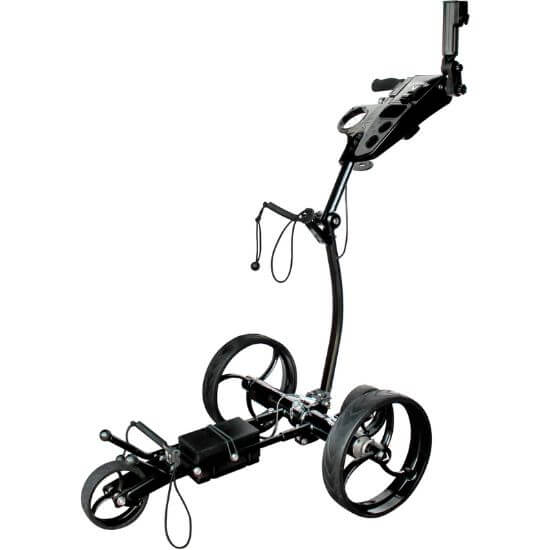 Callaway Traverse remote golf caddy lets you move it in all directions at different speeds. That's a very basic feature, you may say. What isn't basic is 3 programmed speeds and a preset distance mode. In addition, it has downhill braking. The good thing is that the motor housing and gearbox are sealed. So you will hear comparatively less noise and vibrations.
You can fold and unfold it very easily. In addition, you can secure its unfolded structure by locking it through tightening the screw. Some golfers may find it troublesome to tighten it manually. Especially because they bought it with a comparatively higher price than other remote golf caddies.
Things that we liked
It has a lightweight, foldable and compact design.
The handles are adjustable.
There is a fourth wheel to add stability to this remote control golf cart.
A good option for hilly courses.
It easily runs for more than a round.
You get a drink holder, scorecard holder, umbrella holder, golf balls compartment, and an additional storage compartment for smaller things with this remote golf trolley.
Things that can be improved
The upper bracket may lose screws because of this cart's vibrations during rounds.
You may find the programming slightly complicated.
6. FTR Caddytrek R2 Robotic Golf Cart Stars and Stripes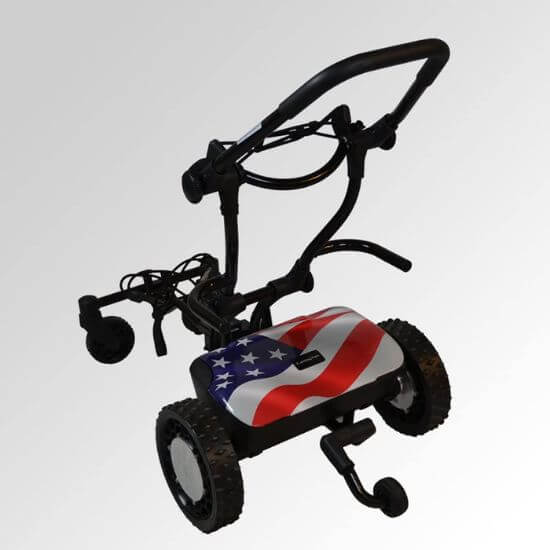 It is quite risky to buy a follow electric golf caddy with more expenses. You may find out that you don't like having a cart following you around on the course as you need to stay comparatively near it. You may feel that you are better off with a remote control caddy. FTR Caddytrek R2 Robotic golf cart is a good option in that case.
You can control it via remote or have it march before you or follow you. It's kind of an all-in-one experience. That too under $1,500. When you switch on the follow or march mode, it tracks you through the combination of Ultrasound and RF signal technology. In addition, it comes with an onboard gyroscope to make this caddy go straight, even on rough terrain. And if you still don't like to be followed, you can just opt-out for the remote control version.
Things that we liked
It is easy to assemble and fold up.
It has 250-watt dual motors to make this cart's performance better.
You can remove the battery easily.
This electric golf trolley has different speed options on the remote.
Things that can be improved
It can be pretty awkward to put sensors on pants when you want to use its follow or march mode.
7. Bat-Caddy X4R Remote Control Cart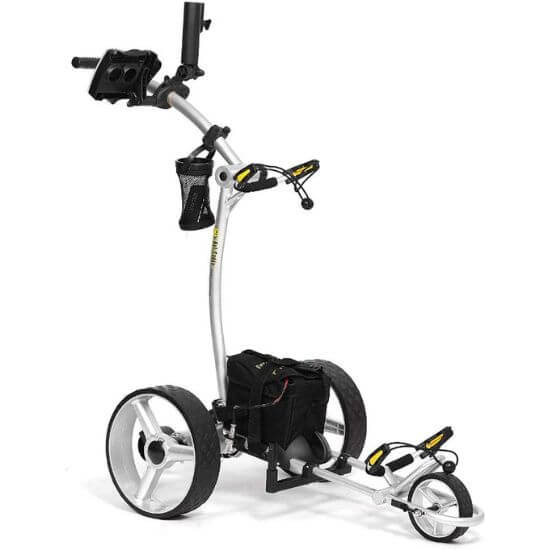 The major difference between Bat-Caddy X3R and Bat-Caddy X4R are frame design and adjustability of the handle. You can adjust the handle in Bat-Caddy X4R, unlike the X3R version. In addition, X4R comes with Dual-Lock Z-Fold Frame to make it more comfortable for you to use.
Apart from the comparison, Bat-Caddy X4R has 9 forward and reverse speeds with Downhill Speed Control, Cruise Control, and Auto-timed distance control features. At the same time, the oversized anti-tip wheel adds stability to this caddy. You can move this remote golf cart in all directions. While doing that, the dual 200-watt motors don't make much noise when you are running it.
Things that we liked
It folds up securely.
It has 30 degrees of climbing ability, which lets you enjoy hilly courses.
The automatic shutoff mode prevents this cart from runaways.
This remote golf caddy comes with a USB port.
Things that can be improved
Don't have a brake system. Thus, it may slide down on uneven surfaces.
8. Bat-Caddy X8R Electric Golf Push Cart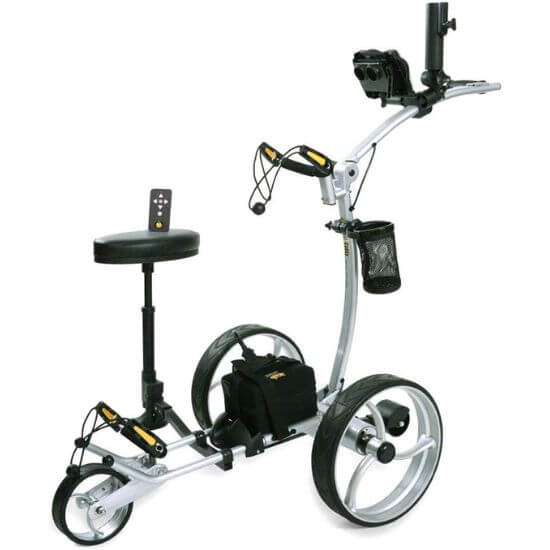 The No Lock Euro-Wave frame is a special feature of Bat-Caddy's X8 series. As a part of this series, the X8R version comes with it too. It makes assembling and folding of this caddy easier. Talking about speed controls, it has 9 different speed settings, just like X3R and X4R versions. The cruise control and auto-time distance control features are the same too.
However, the X8R version comes with a dual anti-tip wheel that adds extra stability to this cart. At the same time, 200-watt motors work to make your rounds more relaxing and enjoyable. This version of Bat-caddy electric trolley also has True Freewheel mode. So that you can use it as a manual push cart easily when needed.
Things that we liked
It comes with a downhill speed control feature.
There is a USB port for easy charging of your golf rangefinder, GPS, phone, and other devices.
This golf caddy has a fully directional remote control.
It is compatible with Caddy Seat.
Things that can be improved
As it doesn't have a brake or lock, it may still move slowly after pressing the stop button. It can be a major problem on downhill.
9. NovaCaddy X9RD Remote Control Electric Golf Trolley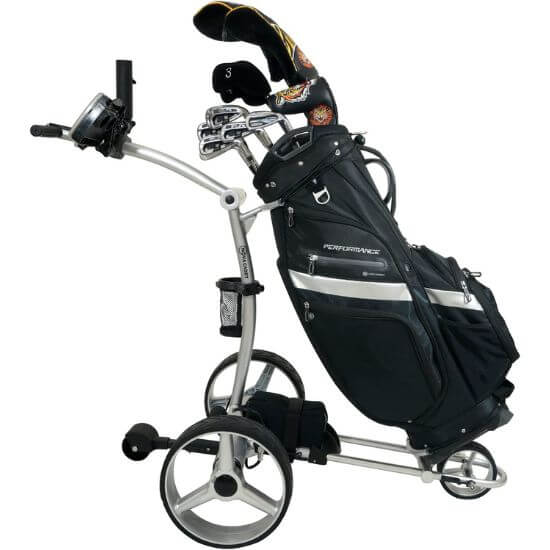 NovaCaddy X9RD comes with 7 adjustable speed settings. You can choose according to your preferences at different times. The maximum speed is 8km/hr, meaning you won't have to slow down for this remote control golf cart to come to you. Instead, you may need to jog with it.
While 30-degree climbing ability and 4 wheels of this remote golf caddy help to run it smoothly on hilly courses. The dual 200 Watt motors let you balance the speed easily. You can move this cart in all directions. In addition, this remote golf caddy has automatic forward cruise functions.
Things that we liked
It has an Aluminum frame and stainless steel gearbox. That adds durability to this remote control electric golf caddy.
It comes with quick-release wheels.
The handle is compatible for both right and left-handed golfers.
There is an electronic downhill brake system to make the use more convenient on hilly courses.
It has Timed Advance Function too.
Things that can be improved
This cart tends to tip over when you increase the speed.
Though there is a USB port, it doesn't have space to keep the devices securely while charging.
10. Alphard Club Booster V2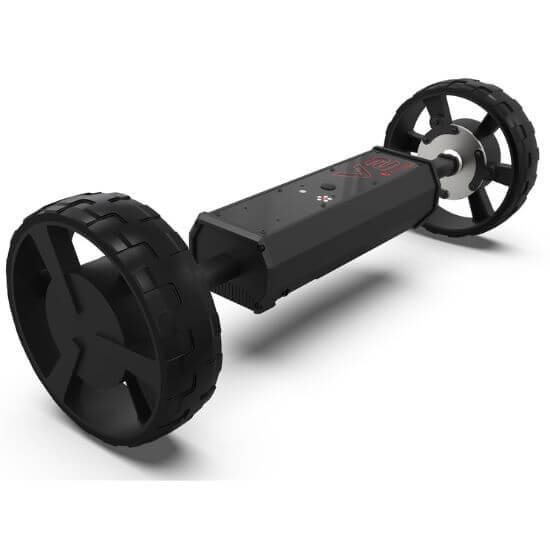 You might want to upgrade to a remote control electric caddy. But don't want to throw away your perfectly fine manual push cart at the same time. Alphard Club Booster V2 is the solution for that. You can turn your push cart into an electric one with this. Then, you get both remote control and follow mode without even spending $1,000.
All you need to do is remove your manual push cart's back wheel and attach the Club Booster V2. Along with the remote that comes with it, you also have the option to pair it with your smartphone. You can change speed and radius settings through your smartphone.
Things that we liked
It has both remote control and follow mode.
The electronic parking brake prevents this cart from sliding down when you stop it on the downhill.
It comes with distance timer buttons so that you can send it to a certain distance.
This remote control golf push cart has dual 130-watt motors.
The 6-axis gyroscope helps to keep your cart straight.
Things that can be improved
The mounting process may seem complicated to you.
Buying Guide: How to Find The Best Remote Golf Caddy?
Remote control golf push cart features are getting better and better day by day. New things are coming up in the market every now and then. But there are 8 common factors to consider before buying. You don't need to meet all the recommendations. You can simply go for a minimalistic remote golf caddy to cut down costs. However, knowing about them beforehand will give you an idea of what to look for.
1. Remote
The first thing to check in a remote control caddy will be remote, of course. Having the option to move your caddy in all directions is a must. Check whether the remote is rechargeable or does it require a battery.
Get the one you are comfortable with. If the remote runs on battery, you can always have an extra battery in your bag for sudden battery drains. It's even better if they have a battery indicator. This feature is more important in rechargeable remotes so that you know it from earlier.
What is more to look for as an extra feature is an auto-shutoff option. It turns off your remote golf caddy automatically when you are not using the remote for a specific time. It saves battery and remote's charge. There should be a certain maximum range too. It is to prevent your remote golf cart from runaways.
2. Size and foldability
Check the dimension specifications to ensure that it is in a comfortable size for you. So, why do you even need to check the size when you are not going to push it? Well, even if you never tend to push the cart manually, you still need to get your golf clubs out of that. You will need to bend repeatedly when your caddy isn't holding the bag to a convenient height. That may cause back sprain or back pain. It becomes more severe for regular players. In addition, you may occasionally need to push it if it runs out of battery or when you accidentally forget to charge your cart or remote. So keep that in consideration as well.
The folded dimensions are crucial factors to ensure they will fit in your car trunk. Companies usually mention that. It should be smaller than your car trunk size to fit it in easily. The dimensions shouldn't be much near to car trunk size. It may fit in eventually, but it will be hazardous for you to put it in and get it out.
3. Weight
About weight specification, you need to check 2 things. Firstly, the maximum weight capacity of the cart. A 14 golf clubs set usually weighs 20-30 lbs on average. It is better to have an electric golf caddy with a maximum load capacity of more than 35 lbs. Since there will be added weight of the bag, golf ball retriever, ball, golf towel, gloves, umbrella, phone etc. That's a very basic thing you will be needing. You might be a golfer who needs more things on the golf course. So, choose according to your requirements.
Second, the weight of the cart is crucial too. It is better to have a comparatively heavier one when it comes to remote control electric golf caddy. It may trip over easily on uneven ground if it is too lightweight.
4. Battery
The battery choice is mainly between lithium and lead-acid batteries. Lithium batteries are usually lightweight with less charge time but they are expensive. While lead-acid batteries are heavier with more runtime. They are typically more affordable. However, that largely depends on the quality of the battery the company is using.
Manufacturers typically state run time and sometimes charge time in the specification. Run time should be at least 18 holes, or more than that is safer. Since you don't know what length of golf courses they determine as standard. It will be really troublesome if your remote golf caddy shuts off at the very end of the round. Because by then, you would have already used your energy in your round. It will be very annoying to push it all the way to your car trunk then.
5. Handle and wheels
It's preferable to have an adjustable handle. That will allow you, your golfer's friend or family to push it in short distances to save battery. If you are the only golfer in your family and don't intend to give it on rent, you may get a non-adjustable handle. That is usually a more affordable option.
And for wheels, remote control golf caddies usually have 3 wheels. Some electric caddies have 4 wheels for added stability. So they are less likely to trip over. But they usually cost more.
6. Motor
Remote control golf caddies generally come with enough powerful motors to balance the speed. It is essential to keep in mind that only the watt specification doesn't really point out the quality of the motor. However, the recommendation is to get the one with at least 180 watt motor.
7. Materials
Remote control electric golf caddies usually have aluminum as the main material. It is to balance sturdiness, quality, and price. Sometimes you may also see stainless steel, carbon fiber, titanium, etc., as the main material, which isn't very usual. They are typically more durable and expensive options. The electric cart can be made with a combination of materials too. Sometimes manufacturers also use different materials for different parts of the cart to increase durability.
8. Accessories
The accessories are just an added feature. It's not compulsory. It largely depends on personal choices. The very common ones are bottle holder, phone holder, scorecard holder, ball or tee holder, and umbrella holder etc. Having a golf cart cover is a plus. And for advanced features, there can be a USB port for convenient charging.
Buying accessories separately may cost less. But it is hard to find the ones that will easily fit in with your caddy. You will need to mount them too. So, it is better to have as many as possible with the purchase. Compare different options available in the same price range for that.
How much is a remote golf caddy?
The range for remote control golf caddies is from $1,000-$2,000. There are more expensive ones out there. But good news is that many of the best ones come under $1,500. However, the price depends on the type of remote control caddy. Quality, brand, availability, etc. are crucial factors too.
Conclusion
You won't get an all-perfect remote control golf caddy. You don't even need that. Choose the features that are a must for you to use the caddy comfortably. Not less or even more than that. Too complicated design will only distract your mind from the game. Maybe you are up for breaking 100 or having a score less than 90 or even 80. You can't be having this kind of silly distraction, right?
We hope that we have helped you to choose one or in the process of choosing one. Feel free to leave your opinions and questions in the comments section. It will be our pleasure to get back to you as soon as possible.