Before TaylorMade launched the SIM2 model, we had seen Tiger Woods, the 15-time major winner, have a SIM driver in his golf bag. After the SIM2 driver appeared, we found from our research on 100 PGA Tour golfers and their golf clubs that the PGA tour players like Dustin Johnson, Rory McIlroy take up SIM2 drivers for their tour courses.
Because SIM2 is a slightly improved model compared to the SIM drivers. Here we analyzed SIM2 drivers according to in-house tests, analysis, and user experiences.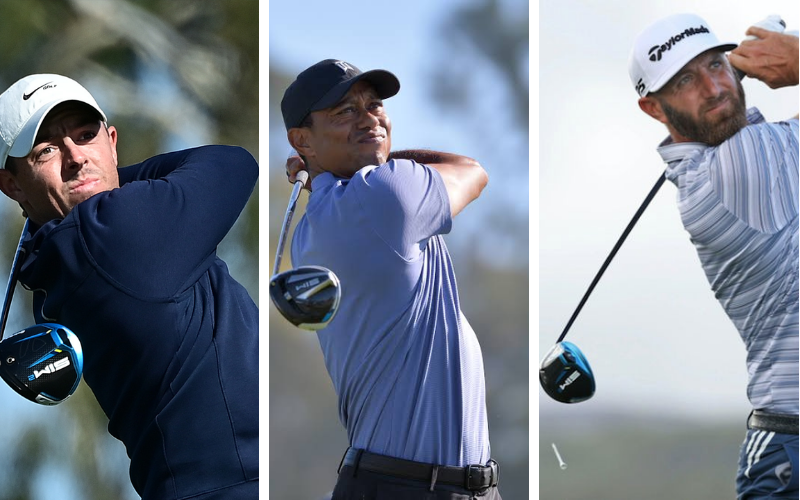 Let's get ready for a practical review and real feedback!
TaylorMade SIM2 Driver Review
Looks and design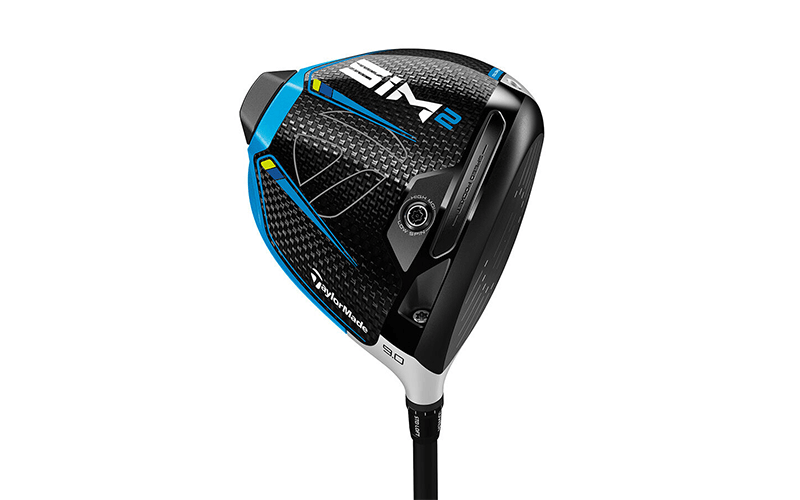 Whenever we think about the look of the SIM2 driver, a well-crafted design with a black carbon-fibered crown appears before us. It reveals a sharp contrast with the front section of the clubhead. Not just for the design, the contrast ultimately helps do better in alignments than the traditional TaylorMade drivers.
A touch of white and blue around the sides makes it completely different from the white-colored SIM and gray-colored SIM Max model. The SIM2 driver almost looks like the later SIM2 Max model except for its shorter clubface.
If you look at the bottom, instead of titanium, you will see a full carbon fiber sole with a mix of white and blue. Replacing titanium, TaylorMade brings full carbon in the crown and sole to save weight.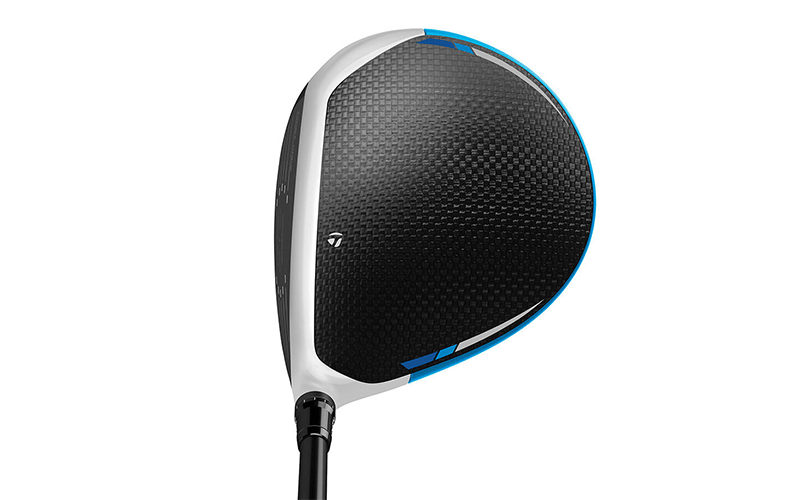 What you may consider is that there's no adjustable weights in SIM2 which we see in the original SIM driver. There's also no sliding bars or sliding option in the SIM2 model, which was in TaylorMade's club for many years. But you get face and loft angle adjustability at the hosel.
Here SIM2 has an advantage in its clubhead design. It's designed to reduce vibration at impact and helps golfers keep the ball airborne. If you are a beginner, you can practice with confidence as it has a large sweet spot that will correct your golf ball hits. Learn the ultimate guide about how to perfect your golf ball hits from our other blog.
Size and shape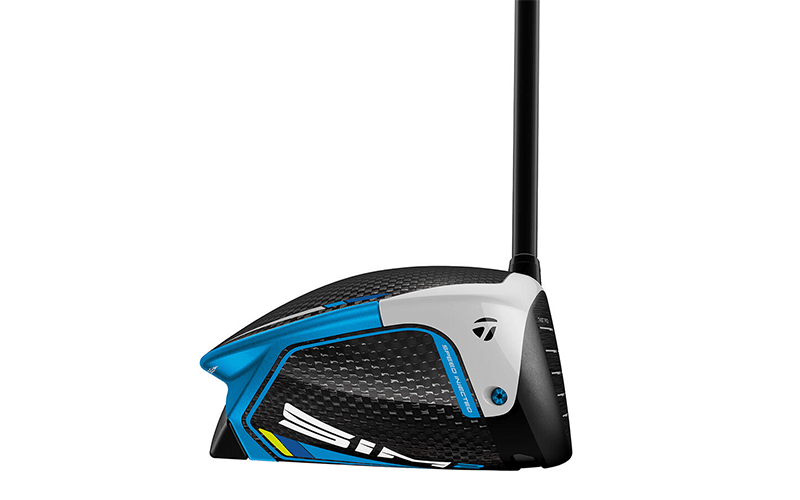 The SIM2 driver looks compact in size, pear-shaped at the address, and square when in a neutral setting. We see a strategic aerodynamic shape in the clubhead with a speed pocket in the front. Like the previous SIM driver, the club head shape of SIM2 is 460cc.
We have already said that the sweet spot of this driver is larger in shape than other TaylorMade models. It increases the chance of center hit consistency. SIM2 driver comes with regular, stiff, and x-stiff flexes. You can choose the optimal shaft from two different shaft options. There are also two loft angles available with SIM2 – 9° and 10.5°.
Feel and forgiveness
The TaylorMade SIM2 driver reflects the typical TaylorMade sound and feel. A majority of the customers expressed that it feels smooth, soft, and a bit buttery at impact. Some experienced a springy feel off the face. The aluminum-made clubhead and graphite shaft give a more lightweight and solid feel.
In the maximum section of the clubface, the expanded use of carbon enhances the forgiveness of the driver. Because it saves weight and increases the moment of inertia. As we know, the higher the MOI of a club, the better resistance it has and the more forgiveness it offers.
Performance of SIM2 Driver from Expert's Experience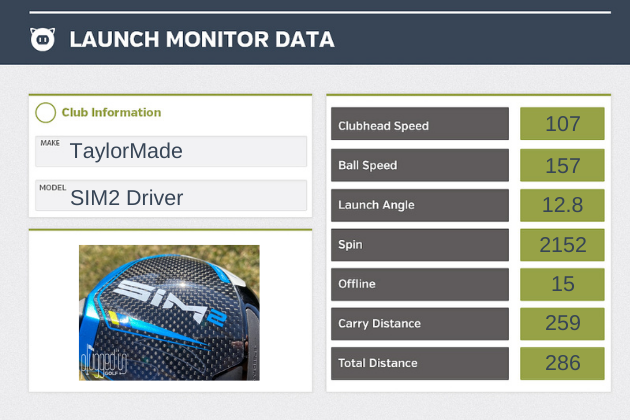 When tested on the launch monitor, we found the SIM2 covering a total distance of 286 yards with a mid and single digit handicap. Compared to the SIM driver, it covers 11 yards more total distance.
Same thing happens in regard to carry distance. Using SIM2, we see 259 yards of carry distance data that is almost 15 yards more than SIM and 19 yards more than SIM Max. SIM2 results in 12.8 degrees average launch angle which was 11.2 degrees in SIM2 and SIM Max.
We see variation in total distance according to the players' handicap and average swing speed. It can vary with your swing speed too. But what impressed us is SIM2 gives maximum distance on each shot, even on miss hits. You will never lose distance. It's almost a win-win situation. Try yourself and see how this driver works with your handicap.
Who is the TaylorMade SIM2 Driver for?
TaylorMade SIM2 driver mostly fits beginners and high handicappers. The increased forgiveness of the driver reduces poor ball contact and the effect of bad swings which make it suitable for them. Low handicap golfers also prefer SIM2 for its higher launching and lower spin in each shot.
If you struggle with low swing speed, this lightweight design can help you increase your swing speed. Because it drives the ball higher and helps to gain more distance. But if you want a high spin from a driver, you should skip SIM2.
If you still have any confusion about TaylorMade SIM2 Driver, you can be more clear by watching the following video.
TaylorMade SIM2 Driver vs M4 Driver
After comparing SIM2 with its previous model M4 driver, the test shows that SIM2 comes with more stability and consistency. The forged aluminum that wraps around the rear of the head reduces vibration and ensures a more solid feel than M4.
On the other hand the twist face technology on the M4 driver which increases its forgiveness, is missing in SIM2 models. We noticed a difference in average drive distance between these two drivers: 279 yards for SIM2 and 267 yards for M4. Here SIM2 covers 11 yards more distance.
The M4 driver is suitable for expert golfers with low handicaps whereas the SIM2 is suitable for both beginners and experts. If we talk about the price, SIM2 is more expensive than M4. Like the M4, SIM2 driver doesn't have a larger and better looking clubface.
All the differences depict SIM2 drivers are superior and improved models to older M4 drivers in accuracy, distance, and consistency. After our thorough tests and analysis, we feel SIM2 is better to hit than M4 although they used to hit M4 before.
Benefits at a Glance
Both beginners and professionals can effectively play with the SIM2 driver.
It's designed to help you swing as fast as you can to get the most distance.
The large sweet spot helps hit straighter shots
The milled clubface ensures more ball speed.
The driver creates low spin which increases forgiveness.
Compared to the previous TaylorMade drivers, SIM2 is the longest club with lowest loft.
Drawbacks at a Glance
Unlike previous Taylormades, the SIM2 driver has no adjustable weights.
It's not suitable for those who want high spin from a driver.
Final verdict
We cannot but agree that the Taylormade SIM2 driver comes with a drastic improvement from the previous models. Highly recommended for its forgiveness and consistency. Though you may miss the moveable weights, it will get over soon when you will experience the driver's overall performance. Remember, if you are a golfer looking for high spin, SIM2 isn't recommended for you.
So let us know how you are playing with this model? What's new in your experience? Is there anything you can suggest for us to add in our review? Drop here. We are waiting for your feedback!