Looking for an iron club? Is it the best iron combining distance, accuracy & playability? If it's so, pick yourself up. We are going to introduce you to the Callaway Rogue Iron that comes with the combination of these three qualities. And it can fulfill your desire. You can easily enjoy the advantage of getting three in one.
From the internal side, Rogue irons are uniquely different as they provide Callaway's fastest 360 Face Cup. They are also special for multi-material construction and urethane microspheres. If you are desperately waiting to know elaborately about this club, you just need to go through the features and benefits. After that, you will get your answers on whether you will need this, or not.
Callaway Rogue Irons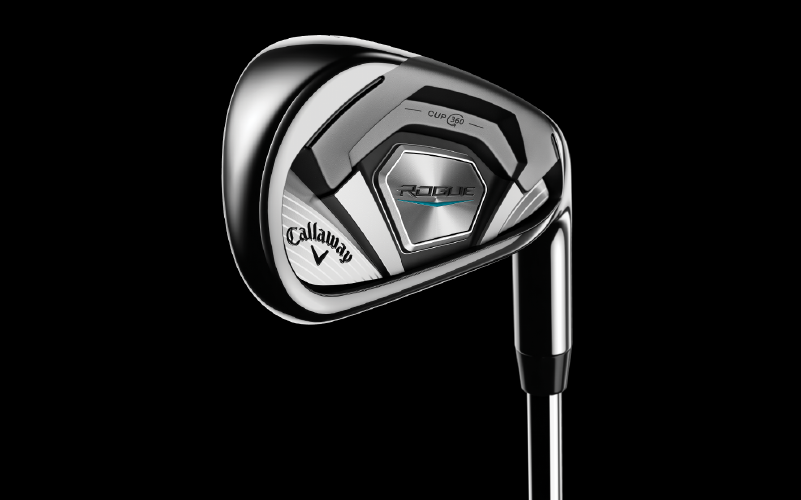 Callaway Rogue irons are not only unique for their design but also for their performance. They look best among the other classes of golf irons. Some golfers suffer because they don't strike the core of the face consistently. Ball speeds of any part away from the middle point are intensely reduced creating significant loss of distance.
Multi-material construction and advanced technology made these irons more attractive for players of all levels. This review will make it easier to keep Rogue irons in your consideration by revealing the information required for you. You are getting the good points as well as the bad points from this review. So just stay and have a look of what is included here.
For whom are Callaway Rogue Irons better?
Callaway Rogue Irons are designed for the everyday golfers. Callaway comes with Rogue irons featuring the ability to be appropriate for all golfers. So both the beginners and the pro golfers can use Rogue irons and have benefits equally. These clubs will suit you smoothly even if you have just started playing golf. You can also increase your skill if you are a professional golfer.
Rogue irons will allow you to get the total coverage of the ground with a soft feel. Also the forgiveness is amazing. The head of these irons is bigger than the Pro but smaller than the X. So Callaway Rogue irons won't bother your game stage or position at all. You can be more clear about Callaway Rogue Irons through this video.
Features
360 Face Cup and VFT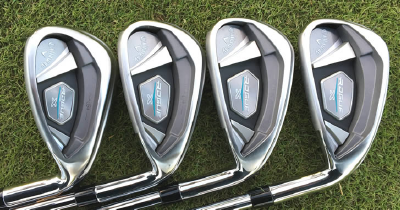 Rogue Irons are the combination of renowned 360 Face Cup technology and Variable Face Thickness (VFT) technology that extends the portion of the face. For the technology it is made of, it delivers fast ball speed. The VFT effects in such a way that tha club face flexes to enhance more ball speed on off-center hits. So what you will have by the combination of these two technologies – increased ball speed & distance.
Tungsten Weighting for Optimal Flight and Control
Tungsten weighting will enable you to position the CG in every long iron with unique precision, increasing optimum launch and control at each individual loft. The tungsten, twice as hard as steel, focuses notable weight into a small space in the course of an intricately shaped form, which is central to precisely controlling CG location.
Urethane Microspheres for Phenomenal Sound and Feel
The advantage of a thin clubface is that it gives quicker ball speed and better distance. On the other hand, the flip side of it is that it gives too much vibration that produces an annoying sound and feels that aren't pleasant. But one more thing to remember, it can diminish the face's ability to flex, lowering COR and ball speed. The included elastic-urethane microspheres offer the sound and feel the advantage of urethane without compromising COR or ball speed.
Callaway Rogue vs Epic Irons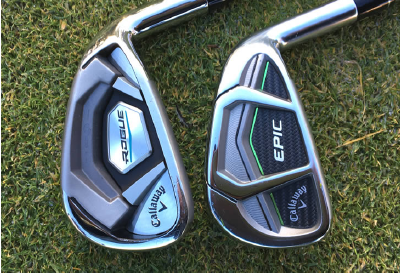 Rogue irons generate more ball speed than that of epic. And the increased spin creates higher flight in Rogue iron that is missing in Epic. You may find the epic producing more solid sound and effect, but the Rogue is more affordable than others. So for those who can't afford an epic, will definitely find Rogue as an ideal choice. Let's see an average ball data comparison generated by Rogue and epic irons.
| | | | | | | | | | | |
| --- | --- | --- | --- | --- | --- | --- | --- | --- | --- | --- |
| | Speed (mph) | Launch angle | Side angle | Side spin | Back spin | Peak | Carry | Range | Offline | Descent |
| Rogue | 116 | 16.4° | 0.7°R | 295R | 4189 | 27 | 170 | 170 | 7.4 R | 41.2° |
| Epic | 118 | 17.0° | 1.3°R | 511 R | 4766 | 29 | 171 | 170 | 12.5 R | 43.9° |
Launching date & price
UK Launch: 09 February 2018
UK Launch RRP: £849
USA Launch: 09 February 2018
USA Launch RRP: $899.99
European Launch: 09 February 2018
European Launch RRP: €999
Key Facts
Department: Men & women
Handicap range: Mid – High
Hand ability: Right & Left
Swing Weight: Men's – Steel – D3, Graphite – D1, Women's – C3
Lofts: Men's – 18°-59°, Women's – 22°-54°
Length: Men's – 39.50-35.00", Women's – 38-34.25"
Manufacturer: Callaway
Brand Name: Callaway
Model Name: ROGUE IRON
Material: Graphite
Pros
Long, accurate & easy to hit
Very versatile
Go straight and high
Great sound & feel
Substantially sized head with medium topline, medium sole-width progressive offset
Balanced performance
Combination of two extraordinary technology
VFT develops ball speed
Offer forgiveness
No other iron can be compared with the Rogues in-game improvement class
Incredible distance and low spin
Lightweight steel and graphite stock shafts merge well with the clubheads for a well-balanced feel by the swing
A very reasonable price for such a quality club
Tungsten weighting works for dialing in the trajectory of every long iron
Good for high handicappers
Easy to launch.
Cons
Unpleasant sound & feel should be improved for giving pleasure
Some golfers are disappointed with the finish on these irons
Covers should be added with the clubs
Not very compact
Frequently Asked Questions
Are Callaway Rogue irons good for beginners?
Yes. Callaway Rogue irons are good for beginners and ideal for mid handicapped players. So you can start with these irons, but can't expect something super like a professional golfer.
Are Callaway Rogue irons forgiving?
The answer is 'Yes'. The Tungsten Weighting that Callaway uses is mainly for creating forgiveness. And thus Callaway Rogue irons are exceptionally forgiving.
What are the lofts on Callaway rogue irons?
Name
Loft
Lie
#7
30°
62.50°
#8
34.5°
63.00°
#9
39°
63.50°
PW
44°
64.00°