Golfing is all about putting the ball into the hole in the least amount of stroke. That is why putting in the final stroke becomes the most crucial stage of a game of golf. A top quality putter helps a lot to aim better and put the ball with accuracy.
There are hundreds of putters available in the market. But every one of them isn't of the best quality nor they provide satisfying performance. And you can't put your effort in making a bad choice while selecting a putter, can you? I guess, No. This is why our experts recommend this Odyssey Stroke Lab Putter as one of the best in the business.
This article is the review of Odyssey Stroke Lab Putter considering all its features, performance, pros, and cons. By the end of the article, you will be able to determine why you should have this putter in your golf bag or cart bag.
Let's go to the review analysis right away.
Odyssey Stroke Lab Putter Review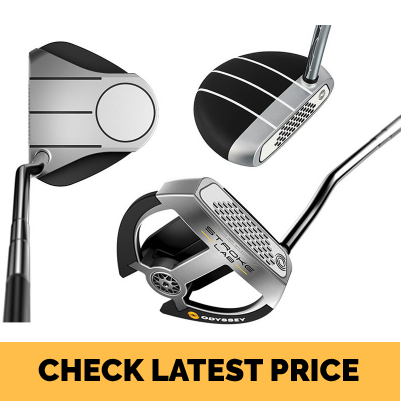 There is hardly any complaint on Callaway products, especially clubs and balls. Odyssey is a sub-brand of Callaway Golf Company. They are specialized in producing putters. Odyssey Stroke Lab Putter is another quality club from Callaway.
Odyssey makes putters for golfer regardless of their skill, strength, and handicap. The Stroke lab putter we are reviewing has plenty of head styles. And almost all the head styles are built to fit different types of strokes, which is very much effective.
The weight distributing method is a unique one from Odyssey. This has been possible for the innovative new Stroke Lab shaft to improve the physical dynamics of the stroke. Odyssey made the stroke lab shaft a little stiffer than other standard putter shafts earlier produced. This feature allows you to have a heavier weight in the heads rather than throughout the body of the putter and have better control.
For a smoother and more accurate stroke, there has been additional weight put in the sole and butt-end of the grip. This feature changes the putter's dynamics and helps you to have better shots.
Look & Feel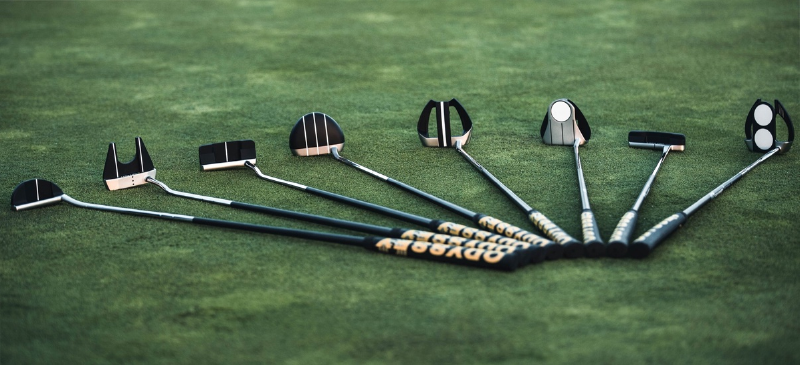 First, of all, the Odyssey strike lab putter has ten (10) head shapes as shown in the picture. As you can see in the image that each of the putters features a color combination of matte black, white, and silver. To us, all of them appear nice and classy.
There are few new styles and some usual club head styles in this putter from odyssey. Popular styles like the One (Anser), Three (Anser w/flow neck), Double Wide (wide-body Anser), and heel-shafted Nine are available here. There are some regular Odyssey styles too like the Seven, 2-Ball Fang, Marxman, and V-Line. The R Ball (a combination of line and a single ball alignment aids) and Tuttle is the latest addition this time.
You may also like: Best Putting Aids
Apart from the clubhead styles, the stroke lab putter has 2 styles of shaft available. Oversized grip and pistol style. Though the pistol-style looks a little unusual, it looks good.
Performance
From a performance perspective, you will hardly find any better putter that includes such advanced technological features. Ratings from the users and other putter experts are great about this putter too. With a perfect combination of shaft and grip, this putter can cover a wide range of strokes needed based on situations.
The weight distribution from the clubhead to grip works nicely for most of the golfers. It gives a firmer grip in the hand which helped our expert golfer feel comfortable in playing strokes. Besides, it covers good ground too.
In a sentence, every one of our experts loved the clubhead concept and its performance. So, moreover, the highlight of this iron is as follows:
Low spin but forgiving
Promotes a controlled launch and consistent distance
Great looking & Lightweight
Gives firm grip and strong in-hand feel
Features and Benefits
The performance we found probably is a result of the following features and specifications. Let's have a look at these features.
White Hot micro hinge face insert combines legendary White Hot feel with dozens of micro hinges that promote topspin for smoother roll and more accurate distance control
Tip-heavy shaft saves 40 grams of weight that is relocated to provide smoother performance
Stroke Lab shaft is slightly stiffer and has less torque compared to a standard putter shaft to provide better control over the slightly heavier head
Additional weight added to the sole of the club and the butt-end of grip help you make a consistently smooth, more accurate putting stroke
The 10-gram lighter grip also helps redistribute weight for better control and consistency
61° toe hang blade
Includes headcover
Pros
Balanced weight distribution in the club
Lots of clubheads options
Good looking and performing at the same time
Pistol style grip can actually be a good concept in future
Cons
So many options may confuse who are not professionals or experts in this regard
Watch the following video for a practical review of the Callaway odyssey stroke lab putter.
Final Verdict
Odyssey stroke lab putter would be our first choice in buying any putter as it offers lots of variations in club heads and grips to play different sorts of shots. The outlook is nice and gives a premium feel. The Odyssey stroke lab sets in the hand easily and you will feel comfortable playing shots with this putter.
If you are playing to buy a putter this Odyssey Stroke Lab is very much recommended. So, own it and let us know how much you enjoyed playing with the club. Mention any feature or advantages if we missed out mentioning.