If you have a consistent strike pattern and want a lower spinning, flatter ball flight, then Callaway Mavrik Sub Zero is the driver for you. Even though it has a similar outlook and technological features like Mavrik Standard and Mavrik Max, there is a lot to differentiate it from the other 2 drivers of the same series.
In this article, we will be reviewing Callaway Mavrik Sub Zero with its features, benefits, tech specs, performance and find out how this driver can be a good fit for your playing style. And which one is the best among them?
Callaway as a Brand and Their Mavrik Drivers
Callaway has been successful in creating, innovating and producing golf equipment for several years now. They introduced Artificial Intelligence (A.I.) in the golf club designing sector and created a hype amongst the golfers then. 2019 was quite a successful year for Callaway with their newly introduced machine-made designed epic flash series. Now it was time to push the boundaries for Artificial Intelligence and Callaway has done that rightly.
The Mavrik series has been created using updated features than the epic flash series. In continuation of this success, they have placed themselves in the 2020 hot list by GolfDigest as they did in 2019 with epic flash series.
Callaway Mavrik Sub Zero Reviewed
Like many manufacturers, Callaway has introduced three (03) different driver models in the Mavrik range to offer every golfer the opportunity to get the most from their game. The Mavrik Sub Zero is just like the Sub Zero models (for example Rogue Sub Zero and Epic Flash Sub Zero) of recent years in its characteristics. The driver has aimed for the better player and Callaway's lower spinning driver but still produces high MOI. We have reviewed the driver from 4 different angles.
Features & Benefits
From features and benefits point of view, the Mavrik Sub Zero has almost all the features like Mavrik Max. So, we have discussed those features in summary here. For detailed information, you can check out our previous Mavrik Standard and Mavrik Max reviews.
Jailbreak technology with T2C
triaxial carbon crown
Interchangeable Weights
to Fine Tune Ball Flight
New A.I. designed
Flash Face SS20
Jailbreak technology has previously
been used with Callaway epic series
and brought tremendous success for
the golfers. Find more about jailbreak
technology here.
Like the Mavrik Max, Mavrik Sub Zero
has 2 interchangeable weights of 14g
and 2g. But the positioning is different
which provides a more comfortable feel
and noticeable performance differences,
which we have discussed in the
performance section.
The new FS2S titanium is lighter in
weight than traditional titanium but
extremely strong and provides optimal
speed and spin robustness than the
previously used flash face in Epic Flash.
All 3 drivers of the Mavrik series have
the same Flash Face SS20.
Technical Specifications
From a technical specifications point of view, Mavrik Sub Zero is very satisfying. The attachments for shafts and grip usability with this MAVRIK Sub Zero driver to make the driver a complete set are very much likable for most golfers.
| Clubhead | Shaft | Grip |
| --- | --- | --- |
Looks and Performance
Looks
The color combination of orange and black was mostly liked by golfers but many have also commented this as 'childish'. But you need not to worry about that color combination, Callaway gives you an opportunity to customize the colors. Check the color customization availability here. Overall it looks good with a glossy finish but matte finish might just look better.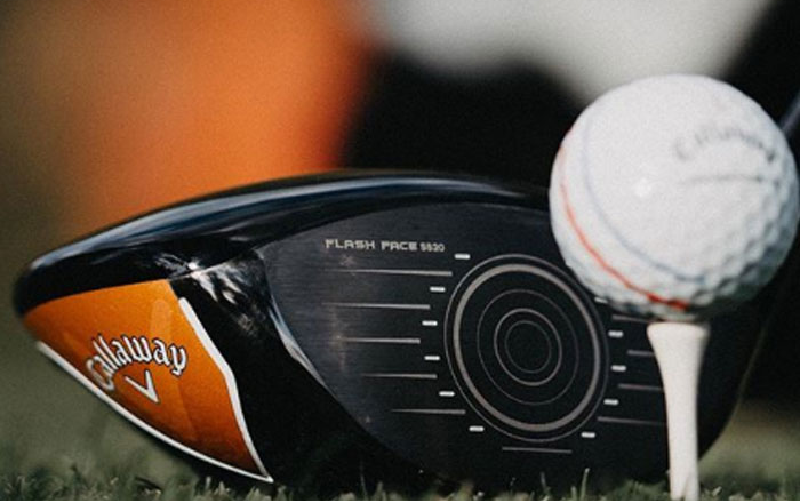 The 450cc head is smaller and slightly more curved than the other models, it sits more neutral at address. There is a lot of technology inside the head like jailbreak, flash face, and interchangeable weight but its exterior is so simple. It looks as good as it performs.
Performance
From the beginning, we have been saying Mavrik Sub Zero has features like this and that. So, the question might be obvious why you should buy a Mavrik Sub Zero when it's similar to other drivers. The answer is the slightest of changes and tuning resulted in better performances. If the performance reflects your style of play then you can surely own this driver. The MAVRIK Sub Zero driver is much quieter than other Sub Zero models like the Epic Flash and Rogue, which was a primary complaint from those users. So, Callaway took that concern and came up with Mavrik Sub Zero which gives a much deeper sound on impact and in pitch shot.
As we have been saying from the beginning that Mavrik Sub Zero is a better driver for golfers who like lower spinning and flatter ball flight. And the features and technical specifications justifies this statement. There is no point of comparing this driver with higher ball spinning drivers. Therefore, we analyzed the performance data with another killer model of the Sub Zero segment; Epic Flash Sub Zero.

The data represented here is a standard deviation data of 10 strokes with each driver simultaneously with the help of simulators. As you can see from here both the drivers cover a good amount of distance in total and there is not much difference between them. But when we look into the backspin Mavrik Sub Zero has less rpm than Epic Flash SZ. The ball speed and carry are almost the same in both cases.
Pros
Smaller clubhead that looks good
Comfortable feel and better sound
Flatter flight and low spin
Cons
Matte look would have been better
Check Latest Price of Callaway Mavrik Sub Zero Driver
Conclusion
Callaway has gone all Top Gun on us for 2020 with their new Mavrik driver range. Their hugely successful Epic Flash driver was the biggest selling of 2019. Callaway believes wholeheartedly in the route it's going down and once again opted to use Artificial Intelligence at the forefront of its product design.
The proven features like Jailbreak, Flash Face, Triaxial Carbon Crown all stayed there and became a formula to faster ball speed, forgiveness, and a better sound.
The Mavrik Sub Zero is the most versatile in settings and adjustability. The lie angle is slightly flatter than the others and the flight is more neutral. If you have a consistent strike pattern, Callaway Mavrik Sub Zero might be the best choice for you.