Distance with proper forgiveness. If this is your choosing criteria of golf drivers, then Callaway Mavrik Max might be the driver you should be using. Apart from the Mavrik standard, Mavrik Max provides better forgiveness with quite similar carry and distance. But is that all about Mavrik Max? We will be reviewing that from a few different perspectives in this article. And surely the article will answer all your doubts.
Introducing Callaway as a Brand and Their Mavrik Drivers
From learners to professionals, every golfer is familiar with the brand Callaway. They are one of the best in this industry of creating innovative, high-performance golf equipment like golf balls, golf clubs, cart bags and so on. And you know this is quite a challenge to establish and maintain such a brand name among golfers when there are so many companies doing the same. Callaway was a pioneer in introducing machine-made golf clubs with A.I. designed Epic flash series. The Mavrik series has enriched that success. GolfDigests has listed the Callaway Mavrik drivers series on the GolfDigests' hot list 2020.
The Mavrik Max has a 460cc club with 2 (two) weight ports, with one in the heel. And that is the USP for Mavrik Max. When the 14-gram weight is placed there, you get a large draw bias, but when that weight is in the back, it plays like a traditional high-MOI club with a low and deep center of gravity.
Callaway Mavrik Max Reviewed
All 3 in the Mavrik series feature almost similar features and designs yet they are unique and those little changes play a vital role for many golfers. Some might prefer Mavrik standard over Mavrik Max, some would go for Mavrik Max over Mavrik standard or Mavrik Sub Zero. You should not be surprised if you see golfers owning all 3 of this series because they are so good to have.
Features & Benefits
From the epic flash series where Callaway introduced AI designed Flash face, they have continued that feature with Mavrik series as well along with jailbreak technology and T2C triaxial carbon crown. But Mavrik Max is even better from the Mavrik standard as it also features interchangeable weight. This could possibly be a better version than weight adjusting perimeter what Callaway used in the Epic Flash.
Jailbreak technology with T2C
triaxial carbon crown
Interchangeable Weights to
Fine Tune Ball Flight
Flash Face SS20
The same jailbreak technology has
been used in the Mavrik series as it
was used in Epic flash series too.
The idea behind jailbreak is to stiffen
the body for more energy transferred
into the flexing of the face and thus,
in turn, to propel the ball forward.
Find more about jailbreak
technology here.
This is the feature that made Mavrik
max stand out from the Mavrik
Standard. With the Mavrik Max drivers,
you get two interchangeable weights
(14g and 2g) positioned in the sole
near the heel and rear. You can put
14g in the rear for maximum forgiveness
or in the heel for maximum draw.
The new FS2S titanium is lighter in weight
than traditional titanium but extremely
strong and provides optimal speed and
spin robustness than the previously
used flash face in Epic Flash.
Technical Specifications
The attachments availability for shafts and grip with Mavrik Max driver are very satisfying. You can check the specifications in the following chart.
Clubhead
Shaft
Grip
Available Lofts: 9°, 10.5°, and 12°HT.
Head Size: 460cc
Lie Angle: 59°

Interchangeable Weights: Available;
which was not featured in the
standard version.
Callaway Mavrik Max driver provides
you the opportunity to choose your
shaft from a variety of options. You
can customize according to your
preferences from UST Helium black
(40g Class) and Project X Even Flow
Riptide (50g/60g Class).
Premium grip options provided with
Mavrik Max Driver. You can use the
Golf Pride tour velvet aligned gray
(50g) series with your
Callaway Mavrik Max.
Looks and Performance
Looks
Mavrik Max has quite a lot of similar outlooks like an epic flash as it does not have an aerodynamic design like the standard one. Glossy orange outlook gained pretty much appreciation from its users. Among the 3 versions in the Mavrik series, Mavrik Max has the biggest clubhead. Though Mavrik standard also 460cc clubhead but Mavrik Max appears larger for its traditional design. Large but not unwieldy.
The design also got influenced by the interchangeable weight feature and it looks apart from the Mavrik Standard and Mavrik Sub Zero as well, though Mavrik Sub Zero also has interchangeable weight features. The positions are different as you can see in the picture.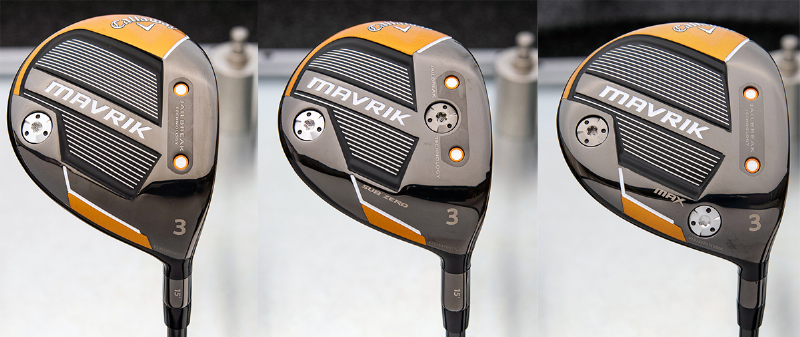 Performance
Performance-wise Mavrik Max might take a place into professional golfers bags. It is that smooth with its performance and consistency. It is light in weight and easy to use. The driver looks great from a distance with its glowing orange and black color combination. And the performance actually complements the outlook very well. It is fast and provides faster ball speed across the face with the AI designed Flash Face SS20 titanium and jailbreak technology. We tested and compared this Mavrik Max with the standard one and sub-zero one. Here how the performance shapes:

The launch monitor data clearly displays the authenticity of the claims from Callaway about the differences with the standard version. Mavrik Max covered a total of 312 yards with a ball speed of 168.7 mph which is not so far behind Mavrik standard that covered a distance of a total of 316 yards with a ball speed of 170.0 mph. And the reason could possibly be the aerodynamic design with Mavrik standard.
Remember, the data we represented here is a standard deviation of 10 shots with each driver. So the actual data can differ a bit and it can also vary from one launch monitor to another. Mavrik Max has a better launch angle (11.4-degree) and backspin (2605 rpm) than Mavrik standard which has a 10.5-degree launch angle and 2508 rpm of backspin.
Pros
Better forgiveness
Weight adjustable
Consistent performance
Cons
Less distance covered than standard
High swing speed players will benefit from ball speed, a draw bias, and impressive accuracy. Slower swingers can expect more carry, draw bias.
Experts opinion who use this driver
Xander Schauffele. who won the 2016-17 Rookie of the Year award on the PGA Tour, mostly plays Callaway and Odyssey clubs. Xander quoted after testing Mavrik that, "From the minute we tested it, I knew 2020 couldn't get here soon enough."
Check Latest Price of Callaway Mavrik Max Driver
Conclusion
The Callaway Mavrik Max driver is a great driver to have in your bag in many ways. The driver is highlighted by an AI-designed Flash Face SS20 architecture which is 06 (six) grams lighter than traditional materials.
It is very easy to use. When you produce a stroke that hits in the center of the driver's head, it produces ball speeds nearly as good as any other driver can produce.
With weight ports positioned in the heel and back of the sole, it's possible to max out the slice-busting technology or go for even more forgiveness, depending on where you position the 14-gram weight.