Most professional golfers tend to hit the longest hit possible from teeing off with their drivers. There are thousands of drivers available on the market who claim that their drivers provide the longest shots and best performance. Distance is not the only characteristic to justify a driver but it surely has an impact on golfers minds. You need spin and forgiveness as well.
It might be a confusing and challenging task to choose a driver. To ease this challenge we have reviewed the best drivers one at a time based on their technology, design and looks, performance and expert opinions. In continuation of that, in this article, we are going to review the Callaway Mavrik Standard driver in depth.
Introducing Callaway as a Brand and Their Mavrik Drivers
Callaway is one of the best golf equipment manufacturing companies in creating innovative, high-performance golf equipment like golf balls, golf clubs, cart bags and so on. It demands intelligence, imagination and deep R&D resources, above all, a relentless commitment to be the best. You have to resist following and insist on leading.
And Callaway A.I. designed Marvik Drivers are leading the industry and listed on the GolfDigests' hot list 2020 as well. The Callaway Mavrik drivers have the most ambitious aerodynamic design and a cyclone aero shape to enhance swing speed and consistency in distance.
Callaway Mavrik Standard Driver Reviewed
Features & Benefits
Callaway has been successful with jailbreak technology and flash face SS20 which they introduced in Epic flash series back in early 2019. Let's have a look at the features and benefits in details below:
Jailbreak technology with T2C
triaxial carbon crown
Cyclone Aero Shape designed
by Artificial Intelligence (A.I.)
Flash Face SS20
Jailbreak Technology consists of two metal
rods connecting the crown and sole just
behind the clubface. When a golf ball is
struck with Jailbreak, the face compresses
like normal, but the crown and sole are
now a solid structure allowing the energy
to be completely directed back into the
clubface. This creates a faster rebound
effect which equates to faster ball speeds.
Mavrik standard driver features an
all-new Cyclone Aero shape designed
by Artificial Intelligence (AI) for reduced
drag and making this driver the fastest.
The new flash face SS20 has been used
in MAVRIK standard driver which is built
with FS2S titanium. The new FS2S
titanium is lighter in weight than
traditional titanium but extremely
strong and provides optimal speed and
spin robustness.
Technical Specifications
From a technical specification viewpoint, Callaway Mavrik drivers are very satisfying. Let's have a glimpse at those:
Clubhead
Shaft
Grip
Available Lofts: 9°, 10.5°, and 12°HT.
Left-hand options available in 9°, 10.5°
and in 12° custom only

Adjustability: OptiFit Hosel 460cc
Callaway MAVRIK Standard driver
provides you the opportunity to choose
your shaft from a variety of options.
You can customize according to your
preferences. Callaway gives you 3 options
to choose from while purchasing. They
are UST Helium black (40g Class), Project
X Even Flow Riptide (40g/50g/60g Class),
and Aldila Rogue White 130 MSI
(60g/70g Class).
Premium grip options provided with
MAVRIK Driver. You can use the Golf
Pride tour velvet aligned gray (50g)
series or Lamkin Comfort (44g) series
with your Callaway MAVRIK Standard.
Looks and Performance
Looks
The AI designed cyclone aero shape not only added clubhead speed but also made this driver stand out from the rest of its category. From outside it has a flatter crown and a sweeping sole from front to back. It is very much visible in the green and from a distance as well with its glowing orange color. The shape is quite different from the other series and drivers like the epic flash. Though all 3 design from Mavrik has the same glowing orange color default, you can order a customized one too. The Mavrik standard has some slight detail changes on the sole and only the standard one features cyclone aero shape. It has a head size of 460cc with a 58-degree lie head. It's just a very simple, modern, good looking head to look down at.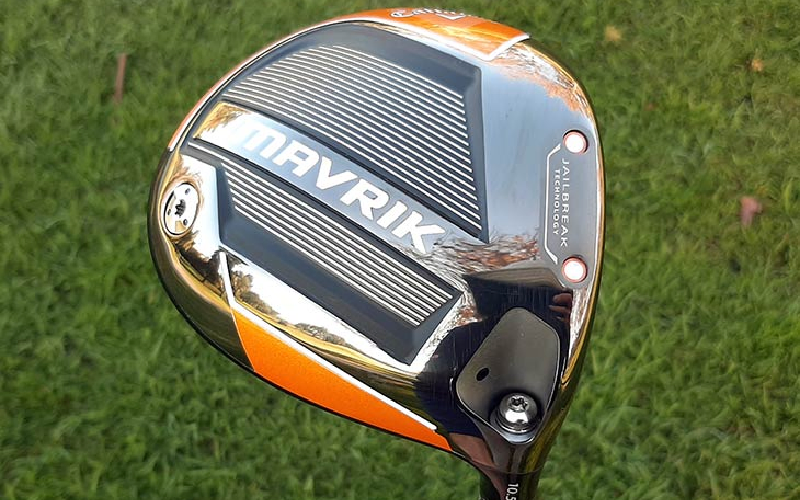 The face and the head's internal structure have added a key dimension to make these drivers a standout in the industry. Callaway's team of engineers definitely deserves an appreciation for such innovation. Not only the design, the execution behind achieving optimal speed, forgiveness, and spin robustness is also great. The new face architecture needed FS2S titanium to achieve the aforementioned results, which is an extremely strong material but 6 grams lighter than traditional titanium.
Simple but modern
Glowing outlook
Lightweight
Sounds and feels good
Performance
The Callaway Mavrik Standard driver looks great from a distance with its glowing orange and black color combination. As good as the Mavrik looks, it performs even better. The Callaway Mavrik Standard is light in weight and easy to use.
A comparison study between Mavrik standard, the previously successful Epic flash, and Mavrik max was conducted by the experts from Tour Experience Golf (TXG) recently. They showed the performance data with help of golf simulators. It outperformed the epic flash with ball speed, launch angle, carry yards and total yards. Mavrik standard had the best ball speed among them. But with the best ball speed, Mavrik standard provided less yard in total than Mavrik max. The backspin was not better with the Mavrik standard, Epic flash holds the top position yet. You can find out the complete analysis here.

The Mavrik Standard actually provides good coverage with a flight and better results than other drivers. It swings slightly faster possibly due to the cyclone shape as Callaway claims. There are definitely faster ball speeds across the face for its Jailbreak technology and Flash Face SS20 titanium. On top of improved performance, the sound/feel of the Mavrik is addicting!
Pros
Faster ball speeds
Provides good coverage
Consistent performance
Swings faster and Easy to use
Artificial intelligence (AI) is the simulation of human intelligence processes by machines, especially computer systems. They have proved its worth in the Callaway epic series and mavrik is continuing the fame. Along with Callaway, Forbes reports that AI is changing the face of golf club design with its impact.
Experts opinion who use this driver
Xander Schauffele. who won the 2016-17 Rookie of the Year award on the PGA Tour, mostly plays Callaway and Odyssey clubs. Xander quoted after testing Mavrik that, "From the minute we tested it, I knew 2020 couldn't get here soon enough."
"From the minute we tested it, I knew 2020 couldn't get here soon enough." – @XSchauffele

Who else is ready for a new decade of innovation? #TeamCallaway #MAVRIKThinking pic.twitter.com/NL1E8aaHVl — Callaway Golf Europe (@CallawayGolfEU) January 1, 2020
Check Latest Price of Callaway Mavrik Driver
Conclusion
The first club that professional golfers use to have a head start from the tee off the ground on par-4s, par-5s, and sometimes even on very long par-3s is the drivers. The Standard Callaway Mavrik driver is a great driver to have in your bag in many ways.
It is very easy to use. When you produce a stroke that hits in the center of the driver's head, it produces ball speeds as good as any other driver can produce. You can hit a 280+ yards drive if executed properly.