Golfers who are trying to improve their golfing skills and performance with clubs like Irons that provide strong loft for more distance and less spin for more controlled shots can surely try using Callaway Epic Forged Star Irons.
We will elaborately explain the specifications of the Callaway Epic Forged Star Iron in this article and our experts will be sharing their review analysis here. So go through this article if you are looking forward to learning more about this golf club. Or even if you are looking for an iron club that has good control in the center, this article will help you get a better idea in this regard.
Callaway is an established brand among golfers these days. They have been consistent in producing quality golf items for some years now. The Mavrik Driver, Epic Flash Fairway Wood, Rogue Pro Irons can be a very good example of the brand performance of Callaway. The Epic Forged Star Iron is no exception. Let's get to know the club in detail.
Callaway Epic Forged Star Irons Review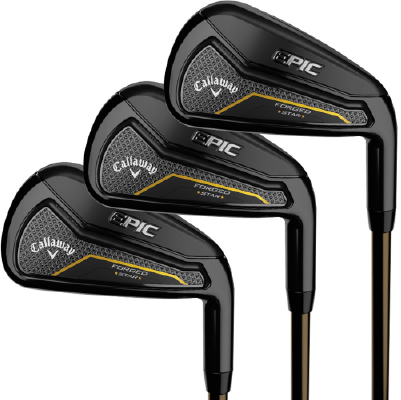 Callaway Epic Forged Star Irons will let you experience remarkable success by providing a good distance with control. It is a very lightweight iron that also gives you a premium look and feelings. The club is designed with a forged 1025 carbon steel body along with 360 face cup technology and equipped with a high-COR to ensure ball speed to provide you the most carry distance and total distance covered than most other irons in the similar price range.
Yes, Epic Forged Star will cost you more than what you might have spent for Irons like Big Bertha or Apex Pro. But the performance is also noticeable compared to those irons. The performance comparison will be discussed in the latter portion of this article.
Now moving onto the review section. We have reviewed the Callaway Epic Forged Star Iron on the basis of its looks, performance, features, and specs. Upon analysis, we have listed both the pros and cons of this club too as a highlight of the review analysis.
Look & Feel
Firstly, this club has a premium look. And you will feel better while holding it. The full black clubhead with just a thin yellow draw line on top looks as good as one may like. The shaft and the grip look great as well as the clubhead. Besides Callaway gives you a chance to customize the shafts and grips too.
Apart from the look, the epic forged star iron gives a sweet crunchy sound while hitting the ball. We loved the sound hopefully you will like it too. Then comes the feeling of playing shots with this iron. The irons stay firm in the hand probably for the grips provided in the package and give a strong feel while swinging the club. To sum up, the discussion here is the major factors on Forged star irons look and feel.
Infinite Black finish and precise shaping
Ultra-thin face

The Callaway epic forged star iron has not delivered exceptional performance compared to the other series of iron from Callaway like Apex and Big Bertha. But that doesn't mean it hasn't come up to the expectations. This club produces a standard performance like them. When our experts reviewed this club on one of the best golf simulator, the average data of multiple shots were as mentioned in the picture.
The data detect that Epic Forged Star is capable of producing a mentionable ball speed than Big Bertha and Apex 19 which eventually results in far better carry distance. And our experts found that the Epic Forged Star has the lowest backspin rate which is a better feature for beginner golfers. If you are ab better player and more accustomed to controlling the spin then you may not prefer this iron. The increased ball speed and ultimate spin and control could possibly be caused by the new VFT pattern used in this club.
So, moreover, the highlight of this iron is as follows:
Provides better ball speed
Most carry distance among Big Bertha and Apex 19
Less backspin
Lightweight
Promotes a controlled launch and consistent distance
Great looking
Gives firm grip and strong in-hand feel
Features and Specs
The performance we found probably is a result of the following features and specifications. Let's have a look at these features.
Features:
Specs
Callaway Epic Forged Irons Product Details
| | |
| --- | --- |
| UK Launch | 09 August 2018 |
| Handicap Range | Low & High |
| Hand Availability | Right |
| Material | Steel |
| Shaft Name | Aerotech Steelfiber FC |
| Shaft Types | Steel, Graphite |
| Shaft Flex | Light, Regular, Stiff, X Stiff |
| Grip | Golf Pride Tour Velvet Align Silver |
| Design | Cavity Back |
| Set Makeup | 4, 5, 6, 7, 8, 9, PW |
| Additional Clubs | GW, SW |
Pros
Covers a good distance
Promotes incredible sound and feel
Great looking
Remarkable forgiveness
Cons
Creating a surprising move with spin is a challenge
Premium price than other irons
If you want, you can know more information about Callaway Epic Forged Star Irons with the video. The video is given below:
Final Verdict
For an amateur, this is an ideal iron set to start off as it has very little to do with the spin and gives you a more sweet spot in the clubhead to reduce mis-hit i.e. fade or slice more often. The only factor that can be considered as questionable in this iron is the price. But maybe the premium look of matte black finish is the reason behind this premium pricing. On an overall note, the Epic Forged Star Iron is a satisfying one for the beginners, and not for the professionals or experts who like to spin the game of their own.
Drop your thoughts on this club below and let us know if we missed out on any details here. Do check out our other reviews on golf balls, golf clubs, and golf accessories if necessary.