Did you know? In the early 2019s, Callaway created a hype over the golfers about their new A.I designed epic flash series drivers. The hype was there because Callaway has spent around $5m on a supercomputer to design the face for the Epic Flash driver. And Callaway claimed that Flash Face technology will help all golfers achieve more ball speed and distance than ever before in 2019.
So, was the investment worthy of it? How good or bad is this Callaway Epic Flash driver? Should you own this or not? We will be discussing all your queries in this article to assist you in taking the right decision. We have reviewed the Callaway Epic Flash driver based on their technology, design and looks, performance and expert opinions.
Callaway as a Brand and Their Epic Flash Drivers
Callaway Golf Company is a premium golf equipment and active lifestyle company with a portfolio of global brands like Odyssey golf, OGIO, Jack Wolfskin and so on. Creating innovative, high-performance golf equipment is never an easy job without a profound understanding of the game and those who play it. Callaway has been doing it with confidence and dedication for a long time since. Through a persistent commitment to golf, Callaway manufactures and sells premium golf clubs, golf balls, golf bags, and golf accessories. Epic Flash drivers from Callaway are great examples of Callaways' persistent commitment to golf.
Callaway has invested rightly on their Artificial Intelligence(AI) technology as it has been able to provide such golf drivers like Epic Flash and Epic Flash Sub Zero. Epic Flash Driver has been awarded 20 out of 20 stars in the 2019 Golf Digest Hot List. It is the only driver awarded in this segment in 2019.
Callaway Epic Flash Driver Reviewed
The Epic Flash Driver is created by a new Flash Face Technology, designed with help from Artificial Intelligence, to provide more ball speed for more distance. The radically different face design is created especially to promote faster ball speed in the center region of the face. And the results prove that Callaway engineers have succeeded in this regard. Callaway Epic Flash drivers awarded Best Driver for swing speeds 95 MPH – 105 MPH and for swing speeds 94 MPH and below by the GolfWRX expert panel featuring 13 top-ranked club fitters from around the globe.
Features & Benefits
Not only the AI designed flash face technology, Callaway Epic Flash drivers consist of a few other key features to make this driver stand out. Let's check out those below.
Flash Face Technology

Adjustable Perimeter Weighting
Jailbreak technology with
T2C triaxial carbon crown
Flash Face has a unique, internal mapping
that consists of dozens of subtle ripples
flowing from heel to toe. The Callaway
Epic Flash driver has introduced new flash
face technology that has been used to
increase ball speed which is built from
595C Super Aged Forged Titanium. The
595C Super Aged Forged Titanium, is
tempered for strength and then laser
welded on to the head.
You can have total ball flight control
with Callaway Epic Flash drivers with
its adjustable perimeter weighting feature.
It allows you to easily promote draws,
fades or a straighter flight with a 16-gram
sliding weight on the clubhead.
The two internal, hourglass-shaped
Jailbreak bars connect the crown to
the sole, stabilizing and stiffening those
two parts at impact, allowing the face
to take on greater impact load to
generate faster ball speed.
Technical Specifications
Let's have a look at the specifications that enriched the Epic Flash from Callaway.
Clubhead
Shaft
Available Lofts: 9°, 10.5°, and 12°HT. Left-hand options available in 9°,
10.5° and in 12° custom only

Adjustability: OptiFit Hosel
460cc
Callaway Epic Flash driver provides you the opportunity to
customize your shaft from a variety of options. You can choose
your preferences from Project X Even Flow Riptide
(40g/50g/60g Class),

TT Project X HZRDUS Smoke Black (59g, 67g, and 70g) and Mitsubishi Tensei AV Blue (65g, 67g, and 68g).
Looks and Performance
Looks
Though Callaway provides you options to customize your club to your preferences, we are here reviewing the default on with glossy green and black color combination. The traditional clubhead look is there with the Epic Flash driver. It is very easy to align with the V-Shape, sits square and looks great at address. The adjustable weighting perimeter doesn't look bad on the head rather it is designed properly to distribute this feature. TT Project X HZRDUS Smoke Black shaft matches the clubhead in a nice fashion. So do the Golf Pride Align grip. The signature brand logo at the bottom has been sustained by Callaway in Epic flash as well.
Traditional clubhead look
Adjustable weighting perimeter designed properly
Glowing greenish look
Recommended shaft and grips adds beauty with the driver
Performance
The Epic was renowned for speed but lacked enough forgiveness if it wasn't hit right. The Rogue solved that forgiveness issue for a lot of people, but looked pretty ordinary and had less distance covered than Epic. The Epic Flash is more like a combination of both Epics' speed and Rogues' forgiveness. It sounds incredible at impact. It sits well at address and has the classic Callaway curved line set back from the leading edge. We researched the performance of epic flash in comparison to the 2017 Callaway Epic on simulators to find out the actual scenario. And the result was like the followings:
| | | |
| --- | --- | --- |
| | GBB EPIC | EPIC FLASH |
In comparison to the 2017 Callaway Epic, the 2019 Callaway Epic Flash has outperformed in ball speed, carry distance and total distance covered. As you can see from our research data Epic Flash has provided almost 5 more yards distance with a ball speed of 163.7 mph which is 2.4 mph more than the 2017 Callaway GBB Epic. At the same time, Epic Flash has a balanced launch angle of 13.9-degree with a backspin of 2092 rpm.
Pros
Adjustable weighting perimeter
Sounds good on impact
Fast and accurate
Looks great
Cons
The flight is not satisfying
It is fast, it's accurate, that's all that matters for a driver, isn't it? Looks great in the eyes and the sound at impact is incredible. You might just fall in love with this. Along with your competitors watching you striking straight and long drives. Amongst all the goods the only fact that may bother you is the flight. Sometimes its flight is not satisfying but somewhat covers the distance as expected. The added features of weight adjustability may seem an added value to you but our research didn't find much difference to mention. The shaft and grip customization feature is worth a mention because it helps perform better with the driver.
Experts' opinion who use this driver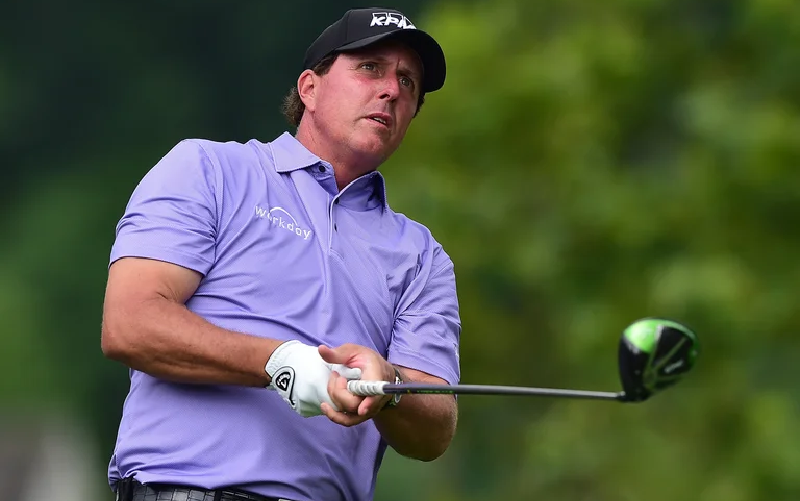 Philip Alfred Mickelson, an American professional golfer, nicknamed Lefty, who has won 44 events on the PGA Tour, including five major championships: three Masters titles (2004, 2006, 2010), a PGA Championship (2005), and an Open Championship (2013) quoted after using Callaway Epic Flash driver that, "The ball speed, distance, sound…it just pushes the boundaries of everything I thought I knew about driver technology."
Check Latest Price of Callaway Epic Flash Driver
Conclusion
The Callaway Epic Flash driver is awesome and provides a lot of distance, even with the slow swing it gives a better distance than other drivers. You will find no difficulty in controlling this driver as it's so light. The drivers just complement its name 'Flash' by providing super fastball speed. The more you explore this driver, the more you fall in love with it.