Callaway went on about the Mack Daddy 5 jaws model for its aggressive grooves design. However, golf wedges aren't just about the spin. You need to see the finishes, lofts, bounce, gapping, grinds, shafts, grips.
Most importantly, the performance and which style or preference match it the most. But is it something for you? Let's get down to it to find out if MD5 Jaws meets your expectations and style or not.
Callaway Mack Daddy 5 Jaws Wedge Review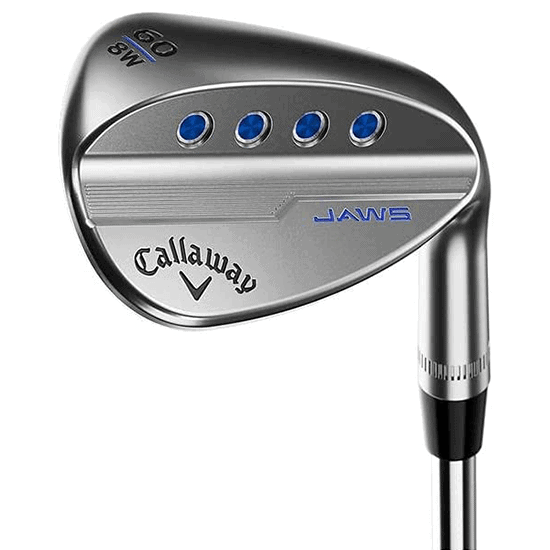 Looks and Finishes
MD5 Jaws comes in Platinum Chrome and Tour Gray finish. Both of them look stylish with the incised lines in the middle of the back and blue-colored ports on one side.
The chrome finish sometimes may cause a bit of a glare in the direct sunlight. Although it is not a problem that can affect the game significantly, it still can be a distraction while making a shot. So, if that's considered a concern, the Tour Gray finish is the better option.
Clubhead and Feel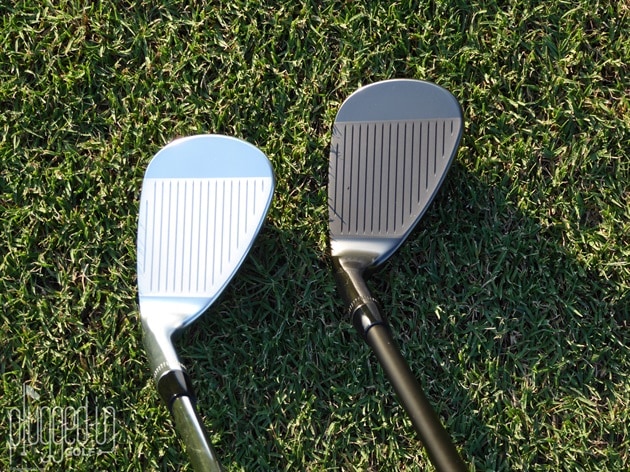 Along with the naturally progressive shaping, the clubhead is made of 8620 Mild Carbon Steel and refined CG placement. Thus, it gives out a soft feel.
It continues to feature Groove-In-Groove Technology, which was a new addition to the Mack Daddy series through MD4. In this technology, the central grooves are horizontally milled and saw-cut, meaning more roughness. That helps to move the moisture or dirt away in a better way. This results in cleaner contact with the golf ball. It helps offer better control and makes the shots more consistent. Moreover, the three raised micro ridges between the grooves to assist in enhancing the contact with the golf ball cover.
If we have a throwback to the previous model, the wall angle of MD5 increased by 32°. That makes the grooves sharper and the launch angle more controlled. That offers more grip and spin.
However, the design of the aggressive grooves may damage the golf ball cover. So, you need to use golf balls with good cover durability. That may add up to your budget.
What performance to expect from Callaway MD5 Jaws wedges
On course testing with the 60° S grind wedge of both MD4 and MD5, MD5 showed 5417 rpm spin on average on 30-yard shots. Where the average carry was 25.2 yards with 31 yards total distance and a launch angle of 35.9°. While the results for MD4 were 5282 rpm with a total distance of 31.5 yards. Here the launch angle was 33.8°.
Another test with Callaway PM 19 showed 200 rpm more on average for 60-yard shots than PM 19. While on full shots, the difference of spin was about 500 rpm.
Talking about the wear after the hits because of the friction, it is noticeable after one session. But that was minor.
Customization and who is it for?
Loft and leading-edge
Looking closer at the loft options, the leading edge is slightly straighter in the 46°- 56° wedges. More specifically, the changes are in the pitching wedge, gap wedge, and sand wedge. That helps to correct the alignment of the face while making the shot.
However, the sharper leading-edge design may make the wedge hit the ground before the golf ball. Thus, most of the shot's energy won't be transferred to the ball. As a result, the ball will travel less and won't reach the target. That makes it not a good choice for beginners as it requires precise striking.
Talking about the availability of the options, it has more than 20 lofts and bounce combinations to match different golf club sets. The loft range is from 46° to 60°, keeping a 2° gap. Here 52°, 54° and 60° wedges of Callaway JAWS MD5 were in Min Woo Lee's Bag.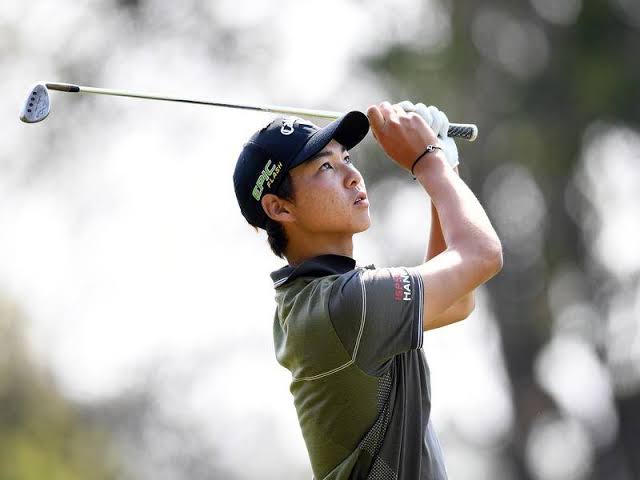 Bounce: doesn't have low bounce options
Generally, wedges with higher lofts have higher bounce angles. It's because higher lofted wedges are usually used in softer conditions, and making the bounce that way helps to reduce the dig or cut. Thus, the W grind with 10° and 12° is more suitable for bunker shots as it has a wider sole and more bounce to glide through the sand to make a good shot.
MD5 Jaws have mid-bounce options too, which increases the versatility of the wedge. These help to achieve more precise distance and control while chipping or pitching.
However, it doesn't have low bounces, ranging from 4°-6° on average, which digs in or cuts the turf. That makes it not a suitable choice for the golfers who sweep the ball to make a cleaner contact with the ball or have minimal divots. Because mid or higher bounces make it harder for them to glide the wedge through soft conditions and make a shot.
Grind options: Wrong selection may affect the game negatively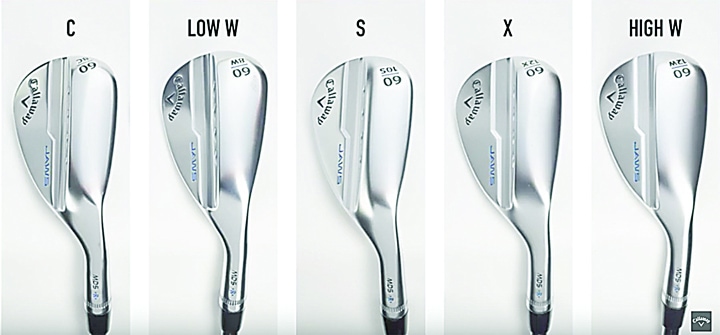 Mack daddy 3 was available in S-Grind, W-Grind, and C-Grind. In MD4, the grind options were C, S, W, and the new X and MD5, along with the previous grinds, has a new one named 'Low Bounce W grind.' Cleveland said that it was added from the previous tour feedback. Though Callaway named it this, its lowest bounce is 8° which is usually considered a mid-bounce.
Low bounce W grind helps dig in more minor and provide clean ball contact. The lower bounce of this kind of grind requires more precise striking. As said before, it's a tour thing. So, it's mainly designed for above-average golfers. Thus, it offers cleaner contact and control over the ball on appropriate strikes.
On the other hand, X grind is the opposite of low bounce W grind. It has a narrow sole and high bounce. It is for the golfers who take big and deep divots. Because both narrow sole and high bounce design help to lessen the digging effect of deep divots.
While the C grind is for versatile shots. It has increased heel and toe relief, which keeps the leading edge from going up or down, even if the face is open. It is for the golfers who like to take shots with an open face. In comparison, the W grind with its wider center offers forgiveness. And the S grind is the standard one.
Shaft and grip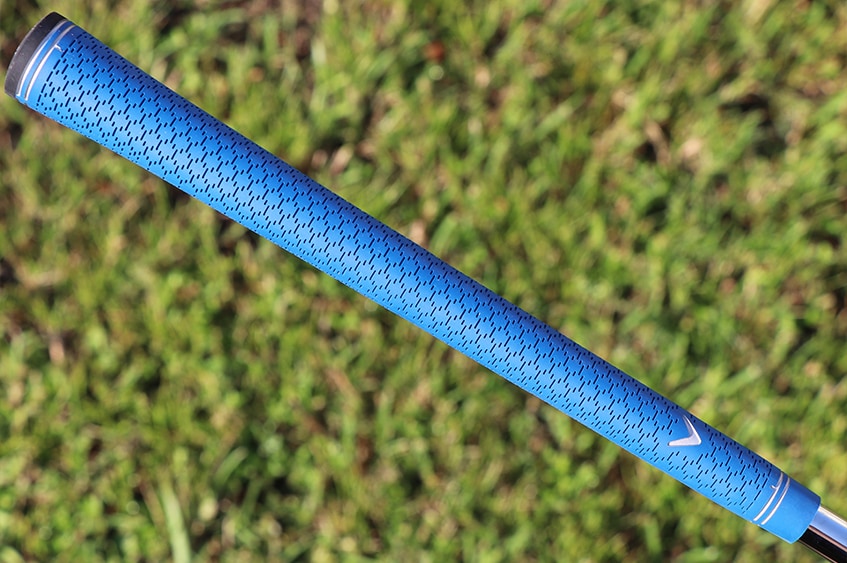 MD5 jaws offer True Temper Tour Issue 115 Blue/Silver (steel) and Project X Catalyst 80 (graphite) for shafts. If you are a golfer with a higher swing speed and prefer a slightly heavier shaft, the steel shaft of 115g is the better choice. Otherwise, you may like the graphite one. Usually, graphite shafts are higher in price. But the good thing is that you don't need to pay additional charges for the graphite one here.
The grip is a modified Lamkin UTX, available in black and blue. It's cord-free and feels soft in the hands. But if you don't use golf gloves while playing and have wet hands usually, it may not give enough friction.
And for women, MD5 jaws have UST Recoil graphite Wedge shaft and Lamkin Comfort grip in black and blue colors.
Benefits at a glance:
It provides more spin than MD4 and PM 19
Groove-In-Groove Technology helps to move away the dirt from the clubface
The micro ridges help to grab the ball at 84 different contact points, meaning more control over the shots
Mid bounce options in higher lofted wedges too
It's a suitable choice for pitch and chip shots
It feels softer than MD4 on full swings
Cons
It increases the possibility of fat shots
Not ideal for sweeper swing style
While the price for a wedge is $100 on average, this wedge is a bit expensive
The chrome finish may sometimes cause glare issues
Sum it Up
Callaway Mack daddy 5 Jaws overall provide more roughness and friction than previous models MD4 and PM 19. Though there was a difference in the spin in testing, that isn't much to notice practically on the course. Yes, it does provide a softer feel and more options than MD4. However, the new 'low bounce W grind' option can't be considered a low bounce wedge. Instead, it is mid-bounce.
Having said that, we have tried to gather down all the necessary information to let you know about Mack daddy 5 Jaws as much as possible. Let us know in the comments section if we have missed any. And if you are buying one, don't forget to share your precious experience with fellow golfers.
Happy golfing!