About 24.3 million people play golf throughout the world. 26% of them are seniors. This shows how many people love golf regardless of their age. Yes, age doesn't matter to love this game. What matters is the ability to play golf after losing energy. The more energy you are losing, the less speed you can create with a golf club.
But there is always a solution. Considering the age of the senior golfers, manufacturers produce 6 types of golf clubs designed for seniors. Drivers are one of them. It's one of the significant clubs to hit into the fairways and change the game consequently. So we have researched 40-50 golf drivers to create a list of tops. Here's the review of the 10 best golf drivers for seniors, along with a detailed buying guide.
10 Best Golf Drivers for Seniors
1. Cobra Golf Men's Speedzone Extreme Driver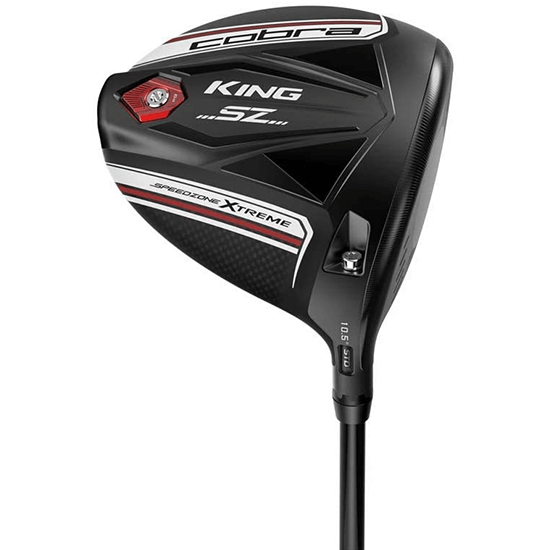 To make the hits longer and straighter, Cobra Speedzone Driver is the driver a golfer can use. It's the Extreme version of Cobra Speedzone. This driver lets you have an easier hit and find more fairways.
Cobra Speedzone Extreme comes with an adjustable loft that gives a perfect swing. So it helps to fix a slice quickly and increase swing speed.
This driver is nicely designed on the clubhead. There is a T-Bar speed chassis that offers maximum stability for off-center hits. That means if you cannot hit in the center of the clubface, it won't twist much.
It's a good-looking driver with a carbon wrap crown. The driver is made of 50% carbon. The carbon crown helps to adjust the weight. If you want to change the ball trajectory, you can adjust the weight location.
In the bottom, it has an aerodynamic shape that helps to generate more speed. The shaft of the driver is designed for seniors. And it comes in a black and white finish.
If the driver leaves a mark on it while hitting, you can wipe it quickly after each shot.
Pros
The club is very forgiving and lightweight.
It flies longer and stronger.
The price is reasonable.
It's easy to swing.
It comes with an adjustable loft and weight.
The driver is great for stability and feel.
Cons
It doesn't have all the adjustments.
Final verdict
It is recommended for shooting lower scores and gaining distances. However, if someone is looking for an affordable driver that matches his age and provides top speed, he can try the Cobra Speedzone Extreme driver.
2. Wilson Staff Launch Pad Men's Golf Driver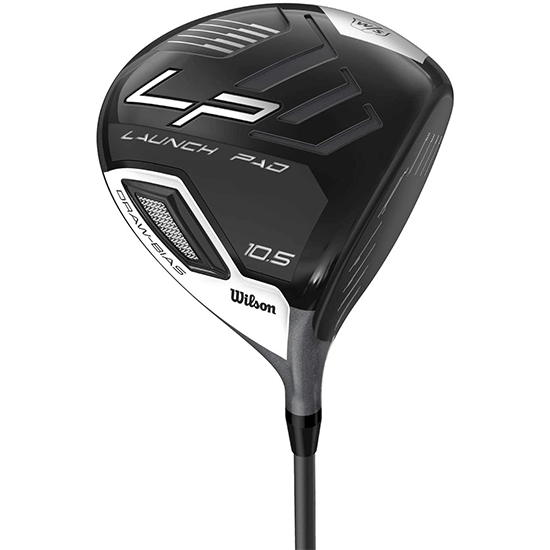 The Wilson Staff Launch Pad driver delivers high swing speeds, especially for those golfers who swing under 90 mph. It's much cheaper. But it doesn't sacrifice its quality for this price.
It has a weight pad in the heel that helps to fix a slice. The driver has different shafts. All are designed for seniors. There is a UST helium shaft that ensures extreme stability for a senior golfer. It will reduce the chance of twisting in off-center hits.
What will impress a player is the lightweight feel of the driver. The total weight of the driver is 272 grams, and the shaft weighs just 55 grams. As the shaft is of high quality and very light, you will be able to swing it a little bit quicker.
The whole driver is designed to combat a slice. There are different loft options. These will help the shots that fall out quickly. The clubface is designed to point naturally to the left. That's how you can fix a slice.
What you should consider is the fitting option. It's limited. Because it has neither any adjustability at the neck nor any moveable weights in the sole.
Pros
The driver comes with an affordable price.
It gives a very lightweight feel.
It creates a high swing speed.
Golfers can fix their slice with it.
It's very easy to hit.
It comes with maximum carry distance.
Cons
The driver doesn't have any adjustability at the neck
It doesn't include any moveable weights in the sole
Final verdict
If a golfer struggles to move the ball from left to right, that means if someone has any problem with a slice, this driver is highly recommended.
3. Cleveland Golf Launcher Turbo Driver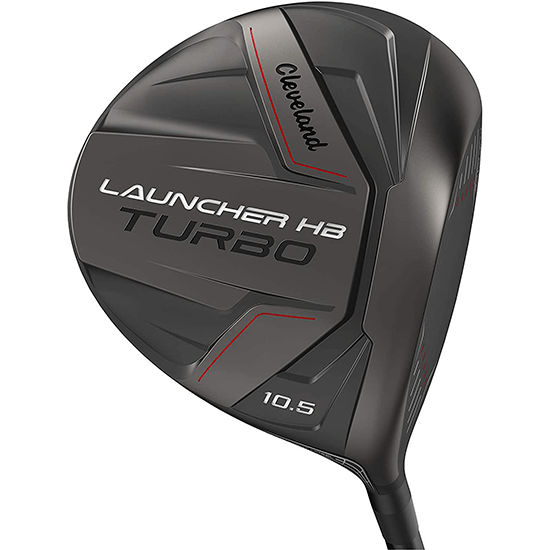 Yes, it's not Callaway, TaylorMade, Titleist, or Cobra. But, it's an impressive driver from Cleveland. Cleveland Golf Launcher Turbo Driver is a beautiful and simply designed club.
The first thing of the tech of this driver is the Turbocharged Cup face. It delivers faster ball speed. There is a hi-bore crown weighing 35 grams positioned as far back and as low as possible. Because it gives forgiveness and launches the ball in the air. And also offers more fairways.
One thing to consider about this driver is it is non-adjustable. There is no weight adjustment. So you cannot move the loft around. But there is a glued head that will help you adjust the shaft.
The Cleveland Launcher Turbo driver sounds a little bit higher pitched. But the feel is good, and the flights are solid. It has a 9-degree loft that fits seniors most.
Pros
The club comes with a slightly less price.
It gives a solid feel.
Seniors can easily hit it.
It helps to find more fairways.
It's a relatively cheap golf club.
The ball flies much higher and farther.
Cons
The driver could be a little bit more sturdy.
It creates a bit high pitched sound
Final verdict
The Cleveland Launcher Turbo driver is recommended for those who have a high ball flight. This driver will improve the shots off the tee.
4. TaylorMade SiM 2 Max Draw Driver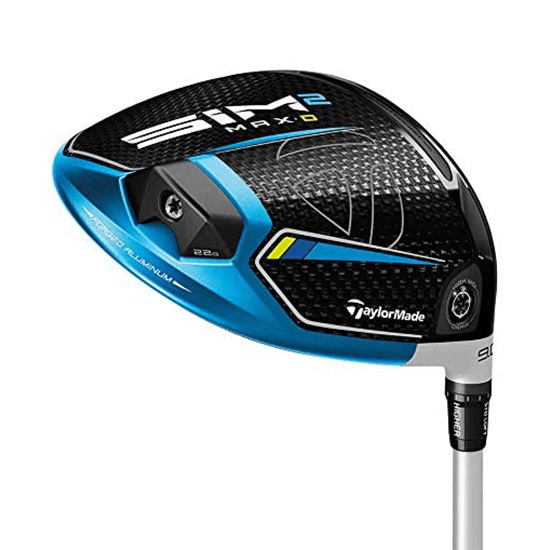 If a driver looks good with a good weight, any senior golfer might want it for forgiveness. The SIM2 Max D driver is such a driver. The clubhead looks good and weighs well for its aerodynamic shape.
Then comes the draw bias design, where the center of the gravity shifts towards the heel. It maintains forgiveness and enhances draw bias. That means it will make the ball launch higher.
There are 3 lofts available for men and 2 lofts available for women. You can adjust the loft. If your swing speed is under 80 mph, we recommend the 9.0 loft, where you can hit the ball high as well as far.
The shaft is made of graphite that is very effective for seniors. In addition, graphite materials help golfers have higher swing speed as well as higher launch.
The SIM 2 Max D driver is very forgiving. You can drive far and find more fairways, even with softballs. If you cannot swing correctly, this driver will help you minimize slicing and pulling.
Pros
It's very forgiving and easy to swing.
Seniors prefer this club for its aerodynamic feel.
It makes the ball launch higher.
Different loft options are available.
The club offers good adjustability.
It straightens natural slice
It's great for longer drives
Cons
The 12-degree loft is not available for left-handed golfers
Final verdict
The TaylorMade SIM 2 Max D driver is recommended for slicers who want the best forgiveness and gain distances.
5. Callaway Golf Rogue Driver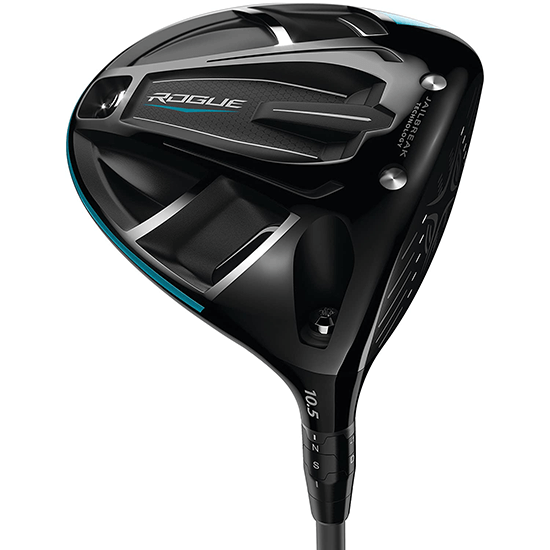 The Callaway Golf Rogue Driver comes with innovative jailbreak technology with a bit of variation in it. There are two bars in the clubface from the bottom to the top, giving stability to both sides of the head and face. So to keep the ball speed up across the face will help a lot.
The variation is that the bars are slightly lighter and save a bit of weight. It will make the ball go farther. This driver has a massive clubhead shape. That means a golfer gets more margin for error. If you keep the club behind the ball, the head seems much longer.
The VFT face is designed lighter and thinner. It looks great and works faster. On the crown, there is an aerodynamic shape like the other Callaway drivers. It plays a crucial role in smoothing the airflow over the head. You also get a choice of 4 shafts. All are designed for seniors.
Pros
The club creates more clubhead speed.
It offers plenty of forgiveness.
It can generate good spin on the ball.
The driver comes with a good looking design.
It has a lower center of gravity.
The flex is made for seniors.
It sounds solid at impact
Shots are stable.
Cons
The club doesn't come with a sliding weight.
It's a bit pricey.
Final verdict
The Callaway Rogue Driver is recommended for mid and high handicappers who want to gain distances. Though it doesn't fix a slice, it will still help. Worth buying.
6. Petite Majek High Launch Golf K Series Driver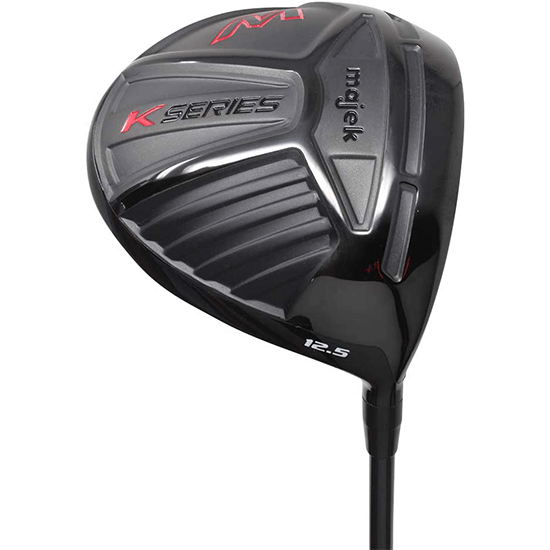 The Petite Majek Golf K Series Driver is designed for right-handed senior women golfers, especially for 55+ years old golfers. The shaft material is graphite that is the most suitable for senior women golfers. Because the graphite shafts are lighter and increase swing speed and distance for more power.
Members of an elite engineering group purely engineer this driver. And this approach makes this a high launch driver. The K-Series driver is designed to create a lower center of gravity. And it results in hitting the ball higher with more backspin.
The flex is 'senior'. And a senior flex is perfect for a senior women golfer. Because a regular or stiff flex doesn't suit a senior golfer's swing speed. Flex is what will make or break your game. So as a senior, flex will allow you to launch the ball quickly into the air. It also gives the feel and control required while striking the ball.
Pros
It offers maximum ball flight.
It's a very lightweight driver.
Seniors feel comfortable with it.
It improves distance and accuracy.
Shots are more controlled.
It's a high launch driver.
Cons
No loft options are available.
It's not very adjustable.
Final verdict
The Petite Majek High Launch Golf K Series driver is recommended for those who want the maximum ball flight off the tee—also suggested for beginners and high handicappers.
7. TaylorMade M4 Driver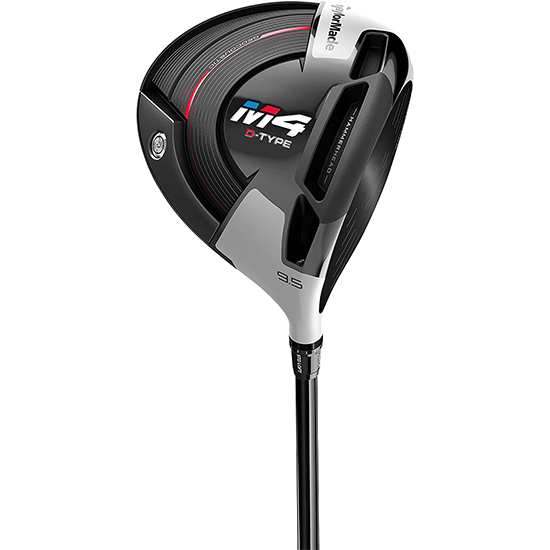 TaylorMade M4 Driver is one of the cheapest drivers from TaylorMade. It features a twisted face that helps find more fairways. In addition, this driver uses hammerhead technology that controls the ball speed.
The M4 driver has an adjustable hosel. It allows you to change the face angle of the club and loft. M4 is the latest version after M4. Its look and design are impressive. It's a slightly higher spin model.
It has different loft options. An 8/9 degree loft is recommended for those golfers who don't want a flat ball flight. In the back of the clubhead, the geocoustic design ensures a louder sound.
The center portion of the hammerhead slot creates more ball speed and helps you gain more distance. In addition, this driver lets you have good control of the ball trajectory.
Pros
It creates a solid and explosive sound.
The clubface is larger and more forgiving.
It helps to hit straighter shots.
The driver offers good control.
It's a high launch club.
It's very easy to hit.
The driver creates more carry distances.
Cons
The stock shaft option is too lightweight.
It's a non-adjustable driver.
Final verdict
For those who cannot hit straight shots, this driver can help them solve their problem and give a solid feel with forgiveness—recommended for the affordable price.
8. Integra SoooLong Quadratic III Square driver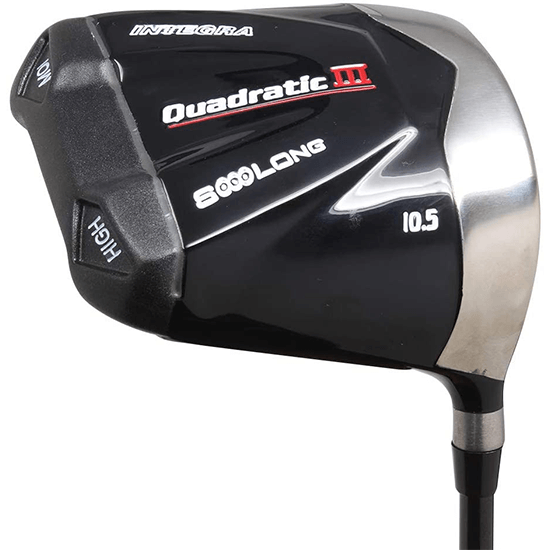 This golf driver is one of the longest and straightest drivers. It's named according to the square club head shape. The design helps to transfer weight to the corner of the clubhead. Thus you get more stability on the off-center hits.
The Integra SoooLong Quadratic III Square Driver has a large hitting face that ensures forgiveness on missed shots. The shaft is made of graphite materials. It helps you to grip a golf club properly. And hence you get a comfortable grip as well as a long-distance.
This driver sounds loud at the point of contact. The head shape looks sleek, and this increases the more accurate distance off the tee. There is hyperbolic face technology that gives more clubhead speed.
Pros
It's a premium ultra forgiving club.
The club is great for straight distance.
It creates a louder sound.
It provides stability on off-center hits.
The driver creates more clubhead speed.
It's great for long drives.
The club gives a comfortable feel.
Cons
It's not much long-lasting.
Final verdict
This driver is great for those who want a combination of accuracy and distance from a straighter driver. It doesn't sacrifice its clubhead speed for the price. Worth buying!
9. Wilson Staff Golf D7 Driver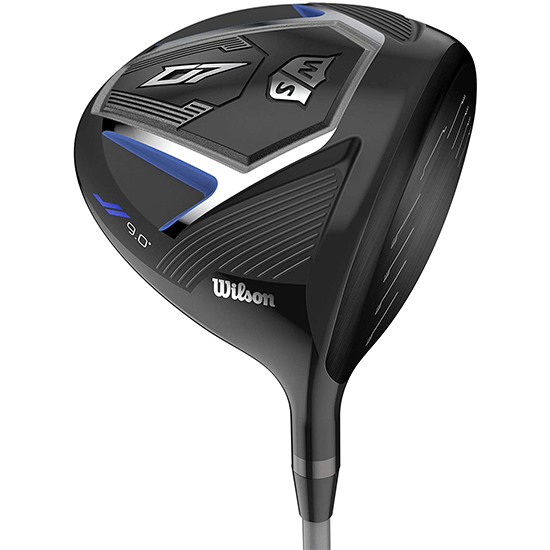 Wilson Staff Golf D7 is a very lightweight driver. Both the head and shaft are lightweight. So the golfers who have lost clubhead speed or been looking to gain weight can try this one. Besides, it's one of the cheapest golf drivers.
The crown is designed with a Kevlar layer. This layer makes the crown more sturdy. But yet, it's lightweight and helps to save some weight in the head.
It's available in 3 loft options – 9°, 10.5°, and 13° lofts. The 9-degree loft gives slightly lower launch and spins, whereas the 10.5 and 13-degree lofts give higher launch and spin.
The advanced materials and simple construction of the driver ensures maximum distance off the tee. It ensures more fairways to off-center hits.
Pros
It covers a good distance.
The shaft is very lightweight.
It creates more clubhead speed.
The club is relatively cheaper.
The materials are advanced.
It's great for sound.
Senior golfers can easily hit the driver.
Cons
It's less adjustable.
Grip sizes are not available.
Final verdict
Wilson Staff D7 is recommended as one of the lightest drivers available on the market. So if someone wants more accessible hits but more clubhead speed, he can consider D7.
10. Power Play Juggernaut Titanium Draw Non-Conforming Driver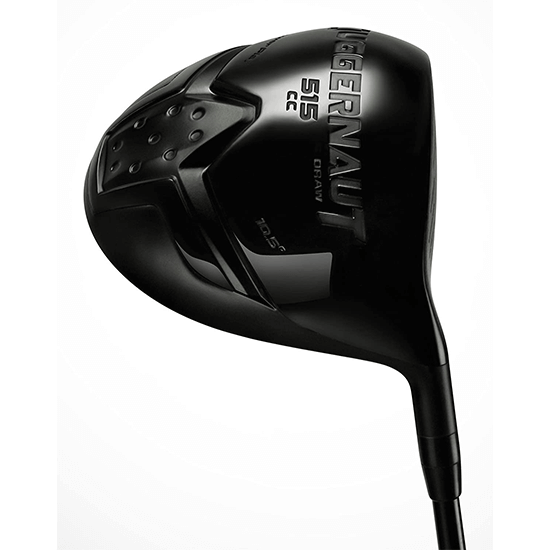 This driver is designed for seniors to create more distance. Even if they are more than 60 and lost energy and swing speed, this is the driver they should try.
It has a 515 cc volume that makes it more forgiving on off-center hits. Different shaft options are available. But the recommended length of the shaft is a 45-inch shaft, and the loft is 10.5 degrees.
The Juggernaut driver lets you hit the ball farther and straighter. If you struggle with a slice, this driver may not fix your slice, but it will help you hit straighter. It won't miss fairways too often.
Pros
The driver gives a smooth feel.
It offers straighter shots.
Variety of shaft flexes and lengths are available.
It has a larger head volume.
The driver is very forgiving
It's a relatively cheap club.
Cons
The club is illegal in official tournament play.
Final verdict
If an older golfer wants straighter shots instead of longer ones, he should consider this driver. But those who have a slice problem should better go for the above options—recommended for the money.
Things to Consider Before Buying Golf Club For Senior
Shaft Flex
Selecting shaft flex is the first thing you should consider while buying a driver. Wondering why? Because flex is what makes or breaks your game. There are 5 flex shafts of a driver – ladies, senior, regular, stiff, and extra stiff.
As a senior golfer, you may not use a regular or stiff flex shaft like before. Because now you need more control over your swing. Regarding this thing, manufacturers produce senior flex shafts for senior golfers.
Senior shafts are lightweight and long, which is more effective for slower swing speed. That means it creates more clubhead speed. But a regular or stiff one will make it difficult to control. If your swing is 75 to 90 mph, a senior shaft is perfect for you.
Feel and forgiveness
The second thing to consider before buying the best golf driver for seniors is feel and forgiveness. Forgiveness means how the design responds to your swing and feel refers to the moment you are hitting the driver.
As drivers are the opening clubs, they should give you a comfortable feel while addressing the ball. And for this comfort level, select the one that has a larger clubhead as well as a larger sweet spot. It performs even in the rough and is effective for off-center hits.
Don't forget to find some clear indicators in the driver you are going to buy. This lets you quickly figure out the relation between the golf ball and the center of the clubface.
Feel, and forgiveness will tell you if something goes wrong in your swing or position or your driver. So make sure you are getting it right.
Distance
Distance is another significant thing for you to buy a driver. When a golfer gets older, he gradually loses the energy to hit a drive like before. It affects the swing speed as well. So the speed gradually decreases. And this makes the ball roll slower than before.
If it's the thing you are struggling with, you should prioritize the technology of a driver that gives maximum distance regardless of age. Select the one that is easy to hit but goes far. In addition, it will increase your confidence in hitting long and straight shots.
Loft
The loft is what tells you how high your shots will go. It's the angle between the ground and the clubhead. As a senior golfer, you need to get maximum carry distance which may not be possible with your lower speed.
Here comes the loft angle. It will increase your swing speed by improving the launch angle. If you hit a drive with the same loft you used to hit before, it won't match your swing and will give unexpected results. Instead, try to hit higher off the tee with the recommended loft.
Adjustability
You should check the adjustability of the driver you are buying. Adjustability means how much you can keep the driver stable at impact. Because it determines your capability of changing ball flight with the hole. As the situation changes in a round of golf, you need to adapt yourself to it.
For this, the driver should have moveable weights. It allows you to move the required weight behind the clubface. Once you can adjust the clubface, you can change your hits. For example, it makes the driver spin higher and more forgiving. It's also effective for fixing a slice off the tee.
Conclusion
Drivers are multidimensional and one of the important clubs in your bag that can change the game. To find more fairways, a good driver is required for all, especially for seniors. And this is the reason we reviewed the 10 best golf drivers on the market with a detailed buying guide. If it helps you find an optimal driver according to your needs, you can share it with us. Also, if you have any queries, drop them too in the comment box. We will be there.