Everyone likes to buy products that deliver the best value for the money Like all other regular necessities, you should ask for the best value golf clubs too. There are lots of golf clubs available in the market that provide premium quality but cost high.
Several brands offer the latest golf technologies and charge higher prices for them. Moreover, others aim for cheap ones that most people can afford. But, when you are spending money on buying golf clubs, you should try to get the best for the money.
This article comes into play to guide you towards your goal. Before going on to the list of golf club recommendations, look at the factors that you need to consider before drawing any conclusive decision. We, too, considered these factors while reviewing.
Best Value Golf Clubs Buying Guide
When searching for the best value golf club, you should focus on comparing the values you are getting against the money you are spending. So, here is how you should analyze a golf club before buying.
Clubs should have the essential features.
There are some features that you must consider buying any golf club, such as proper clubhead size, several loft angle options, shaft customization opportunities, etc. These features should be according to the regular details that match your gameplay.
For example, if you are a beginner, you should look for a bigger clubhead size, but a smaller club-head can benefit you better if you are a professional golfer. Besides customization, alternatives provide plenty of options that can match different playing styles.
Look for additional features to better your performance
Apart from the basic features, your golf club should have some beneficial features, such as weight adjusting perimeters, slice controlling mechanism, clubface that generates more distance, forgiveness to produce accuracy, and better control.
Top brands like Callaway, TaylorMade, Ping, Titleist, Wilson are continuously producing technologies that improve clubs' performance. For example, the AI design introduced by Callaway is gaining much popularity due to its performance.
Price vs. Performance
When you search for the best golf club for money, price plays a crucial role here. But price should not be the only criteria to consider. Instead, compare the value you are getting and the price you are paying, whether it is beneficial for you or not.
Best Golf Clubs for the Money by Types
If you are an advanced golfer and know your playing style well, experts suggest that you own individual golf clubs that match your play style. Because in a set you may not find all the clubs that meet your requirement. We found the following clubs best for the money in our rigorous study. Skim through our article; it will help you decide better.
1. Best Golf Driver For Money: Callaway Mavrik Max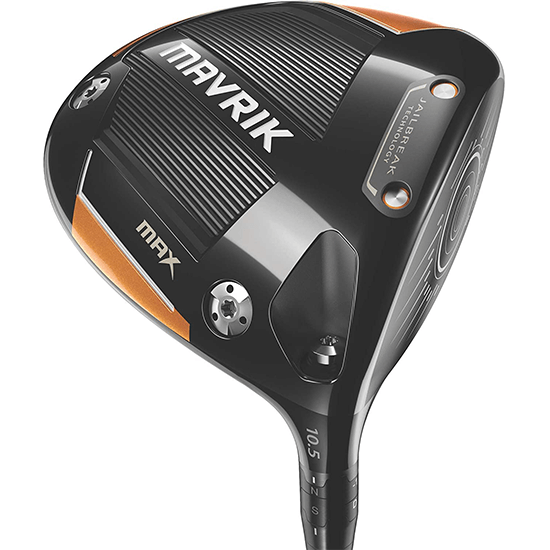 For the basic features, the Callaway mavrik max has an oversized 460cc clubhead. With this giant clubface, you have a more significant impact area and sweet spot to hit. Though it can be a challenge for many to control such an oversized golf club, with experience, it should not be a problem after a few days of use.
Apart from the oversized clubhead, the Callaway Mavrik features two interchangeable weight ports. This feature allows you to have adjusted MOI and forgiveness to your needs. It is a handy feature regardless of your golf skill. No matter if you are a beginner or professional golfer, the weight adjusting feature will help you.
Besides these features, it will benefit you with AI-designed flash face and jailbreak technology. All these features are worth the price. Especially when you get 300+ yards consistently with better grip, comfort, and easy swing. Moreover, the Mavrik max has a premium look at address too.
We have a detailed review on Callaway Mavrik Max Driver; you can check it later.
Things we liked
Bigger clubface allows having a more prominent sweet spot
Two interchangeable weight feature ensures the right weight balance
Looks good and comfortable to use
Enough customization options for shafts and flexes
Things that can be improved
It's expensive but provides good value
The more oversized clubhead is challenging to control initially, gets better with more playtime
Final Verdict
We picked the Callaway Mavrik Max as the best golf driver for money. It offers plenty of valuable features and the latest technologies like AI design, Flash Face, and jailbreak technology. The performance and consistency you get from the Mavrik Max are impressive.
2. Best Golf Iron For Money: TaylorMade SIM MAX Irons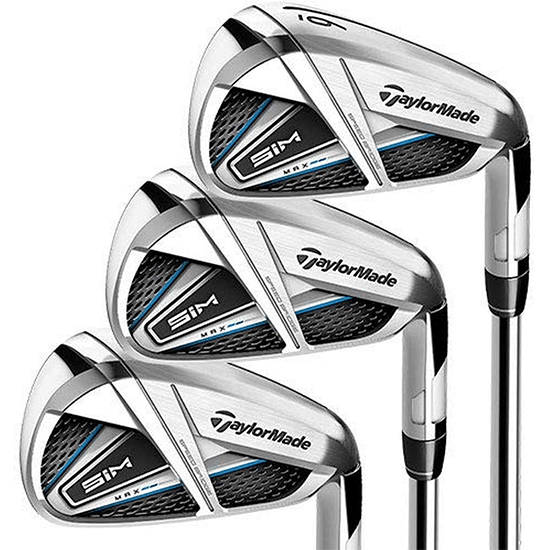 The TaylorMade SIM MAX irons are known for the perfect balance it provides between distance and feel. You can easily cover a reasonable distance with minimum effort using this golf club. You can choose from a graphite shaft and steel shaft. Besides, this club offers three flex options too. So, it is more likely that you will find your desired combination in this club.
The TaylorMade SIM Max irons are an ideal golf iron set for mid handicappers looking for faster ball speed, high launch, and a little more forgiveness because you will get a straight, forgiving, and satisfying sensory experience at impact with this club.
The 1.5mm ultra-thin face design with progressive inverted cone technology looks stylish and has a premium feel. This technology benefits you in two ways: first, it increases the sweet spot, and second, it minimizes sidespin to produce straighter ball flight. All these features will cost you less than $700, which is a good purchase.
Things we liked
The club provides a satisfying sensory experience at impact
You can cover a reasonable distance with minimum effort with this club.
The club has a sleek and stylish look
You can customize your club
Things we don't appreciate
Not everyone can afford such a price for irons, but if you can, it's worth it.
Final Verdict
The TaylorMade SIM Max is an expensive iron. However, the features are beneficial for golfers with advanced knowledge about golf. But a beginner might find this club hard to use.
3. Best Golf Fairway Wood For Money: Cobra Golf Men's Speedzone Fairway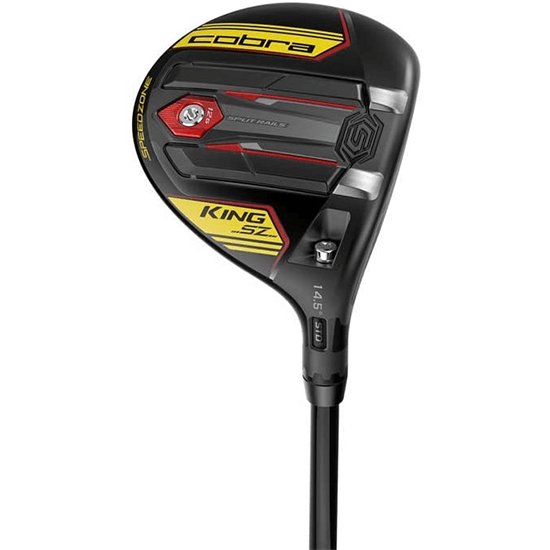 If you are fond of distance and forgiveness for a fairway wood, then Cobra Golf Speedzone is a good purchase for you. It has a clubhead of 167cc. Besides, the modern technologies developed by the Cobra and the benefits you get from this club are worth mentioning.
The Speedzone fairway wood is developed with a CNC-milled face, hollow split rails, carbon fiber crown, dual baffler rails, and Cobra Golf. All these features have one aim. That is to produce distance with forgiveness. And it delivers the expected performance.
All these features are a nice blend for its looks and performance. The carbon fiber crown construction of the Cobra speed zone provides a more profound and lower center of gravity. The CNC Milling is about five times more precise than traditional golf clubs without this feature. And the customization opportunities for flex shaft enrich the looks and performance of the club.
Things we liked
It's filled with impactful technologies
The club provides top-notch distance with forgiveness
The club has a larger impact area with CNC-milled face
Things that can be improved
Not a very good outlook for many golfers.
More loft angle options could have been better
Final Verdict
Many professional golfers trust the performance and consistency of the Cobra Speedzone fairway wood. It has a nice blend of technological features that benefits its performance. And the price is very reasonable.
4. Best Golf Wedge For Money: LAZRUS Premium Forged Golf Wedge Set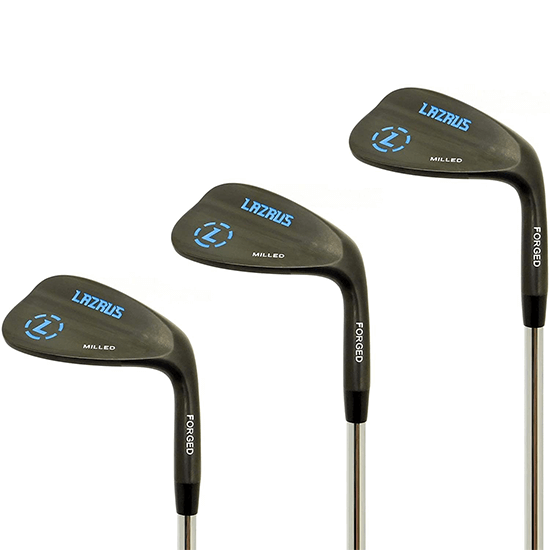 Till now, we spoke about clubs with high prices providing high value. But it is not necessary to cost higher for golf clubs. The Lazrus Premium Forged Golf Wedge set is one of the most affordable golf wedges, yet it is the best performing golf wedge.

Compared to the price, the look and performance of the Lazrus forged wedge is top class. It has a unique head style that allows you to have better control over shots. Besides, its forgiveness allows you to have better results even if you miss the perfect position. The design is a pretty standard one but looks good on the golf course.
You can find this club in many different styles consisting of different colors and loft angles. Whichever you choose, you will get the best golf wedge. And the price is less than $200, which is a reasonable price for wedges.
Things we liked
It is a great looking golf wedge
The price of this club is affordable
There are different loft angles options to choose from
You will get enough forgiveness.
Things that can be improved
Unusual shaft length for beginners
Though it is built with alloy steel, it somehow weighs more than usual golf wedges
Final Verdict
The lazarus forged wedge offers a professional and sleek outlook. It looks good in the hand. And provides a consistent performance with distance enough lofts.
5. Best Golf Hybrid For Money: PING G425 Hybrid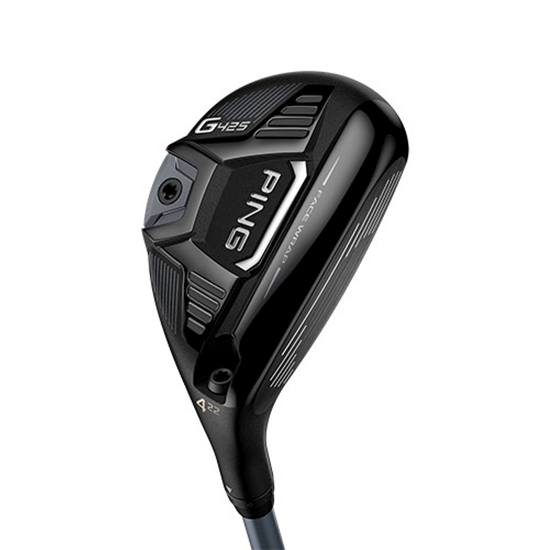 There are two types of PING G425 hybrid available in the market. One is constructed with low spin technology (LST) and straight flight technology (SFT). Both the variations have a solid, satisfying feel complemented by an impact sound that's rich and mid-low pitched.
You can hit longer and higher with the PING G425 as this model offers a tighter face and shorter shaft. It allows for more clubface control, while the head's design, particularly the tungsten weight and improved roll profile, ensure launch and stability.
Due to the tighter face, it is hard to get regular ball flights. Also, you get a reasonably steady spin. However, the G425 provides a consistent performance with distance and accuracy.
Things we liked
The PING G425 delivers consistent results
The club looks premium in matte black
It provides a reasonable distance
Things that can be improved
The club is less forgiving than others
It has a shorter shaft than regular hybrids
Final Verdict
The PING G425 Hybrid is a great choice to take advantage of its curved leading edge. It is one of the best hybrids to cover a long distance with accuracy. And considering the price, it is a good value.
6. Best Golf Putter For Money: Odyssey Golf 2021 White Hot OG Putter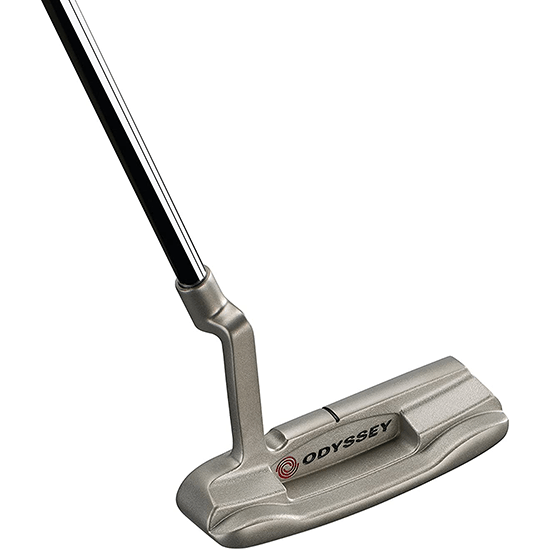 The Odyssey Hot putter is one of the best-looking golf putters. It offers a classic blade-shaped outlook, and the performance is very satisfying. With the Eye-Fit system and Face Insert Technology, you can have a good stroke. In addition, the Odyssey Hot OG putter has a soft tactile grip that makes you feel good in the hand.
This is one of the most forgiving putters that helps you to play a better game of golf. In addition, you will love the accuracy of the club.
Things we liked
The putter is very easy to use
It provides accurate strokes
And it is good looking
Things that can be improved
Not many color options to choose from
Steel shaft makes the club heavy
Final Verdict
Accuracy is the key factor that you should consider before buying any golf putter. And the Odyssey Hot OG is best in this regard. That too is under $200. Experts highly recommend it.
3 Best Golf Club Sets for the Money
Intermediate and professional golfers prefer individual clubs rather than club sets. But beginners and those who are a little short in the budget can buy golf club sets. These club sets include top-quality golf clubs along with headcovers and golf club bags. Here are the top 3 golf club sets for the money you can have.
1. Callaway Strata Complete Golf Club Set (For Men)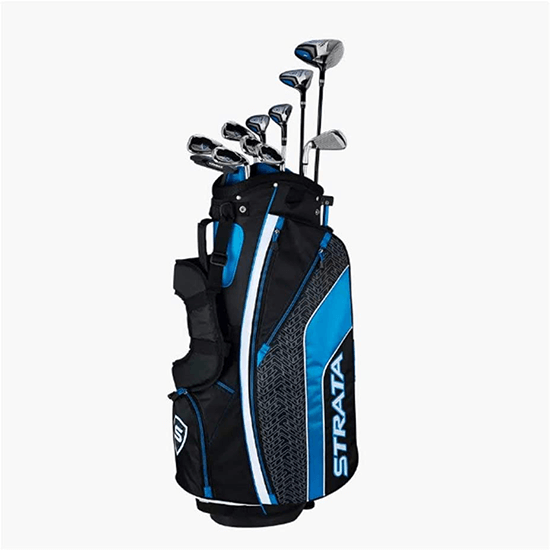 If you are looking for a complete golf club set, then the Callaway Golf Men's Strata is a complete set of clubs that you can consider. This set is available in 3 variations. 12 pcs set, 14 pcs set and 16 pcs set. The stiff flex option is available only with a 16 pcs set. The other two variations have only regular flex options.
The set consists of clubs that you may need in a golf round, from drivers to Putters. The set includes 1 driver, 3 wood, 4 and 5 Hybrid, 6 to 9 Iron, PW and SW, Putter, Stand Bag, 4 Headcovers. So you need not search for any added golf clubs after buying it.
You will get two hybrids in this package, which is unusual. Most golf club sets offer one hybrid in the package. But due to the growing popularity of hybrids, Callaway strata provide 2 of them. So you get a 4-hybrid and 5-hybrid that can help you gain more control over your shots.
Each of the clubs of this set is well constructed with quality titanium and stainless steel. In addition, all the clubs have graphite shafts designed to provide longer shots, more control, and more confidence. Not just that, you can be confident of getting consistent results from these clubs.
Things we liked
The set includes all sorts of golf clubs
All the clubs in this set are good looking
All the clubs are good at providing consistent results.
You will get some longer golf clubs in this set
Things that can be improved
Stand bag would have been better
Suitable for beginners, but not optimized for professional use.
Why is this club set as the best for money?
The build quality, advanced design, forgiveness, balance quality, durability, great feel, and the ultimate performance make this a good starter club set.
2. Wilson Golf Profile SGI Golf Set (For Women)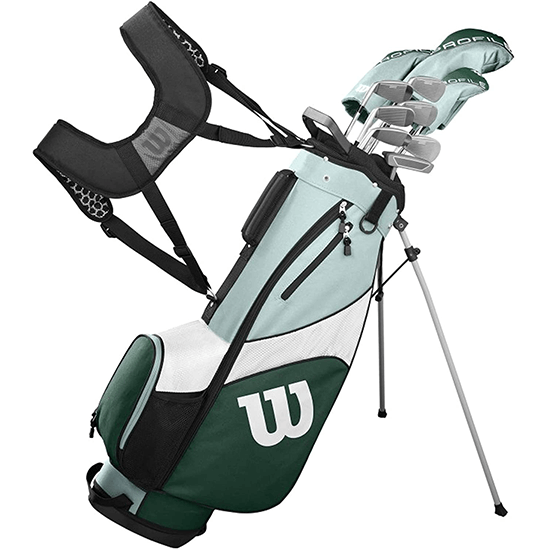 It's a ten golf club set specially designed for ladies. It's not a complete set; as you know, golfers can carry 14 golf clubs in their golf bag, and this set offers only 10. But you will get at least one for each type of club in this set. So you would require to buy some additional golf clubs alongside this set.
Considering the price and comparing the number of items and quality they are offering against the money is a good one. All the clubs in this package offer graphite shafts, but they are constructed with blended materials like titanium, carbon fiber, steel, etc. As a result, all the clubs are lightweight and easy to control.
Whichever club you pick, it will serve your purpose being a beginner. The set is an ideal match for beginners, not a recommended golf club set for professional golfers. Besides the golf clubs, the set includes a stand bag and headcovers for driver, wood, and hybrid. You can easily carry the bag on your shoulder with its shoulder strap. And there is plenty of space in the bag to carry other necessities apart from the clubs and golf balls.
Things we liked
The set comprises all the basic types of golf clubs
These clubs are very lightweight and easy to use
You can get this set at a good price
Things that can be improved
Few more irons and woods would have been better
Only for right-handed golfers
Why is this club set as the best for money?
Wilson offers multiple size options to match your playing style. The driver has a large sweet spot to give you greater distance with accuracy. Moreover, the stainless steel irons are very durable and provide a shallow center of gravity.
3. Precise M5 Complete Golf Clubs Package (For Tall Golfers)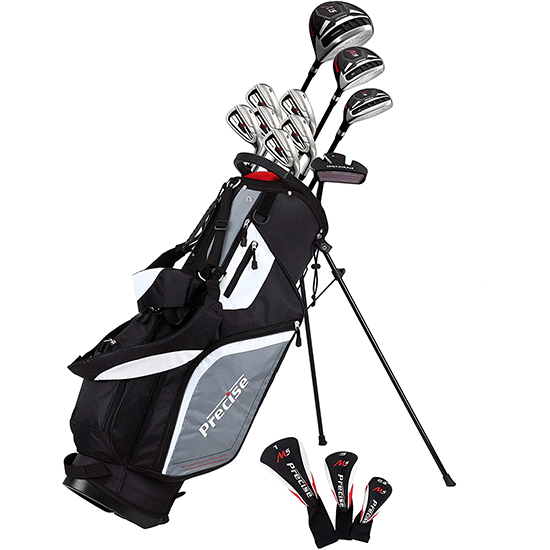 If you are taller than 6 ft and struggling to find a golf club that matches your playing style, then Precise M5 is the package of golf clubs that you should try to use. This club set is a good match for tall right-handed golfers. The set consists of a driver, 3 wood, 1 Hybrid, 5, 6, 7, 8, 9, PW stainless irons, putter, deluxe stand bag, and 3 headcovers.
The set is available at an affordable price. The driver has a 460cc clubhead that provides a bigger space to hit the ball. Besides, the irons are constructed with steel shafts, and wood has graphite shafts. All such customizations are a good match for a good golf club.
The 460cc driver is designed to give the most forgiving feel and extensive distance. In this set, you get a great aiming mechanism putter too. At first, the putter may seem a little heavy, but after a while, you will get used to it. The extraordinary deluxe stand bag has spacious pockets, a double shoulder strap, and a kickstand.
Things we liked
Quality golf clubs
The complete set includes all types of golf clubs
Clubs provide reasonable distance and forgiveness.
Things that can be improved
Only right-handed golfers can use it
Why is this club set as the best for money?
The Precision M5 has all the necessary clubs you would need to play a round of golf, and all the clubs are made with quality build materials. Regarding the quality and comparing it to the price of the club set, it is one of the best for money golf club sets.
Final Words
Choosing a golf club from a wide range of models and brands is a challenging task. And if you are a price-concerned person, the challenge gets more complicated. To help you in this, we researched and reviewed lots of golf clubs and set of clubs.
During the process, we found these golf clubs and golf club sets as the best value packages. I hope it will help you too. Let us know if there is any other golf club set that you believe is valuable for the money. Consider our buying guide explained earlier for better selection.