There are very few outdoor sports that you can play competitively at an older age. And Golf is one of them. And the statistics claim that 54 years is the average age for a golfer in the US, and the number is increasing over the years.
But, it is hard to play with the regular golf clubs for the aged golfers. They need clubs that provide a good amount of distance even with slow swing and have better control over shots. There are certain features that you should consider before buying. If you are looking for the best golf clubs for seniors, you should read this article.
This article will share experts' thoughts on the best senior golf clubs you can use and the factors you should consider.
Buying Guide: Factors to Consider for Seniors Golf Club
Buying a golf club for a particular group of people is always challenging. Certain factors play a vital role in buying decisions. For example, you should prioritize forgiveness for a beginner, but it should not be a vital feature for a professional golfer. F
or an expert, spin and control are more important than forgiveness. Similarly, for seniors golf clubs, you should consider the following factors.
Choose clubs with senior flex.
Flex should be your priority. Senior flex is a must for such golf clubs. With a wrong flex, you will have hard times if you are not accustomed to other flexes like regular or stiff. Shafts with senior flexes are longer than regular shafts, but it weighs light. They are designed to create more clubhead speed even if the swing speed is slow. Senior flexes offer better control over slow swings.
Clubs that weigh light are better for you.
Golf clubs for seniors must be lightweight. It is a fact that humans lose strength as they get older. As a result, it is harder for senior golfers to play with heavy golf clubs. Clubs with graphite shaft and carbon composition materials are lighter than other golf clubs. And this combination works well for more ball speed and generating distance.
Higher the loft angle; the better distance you get
You should buy clubs with higher loft angles for senior golfers because it helps them hit it higher and longer. Also, being an elder golfer, it would be hard to produce more carry distance if you don't have a higher loft angle. Which ultimately ends up covering less distance on the ground unless there is enough slope.
Look for clubs that provide long-distance.
Carry distance is the category where you need to be attentive. Any club you buy should help you produce more distance regardless of your age. Experts recommend distance-producing golf clubs for most golfers with a slow swing. But with distance, you should be able to control it.
So, what unique things do you need to consider? Golf clubs for seniors should provide longer distances with minimal effort. Select the one that is easy to hit but goes far. It will increase your confidence in hitting long and straight shots.
Seniors' golf clubs should be forgiving.
You should feel comfortable using your golf clubs. Besides, it should be forgiving. Forgiveness refers to the adjustment that a club provides even if you miss to hit the club accurately. With better forgiveness, it gets easier to score regardless of your golf skill.
Adjustability would be an added advantage for senior golfers. But not many clubs offer this feature with senior flexes. This feature helps you adapt to any situation in a round of golf.
You should check the adjustability of the driver you are buying. Adjustability means how much you can keep the driver stable at impact because it determines your capability of changing ball flight concerning the hole. Therefore, as the situation changes in a round of golf, you need to adapt yourself to it.
Best Golf Clubs For Seniors by Club Types
Owning the top golf clubs can help any golfer to perform better. But finding the best golf clubs is not an easy task. Especially when you are looking for the club that is the best specific type of golfers. We have researched and reviewed plenty of models and sum up the following golf clubs as the best choice. Have a look at them, and you will find out why they are the best.
1. Best golf driver for seniors: TaylorMade SIM MAX Driver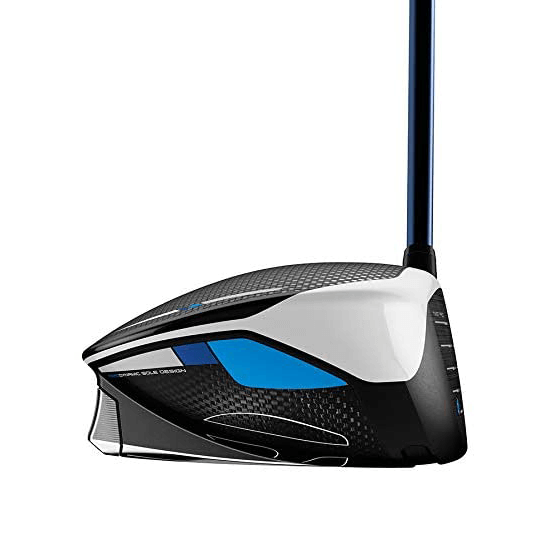 The TaylorMade SIM MAX is one of the best golf drivers we found in our research. It has senior flex, and it is also a lightweight golf driver, which is another criteria for the selection. The club is composed of a titanium body and graphite shaft. Besides the senior flex, the SIM MAX offers regular and stiff shafts as well. This club is available for both left-handed golfers and right-handed golfers.
Along with the flex, TaylorMade SIM Max offers two different variations in loft angles. Nine degrees and 12 degrees. Both the loft angles are suitable for generating high launch angles. The club is made of multi-material construction that includes carbon fiber, titanium, and steel.
As a result, the clubhead weighs very light but provides a strong feeling. In addition, the hand. The Aerodynamic Asymmetric Sole and Inertia Generator clubhead design ensures that you get a reasonable distance each time you play with this golf driver.
Things we liked
A larger clubface gives more confidence
2-degree Loft adjustability helps you get the required loft angle on-demand
Provide faster clubhead speed for more ball speed
Things that can improve
Sometimes it is hard to control your shot with this driver
Final verdict
The robust build quality of this club allows you to use it for many years. Sometimes it's hard to control your shot with this club, but you can overcome this challenge by using it for a while. For more check our best golf driver for seniors list.
2. Best golf irons for seniors: Callaway Big Bertha B21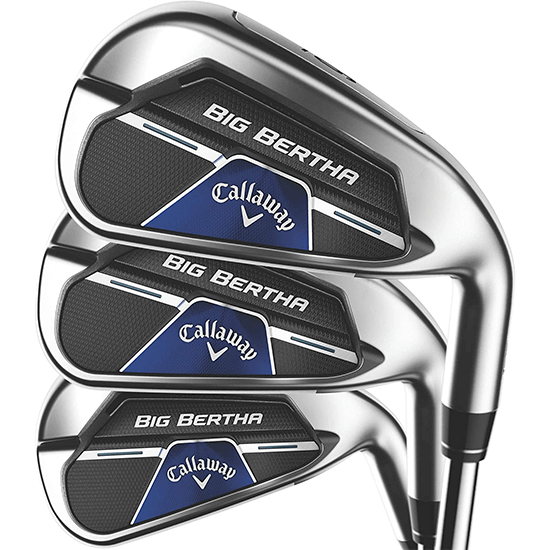 Callaway Big Bertha B21 doesn't have the right flex for seniors, yet they can use this club. Because of their light flex. It weighs less than a pound. Thanks to its graphite shafts. The A.I.-designed Flash Face Cup used in this club provides easy launch, lower spin, and straighter shots. Just the performance features that match the gameplays of seniors.
You can select 4 iron, 5 iron, and 6 iron alongside their pitching wedge and sand wedge. All these clubs provide a good amount of loft. And you can hit long with these irons. But you will not feel any vibration or discomfort while using the Callaway B21 irons. Instead, due to the custom tungsten weighting, you are more likely to hit the center of the clubface. And get the best result from your swing.
Things we liked
Graphite clubhead and graphite shafts make these irons very lightweight
AI designed flash face ensures distance and higher forgiveness
Provides lower spin and straighter shots
Things that can improve
No 9-iron in this series; 9-iron would be a better choice.
More color options would be better.
Final verdict
AI-designed flash face cup technology makes this club very effective for veteran golfers. You get higher forgiveness and better distance shots every time you play with it.
3. Best fairway wood for seniors: Cobra f-max Superlite
The Cobra F-Max Superlite is very light in weight, even with a 455cc clubhead design. You can enjoy faster ball speed and dynamic launch with this oversized club head of fairway woods. That is why experts recommend this fairway woods for seniors.
The club is made of graphite; as a result, it weighs light, but it is durable. So you will get straighter, more accurate ball flights to achieve better distance. Apart from the senior flex, you will find this club in regular and stiff flex too. You can buy any of the 3-wood, 5-wood, 7-wood, or sets of all three as well. Besides, this club is available in the market with different loft angle options, such as 16, 20, and 23 degrees loft angles. But there is no option to adjust the weight of the clubhead.
Things we liked
Creates higher dynamic launch and faster ball speeds
Provides straighter, more accurate ball flights
Lightweight in every segment such as clubhead, shaft, and grip as well
Things that can improve
No weight adjustability feature
Few customization options would have been better
Final verdict
Both right and left-handed golfers can use this golf club because it is available in both options. In addition, the package includes club head covers with the club. And it looks premium altogether.
4. Best golf hybrid for seniors: Callaway Golf Mavrik Max Hybrid
Callaway Golf Mavrik is the best golf hybrid for senior golfers. It can rescue you from difficulties at your old age. It is an excellent choice for them. You can use it to replace 3-wood or 9-iron. This club is available in 4 different configurations, including 3 hybrids,4 hybrid, 5 hybrid, and 8 hybrids based on the loft angles. It starts from 19 degrees to 33 degrees.
Apart from the senior flex, this club offers ladies regular and stiff flex as well. So, golfers of any age group can use this hybrid. You will find this golf club very lightweight as it is made of a graphite shaft. With the Jailbreak technology and Flash Face SS20 Technology, the Callaway Mavrik hybrid promotes exceptionally high ball speed.
Things we liked
It offers lots of loft angle customization options
It provides a good amount of distance and forgiveness
You get a satisfying feel and impact sound
Things that can improve
There is not much spin
Price is slightly high for a hybrid
Final verdict
You will find your preferred loft angle option as this club offers customization options. And the performance you get for the money you pay is very satisfying.
5. Best golf wedge for seniors: Cleveland golf CBX2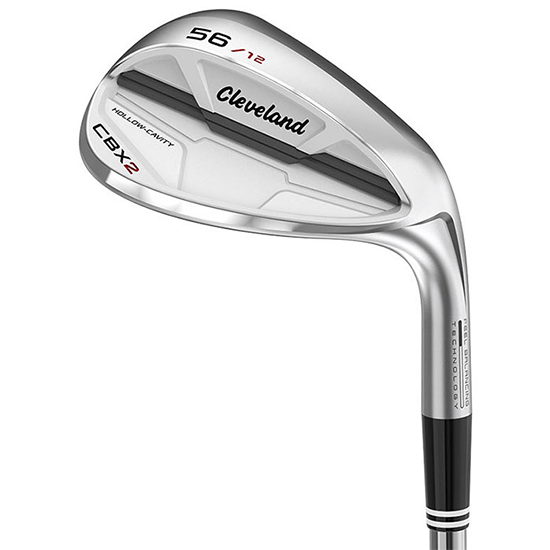 Golf players of all expertise levels can utilize this wedge without any problem. Because the Rote Face Technology Cleveland CBX 2 conveys the sharpest zip grooves and a forceful face processing for the most remarkable twist and short game control. Moreover, the Cleveland CBX 2 offers the most recent emphasis of Feel Balancing Technology that accomplishes another achievement: a toe-biased center of gravity.
These technological advancements are pretty helpful for golfers to get the best of a golf club. Besides, the Hollow-Cavity plan that boosts MOI and border weighting for stunning absolution is also a helpful feature for golfers, especially senior golfers. But the outlook of the club is not very pleasing. Few more color customization options would have been better.
Things we liked
Reasonable spin rates that suit almost all golfers
Hollow-cavity design makes this wedge easier to hit
The confidence-inspiring shape at address
Things that can improve
Not much attractive looking
Final verdict
Wedge is a convenient club for seniors. And the Cleveland wedge offers enough spin and loft that you may need in a golf course.
6. Best golf putter for seniors: Odyssey triple track marxman putter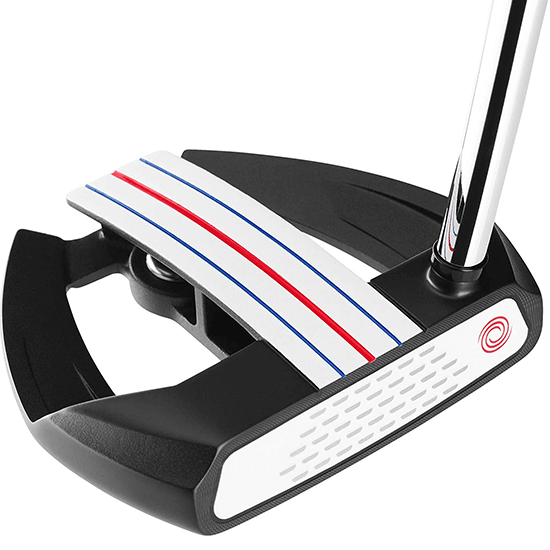 If you are looking for a putter with maximum forgiveness, exceptional alignment, and high-profile performance, then the Odyssey triple track Marxman is your club. It is constructed with such premium technologies that ensure this performance standard.
We recommend the Marxman style for you as it is featured with an innovative multi-material shaft and Callaway's innovative golf ball alignment system. The club helps to align the ball more currently. Thus it allows you to improve your putting accuracy. Moreover, it feels fantastic on hand and gives an excellent grip.
Things we liked
Incredibly lightweight
Lots of customization options available such as styles, shaft style, and size
It helps improve your accuracy.
Things that can improve
It's a blade putter, and many golfers like to play with mallet putters
Final verdict
If your priority is not the mallet putter, the Odyssey triple track can be your right choice because it offers plenty of customization options with improved performance.
Conclusion
We won't recommend you to buy a set of golf clubs for seniors because you won't get the proper flex for different types of golf clubs there. Choosing a golf club for seniors is very challenging.
As we mentioned in the buying guide, you need to consider some factors to get the best golf clubs for this golfer. We have detailed reviews on each classification. You can select from our recommendations there. Or trust our review and choose from here. Let us know your experience with the clubs in the comment section.