We are glad that you chose to play golf; one of the most popular sports in Europe. You must be very excited to buy your first golf clubs. But selecting the best golf clubs for beginners is not so easy.
A wrong golf club can make your game difficult. On the other hand, using the right club will help you improve your golfing skill promptly. So, you should not compromise by selecting random golf clubs. If you are looking for some expert opinions before buying the best golf clubs for beginners, this article is for you.
In this article, you will learn the key factors that determine a club as the best. And then find out the top list suggested by the experts and their opinions on those clubs
The Best Golf Club Sets for Beginners and High Handicappers
It might be challenging to choose a new set of golf clubs for you. You need to consider some specific things as mentioned earlier. Keeping the beginner thing in mind and the price factor, we made a list of 10 golf clubs. So stay with us and get your own set of golf clubs.
1. Callaway Golf Men's Strata Complete Set (Best Overall)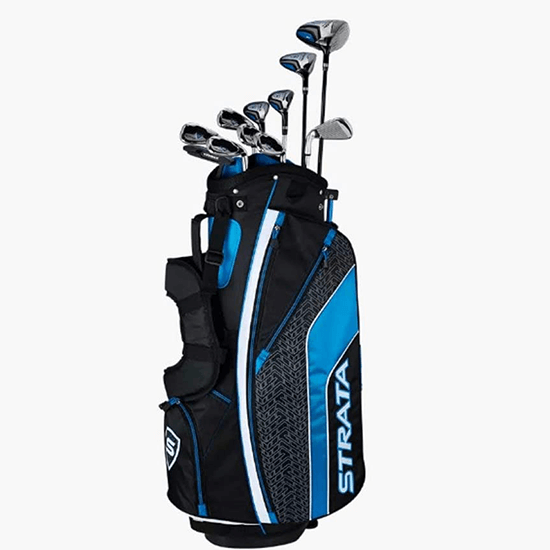 From drivers to Putters, you get the opportunity to have it all in this one set. That makes it easier to practice and start learning right away. You don't have to buy anything separately.
The range of clubs you are getting for this money is pretty awesome. The build quality, advanced design, forgiveness, balance quality, durability, great feel, and the ultimate performance make this a good starter club set for beginners.
The driver of this club set has a more oversized club head to ensure you have a more prominent clubface for impact. Other clubs in the set also have clubs that are proper for a beginner. For long and high flying shots, a forgiving wood is a great choice, and this set offers this titanium three wood.
The irons included are well balanced, having a variety of long-range. These are made from stainless steel and equipped with high-flight technology. The same material is also included in the sand wedge and pitching wedge. Some club sets come with only one hybrid but keeping in the growing popularity of these clubs, Callaway strata provides two hybrids. You get a 4H and 5H Hybrid that can help you gain more control over your shots.
The putter is designed for better accuracy and distance control to help you sink more putts and play precise shots. You are also getting a lightweight, durable stand bag with the whole set that looks cool and provides convenient pockets.
At a glance
Set Composition: Driver, Fairway wood (3), Hybrids (4 and 5), Irons (6-7-8-9), PW and SW, Putter, Stand Bag, 4 Headcovers.
Build material: Aluminium
Clubhead (driver) size: Large
Shaft material: Steel
Flex options: Uniflex
Things we liked
It is a complete set with all the necessary types of clubs
Best value for money
All the clubs are very sturdy, forgiving, and designed to provide reasonable distance
Two hybrids in the set are very helpful for beginners
Why is this club set ideal for beginners?
The Callaway Golf Men's Strata Complete Set is designed to meet beginner golfers' needs in the best way possible. If you are looking for longer shots, more control, and more confidence, try this set of clubs. Its overall performance and technological advances will ensure you a good start.
2. Precise M5 Men's Complete Golf Clubs Package Set (For Tall Men)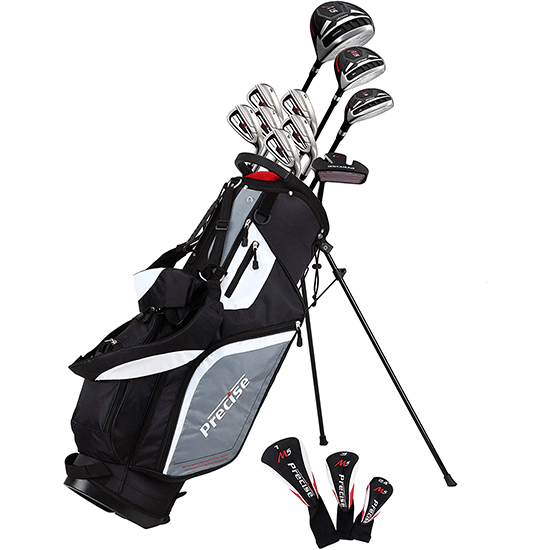 Another complete set of golf clubs in this list. And it's from PreciseGolf. The M5 golf club set is available for both right-handed and left-handed golfers. You can buy this set for tall golfers as well. All the clubs in this set are made of stainless steel. The Precise M5 men's club set appears with a new look and style that greatly appeals to the golfers.
The Precise M5 men's club set includes a 460cc driver, three wood, 1 Hybrid, 5, 6, 7, 8, 9, PW stainless irons, putter, deluxe stand bag, and three headcovers. The 460cc driver is designed to give the most forgiving feel and extensive distance. In addition, the shaft material increases the club's performance and quality. You get steel shafts for iron and pure graphite shafts for wood.
You may also like: Best Wedge Shaft
In this set, you get a great aiming mechanism putter too. At first, the putter may seem a little heavy, but after a while, you will get used to it. The extraordinary deluxe stand bag is designed with spacious pockets, a double shoulder strap, and a kickstand.
You get all the primary clubs in this set at an affordable price. And you will require these primary clubs in the very beginning of your game. Even if you are an intermediate player, you will probably love these clubs.
At a glance
Set Composition: driver, three wood, 1 Hybrid, 5, 6, 7, 8, 9, PW stainless irons, putter, deluxe stand bag, and three headcovers
Build material: Stainless Steel
Clubhead (driver) size: 460 cc
Shaft material: Graphite
Flex options: Regular
Things we liked
Easy to carry
Oversized and user-friendly club heads
The price is decent and well in range
Complete set
Things that can be improved
Carbon construction would have been better
Only regular flex option
Why is this club set ideal for beginners?
Even if you are a beginner or an intermediate player, the offset will allow you to hit the ball in the air properly and quickly. This club set is standard and has nothing extra to brag about. But that's okay for beginners, so long you can hit straight shots. Considering the beginner friendliness, reasonable price, and overall performance, the Precise M5 men's club set is really worth buying. The oversized clubheads and offset make this set more user-friendly.
3. Callaway Women's Strata Complete Golf Set (For ladies)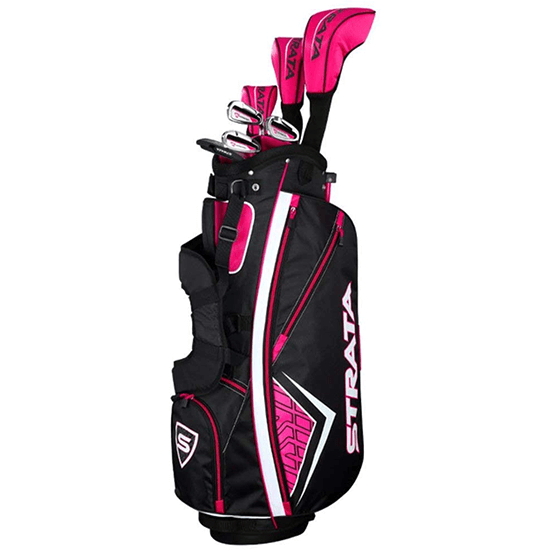 Another Callaway golf club is on this list, but this golf club set is for the ladies planning to start playing golf. The set has three variations. 16 club set, 14 club set, and 11 club set. If you are looking for a club providing maximum distance, the Women's Strata Complete Set is for you. The combination of distance, forgiveness, and easy hitting system makes the set unique for beginner lady golfers.
You are going to have seven clubs in this package which include a driver, 5-wood, 7 and 9-irons, and a mallet putter. You are also getting a sand wedge in this package, and that's very appreciating. Finally, don't forget about the 5 Hybrid in this set.
The driver and 3-wood have graphite shafts with large sweet spots. So, mishits are not punished. You get the clubs very lightweight that can create maximum impact on hits. The irons and the sand wedge have perimeter-weighted club heads for more complex shot-making. You can use the Hybrid for hitting shots that you are not comfortable hitting with irons.
Don't worry about carrying your golf clubs with a golf bag. Because here in this set, you will enjoy a stand bag that can be taken with the help of straps included. Easy to carry and suitable for lady golfers.
At a glance
Set Composition: a driver, 5-wood, 7 and 9-irons, and a mallet putter with pink headcover and stand bag.
Build material: Aluminium
Clubhead (driver) size: 460 cc
Shaft material: Graphite
Flex options: Ladies
Things we liked
Pink golf clubs with bag and headcovers
Lightweight and provides reasonable distance in each shot
Good value product for the money
Easy to hit with incredible accuracy
Things that can be improved
Not a complete set
Many beginners do not prefer mallet putter
Why is this club set ideal for beginners?
One thing you need to consider, if you buy these clubs, you need to buy more irons and a pitching wedge to make it complete. But along with their lightweight and easy-to-hit features, these clubs are recommended for beginner ladies. So you get exactly what you are paying for.
4. Callaway Unisex's Edge 10 Piece Golf Set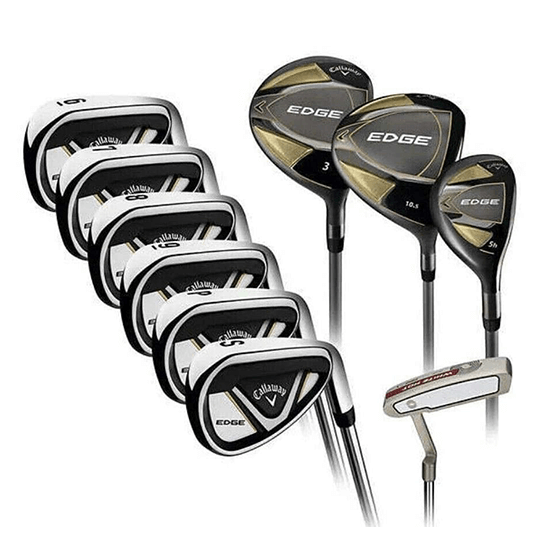 If you are just planning to buy a set of golf clubs to start playing and are unsure about your interest in the game of golf, then the Edge 10 piece golf set is the best option for you. It has only the primary clubs that a beginner needs to play a round of golf.
In this set, you will get a piece of driver, hybrid, wood, and putter alongside a total of 6 irons. All the clubs are made of aluminum bodies and graphite shafts. As a result, they are lightweight, and you can swing them smoothly. Being a beginner, that's the most essential factor that you should consider.
This set of clubs is designed for beginners who tend to hit straight and extend to cover a reasonable distance. For example, the driver is constructed with an oversized titanium head. So does the 3-wood. The hybrid has a compact head compared to the wood and driver. But all these three clubs feature a fast face and deep center of gravity. The hybrid is extremely forgiving as well. So even if you miss any swing, you might get a reasonable distance.
The irons are equally beneficial for beginners. Last but not least, the odyssey pro putter is a masterpiece from Callaway. Even expert golfers would love to play with such a putter. This classically shaped head with an excellent feeling, smooth-rolling white hot insert, and stroke-stabilizing Super Stroke grip.
At a glance
Set Composition: drive, 3-wood, 5-hybrid, 6-9 cavity back irons, pitching wedge, sand wedge, odyssey white hot Pro putter with super stroke grip
Build material: Aluminium
Clubhead (driver) size: 450 cc
Shaft material: Graphite
Flex options: Regular
Things we liked
The affordable price tag for a ten piece golf club set
Lightweight, portable and durable
Provides performance that you can rely upon
Things that can be improved
Only ten pieces set
Flimsy looking
Why is this club set ideal for beginners?
Beginners love to hit long and straight as an arrow in the early days of their career. Isn't it? The Callaway edge club sets are best in this regard.
5. Wilson Profile Complete Junior Golf Set (for kids)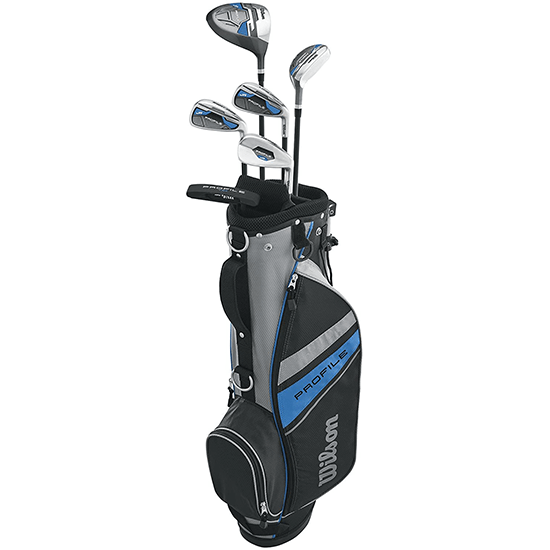 If you are starting your golf career at an early age, a junior golf club set is recommended over a traditional one. And the Wilson Profile Junior golf set is the best in this segment. It is the perfect choice for young beginners. It is a perfect blend of functionality, quality, and versatility at a reasonable price within just one set. This golf club set is available for both left and right-hand types for the following age group of children.
The kids' golf club set comes with three different variations for three different age groups. All golf sets here commonly include a driver, a wedge, a short iron, a putter, a stand bag, and headcovers. Golf set for 8 to 11 years and 11 to 14 years include a hybrid club in addition.
For new players, cavity back irons are very useful (for all players, in fact) because they have a more enormous circumference weight on the head, so they provide more forgiveness in mishit shots. The blade putter is not as tolerant as the mallet style, which may cause some subtle problems on the green, but it still holds strong.
For Junior Golfer: Golf Clubs For Junior
At a glance
Set Composition: Driver, wood, irons and putter mainly. For more than 8 years kids the set has hybrid options too.
Build material: Graphite
Club head (driver) size: N/A
Shaft material: Graphite
Flex options: Junior
Things we liked
Good flex and lightweight
Includes a bag and headcovers along with golf clubs
Cavity-back irons offer more forgiveness
Things that can be improved
Few more clubs would have been better
Why is this club set ideal for beginners?
Wilson brings the best combo available in the market for those who are looking for the best affordable golf club set for kids.
6. Cobra Golf Men's XL Speed Complete Golf Set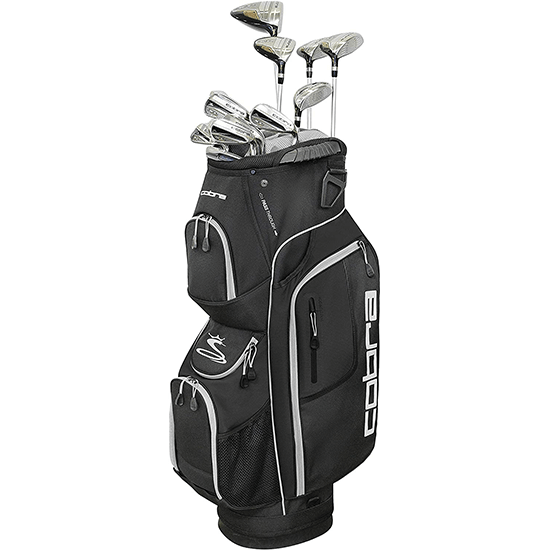 The men's Cobra XL Speed Complete Set comes with a driver, 3 and 5 wood, 4 and 5 hybrid, 6-9 irons, Pitching Wedge, Sand Wedge, Blade Putter, and a Cart Bag. Each of these clubs offers forgiveness on every shot. The set includes lightweight and forgiving drivers, fairway woods, hybrids, and iron that will deliver you maximum distance. If you are just getting into your game and looking for a set that offers distance and easy-to-hit clubs, this set can be a good choice.
The driver in this set has an oversized club head with loft angle options of 10.5 to 11.5 degrees. If you are looking for higher, towering shots from any fairway lie, get the fairway woods included with this package. You can enjoy a shallow profile and low, back/heel weighting from a 3-wood and 5-wood. The best thing to have in this club set is a 4-Hybrid and 5-Hybrid. Whether you are struggling to hit with the driver, irons, or the wood, these drivers will definitely make your life at the golf course easier by providing a higher launch.
The irons are equipped with perimeter weighting and sole-width technology. That will give you more accuracy and control on shots. The feel at impact is also good and nonetheless makes these clubs so promising for newbies. The pitching wedge is equally effective.
At a glance
Set Composition: a driver, 3 and 5 wood, 4 and 5 hybrid, 6-9 irons, Pitching Wedge, Sand Wedge, Blade Putter, and a Cart Bag
Build material: Graphite
Clubhead (driver) size: Oversized
Shaft material: Graphite
Flex options: Regular, Senior
Check the latest price
Things we liked
Combination of distance and forgiveness;
Higher launch and improved stopping power into greens
Perimeter weighting in iron increases launch, and improves forgiveness and stability on miss-hits
Perfect for outdoor and even indoor use
Crafted from the highest quality material
Things that can be improved
Only comes in a regular size which will suit up to about 6-ft 2 in height
No cooler pocket in the bag
Why is this club set ideal for beginners?
The club set comes in a very affordable price range that is preferred by most beginners. With large sweet spots and a great feel on impact, this club set will be the ideal equipment for you to have in the armory.
Best Golf Clubs For Beginners by Club Types
When you are a beginner but have a better sense of golf and know how to use golf clubs properly, you better buy clubs individually rather than a set of them. The most impactful reason is when you buy individual clubs you can choose each club according to the need of your golf skill. Which is not applicable if you buy a set of golf clubs.
Here are the experts' recommendations on the best golf clubs for beginners.
1. Best Golf Driver for Beginner: TaylorMade SiM2 Max Driver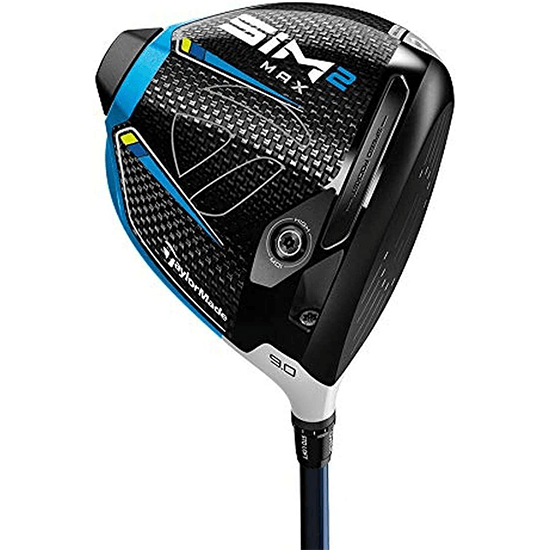 Experts recommend the TaylorMade SiM 2 as the best golf driver for golfers. There are certain factors behind this selection. The club head of the Sim 2 Max is made of titanium along with a graphite shaft. The club weighs very light but generates a heavy performance for a beginner.
Due to the New Forged Ring Construction, the club is lightweight but has an exacting shape which allows you to have a better swing. The weight balance is very smooth. Besides the asymmetric Inertia Generator is designed to provide faster club head speed through advanced geometry and aerodynamic analytics. But the Sim 2 Max doesn't have much spin or launch angle. So, when you are a bit advanced player you may not find this club much beneficial. There are some options for customization such as flex, loft angle, and so on. You can take help from experts to find the best match loft angle and flex for you. The club consists of some features that benefit a beginner the most. Let's have a look at them.
Things we liked
Forged ring construction ensures durability and smooth performance in each stroke
Asymmetric Inertia Generator is designed to provide faster clubhead speed
Speed Injected Twist Face to improve ball speed
Thru-Slot Speed Pocket maximizes ball speeds and produces additional forgiveness on low face strikes
Split Mass Weighting enhances forgiveness
Things that can be improved
Less Spin
Provides lower launch angles
High price for a beginner
Final verdict
The latest TaylorMade SiM 2 driver is a great club to have for a golfer who loves to play more distance with more forgivingness. A better spin would have been better. Yet you can hardly find any golf club that can replicate its performance.
2. Best Golf Irons for Beginner: Callaway Mavrik Max Iron
Irons are best for approach shots. For a beginner, irons can be very crucial at times on a round of par 5 or more. That is why golf irons with better distance and accuracy are highly recommended for beginners.
The Callaway Mavrik Max is the best solution to your query. The MAVRIK series from Callaway is gaining much popularity among golfers for their outstanding performance. The Mavrik irons are made of graphite and offer both steel and graphite shaft options. But the loft angle is fixed. You can own the irons individually or you can buy a set of irons. This MAVRIK MAX Irons features a larger shape, wider soles, and a deeper CG for even more forgiveness and an easier launch. The use of Artificial Intelligence in golf clubs has worked brilliantly for Callaway. Using AI Callaway has introduced some revolutionary technology to produce golf clubs according to the user demand. These features made this iron stand out from the rest.
Things we liked
AI designed clubhead design allows better swing mechanism
The flash face technology along with tungsten energy core and urethane microspheres ensures the best forgiveness and speed at the same time
Horizontal groove design allows you to have better spin and loft at the same time
Better forgiving
Offers both steel and graphite shafts
Things that can be improved
Less adjustability options
It's hard for beginners to choose from a wide range of loft angles
Final verdict
At the beginning of your career, you must be looking for the maximum output with minimum effort. If so, these set irons are highly recommended for you.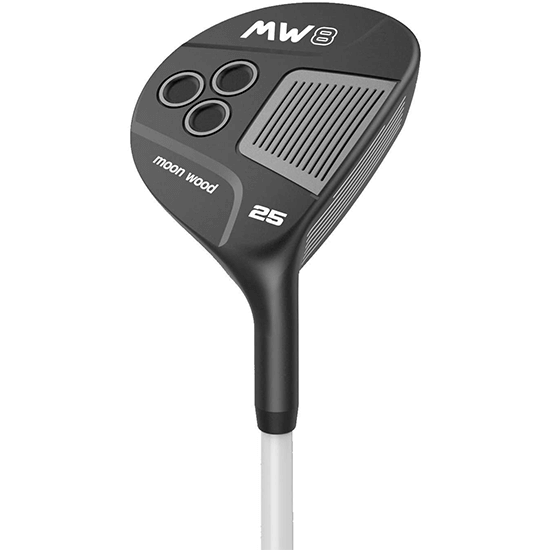 Most beginners find it hard to select the right club as they don't know when to use which club properly. As a result, the handicap score keeps on rising. But proper use of fairway woods can easily bring your handicap score down. The Moon Wood MW8 is a top choice for beginners for its tremendous forgiveness and control over shots. Even if you miss the sweet spot you can enjoy enough distance with accuracy. This feature helps beginners a lot.
The MW8 is great for generating distance without any difficulties controlling your shots. The length of the shaft could be a challenge to adapt as it is slightly smaller than regular golf clubs. But if you consider the looks and the performance it provides, the MW8 is the best you can get for a beginner. The MW8 is good for high launch, and long-distance shots. And if you connect well, you will get the expected distance. Even if you miss the center the MW8 gives a pretty good distance.
The Moon Wood is constructed with a graphite shaft and stainless steel clubhead. It has a premium matte color finish. And the thin club head design is very appealing to the eyes. No matter if you are a left or right-handed golfer, you will find both in the market. And loft angles? The MW8 Moon Wood offers 4 different loft angles. So it should not be an issue if you prefer different loft angles than just 3-wood or 5 wood.
Things we liked
Provides great control
Generates enough distance on mis-hits too
Premium outlook in a very much affordable price
Flex adjusting features
Things that can be improved
Final verdict
The MW8 from Autopilot golf is the top choice for us. It has a very pleasant and premium look with the necessary features to help the high handicappers most. Though the Autopilot Golf is a relatively new brand that started their journey in 2015, the build quality and the performance of the MW8 has marked its position among golfers' wishlist.
4. Best Golf Wedge for Beginner: Cleveland Golf CBX 2 Wedge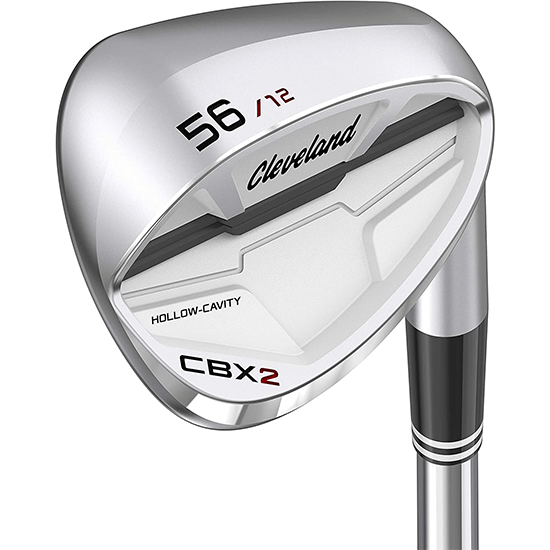 Wedges are basically irons but it offers higher lofts, heavier clubheads, and shortest shafts. They are very effective in hitting the ball from sand bunkers or outside fairway areas. Being a beginner, you are most likely to face such situations at the early stages. That is why your wedge should be the best. And we recommend CBX2 for that.
The CBX2 has the sharpest grooves and an aggressive face developed by using Rote Face Technology (4th generation) due to the unique face design the club can provide maximum spin and short game control. This is the best feature that Cleveland offers in CBX 2 golf wedge.
The look of the CBX2 may not please you. Apart from that, the performance it provides is amazing. Especially the new Hollow-Cavity design that maximizes MOI and perimeter weighting for amazing forgiveness. Golfers of all skill levels can use this wedge easily.
Additionally, the Cleveland CBX 2 offers the latest iteration of Feel Balancing Technology that achieves a new milestone: a toe-biased center of gravity. Combined with a Gelback TPU Insert for vibration reduction, Cleveland says their CBX 2 provides a soft, satisfying feel and crisp feedback at impact.
Things we liked
Easy to spin the ball with the unique groove
Easy to gain more distance
Well balanced head
Easy to swing
Good value for money
Things that can be improved
Doesn't look quite as good as other wedges
Only three grind options
Final verdict
The CBX2 is a top-notch golf wedge that offers lots of valuable features. You can enjoy excellent forgiveness with the bigger face, larger sweet spot, and high lofts of this golf wedge.
5. Best Golf Hybrid for Beginner: Cobra Golf Speedzone Hybrid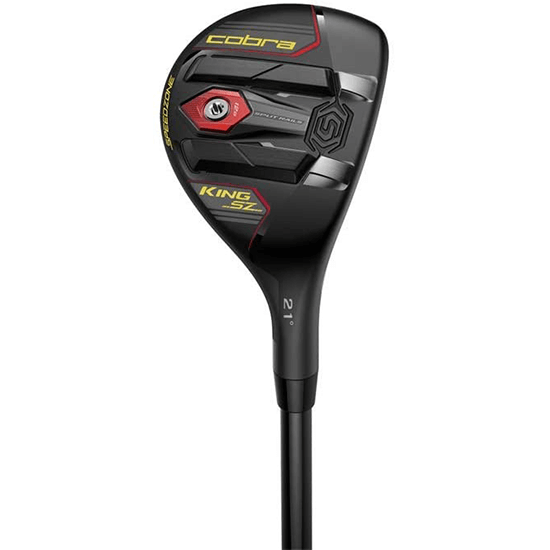 Speedzone Hybrid offers more accuracy and longer distance. If you need longer and straighter ball flights along with accuracy, try this club. The larger shape and square leading edge will give you a long distance. And the stability of this club will ensure accuracy while hitting. You can use the Arccos Caddie app on your device to track your data and know your performance level.
The Flex Zone-Hollow rails flex more than the solid rails, creating a 70% larger hot spot area from heel to toe that promotes higher launch and more ball speed with the aid of a speed channel. Slightly larger than a traditional hybrid, the shape features a high MOI and square leading edge for longer and straighter ball flights.
The Stability Zone-Baffler rails provide excellent stability and speed through the turf, allowing the club to glide effortlessly out of any lie. Weight concentrated low and creates the most efficient transfer of energy to the ball for high trajectories that land softly into greens.
Things we liked
Better ball speed and launch
more forgiveness on off-center strikes
Proper alignment and accuracy
Baffler rails help with turf interaction
Smart looks
Things that can be improved
Loft adjustability could be better
Final verdict
To have overall consistency along with easy launch and good distance, practice with Cobra Speedzone Hybrid. Larger in size, greater in distance and accuracy. Have a worth trying. For the combination of all the impressive game improvement features, you will love this hybrid.
6. Best Golf Putter for Beginner: S7K Standing Putter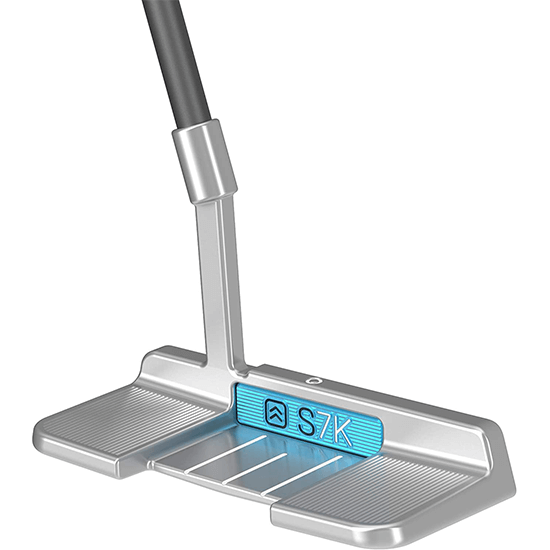 If you miss your put, you may have a chance of lining up wrong. S7K Standing Putter will fix this alignment for you. If you cannot check your alignment from behind, use this putter. It will stand up by itself so that you can keep it behind the ball to check whether you made a mistake or not. If there is anything wrong in alignment, you can quickly realign before taking your stroke. Perfect alignment, setup, and impact of this putter will ensure your improvement with confidence.
This club can be used by all sorts of players. No matter if you are a man or woman, whether you are a right-handed golfer or left-handed. You can use this golf putter. It is available in all variations. The Built-in impact position is just what a beginner needs. The forgiveness of this club helps a beginner most. Besides, the club provides exceptional feel, balance, and roll. The S7K's ultra-light grip and shaft transfer tons of feedback to your hands, enhancing your speed and distance control; You will enjoy a buttery feel and sweet sound at impact.
Things we liked
Proper alignment every time
Better guidance
Suitable head for putting
The strike dot will ensure proper swing
High quality building equipment
Ultra-low balance point promotes better acceleration through impact
Things that can be improved
Very ordinary looking
Many golfers complain about the flimsy shaft
Final verdict
To have the combination of perfect build and design in one club, we would like to recommend S7K Standing Putter for you. Even if you are thinking about improving your swing and alignment, consider this putter in your buying list.
Buying Guide on Golf Clubs for Beginners: Key Factors You Should Consider
Most people often buy the wrong golf club as a beginner due to a lack of knowledge and no prior experience. You might think that you can just buy what Tiger Woods or Rory McIlroy use. But the professional clubs are not a good purchase for a beginner. A top-notch golf club can only help you once you know how to use them and know how to swing perfectly.
Golf clubs for beginners are designed considering the challenges that a high handicapper faces. Here are the factors that you must consider before buying a golf club for beginners.
Clubhead size
Almost everyone misses their shot at an early age. There is nothing wrong with it. But you can reduce the chances of missing your shots too often by playing with clubs that offer bigger clubhead. That is why you should aim for the clubs with larger club heads for high handicappers. Because larger club heads offer larger clubfaces with a larger sweet spot to hit.
Experts agree that 450 to 460 cc club heads for golf drivers are a practical and proven driver head size range for beginners. For fairway woods and hybrids, the size of the clubhead should be close to 160cc. But you can also use smaller clubheads once you have better control over your swing.
For irons, you should look for the following features in irons club heads.
You should go for a deeper cavity back that adds weight to the club perimeter.
A wide sole should be the priority.
The offset should be higher in your clubs.
Look for large to mid-size clubheads with a large sweet spot for forgiveness on mishits.
Shafts length and material
The shaft is the long tube you see in a club, which is connected with the clubhead. It works as a connector from your hand to your clubhead. So the size of the shaft should be enough to reach the ground from your hand while swinging.
Shafts must be strong to transfer your energy to the club heads and help you have a proper swing. At the same time, it should not weigh much. Because heavy golf clubs can cause you injuries.
Most golf club shafts are made of either steel or graphite. For beginners, we recommend graphite shafts. It's lightweight, strong, and helps you generate some high swing speed. All these benefits result in gaining more distance on the golf course. Steel shafts can also be a good buy if the club is not heavy or offers better performance overall.
Build quality and looks
As mentioned earlier, being a beginner, you will miss your hit a lot. Sometimes your club may slip out of your hand, and you may hit the ground hard instead of hitting the ball. But don't worry, and don't feel disgusted by such incidents. All these scenarios are prevalent in a golfer's early days.
For such a reason, your golf clubs should be solid. We suggest you search for clubs that are made of multi-material construction. For example, golf drivers made of titanium are a good purchase for beginners. Also, cast irons are convenient for a beginner. Many top brands produce golf irons with cast irons for high handicappers. This is to keep the weight spread around the perimeter and makes the clubs very forgiving.
Nevertheless, the outlook of the golf clubs should be a standard one, and it should match your personality and preferences.
Flex and Customizations
Experts suggest that you should analyze your swing before buying a golf club. Because based on your swing metrics, flex recommendations for your golf club can be different. For instance, stiff flex club shafts are better for you if you swing like the professionals like Tiger Woods. But If you don't swing it hard then regular flex is better. Because Regular flex is recommended for beginners with average swing speed by experts.
You can analyze your swing with consultancy from an expert or take help from the best swing analyzers.
Price
Do not buy expensive golf clubs as a beginner. Or if you are buying for beginners. $1000 would be a good budget for golf clubs for beginners. And if you consider buying golf clubs individually then your total expense should not exceed $2000.
Experts don't recommend buying expensive golf clubs even if you can afford them. Because as a beginner, you need to practice often, and there's a necessity for a lot of experiments. You don't want to damage your expensive clubs. And it's easy to say you might even cut your practice time to care for your clubs.
If you think that playing with the same club used by Tiger Woods or John Rahm will make you an expert, you have a misconception. In fact, it will take more time to improve or expertise golf using those clubs.
Individual clubs vs. Club set
Now, this is an exciting decision you need to take, whether to buy golf clubs individually or a set that has all the clubs. Though it is a matter of personal preference, we recommend purchasing a set of golf clubs for beginners instead of buying them individually.
At least for the first couple of months, you should practice with a golf club set. It would help you in budget and find out your strengths and weaknesses in golf skills. You can practice with different golf clubs in similar situations and find out the best match for you. Based on that you can buy your following golf clubs or set of clubs.
For example, if you have a set of golf club you will find that you can play similar shot with a 3 wood or a 9-iron or with a hybrid. So when you are an advanced player and willing to buy golf clubs individually, you can buy one from those three.
Here are the best ten golf club sets for beginners. Check our review on them, and you will find your perfect match.
Final Words
Having the right golf club at the beginning of your golf career is so crucial that a wrong club can easily demotivate you from playing golf. But the best golf clubs will inspire you to play better by assisting you in getting better results.
In this article we assembled all the necessary information to guide you properly. We have spent months to find the best golf club set and the individual clubs for a beginner and came up with this review. We are continuously researching the latest clubs as well. Hopefully, this would help you have a great start to your golf career.
Do recommend our review to your friends who are struggling to make the right decision about golf clubs. And feel free to drop any questions, our experts will answer you shortly.