Yes, with a fairway wood you can easily bring your handicap score down. But being such a versatile golf club selecting the best fairway wood is a challenge for most golfers. It offers so many options to choose from.
If you are searching for a fairway wood that will be the best match for you to lower your handicap score, this article can help you the most. We understand your hardship. In this article we will be sharing our review on top fairway woods for high handicappers and tips that can help you buy the best.
Before going on to reading the product reviews, you should know what to look for in a fairway wood. Then you should be able to pick one that's suitable for you from our recommendations or from anywhere else.
Things You Need to Consider before Buying Fairway Woods
Choosing a golf club for beginners, especially fairway woods is never an easy task. There are lots of factors and features you need to consider before drawing any conclusive decision on fairway woods. Let's have a look at the 5 most influencing factors to consider.
Distance
Covering a good distance is a key feature that you must watch out for while selecting woods. If your golf club doesn't cover a good amount of distance then it won't help you much on the golf course. Golfers with high handicap scores often struggle to play longer distance shots with irons. That is when fairway wood and hybrids can play crucial roles.
There are some prerequisites for getting better distance from a fairway wood though. For example, size of the clubhead, weight of the club, shafts, flex and so on. An aerodynamic club head design with lightweight graphite shafts and stiff flex can be a great mix for a beginner to hit longer distances.
Forgiveness
High handicappers or beginners should buy clubs that reduce the after effects of poor swings and mis-hits. In other terms it is known as forgiveness. It is obvious that being a beginner, you can face difficulties in hitting the center of the club face. But there are golf clubs that provide good results even if you miss the sweet spot. Such clubs are also called 'game improvement clubs'.
So when you are a beginner and searching for the best club, your club must feature forgiveness. Better forgiveness can improve your performance in a very short time.
Head Shape
Talking about forgiveness, you should shift your focus on the club head size and shape too. Benefits and disadvantages of different club head shapes should be considered with high priority. Because size and shape of the clubhead differ significantly, and so does their impact.
With a bigger clubface you can enjoy a larger sweet spot to hit. But, a bigger club face means a bigger clubhead. And clubs with bigger club heads are difficult to swing and control. Then comes the shape of the clubhead. An aerodynamic clubhead design can benefit you most in this regard.
So, clubs with aerodynamic shaped clubheads are recommended for beginners.
For Junior Golfer: Golf Clubs For Junior
Shafts and Club Construction
Being a beginner you must look for graphite shafts. It makes the club lighter and easier to swing. You will see veternan golfers using steel shafts but that won't be a good idea for beginners. Not just the weights, graphite shafts would help you get right loft angles.
Apart from the shafts, you need to consider the club head construction as well. You will find a lot of models made with titanium. It is actually a good option to buy alongside the club heads made with composite materials that include tungsten and carbon fiber. You can select any of these two.
Adjustability
Adjustability is one feature that can help a beginner a lot to find the club that matches an individual's playing style. Though it can be very confusing to find the balance at the beginning. But once you find it, your performance can be improved very fast. You may need to adjust the loft angle, flex options and so on. It is better to have a club that features adjustability.
7 Best Fairway Woods for High Handicappers
By now, you know what are the factors you should be looking for while selecting your fairway wood. Here are the top 7 fairway woods that we found after days of research on dozens of fairway woods.
1. MW8 Moon Wood – Premium Golf Fairway Wood
The MW8 from Autopilot golf is the top choice for us. It has a very pleasant and premium look with necessary features to help the high handicappers most. Though the Autopilot Golf is a relatively new brand that started their journey in 2015, the build quality and the performance of the MW8 has marked its position among golfers wishlist.
You will have a good distance covered with the MW8. And for that, you should not face any difficulties to control your shot. The club offers various flexes like stiff, regular or senior and lofts as well. As the MW8 is shorter in length compared to other traditional clubs, it is easier to lift and control. You can be confident of having a high launch, and long distance if you connect well, even if you miss the center the MW8 gives a pretty good distance.
The Moon Wood is constructed with a graphite shaft and stainless steel clubhead. It has a premium matte color finish. And the thin club head design is very appealing in eyes. No matter if you are a left or right handed golfer, you will find both in the market. And loft angles? The MW8 Moon Wood offers 4 different loft angles.
Things we liked
Provides great control
Generates enough distance on mis-hits too
Premium outlook in a very much affordable price
Flex adjusting features
Things that can be improved
Shorter than usual fairway wood lengths
Why is this fairway wood best for high handicappers?
The Moon Wood MW8 is a top choice for beginners for its tremendous forgiveness and control over shots. Even if you miss the sweet spot you can enjoy enough distance with accuracy. This feature helps beginners a lot.
2. Callaway Epic Max Fairway Wood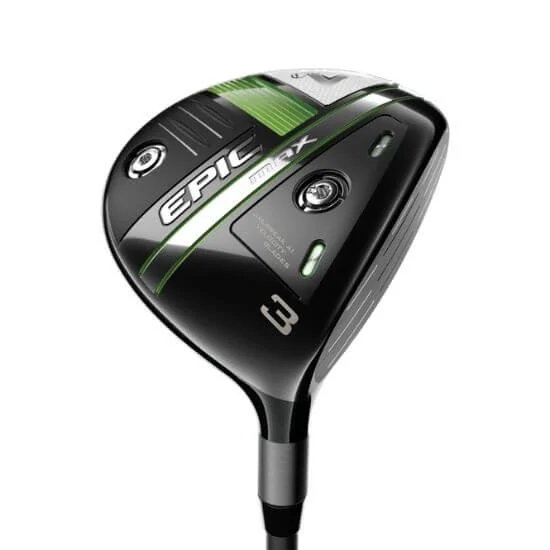 Callaway is one of the oldest manufacturers of golf clubs. With ages they have been producing top performing golf clubs. The epic mac fairway wood is their latest edition in 2021. This club is also designed by the Artificial Intelligence developed by Callaway. Like the previous AI designed Callaway clubs, the Epic max is outplaying the other golf clubs with lucrative features, performance and looks.
As a high handicapper, you will love the oversized club head of the Callaway Epic. This club is also constructed using jailbreak technology and an SS face that is renowned for maximum distance and higher ball speeds. The weight adjusting perimeter is a great addition to tune your club for different swings according to your need. You can be very sure about the maximum forgiveness from this masterpiece of Callaway.
The Epic max looks as good as its performance. Simple but yet so gorgeous looking golf club. It looks great at the address. Apart from the weight adjusting facility, you can avail other customizations options like shaft, flex and loft angles too.
Things we liked
Maximum distance with higher loft
Higher ball speeds
Weight adjustability
Great looking
Things that can be improved
Slightly heavyweight at address
Expensive
Why is this fairway wood best for high handicappers?
The features like larger club head, adjustable weight perimeter and high launch make it a great option if you're a higher handicapper.
3. Cleveland Golf Launcher HB Turbo Fairway Wood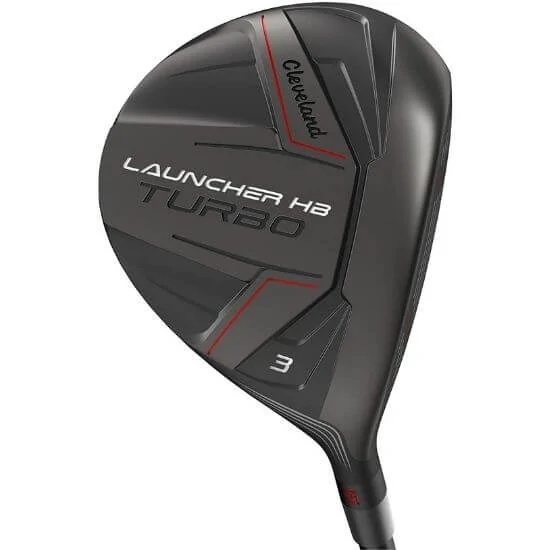 If the look of a club impacts your buying decision for fairway woods, then the Cleveland HB turbo should be in your wishlist. The smoky grey shafts with a matte black clubhead gives a premium outlook at address. But if only outlook is not the criteria for you to select fairway wood, then the performance should be your priority.
Considering the performance, it is as good as it looks. Features like turbocharged cup face, HI bore Crown club head, and ultralight hosel gives a competitive advantage to this club from its competitors. With these advanced features you can have better ball speed and distance. The lower CG position allows you to have optimal launch conditions. So if you miss the sweet spot of the club face, you need not to worry much.
When it comes to adjustability or customization the HB Turbo offers limited options. You can choose from 2 loft angles only and 2 flex options alongside regular flex. But the good news is, this club is available for both right handed and left handed golfers.
Things we liked
Available for both left and right hand golfers
Good looking
Higher ball speeds and distance
Affordable price
Things that can be improved
Only 3 wood and 5 wood, no 7 wood variant
Why is this fairway wood best for high handicappers?
We don't recommend you to spend big at the beginning of your golf career. And on a budget for $250 fairway wood, the Cleveland HB turbo is a good value golf club.
You May Also Like: Best Golf Clubs For Women
4. TaylorMade SiM 2 Max Fairway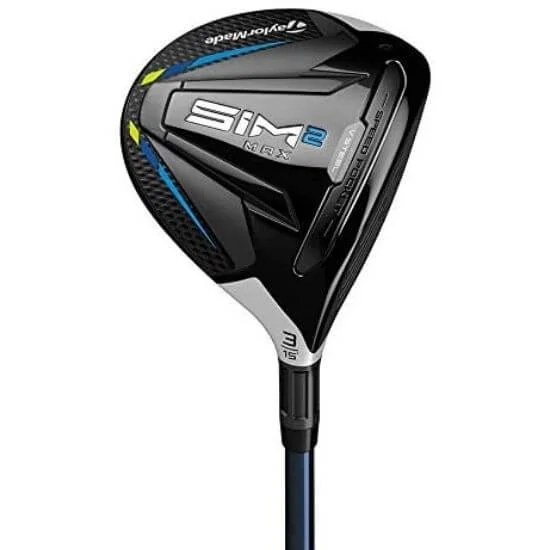 TaylorMade has placed the focal point of gravity in this club as low as could be expected, the least in any of its fairway woods, which permits you to dispatch the ball high with minimal additional work and the bigger 195cc head implies expanded region for significantly more pardoning.
There is additionally a cunningly positioned attract inclination weight the impact point of the club to urge the option-to-left ball shape that most higher handicappers battle to accomplish. This club will not naturally mean you begin hitting a major draw shape, yet it will surely fight off a major cut or a defective blur.
This club is available for both left handed and right handed golfers. And the loft angles should be enough for you. You can choose loft angles from 15 degrees to 24 degrees. All these options are available in stiff and regular flexes too.
Things we liked
Oversized club head for lower center of gravity
Lots of adjustability options
Generates explosive ball speeds
Premium outlook
Things that can be improved
Why is this fairway wood best for high handicappers?
For higher handicappers who attempted to get fairway woods uncertain rapidly and effectively, the SIM2 MAX D fairway wood is an optimal arrangement and can be utilized to approach impact off the tee and off the deck.
5. Cobra Golf 2021 Men's Radspeed Fairway Gloss Black-Turbo Yellow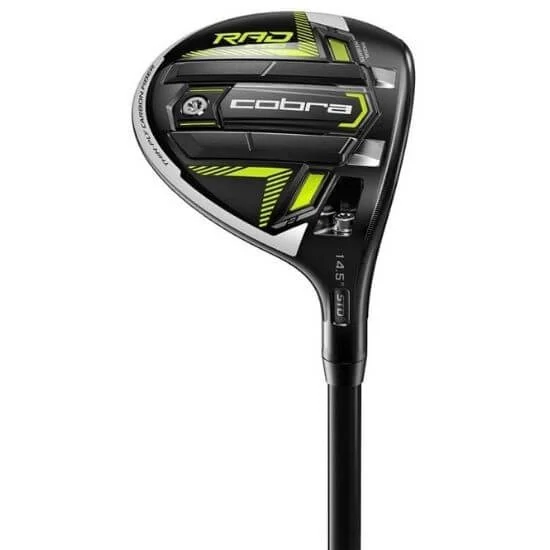 Cobra is a popular brand for golf equipment, especially golf clubs. Their latest inclusion of Radspeed fairway wood is worth the value that many of you may think overpriced. It's actually a great fairway wood for high handicappers.
The radspeed is best for generating faster ball speeds. With such ball speed you can cover a good distance that can make the difference to win the round of golf. This golf club is constructed using radial weighting technology with a CNC milled face. This combination of advanced features results in maximum ball speed. Besides, the carbon crown wrap system provides proper weight distribution in the clubface. As a result, your accuracy gets better with use.
Now the looks, to be honest it's not very pleasing. But what's in a look, right? The Radspeed offers plenty of options for customizations and adjustabilities. For example, you can adjust your loft angles from 14.5 degrees to 22.5 degrees using several angles.
Things we liked
Cover a good distance
Easy to align crown design
Provides plenty of ball speed
Easy adjustability options
Things that can be improved
Doesn't look much pleasing
Why is this fairway wood best for high handicappers?
If your playing style suits higher ball speed, then the Cobra Radspeed is one of the finest fairway woods you can have.
6. TaylorMade M4 Fairway Wood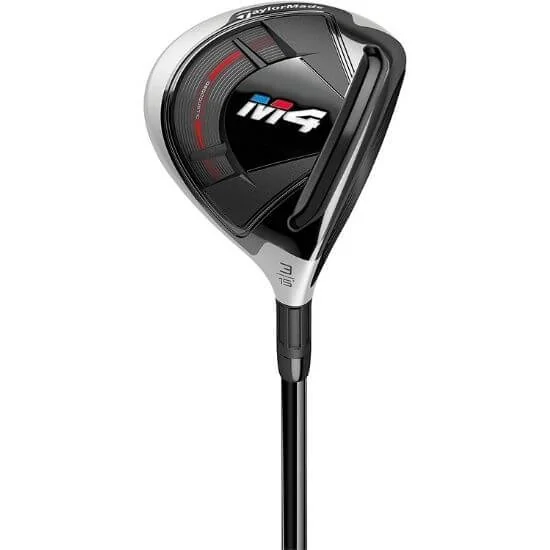 If you ask for 5 top brands for golf clubs, TaylorMade will make a place there. It has been possible for their consistency in producing quality golf clubs over the years. They have a legacy of producing top performing golf clubs. TaylorMade has produced the M4 with an enormous number of technologies that made this club stand out from the rest.
The M4 is constructed with an ultra-strong NI-CO C300 steel alloy face that is designed with a 5-layer carbon crown 176 cc clubhead. If you are used to playing with TaylorMade golf clubs then this should not be something new to you. Because the M2 and M3 were built with the same material. But the major difference is the thinner club face. The M4 has a thinner clubface but offers better optimized ball speed. And due to this optimized ball speed you get more distance. Besides the better MOI and weight distribution perimeter allows you to have better forgiveness.
The club is available for both right and left handed golfers with multiple flex options. But there is no choice for 7-wood and it has a traditional look. If outlook is a major concern for you, this club is not recommended for you.
Things we liked
Technologically advanced
Oversized clubhead
Provides better forgiveness
Provides maximum ball speed and distance
Things that can be improved
Traditional outlook
No 7 wood
Why is this fairway wood best for high handicappers?
If you prefer advanced technologies in a fairway wood and are willing to pay that extra value for that then the M4 is a good choice for you.
7. Callaway Golf 2020 Mavrik Subzero Fairway Wood
You can expect Callaway Mavrik series for golf clubs that produces maximum forgiveness and higher distance. Callaway introduced the use of AI in golf club designing a few years ago. Since then their golf clubs have been beneficial for the golfers.
Callaway mavrik fairway wood is designed with two interchangeable weights perimeter. This weight perimeter helps to provide maximum forgiveness. Not just forgiveness, you will enjoy high MOI with maximum ball speed because of the Flash Face technology used in this club. Moreover, the weighting options allows you different launch angles and spin rates. You can adjust your club according to the game situation.
Like the best performance from the Callaway Mavrik, you get the best look too. The orange and black combination in the Mavrik series clubs looks great at address. Additionally you should have a classic looking headcover with this golf club. And the best part is, you have lots of options to customize according to your preferences. You can customize the shafts, flexes and loft angles to get the best from this.
Things we liked
Maximum forgiveness
Provides high MOI with maximum ball speed
AI designed for better user experience
Looks great at address and provides enough customization options
Things that can be improved
Too expensive for a beginner
Why is this fairway wood best for high handicappers?
Love forgiveness? You will love Callaway mavrik then. It has the best forgiveness alongside higher distance. And the customization options are numerous.
Final Verdict
Choosing the wrong golf club can be very troublesome for golfers, especially beginners. In this article we tried to put all the necessary information to help you select the correct golf fairway woods for high handicappers. Hopefully, it will help you make the right decision. For further queries, feel free to comment below. Our team will respond soon with the best possible answers.
Do check our review on best golf clubs sets for beginners if you are looking for a set of clubs rather than individual ones.