We are glad that you know the importance of a shaft behind golf clubs. Because most golfers don't prioritize customizing the shafts, nor do they search for the best. Your passion for golf is appreciated.
We designed this article to help you get the correct information and identify the best wedge shafts. Eventually, it will help you improve your performance. A good golf club can help you perform well. And with the best shafts, you can get better performance from your golf clubs.
When it comes to golf wedges, the shaft can be convenient. Because your swing, spin, and control the shot in an approach shot requires a wedge to use.
Without further delay, let's find out why the wedge shaft is crucial and how to find the best.
Buying Guide on Wedge Shaft
Clubhead, shafts, and grip are the three major parts of a golf club that play an essential role in its performance. Most people disregard the role of a shaft in a golf club, but it is the driving force of the golf club. The length, flex, force, kick-point, weight, and arrangement of the shaft all affect the performance of your golf club.
What do these terms mean, and how can they help you on the golf course? Let's learn more about it.
Length
Your golf club shaft length should match your height. To decide the size of your club, stand tall and get somebody to measure from the wrinkle where your wrist and hand meet to the floor. Do this with two hands and take a standard average of the two estimations.
The standard length of wedges are as follows:
a sand wedge is 35.25 inches.
A lob wedge is 35 inches.
A gap wedge is 35.5 inches.
A pitching wedge is 35.75 inches.
However, the method is a standard rule to find the proper length of the club shaft. Nevertheless, your comfort according to your playing style can differ from the measurement found in the calculation. Golfers, even professionals, love to have shorter lengths for clubs, especially for wedges.
So, you should be comfortable using your golf wedge and choose the club shaft length according to your preferences.
Material
Shafts can be made of steel, graphite, carbon, or mixed materials. Steel and graphite are the most popular materials. However, both these materials have their advantages and disadvantages. Here is a glimpse of the pros and cons of different shaft materials.
| | | |
| --- | --- | --- |
| | Steel Shaft | Graphite Shaft |
| Weight | Heavier (120 grams) | Lighter (70 grams) |
| Expense | Less expensive | More expensive |
| Durability | More durable | Less durable |
| Control | More control | Less control |
| Great for | Accuracy | Swing speed and power |
| Outlook | Traditional and standard look | Colorful and non-conventional |
| Recommended for | Advanced golfers and people with average swing speeds could do more with control. | Beginners, seniors, and women with lesser swing speeds. |
Flex
Flex is the ability of the shaft to bend during the golf swing. You must consider this feature as it affects your performance. Proper flex can help you get better distance and accuracy.
There are several types of flexes available in the market. For instance Extra Stiff (XS), Stiff(S), Firm(F), Regular(R), Senior(S), Amateur(A), and Ladies(L). Not all manufacturers produce all these types of flexes. You need to know how to select the best flex for you.
Flex is interrelated with your swing speed. The higher your swing speed, the lower flex you will require and vice-versa. Because the more minor the bend in a shaft, the more control you have over a mighty swing.
So, it would be better for beginners to have a more flexible shaft, for example, the regular shaft or an amateur shaft. On the other hand, pro golfers would love stiff or extra stiff shafts for their powerful swings. You better analyze your swing speed and then find the best post according to your swing details. A swing analyzer or golf simulator can help you identify your swing metrics.
Here is a chart that can help you choose the flex according to your expected carry distance and swing speed. Of course, this is not an assured rule but a suggestive one.
| | | |
| --- | --- | --- |
| Carry Distance | Swing Speed | Flex Suggestion |
| Less than 200 yards | Under 75 mph | Ladies or Senior |
| From 200 to 240 yards | From 75 to 95 mph | Regular |
| From 240 to 275 yards | From 95 to 110 mph | Stiff or Firm |
| More than 275 yards | Over 110 mph | Extra Stiff |
Weight
As mentioned earlier, steel shafts are heavier than graphite shafts. But does it matter for a golfer? The answer is yes. Clubs with lightweight shafts are easier to swing but difficult to control. Conversely, golf clubs with heavier shafts (mentionable steel shafts) are hard to swing and may cause injury if you try hard, but it is suitable for spin and control.
So, graphite shafts are better for beginners, senior golfers, and golfers with any health issues like joint inflammation or something like this. But if you are passionate about golf and working with your game improvement, then a wedge with a steel shaft is a better choice. Heavier golf shafts will provide you better control and allow you to have better spin too.
Best Wedge Shaft Review
Now, you know what to look for before choosing shafts for golf wedges. Here we have reviewed some top-quality golf wedge shafts. Of course, you can take help from our recommendations as well.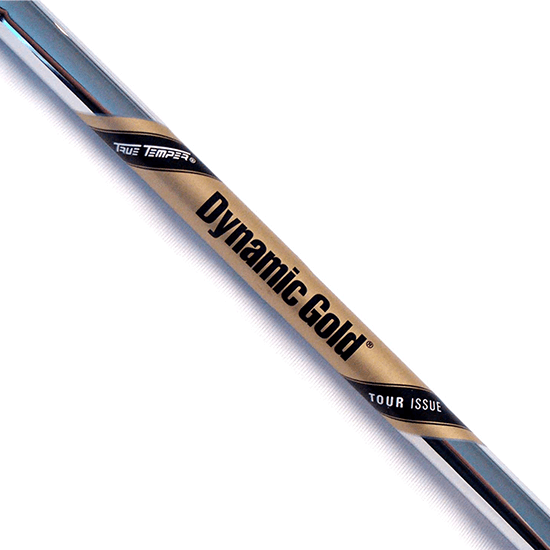 The dynamic true temper gold s400 is one of the most loved wedge shafts for pro golfers. Spectators found many professional golfers using them. The S400 offers a stiff flex and is available in a 37-41 inch length.
As the shafts are made of steel, the shaft is a little heavier. However, the True Temper Dynamic Gold S400 shafts provide a downward direction and deliver low twists. If you love playing chip shots, such as running the ball up to the opening, these are the shafts to lift your game.
The S400 true temper looks good in most golf clubs. In addition, the premium black and golden color combination matches most golf club heads.
Key factors:
Length: 37-41 inch
Material: Steel
Flex: S400 (stiff)
Weight: 132 gram
Things we liked
The premium look of the shaft is amazing
It has a better durability
It can control your shots even with faster swings
Things that can be improved
You can choose from limited flex options
If you hit it low, you get a very lesser distance.
Final verdict
Experts find the Dynamic Gold S400 Wedge Shaft very useful. Golfers who love stiff flex can find it beneficial for them.
The KBS HI-REV 2.0 wedge shaft is intended to build the viable space of your wedge to give you more launch and spin. Players hoping to hit higher, gentler shots onto greens with more stops will be the ideal contender for the HI-REV 2.0.
The KBS Hi-Rev is a steel shaft designed for advanced golfers. You will enjoy a smooth, active in-hand feel while swinging. Moreover, it is suitable for a spin and easy pop. However, if you are a beginner, then it is not a good buying option for you.
It has a pretty standard outlook with a silver color finish and a red brand logo on it. You can use this shaft with your wedge. If your club consists of silver color, the HI Rev will look excellent on it.
Key factors:
Length: 37 inches
Material: Steel
Flex: Stiff
Weight: Heavy
Things we liked
The amount of loft you get from this shaft is impressive.
The KBS Hi-Rev shaft provides better spin and control
You can buy the whole set to use with your different types of clubs apart from wedges.
Things that can be improved
There are only a few flex options
There are not many length options to choose
Final verdict
For wedges, the KBS Hi-Rev 2.0 is an effective golf shaft for advanced golfers. It provides better spin, control, and higher loft.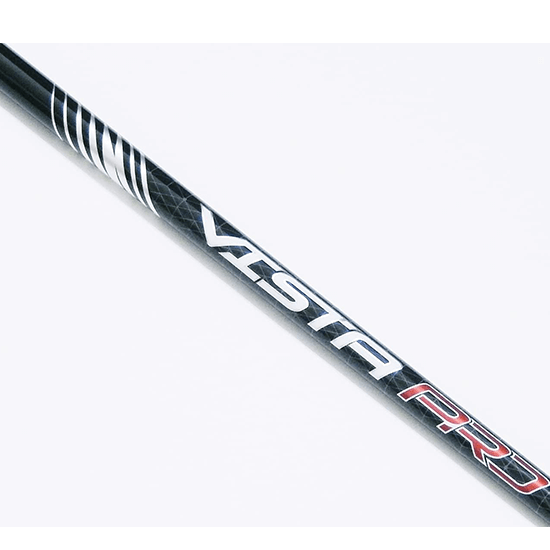 Fujikura Vista Pro 60 is often found with TaylorMade golf clubs. They are best for the TaylorMade golf clubs such as M5, SIM, and M6 series. It is a graphite shaft and offers three different flex options to choose from.
Due to Fujikura's 'Cage' technology, the Vista Pro 60 graphite shaft delivers performance like a heavy steel wedge shaft. Besides, the "Maximum Fiber Content" ensures greater strength and stiffness. In short, you get muscles, stiffness, accuracy like a steel shaft in a graphite shaft with lighter weight.
The combination is convenient for beginners to experience performance like professional golfers. However, you may find it challenging to use at the early stage. After some time, you will feel the difference between Fujikura Vista Pro 60 from other graphite shafts. Moreover, the post looks impressive. It has a trendy, aesthetic design with vivid colors.
Key Factors:
Length: 45.75" with the clubhead
Material: Graphite
Flex: Regular, Stiff, and Senior
Weight: Light
Things we liked
The shaft is a lightweight one but provides better control
You can choose your favorite flex from several options
It has a trendy outlook
Things that can be improved
More options for length selection would have been better.
Difficult to use in early career
Final verdict
Trendy outlook, lightweight, and multiple flex options to buy. A perfect match for beginners to own the shaft and improve their score.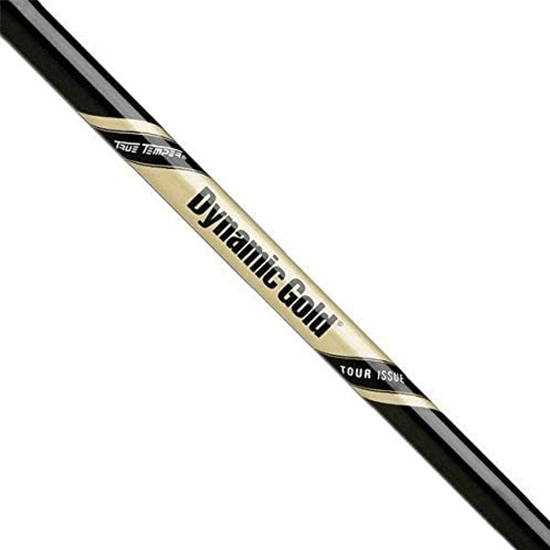 If you observe professional golfers, you will find most golfers use True Temper shafts for their wedges and other clubs. It is one of the most popular shafts among professional golfers. Their products are identical in looks but differentiate in features and performance.
We reviewed the S400 earlier in this article. Here is the review of the new tour issue dynamic gold onyx wedge shaft. It is a set of 3 shafts. This set of shafts are available in stiff and extra stiff flexes.
Players who want lower but controlled ball flight will love these shafts. The stiff shaft is suitable for professionals. Professional golfers, in general, utilize heavier shafts during visit games to have more control and make exact strokes. All the models in this set have a 355 tightened tip and a high kick point. They offered expanded responsiveness and decreased reverse-pivot and are streamlined for low dispatch points.
Key Factors:
Length: 37 inches
Material: Steel
Flex: Stiff and extra stiff
Weight: heavy
Things we liked
The shaft provides better control with low ball flight
It has a standard look
It is a set of shafts that includes 3 different shafts.
Things that can be improved
You won't get much spin from it.
Only for professionals, beginners will struggle with this shaft
Final verdict
The tour issue shafts are a set of shafts that you can use with irons as well as wedges. Beginners may not like this shaft as it is heavy and available in only stiff and extra stiff flex. But experts will love the combination.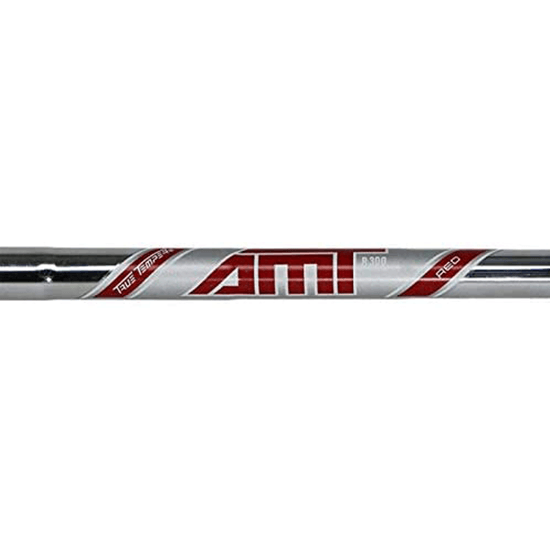 AMT Red is the lightest weight and most elevated direction/turn choice in the AMT range. AMT Red expands speed and dispatch most out of the AMT range by using a responsive tip plan and keeping a steady superlight weighting in 4-7 irons.
Zeroing in addition to accuracy and control from 8-iron through wedge, AMT Red is planned with Ascending Mass Technology—making each shaft continuously heavier by 3-gram increases as golf players move to more little irons.
This unique mix of superlight weighting in 4-7 irons and AMT weighting in the scoring clubs permits AMT Red to offer both force and accuracy.
Key Factors:
Length: you can select from 36.5 to 39.5 inches
Material: Steel
Flex: Regular
Weight: 100+ grams
Things we liked
It is durable, you can use it for a long time
The shaft is good for playing shots with accuracy
You can choose from several lengths options
Things that can be improved
It is hard to control your shots with this shaft.
It weighs more than usual shafts.
Final verdict
The weight of the shafts can be troublesome for many golfers but it is a shaft that you can use over years. The build quality is great. And it provides accurate shots if connected well.
Final Words
Hopefully, your queries to the best wedge shaft got a better direction from our article. The buying guide we explained here will help you select the best shaft for wedges on your own. You can find the best golf wedge reading that or you can select from the top 5 suggestions enlisted here.
It's hard to find a specialized shaft for wedges. But if you know the tricks you shall find your best shaft sooner or later. Feel free to share your experience with these shafts.