If you wish to keep your golf clubs and golf balls dry and clean to increase their longevity and improve your consistency, you might need help from golf towels. With a quality golf towel, it's easy to dry and clean and maintain your equipment performance. Your golf bag might be incomplete without a golf towel.
If you are looking forward to owning one of the best golf towels, you have come to the right place. Here, in this article, I am going to review the best golf towels for you along with some pro-tips of choosing the best golf towels and answering golf towel related frequently asked questions.
10 Best Golf Towel Review
1. Greens Towel Microfiber Golf Towel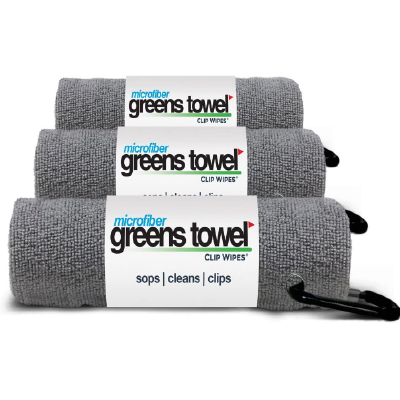 Green Towels' latest edition "The Convenient Microfiber Golf Towel" could be the perfect towel for every golfer and golf tournament. It is a 16" x 16" size towel, which is just the perfect for golfers. The towel set comes with an easy to use carabiner clip. Greens Towel is a handy, super-absorbent, plush microfiber towel. The package includes 3 towels of the same color. There are a lot of color options to choose from.
The towels are made with convenient microfiber which is super absorbent and lightweight at the same time. Durable fabric cleans fast removing caked dirt completely. With the carabiner clip provided, you can easily clip this towel to your golf bag, belt loop or to your push cart.
Things we liked
Easy to use carabiner clip with towel
Perfect size towels
Super absorbent, lightweight microfiber with plush nap
Things that can be improved
Better stitching would have been better
Final Verdict:
Just the proper size of the towels you need. Good quality and easy to carry.
2. Clothlete Greenside Microfiber Golf Towel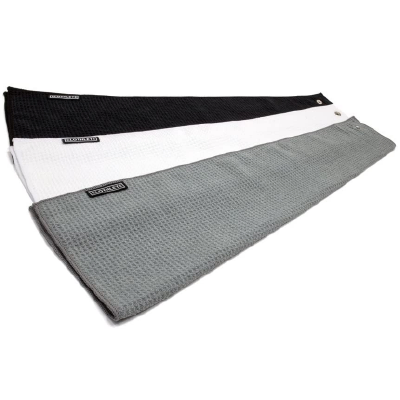 3 towels in one package. Made with super absorbent microfiber waffle weave materials that cells easily and fast. You can snap this easily with your bag, cart or push cart. You can carry it anywhere. You will get 3 different colors of towels in a package so that you can separate them based on your use.
Like one for your clubs, one for the balls and one for yourself or any other way you wish to use them. 2 variants of towel available from clothlete; with magnet and without magnet.
Things we liked
Snaps easily attach around anything
Super absorbent
2 Variants; with magnet attachment and without
Things that can be improved
Only one magnet in the package
A bit lengthy
Final Verdict:
It fulfills your need for a towel. Very much affordable and worth the price.
You May Also Like: Best Golf Ball Retriever
3. Barstool Sports Saturdays are for The Boys Golf Towel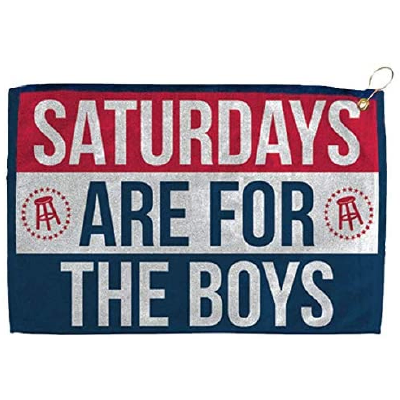 The Official SAFTB 16″ x 24″ golf towel by Barstool Sport is made with Hemmed Terry fabric. Swivel clip used in this towel makes it easy to hang from your golf bag and keep those clubs clean. You can carry it with you easily to the greens. Take it to the green and lay your putter grip down while chipping, and your wedge grip down while putting.
Things we liked
Swivel clip
Hemmed Terry Fabric
Can serve multiple purposes
Thick, well-made golf towel
Things that can be improved
Only one piece in the package.
Final Verdict:
Good quality stitching and materials ensures a quality towel in this price, though it may seem a bit higher for a single towel.
You May Also Like: Best Golf Club Grips
4. Chill Pal PVA Cooling Towel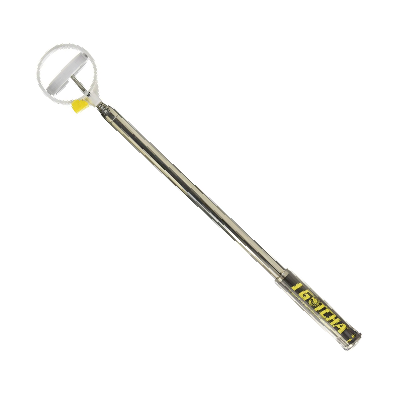 Chill Pal has redesigned a tube package design to a pouch packaging design. The 12×32 inches cooling towels are thicker than most PVA towels. High grade and extra thick VA with evaporative technology used by Chill Pal. The more water it comfortably holds, the longer it takes to evaporate, that ensures it stays cool longer.
Cooling towels are different from usual towels but it's not that complicated too. Simply you need to remove the Chill Pal, soak it in cold water, wring it out, and it will be ready to drape around your neck. When you feel warmer, simply rinse and repeat, and stay cool.
Things we liked
High grade and extra thick PVA
Evaporative technology
Durable design
Budget-friendly
Things that can be improved
Final Verdict:
Chill Pal cooling towels are thicker than most towels on the market today, which means more cooling power for you. It's the better choice for long-lasting heat relief.
You May Also Like: Best Golf Umbrella
5. Callaway Golf Uptown Towel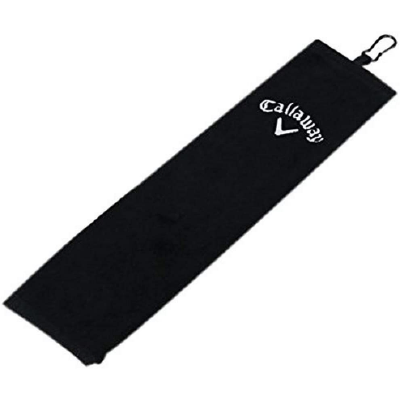 Callaway, a renowned brand for golfers, introduces Callaway Tri-Fold Towel. The Towel features a slim 21″ x 16″ size and comes with a carabiner attachment for easy access. The towel is constructed with microfiber construction that provides soft and absorbent cleaning of your clubs, balls, and gears on and off the golf course. Available in 5 different colors with the brand logo on top. It's a thick towel but capable of matching your needs.
Things we liked
Slim 21-Inch x 16-Inch Size
Absorbent, microfiber construction
Carabiner attachment for easy access
Things that can be improved
Final Verdict:
Classy outlook with a Callaway logo on it has made the towel pretty attractive to have. Quality product and Callaway ensures it is durable enough.
You May Also Like: Best Disc Golf Bag
6. Team Effort Collegiate 15″x15″ Microfiber Towel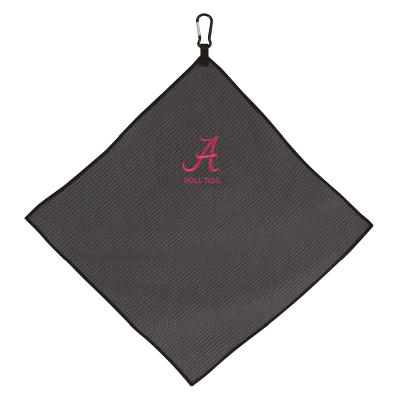 Square shaped microfiber towel from Team Effort cleans your club without scratching. Carabiner attachment system allows you to carry it with you and attach it with your bag or cart. Neat stitching with embroidery collegiate trademarks shows how good the towel is from a quality perspective. It is durable and able to absorb dust and sweating.
Things we liked
Soft and durable
Waffle weave microfiber towel cleans without Scratching club finish
Carabiner attachment System
Embroidered collegiate trademark
Packaged with header card
Things that can be improved
Only one color, Multiple color options would have been better.
Final Verdict:
A value for money product. Soft and durable, can be carried easily and a carabiner attachment system to attach it with your bag cart makes this towel more handy.
7. Frogger Golf Microfiber Waffle TRAX Towel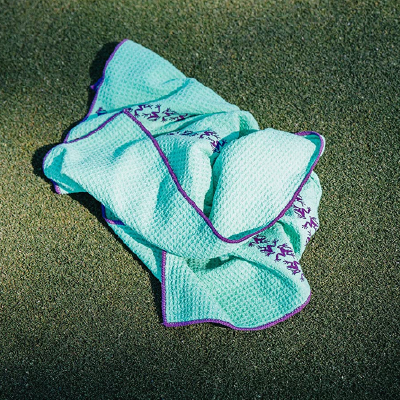 Frogger Trax Towel Premium golf towel constructed with microfiber and catch latch technology. The 20 x 24″ should be an ideal size for use from bag to green. It is gentle, non-abrasive, highly absorbent. Built with polyester material to make the towel secure, convenient, easy connection and access.
New Latch-It receiver clamp attaches to the top of your golf bag Magnets in dongle and receiver attract and self-align to connect Trax Towel to your bag. The receiver has a dynamic lock to secure items while in motion. Receiver rotates to a fully locked position when the orange indicator is visible TRAX is strong enough to clean clubs, safe enough to use on glasses
Things we liked
Premium microfiber golf towel is non-abrasive and Ultra absorbent
Trax Waffle design with iconic frogger stripes cleans clubs fast
Latch-it magnets
Things that can be improved
Final Verdict:
New technology with new features, still we recommend this product overpriced. The features are useful though. But durability is doubtful.
8. Frogger Golf Wet and Dry Amphibian Golf Towel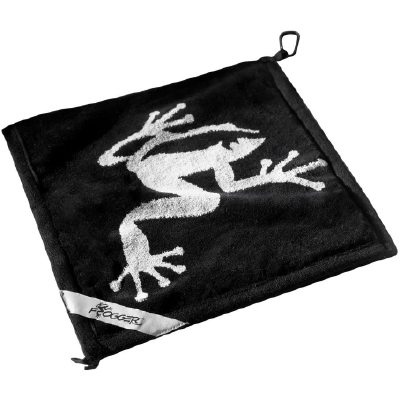 Froggers have produced a two in one golf towel, which can be used for wet and dry purposes as well. Wet in the inner layer of the towel to clean your clubs, then dry them on the outside. The carabiner clip provided with the towel can attach to any bag or towel and for the appropriate size, it won't touch the ground when hanging.
You can generate more spin on the ball, and hit better shots with more accuracy and control with cleaner clubs and balls. This has been awarded by PGA Merchandise Show's "Best New Product". Available in 6 (six) different color variants.
Things we liked
Easy attachment
Keep hands dry while opening the interior pocket using the hand straps.
Premium materials
Things that can be improved
Frog design on top may be disliked by some
Final Verdict:
All-weather usability features really give this towel a competitive advantage over other towels in the market. Besides, it's durable and affordable. Highly recommended for regular golfers.
9. Club Glove Golf Microfiber Caddy and Pocket Towel Set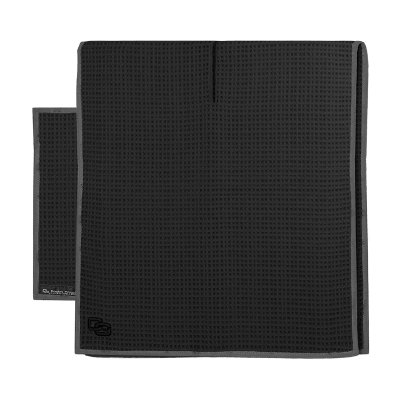 When you have this premium towel from Club Glove, you don't need any other towels because this towel features almost everything that you might look for. It is gentle enough to clean and polish all surfaces without scratching like glasses, plastic, chrome, and other delicate surfaces. In the package, you get a free matching "greenside" pocket towel. Available in 6 color variants.
Things we liked
Features a large elongated center slit for fitting over club head
Waffle-textured towels are super absorbent, holds 300-percent of its weight in water
Free 8 inch by 12 inch greenside pocket towel included
Non-abrasive and virtually lint-free
Out performs any other towel in golf
Things that can be improved
Color fades away after several washes
Final Verdict:
Good product with super absorbent materials. Free greenside towels are of the same quality. It is a good value for a money towel though the color fades away after a few washes.
10. Titleist Microfiber Waffle Towel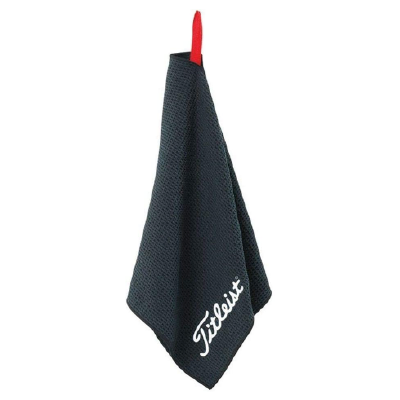 The Waffle Microfiber Towel from Titleist is constructed with non-abrasive polyester and polyamide material that provides an easy removal of debris from your club without scratching the finish. The towel comes with a stitched loop design so that you can hang it easily. The microfiber waffle is capable of high absorbance. And it is resistant to mold and mildew.
Things we liked
Stitched loop for easy hanging
Resistant to mold and mildew
Highly absorbent material design
Things that can be improved
No clip or magnet attachment system
Final Verdict:
Nice towel and super absorbent materials used for it. You might fall in love with the absorbent waffle-like fabric.
Things You Should Consider Before Buying Golf Towel
Who doesn't want to purchase the best quality product within the best possible price? But, to do so, you need to know how to choose the best one. The following factors you need to consider to buy the best golf towel.
Materials
Golf towels are mostly constructed with fabrics with good absorbing features. And microfiber blend fabrics are best in this business. Because they are lightweight but durable. And they can absorb a good amount of dust and moisture. You will find all the towels in this list are constructed with microfiber and provide a good amount of absorbing quality.
Size
Bulky and lengthy towels are of no use. It will be difficult for you to carry bulky and lengthy towels. The most popular size of golf towel is 16″x40″. And many golfers also prefer 16"x16" towels.
Attachment System
To carry your golf towels attachment clips are beneficial. There are few options for attachments like velcro, carabiner, magnets and so on. Among these carabiner clips are very easy to use and have already gained appreciation from golfers for its multi-purpose use.
Durability
Towels are not for one time use. You will use it repeatedly and wash it repeatedly. There is a possibility that color may fade away after washing it again and again. Try to purchase those towels whose colors don't fade away. We have mentioned if we found any color fading issues.
Frequently asked questions (FAQs)
What are golf towels made of?
Golf towels are usually made of microfiber blend. These microfiber blends are super-absorbent and lightweight. Usually, the golf towels are used for cleaning and drying golf balls and golf clubs. Most of the golf towels have a carabiner clip to hang it with bags and carts.
What size is a golf towel?
You will find towels of different sizes even on this list. There are no hard and fast rules for golf towel size. The most popular size of golf towel is 16″x40″. But the other sizes are effective too.
Is golf towels machine washable?
Most golf towels are machine washable. But before throwing it to the machine, We would like to say to carefully read the instructions of the specific towel.
Conclusion
I have reviewed the best golf towels for you along with some pro-tips of choosing the best golf towels and answering golf towel related frequently asked questions.
Hopefully, you will find all the answers to your queries. The towels mostly serve multi-purpose. So you can own them and use them at your convenience along with cleaning your golf clubs and golf balls.