People often think that golf is a game of senior people trying to hit a small ball with a club. But this is miles away from the truth. Golf is a very interesting game that is full of excitement and events. Every day there is something new happening in the world of golf.
So we thought why not make a list of statistics on golf in order to get each and every piece of information in one place.
This post is specially designed for curious minds who want to know about each and every detail of golf in a nutshell. If you are a sports journalist-writer and looking for some cool data to use in your post, look no further. We're covering every single detail from the highest paid golfer to the number of money golfers spend every season and how much money is generated in each golf season.
List of Top 100 Golf Stats
11 Golf Revenue Statistics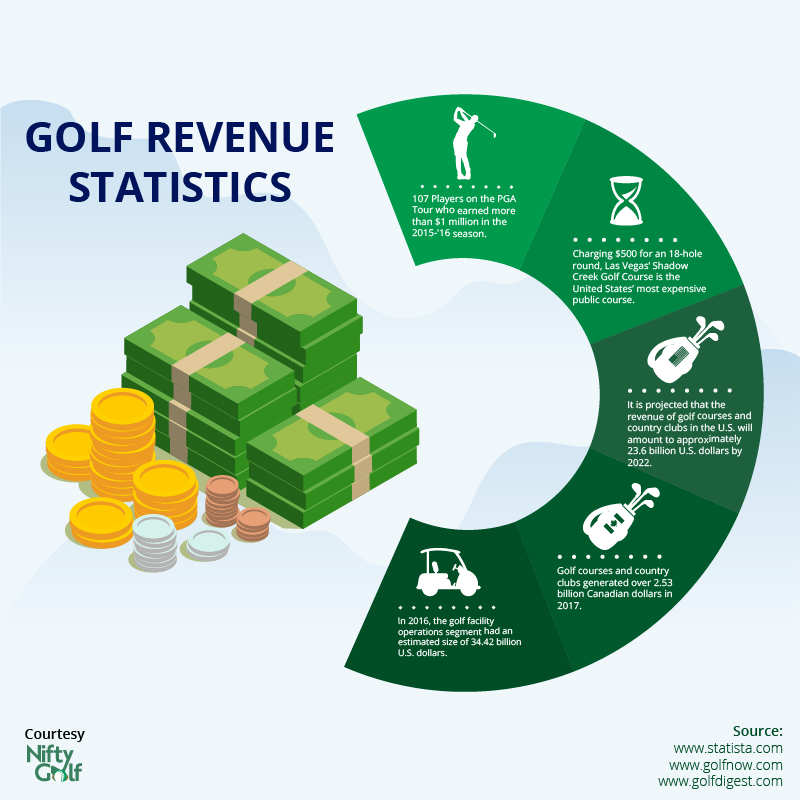 1. $451,704.33 Average amount of money Justin Rose made per start on the PGA Tour in 2018, not including the $10 million FedEx Cup prize
2. 107 Players on the PGA Tour who earned more than $1 million in the 2015-'16 season. Robert Streb was No. 107 with $1,003,363. By comparison on the LPGA Tour, there were 15 players who made more than $1 million.
3. Charging $500 for an 18-hole round, Las Vegas' Shadow Creek Golf Course is the United States' most expensive public course.
4. Tiger Woods has won over $100million and counting in prize money – unreal!
5. In 2017, the number of participants (aged six years and older) in golf amounted to approximately 23.83 million.
6. In 2016, the golf facility operations segment had an estimated size of 34.42 billion U.S. dollars.
7. As of 2016, Rory Mcllroy was the highest-paid professional golfer in the world, followed by Arnold Palmer and Phil Mickelson. Although Mcllroy earned most of his income off course, he earned around 17.5 million U.S. dollars in that year.
8. It is projected that the revenue of golf courses and country clubs in the U.S. will amount to approximately 23.6 billion U.S. dollars by 2022.
9. Golf courses and country clubs generated over 2.53 billion Canadian dollars in 2017.
10. The total salaries and wages of golf courses and country clubs were 992.3 million Canadian dollars in 2017.
11. In 2016, the golf facility operations segment had an estimated size of 34.42 billion U.S. dollars.
33 Interesting Golf Statistics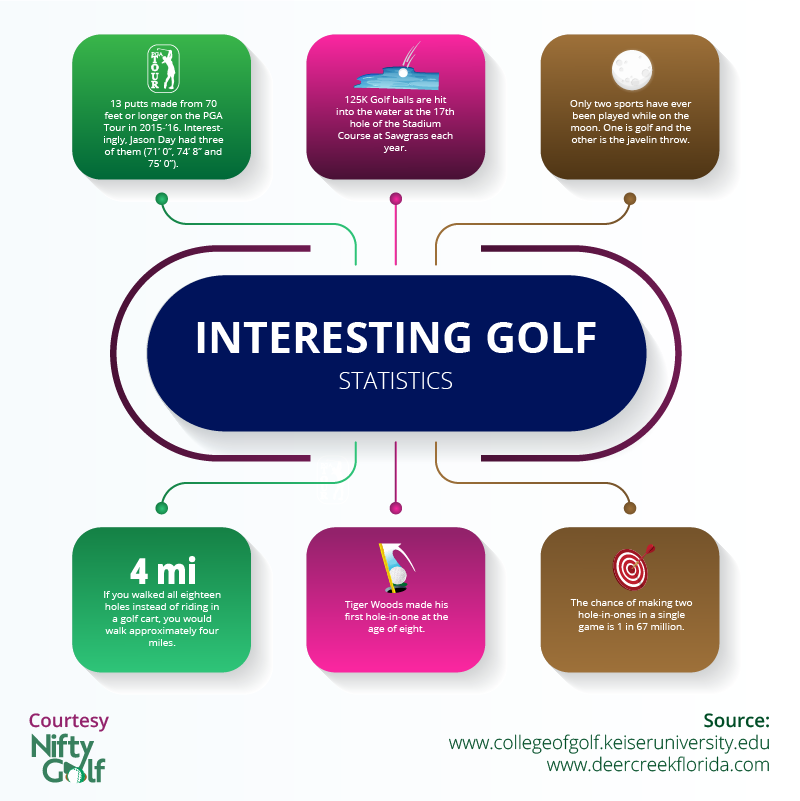 12. 2.372 Average total strokes gained against the field per round for Dustin Johnson, who lead the PGA Tour in that category in 2018
13. 14 PGA Tour events were won by players ranked inside the top 10. (Two different players won while ranked No. 1: Jordan Spieth at Kapalua and Jason Day at the Players).
14. 10 PGA Tour events were won by players ranked outside the top 200 in 2016. (Quicken Loans winner Billy Hurley was the lowest ranked player to claim victory at 607.)
15. One in 10 golfers said they have had sex on a golf course.
16. Sixty percent said they bend or break the rules at least once a round. Twenty-seven percent said they do it two to three times a round.
17. 22.3 Average age of the winners in the 36 LPGA Tour events played in 2016. By comparison, the average age of PGA Tour winners in 2016 was 31.6.
18. 15 winners on the LPGA Tour who were 20 or younger. By comparison, there were none on the PGA Tour, Si Woo Kim is the youngest winner at 21.
19. 4 Players whose only top-10 finish on the PGA Tour in 2015-'16 was a victory: Vaughn Taylor (AT&T Pebble Beach Pro-Am) Charley Hoffman (Valero Texas Open), Brian Stuard (Zurich Classic of New Orleans), and Greg Chalmers (Barracuda Championship).
20. 1 Player who was ranked outside the top 10 on the FedEx Cup points list at the start of the playoffs and managed to advance to the Tour Championship. Sean O'Hair was 108th entering The Barclays, where he finished T-2. He then had a T-53 at the Deutsche Bank, a T-52 at the BMW, and a T-17 at the Tour Championship to finish the season 27th.
21. 13 putts made from 70 feet or longer on the PGA Tour in 2015-'16. Interestingly, Jason Day had three of them (71' 0", 74' 8", and 75' 0").
22. 38 Consecutive greens in regulation hit by Jim Furyk, the longest streak on the tour in 2015-'16. The run started with the eighth hole of the third round of the Travelers Championship and continued through his final-round 58 at TPC River Highlands.
23. 125K Golf balls are hit into the water at the 17th hole of the Stadium Course at Sawgrass each year.
24. Only two sports have ever been played while on the moon. One is golf and the other is the javelin throw.
25. If you walked all eighteen holes instead of riding in a golf cart, you would walk approximately four miles.
26. Every year, roughly 125,000 balls are hit into the water surrounding TPC Sawgrass' world-renowned island green 17th hole. During the 2013 Players Championship, 44 balls were lost. But two errant shots received more media coverage than any other. Attempting to capture his second Players Championship, Sergio Garcia carded an untimely quadruple bogey seven at the 17th on Sunday, losing two balls – and the tournament – in the process.
27. Tiger Woods made his first hole-in-one at the age of eight.
28. The chance of making two hole-in-ones in a single game is 1 in 67 million.
29. Golf was one of the only sports played on the moon. Alan Bartlett Shepard Jr. used a 6-iron to play golf on the moon!
30. A "condor" is a term given to a hole-in-one on a par 5. It is almost as rare as two hole-in-ones in a single game of golf.
31. The chance of making two hole-in-ones in a single game is 1 in 67 million.
32. The word "caddy" comes from the French word for student, "cadet", which is pronounced cad-DAY
33. A Putt Measured at 140 feet and 2 3/4 inches on the 18th at St. Andrews was sunk by Bob Cook in the International Fourball Pro Am Tournament on October 1, 1976
34. In 2018, 8.73 percent of respondents aged 18 to 29 years stated that they played golf in the last 12 months.
35. In 2018, 21.59 percent of respondents who stated their income was high said they had golf as a hobby.
36. In 2017, it was found that five percent of respondents stated that they played golf in the past four weeks.
37. In 2017, there were 6,861 regular golf courses in Europe.
38. Until the invention and rising popularity of the golf tee, golfers played off of sand piles they built themselves.
39. The longest putt was a mind-blowing 375 feet.
40. The average golfer has a 12,500 to 1 chance of making a hole-in-one. Tell that to all of the patrons at the South Florida golf courses right now!
41. The longest golf hole in the world is the 7th hole of the Sano Course at the Satsuki Golf Club in Japan, measuring a whopping 909 yards.
42. Is it impossible for a 5-year-old to shoot a hole-in-one? Apparently not. The youngest golfer to ever do it, Cosby Orr, was just that age in 1975 in Littleton, Colorado, still holding the title today.
43. The largest bunker in the world can be found at Pine Valley Course, New Jersey. Hell's Half Acre, as it has come to be known, can be found on the 585-yard 7th hole of the course.
44. Get Golf Ready, which is designed to introduce new players to the game, set records with more than 107,000 graduates and a three-year retention rate of 73 percent.
16 Historical Golf Facts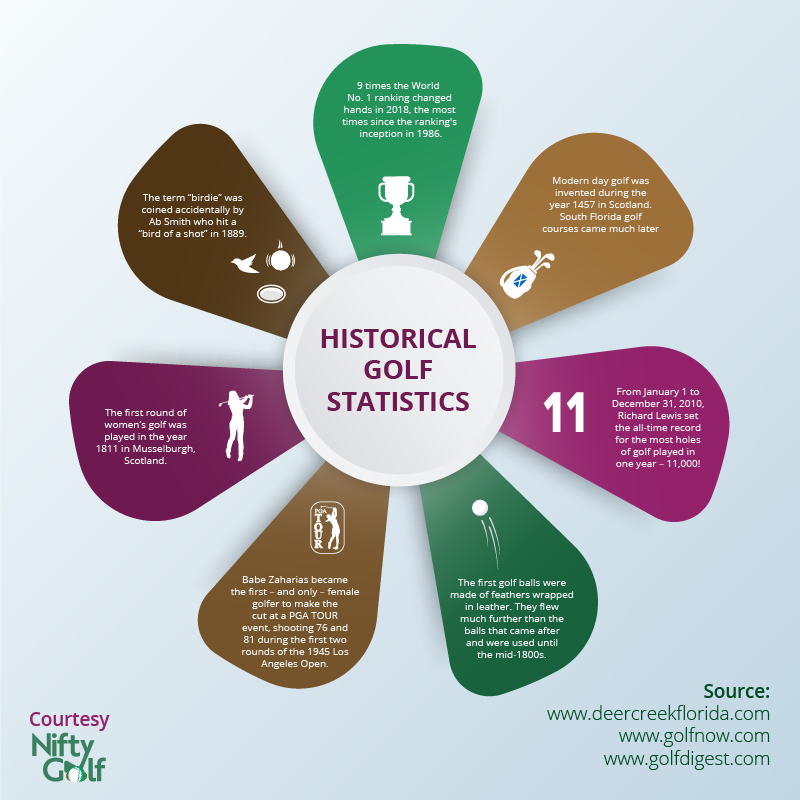 45. 9 times the World No. 1 ranking changed hands in 2018, the most times since the ranking's inception in 1986.
46. 68.27 final-round scoring average for Brooks Koepka, the third-lowest of any player who played at least 15 final rounds in a season on tour since 2001.
47. 116.76 Average places on the World Ranking held by the winners of the 46 PGA Tour events played in 2016. (Jason Dufner was 120th when he won the CareerBuilder Challenge in January).
48. Doug Ford entered a contest and predicted his own 1957 victory as well as his winning score of 282.
49. Modern-day golf was invented in the year 1457 in Scotland. South Florida golf courses came much later
50. The first round of women's golf was played in the year 1811 in Musselburgh, Scotland.
51. The first golf balls were made of feathers wrapped in leather. They flew much further than the balls that came after and were used until the mid-1800s.
52. Babe Zaharias became the first – and only – female golfer to make the cut at a PGA TOUR event, shooting 76 and 81 during the first two rounds of the 1945 Los Angeles Open.
53. The very first nationally-televised golf tournament, the 1953 World Championship of Golf, featured an incredible finish from Lew Worsham.
54. Alice Miller presently holds the LPGA Tour's record for the fastest round, completing 18 holes in one hour, 26 minutes, and 44 seconds.
55. From January 1 to December 31, 2010, Richard Lewis set the all-time record for the most holes of golf played in one year – 11,000!
56. Jack Nicklaus won the Masters a record 6 times.
57. The longest recorded drive on an ordinary course is one of 515 yards by Michael Hoke Austin of Los Angeles, California, in the US National Seniors Open Championship at Las Vegas, Nevada on September 25, 1974
58. The term "birdie" was coined accidentally by Ab Smith who hit a "bird of a shot" in 1889.
59. Participation in PGA Junior League Golf – a team format for boys and girls 13 and under – has increased 233 percent since 2013.
60. PGA TOUR and its tournaments were able to give back more than $160 million in 2015, a single-year record that brought the all-time total to $2.3 billion since the first tournament donation was made in 1938.
40 General Golf Statistics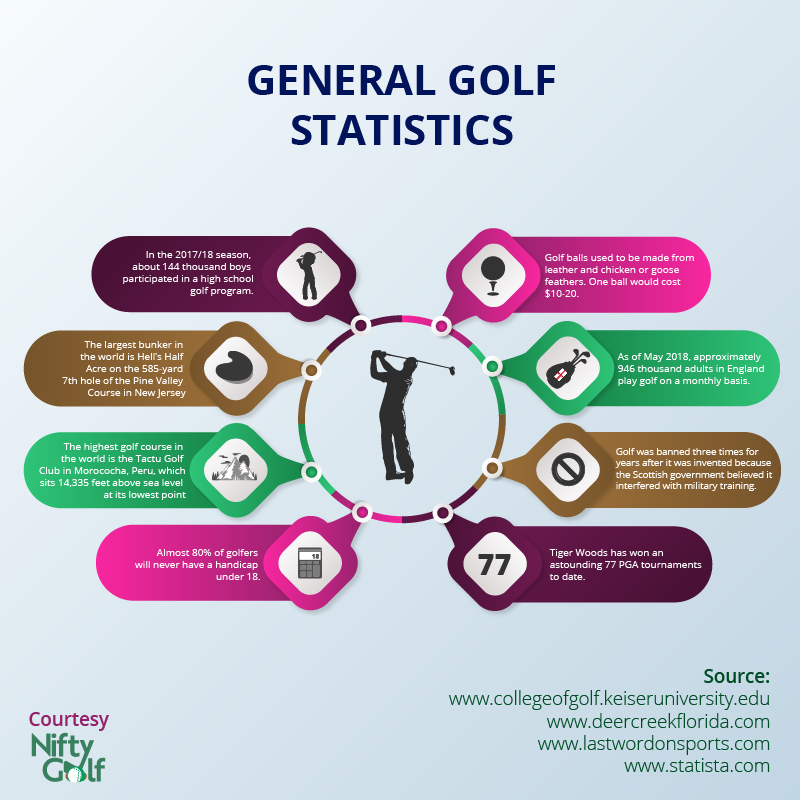 61. 32.5 was the average number of spots Tiger Woods jumped in the Official World Golf Ranking after each event he played beginning with the 2017 Hero World Challenge and ending with the 2018 Hero.
62. 1 winner on the LPGA Tour who was 30 or older. Brittany Lang was 30 when she won the U.S. Women's Open in July. By comparison 28 of the 46 winners on the PGA Tour were 30 or older.
63. 15 Top-10 finishes, in 22 starts, from Dustin Johnson during the 2015-'16. No tour member has had more top-10s in a season since Vijay Singh in 2005 (18). The 68.1 percent clip was the best by a player on the PGA Tour since Rory McIlroy in 2013-'14 and the second best of anyone since 2011
64. 35 Consecutive fairways were hit by Jason Gore on the PGA Tour in 2015-'16, the most of any player during the season (tour average is 9).
65. The French word "Cadet" (cad-DAY) means "youngest child" and is where the word "Caddy" comes from.
66. A golf ball will travel further on hot days because the air is less dense, so it takes less velocity to travel.
67. Golf balls used to be made from leather and chicken or goose feathers. One ball would cost $10-20.
68. Only 20% of golfers have a handicap below 18. A golfer with a handicap of 18 is called a "Bogey Golfer".
69. Kassandra Komma from Oakland University has recorded two holes-in-one during a nine-round game.
70. Golf was banned three times for years after it was invented because the Scottish government believed it interfered with military training.
71. Almost 80% of golfers will never have a handicap under 18.
72. After feathers, golf Balls were made of wood.
73. Before golf tees, players would shape mounds of sand and place the golf ball on top. Tees were finally popularized in the 1920s.
74. A score of three under par is called an "Albatross".
75. The highest golf course in the world is the Tactu Golf Club in Morococha, Peru, which sits 14,335 feet above sea level at its lowest point
76. In March 1961, Lou Kretlow got the longest hole-in-one at the 427 yards 16th hole at Lake Hefner course, Oklahoma City, USA
77. The largest bunker in the world is Hell's Half Acre on the 585-yard 7th hole of the Pine Valley Course in New Jersey
78. Tiger Woods holds the record at -18 for the US Masters.
79. There are 336 dimples on a regulation golf ball.
80. A typical Golf course consists of 18holes.
81. 3 shots over par on a hole are called a Triple bogey.
82. In 2015, Jordan Spieth was the professional golfer who earned the highest income, followed by Phil Mickelson and Tiger Woods.
83. American golfer Jack Nicklaus, now retired, had won the Masters the most times as of 2016, followed by Tiger Woods and Arnold Palmer.
84. In the 2017/18 season, about 144 thousand boys participated in a high school golf program.
85. As of May 2018, approximately 946 thousand adults in England play golf on a monthly basis.
86. In 2017, 56 golf courses were sold in the United States.
87. 829 Number of putts inside three feet that Ryan Palmer made without missing one in 2015-'16, the most of the 10 players on the PGA Tour who didn't miss a single putt from that range during the season.
88. 68 percent of female respondents stated that they were not at all interested in professional golf.
89. In 2017, there was a total of 222,242 registered female golf players in Germany. The Netherlands was the second highest number of female golf players with 122,407, followed by Sweden with 118,666.
90. 60 percent of all respondents from the 18-29 age range stated that they had no interest in professional golf in the USA
91. A total of 105,000 New Zealanders are affiliated with golf clubs around the country and up to around 5 million rounds of golf are played annually. Casual golfers form a growing group of participants with over 80,000 now officially registered.
92. Kiwis can play at top-quality club courses for as little as $25 and membership is also very reasonable across New Zealand.
93. There are 390 golf clubs in New Zealand which places the country second in the world for the number of courses per capita for the population of 4 million
94. In addition to the big names in the industry, golf is comprised of more than 15,200 small businesses nationwide.
95. In addition, the game enables nearly $4 billion in charitable donations each year – more than all other sports.
96. On social media, the PGA TOUR, and its players have more than 40 million followers.
97. Youth playing the game has increased by 20% from 2.5 million in 2010 to 3 million in 2015.
98. An estimated 6.3 millennials play and they are playing often, an average of nearly 15 rounds per year.
99. Additionally, people are also experiencing golf outside of traditional golf courses with more than 18 million participants, 7 million of which are non-golfers, taking part at driving ranges, Topgolf facilities, and simulators.
100. Today, golf is enjoyed by 24 million Americans who play 465 million rounds annually at the nation's 15,200 facilities.
All the above stats are sourced from Golfdigest, CollegeOfGolf, GolfNow, DeerCreekFlorida, LastWordOnSports, Statista,