Most golfers, especially beginners face troubles on the green while practicing. Everybody wants to do better in indoor putting green and be a good putter. But who can be better at putting? Those who use perfect training aids to make them perfect in practice. And that perfection should be known properly to choose the putting aids while buying.
Here we are for you to make you a better putter than before by giving the list of best-putting aids on the market. These might help you solve your swing problems.
10 Best Putting Aids Review
Here we listed 10 types of best-putting aids with their qualities & features. You can go through and choose the perfect one for you.
1. Pro Path Golf Putting Mirrors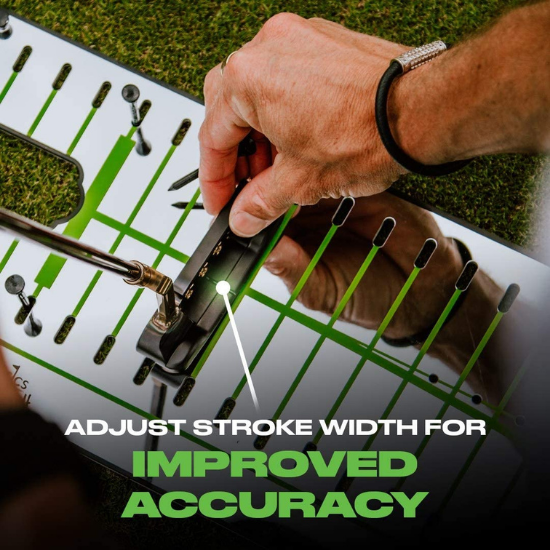 This putting aid will help you with the fundamentals of your stroke and will knock some strokes off your score as well. It provides preferable eye line and shoulder alignment.
Features
This golf alignment mirror can easily be used at home or office, and of course on the practice green
A handy fabric carrying case that doubles as a cleaning cloth
This deluxe putting mirror golf training aid is designed to promote a better roll for distance, control, and accuracy.
It doesn't matter if you are a righty or a lefty, this two-sided golf mirror training aid can accommodate you.
Golf time warranty
Things we liked
It will improve your eye line and shoulder alignment
Very lightweight
You can carry it anywhere as it is portable to use.
Provides user-friendly experience
Things that can be improved
Should be a little more durable
Final verdict
For better alignment, we recommend this putter. It's also very portable which will allow you to carry it anywhere you want to practice.
You may also like: DIY Putting Green
2. EyeLine Golf Genuine Putting Alignment Mirror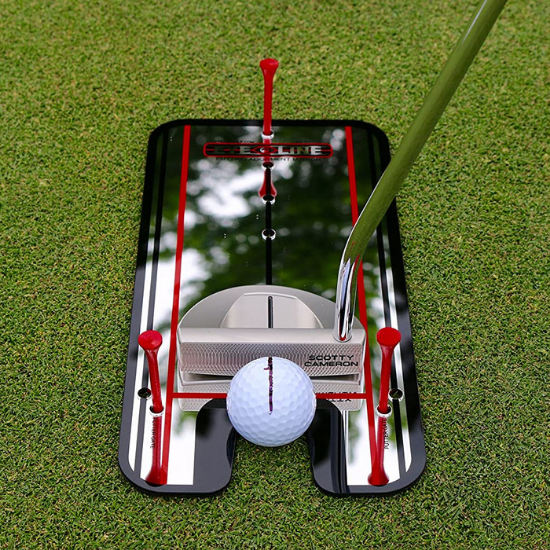 The Putting Alignment Mirror is a little mirror, perfect for reviewing your configuration on the green. You can hold it in your bag and utilize it for exercise.
Features
Highly portable and great for checking your setup on the green
Poor alignment is the major cause of missed putts. Using the Putting Alignment Mirror will create confidence in the green
Has slots for the Gate Drill
Perfect alignment to your target and see your eyes over the ball
Things we liked
A cheap one with good quality
Easy to carry around & use
Helps to create a true, consistent putting stroke
Nicely set the alignment
Small & lightweight
Bends easily
Things that can be improved
Some users wanted to have it made by aluminum
Final verdict
This tool can be chosen for its reasonable price and lightweight design. You can buy this one as you will have the ability to carry it anytime, anywhere.
3. Pelz Golf DP4007 Putting Tutor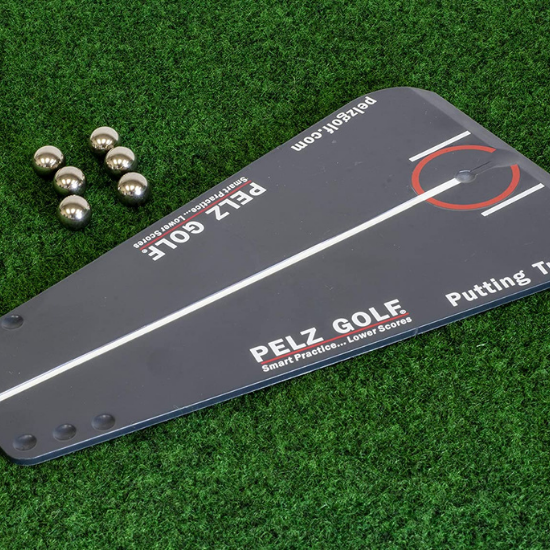 To be a better putter, Pelz putting tutor is an ideal option as it will help you enhance your green reading skills and provide instant feedback that takes the mystery out of missing putts.
Features
Teaches online putting
Improves green-reading
Squares putter face to airline
Improves stroke mechanics
Designed to identify the putts you strike squarely and start rolling on-line
Things we liked
Improve green putts
Immediate feedback
Easy to make connections to the stroke
Great for all skill levels
Easy to Use
Things that can be improved
Final verdict
This training aid is recommended for its simplicity to use & for the design it provides. You can buy this one if you require immediate feedback.
4. Premium Golf Putting Alignment Mirror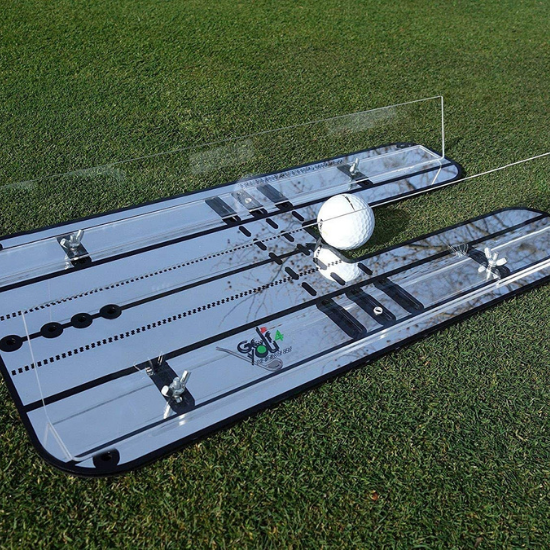 To do better at putting on the green, here we listed this amazing tool for you. This is an ideal tool for testing all portions of your putting alignment and set up.
Features
The new version of the True Line Putting Mirror stands out from the competition making your golf experience much easier.
This putting system will allow you to see, hear and feel a stroke
A complementary dual-color practice golf ball that perfectly complements the golf set
with high quality golfing equipment
Things we liked
Durable & strong
Quality guaranteed
A golf ball marker line drawing alignment putting tool.
Exclusive rail system
It helps to organize a consistent straight back – straight through putting stroke.
Things that can be improved
Final verdict
For high-quality equipment in training aid, this is a good one. It will also last long and serve you by improving your skills.
5. Eye Putt Pro Golf Training Aid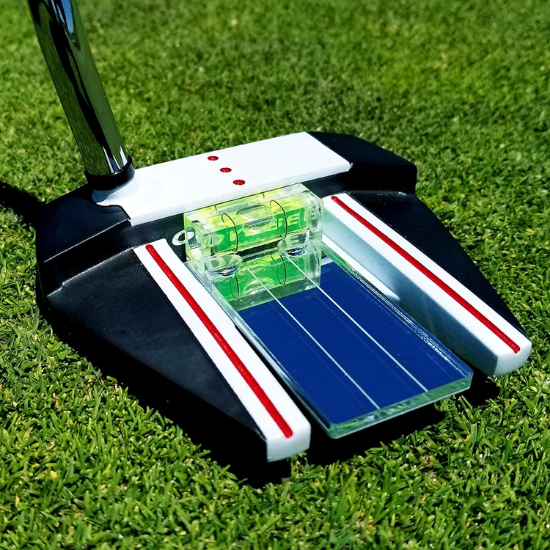 You can improve your position and alignment by teaching consistent fundamentals tour professionals by Eye Putt Pro training aid. It will instruct you to repeatable stamina memory in 2 easy steps.
Level the putter
Notice your eyes over the golf ball
Features
Instant visual feedback completely levels the putter and see your eyes over the ball.
Postures the eyes directly over the golf ball and target line.
Levels the putter teaching a precise lie angle during address and stroke.
Develops professional muscle memory that is repeatable and confident.
Attaches instantly to any putter and mobile like no other putting mirror on the market.
Things we liked
Simple & effective
Will make your alignment perfect
Reasonable price
Will sharpen your site & line
Immediate feedback
Attaches easily & starts quickly
Things that can be improved
The all-around length of the mirror creates a visualization of eye stance difficult under certain lighting situations for golfers.
Final verdict
To be a better putter in a simple & effective way, you won't have another tool like this. You will be able to make your alignment perfect through this aid.
6. PuttOut Pro Golf Putting Mat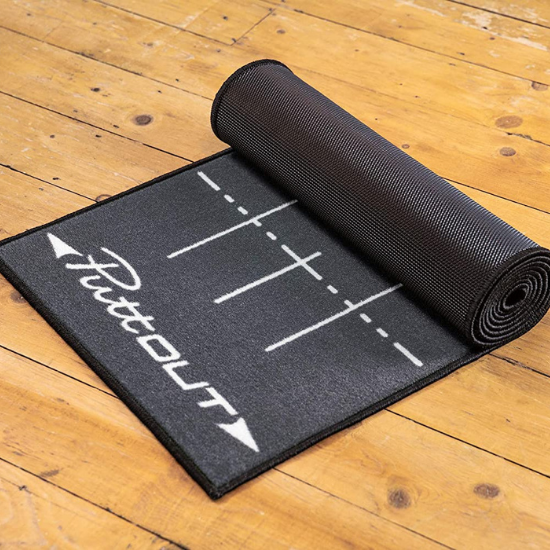 This mat is manufactured with a durable, heavy-rubber backing to allow the mat to lie flat on any surface. Provides printed alignment tutors, target levels and distance markings enabling you to rehearse with just a putter and a ball.
Features
For any golfer, a home putting set-up is an essential training tool, and the PuttOUT Putting Mat makes practice enjoyable, effective and easy to fit into your day wherever you are.
Constructed with a durable, heavy-rubber backing to allow the mat to lie smooth and flat on any surface, easily roll the mat away and into the compact carry bag for practice on the go.
The high-quality cut-pile surface is designed to accurately replicate a medium-to-fast green, with a stimpmeter reading of 10.
Things we liked
Many lines to practice short & long putts
Simply rolls up
Fits back into the included tube and sleeve.
Guidelines help with alignment
The surface is smooth
Things that can be improved
Some golfers found that after 2 or 3 putts, the ball leaves a groove that totally affects the line of th
Final verdict
Here, in this training aid, the markings for alignment are very helpful. So you can easily improve your putting and be a good putter.
7. PuttOut Mirror System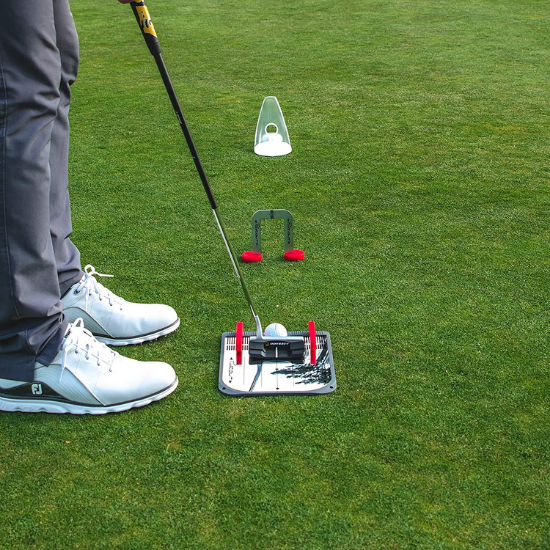 PuttOUT Putting Mirror forms favorable alignment and set up by including a steel inner plate, and a spiked-based rubber surround, carrying the acrylic mirror in place. It offers improved putter delivery through repetition.
Features
The PuttOUT Mirror enables you to work on alignment and positioning while putting.
Set the width of the magnetic putter guides on the mirror to test your alignment and address posture.
Your putter is the most used club in the bag by enhancing your putting and diminishing the number of putts per round you will dramatically gain your score.
PuttOUT mirror comes with a stand-alone 2-inch putting gate allowing you to actively work on your strike path and target by having the putter pass through the guide.
Mirror measures 9.5 x 7.9 x 0.20 inches with durable rubber casing with spikes on the underside to keep in place without tees.
Things we liked
Can be used anytime, anywhere
Improve putting skills
Decent alignment line
The mirror doesn't move unnecessarily
Can be used to visually set up the mirror to see your set up from various angles
Things that can be improved
Final verdict
For checking alignment and addressing posture, this aid is perfect as it provides magnetic putter guides on the mirror. So you can know whether the position is accurate or not.
8. Laser Putt golf putting aid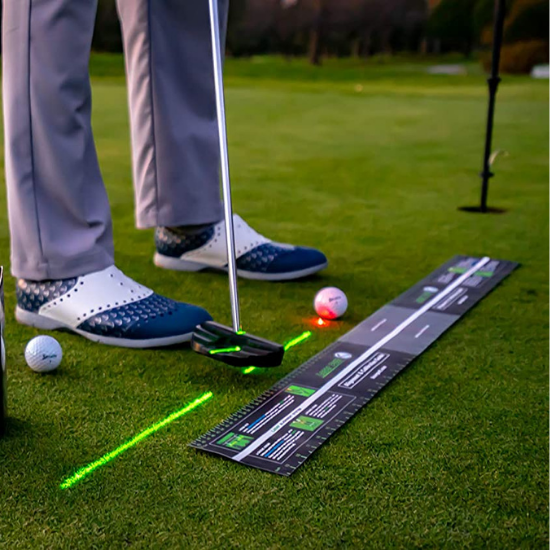 If you are looking for accurate training aid, the Laser putt will be the best for you. You will be able to see exactly where the putter makes a connection with the ball.
Features
GOLF DIGEST named it the No.1 Putting Aid in Golf!
Over 100 PGA Tour Pros "fine-tune" their putting skills with Laser Putt!
WINNERS of all 4 Majors and 3 FedEx Cups… are using this product in 2017!!
Laser Putt produces powerful visual images to store in your mind—images of your own putting
The RED laser shows you the precise apex of your backstroke, letting you putt with repeatable consistency at any distance.
The GREEN laser lets you visually confirm that you are lined up perfectly every time and allows you to see exactly where the putter makes contact with the ball.
Things we liked
Very revealing & precise
Outstanding device
Favorable manufacture quality
Youtube video instructions
Things that can be improved
Final verdict
To improve your stroke, this putting aid might be an ideal choice for you. You will have accuracy as well as the precise apex of your backstroke. You can also practice with powerful images.
9. PuttOut Pressure Putt Trainer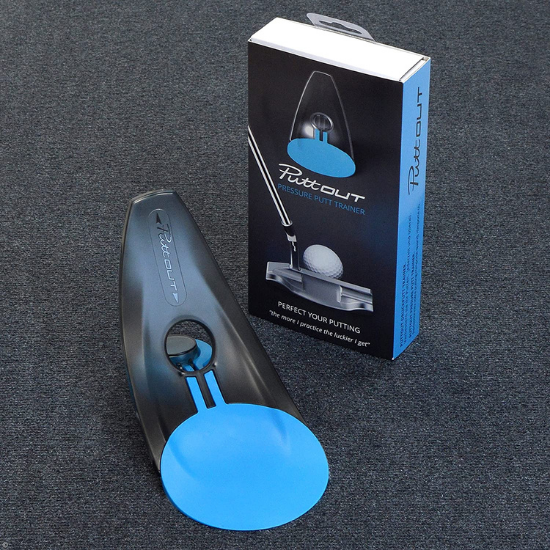 Product designer Martin Riddiford invented PuttOUT in London, Great Britain. It is a scientifically shaped mark that dismisses poor putts and returns good ones. You can enhance your aim and pace by PuttOUT's revolutionary training aid as its specifically formulated parabolic curve will return your good putts, rejects missed putts, and hold your perfect putt. So you will get an instant response on your putting pattern.
Features
This training aid is designed to simulate the exact conditions of putting into a real hole on the green by its ground-breaking parabolic curved design
Each successful putt is returned the same distance it would have gone past the hole if it had missed – great feedback for getting the pace just right.
Designed to return good putts and reject bad ones.
Made from high quality, elastomer and translucent polycarbonate, PuttOUT folds and fits into your golf bag.
Build repetition into your practice to improve your pace putting and to practice pressure putting.
Things we liked
The device will benefit your whole putting game.
It offers the capability to work on pace control getting in the middle of the cup & Alignment.
You will get instant feedback on your strike.
Well constructed putting target.
Beginners can hit a lot of putts in a hurry.
Designed to fold and to fit into your golf bag.
Things that can be improved
Not very easy to score
A little bit expensive
Final verdict
It's an ideal tool for both beginners & professionals. We can recommend this aid for its unique design, high quality, and capability of giving immediate feedback.
10. Miss W Pressure Putt Trainer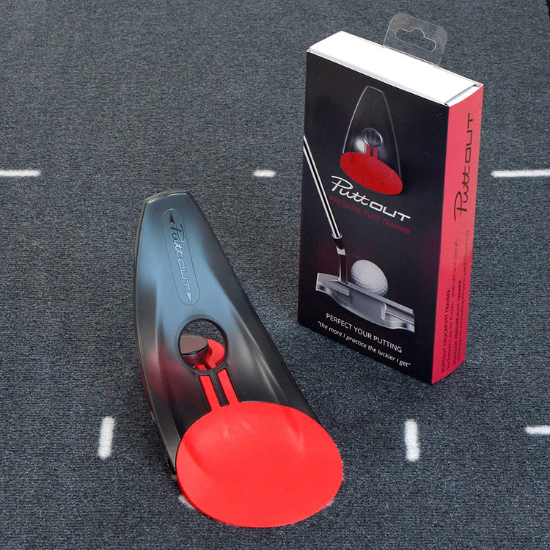 It offers a remarkable parabolic curved design and this design allows the putting aid to simulate the actual ailments of putting into a true hole on the green. You will get instant & great feedback for getting the pace right.
Features
Its design allows to practice anytime anywhere.
Micro-target for perfect putt.
This training tool will provide you immediate feedback
Made from high quality, elastomer, and translucent polycarbonate. It is foldable and fits into your golf bag.
Things we liked
Portable, durable & foldable
Enhance self-confidence
Auto-return the good putts, reject the missed putts and hold the perfect putt
You will get the right lines as well as the precise pace
Things that can be improved
Takes a bit to get used to
Final verdict
This tool is great for portability and durability. It will serve you for a long time and you will be assisted by it as it is foldable.
Buying Guide for Best Putting Aids
There are some critical things you need to consider while buying putting aids. These areas follow:
Practicality
You should know the way of practicing your aids while playing. You need to know how to use an aid, when and where to use it. If you want to do better, you need to learn these things first.
Design
Design is another important feature that matters to buy putting aids. You can have choices. But remember one thing that "the simpler, the better". So try to have a suitable one that will be adjustable to your choice and exercise as well.
Durability
It's not hard to buy an ideal training aid if you can select a durable one. The durability makes your product more preferable. So you need to keep in mind that you are going to buy the most durable aid among others.
Warranty
Check the warranty before buying training aids. Keep your mind that you should look for a warranty as you have to be used to your aids while exercising indoors or outdoors.
Conclusion
As a good putting aid can change your game level, you should buy the best one and that's why we gathered all the information here for you. Not only the advantages but also the disadvantages are described above. What products we recommend won't disappoint you at all. You can consider and buy one of these.