FootJoy is a renowned brand in the golf industry. Founded in 1857 in Massachusetts, USA, this brand has provided us with some of the best golf shoes and gloves. This number one golf clothing brand always comes up with new shoes and features exceptional components for better playing. 
Almost every year, they launch something new for the golfers. Professional golfers rely much on the brand FJ for their unique and supple golf accessories.
One of their recent exciting products is the FootJoy Tour X golf shoes. Now, this shoe has both good fame and a cloud of lousy smoke. Some people praise it highly, while the other part is not satisfied with this particular model from FootJoy.
So today, we are here to share our findings on the FJ Tour X shoe. We have spent a couple of days researching the advantages and the disadvantages of the shoe. Now it's time to dig into the article to find out if this shoe is worth buying or not.
FootJoy Men's Tour X Golf Shoe Review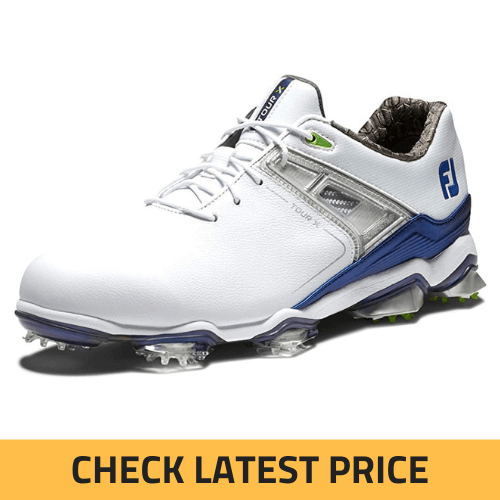 Design
The design of the FJ tour x is nothing extraordinary. This is a classic golf shoe with a lace-up closure. The shaft of the shoe measures approximately mid-top from the arch. It features a textured upper mesh with a 3D collar. The molded 3D collar gives good support to you while playing golf.
Every swing you make on the golf course makes FJ tour x consort with your feet. This shoe has a TourSpec stretch tongue which secures a perfect fit of the shoe. 
But you should consider the design of the tongue. Because if you walk for a long time, the fold over the top of the tongue may keep rubbing on your feet and make the walk awkward.
The shoe is available in three different classic colors- Black, White/Red, and White/Navy/Lime. So if you are looking for something more vibrant in color, try the latter ones.
An interesting thing about this shoe is that this model is also available in the recent BOA fit. Therefore, if BOA turning knob in the backside would be effortless and time-saving to wear the shoe before going for a golf round, if you are a BOA-fit person, you can take a look at the FootJoy Hyperflex Boa Golf Shoe.
Outsole
The FootJoy Tour X has a very well-constructed outsole. It is designed with a PowerPlate outsole. The sole is 100% synthetic. It is light in weight yet capable of giving you a stable platform on the greens of the golf course.
This stability helps you to transfer power throughout the swing. In addition, the outsole features launch pods. Though the outsole is not very flexible, it creates an additional surface to provide the maximum surface.
Upper mesh
The upper mesh of the FJ tour x is made of high-quality material that is ChromoSkin leather. This material is very light in weight. It makes the shoe supple and breathable. In addition, this shoe is a waterproof one. So you can wear these shoes in any weather you want.
Comfort
When it comes to breathability, Tour x scores a good mark in this criteria. The FJ tour x has a lining of the OrthoLite Fit-Bed. This fit-bed is very light in weight and gives your feet a cozy feeling. Also, this OrthoLite fit-bed does not take a set like other midsoles. As a result, it remains the same from the first to last.
However, this shoe may not meet as much comfort as the EVA midsole. Because the OrthoLit fit-bed is not as soft, as supple, and as absorbing as the EVA.
The fitting
For a good fitting, the FJ tour x is designed with the Laser Plus Last technology. It offers you a full rounded toe character with a standard fit across forefoot and instep and a slightly narrow heel. So you will get a great fit with comfort.
Grip
For grip, the FJ tour x has tornado cleats in the outsole. And as we mentioned earlier, this shoe has launch pods under the cleats. With all these elements outside, you will find it a stable one. But the gripping is not very good with this shoe. There is no metal spike or soft spikes on the shoe's outsole to give you support on the golf course's greens.
Things we liked
Features a synthetic sole.
Suitable for any weather.
The insole of the shoe does not take a set and remains the same all the time.
A good fitting because of the Laser Plus Last fit.
Relatively light in weight.
Available in both BOA style and lace-up style.
All sizes are available.
Things that can be improved
The price of this shoe is a little bit high.
There is a color limitation in this model.
Young golfers may not like the design of this golf shoe.
The grip with this shoe is not good enough.
The insole of this shoe is not soft enough.
Watch the following video from Golf Guy Reviews for a visual explanation of FootJoy Tour X Golf Shoe. (if needed)
Conclusion
FootJoy Tour X golf shoe is the one that gives you good stability with comfort. If you are not on a tight budget and looking for something classic with a modern design, this shoe is for you. Please let us know what you think about this content. Leave your opinion in the comment section. Also, you can leave any query about golf there. We will get back to you as soon as possible.