A good golf club lets you play golf, and a good golf shoe enables you to play your game perfectly. The golf shoe is always a crucial issue as you need to walk for a long time to play a round of golf. With a golf shoe that is comfortable, flexible, and provides an excellent grip on the greens of the golf course, you will be able to play a better game.
Most of the time, golfers go for a golf shoe that is very light in weight. And in this season, the FootJoy Superlite Xp has created hype among the users. To find out if this shoe is worth buying or not, we have spent a couple of days researching its advantages and disadvantages. So let's dig into the article to find out whether this shoe is a good one or not.
You can also check our article about the best footjoy golf shoes to find out more product from Footjoy brand.
FootJoy Men's Superlites Xp Golf Shoes Review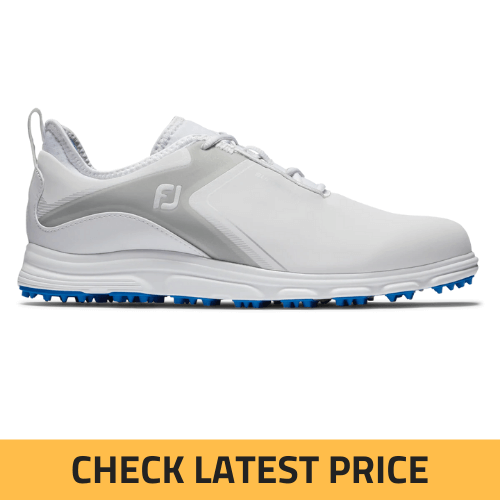 Design
The FJ Superlite is a traditional golf shoe designed in a unique way. This is a lace-up closure type of shoe. The design of the upper mesh is smart and modern. It is featured with a thick shoelace and a versatile shoe tongue.
The shaft measure of this shoe is approximately mid-top from the arch. The front part of the shoe is a little bit more rounded. Although this round design marks the shoe looks good, it makes the shoe a bit wider. As a result, if you wear a narrow-fit shoe, this Superlite will be a bit loose in fitting.
You will get three color options in this model. They are – white with gray and blue, Black with lime, and Gray with black. These color contrasts suit senior golfers more than young golfers.
Outsole
This FootJoy Superlite Xp features a synthetic sole. The sole is very soft and super light in weight. So you will not feel a heavy weight on your feet while swinging your golf club. It is a spikeless golf shoe. But it has some soft molded rubber traction elements on the outsole to prevent you from slipping on the ground.
Although this shoe has a very light synthetic outsole, it is not as soft as other golf shoes. So you would find it a problem to walk in this shoe for a long time.
Upper mesh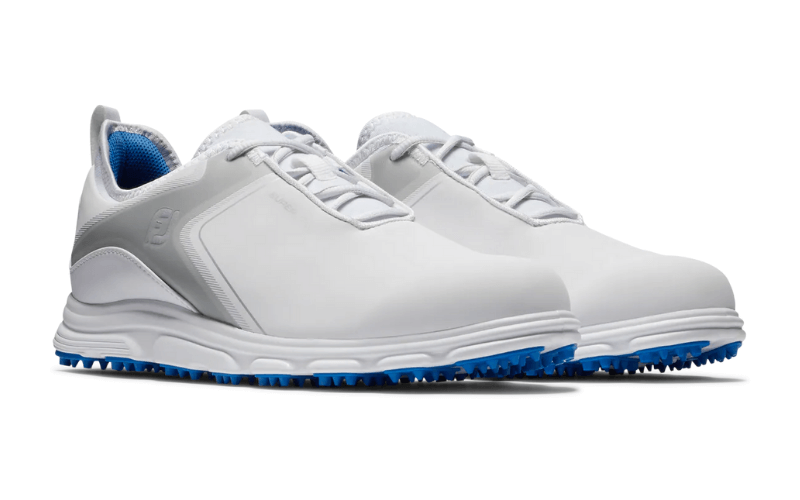 The FJ Superlite Xp features a well-constructed upper mesh. The primary material of the upper mesh is high-quality synthetic. As a result, the shoe is very breathable and absorbing. You won't find your feet sweating in this shoe very much. It is a perfect golf shoe for the summertime.
Also, this shoe is fully waterproof. So if there is an issue with morning dew or unexpected rain, you have nothing to worry about. But you should be a bit careful while using it on a muddy or watery golf course.
Gripping
As we have mentioned earlier, this golf shoe has no spike at all. But it is featured with some sort of molded rubber traction element. These things help you to get a slip-free round on the golf course. But the gripping with this shoe is not so good. It has no cleats on the sole to give you a good grip on the ground, nor does it have something to provide you with a balance on the golf course's greens.
If you are looking for a shoe that provides a good grip and balance, you can take a look at the FootJoy Men's Hyperflex Golf Shoe Review.
Comfort
The FootJoy Superlite Xp is a very lightweight and breathable shoe. This shoe is so light that you would feel like walking barefoot. Unfortunately, it is featured with a regular insole. It has no underfoot cushioning or thick midsole. As a result, you won't find this shoe comfortable enough to wear for a long time. Please visit our article on the FootJoy Men's Contourfit Golf Shoe for a comforting golf shoe review.
You can also check our article about the best golf shoes for wide feet.
Pros
As light as its name suggests.
Absorbing.
Suitable in the summertime.
The outlook is very smart and classy.
Available in three different color contrasts.
Golfers with wide feet will enjoy this golf shoe.
It is a spikeless shoe. So you can wear it anywhere without the fear of damaging the greens of the golf course.
Cons
Some sizes are not available in this model.
Not much suitable for your underfoot comfort.
The tongue of this shoe keeps sideslipping.
Doesn't provide a good grip.
This shoe is not available in the BOA fit style.
Buy FootJoy Superlites Xp Now!
Conclusion
In this article, we have tried to present the FootJoy SuperLite Xp golf shoe review in a nutshell. Despite some demerits, this shoe is very lightweight and compulsive. You won't have to spend much energy or time to keep it clean. This shoe is perfect to wear on a summer tour of golf.
We hope this article will help you to make a better decision about buying your golf shoe. If something is popping up on your mind, please let us know. Leave your words in the comment section. We will get back to you as soon as possible.