Wearing a golf shoe while playing golf is very important as you walk for a long time in these shoes. Golf shoes are specially designed for golfers to give them maximum comfort, optimal traction, flexibility, and balance on the greens. Only a perfect golf shoe provides you with all these facilities. But it is pretty hard to find one.
These days, the FootJoy men's hyperflex golf shoes have created hype among the golfers. But it is crucial to know if the shoe is good enough for you or not. That's why we have spent many days trying to find out the features of this shoe. So, dig into this article to learn the pros and cons of this FJ Hyperflex golf shoe.
You can also check our article about the best footjoy golf shoe to find out more product from Footjoy brand.
FootJoy Men's Hyperflex Golf Shoe Review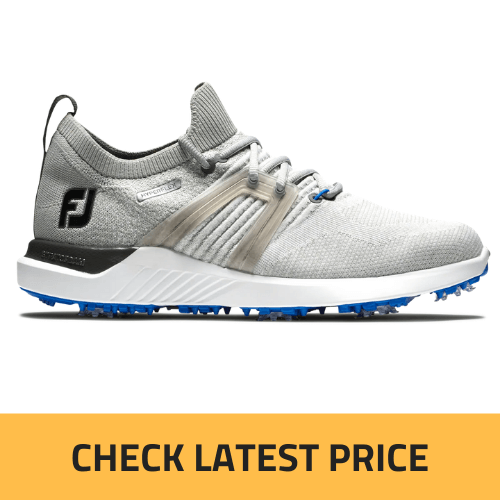 The FootJoy Hyperflex is a very comforting shoe. Golfers love this shoe for its features and performance. Let's know about the key features of this product.
The design
The FootJoy men's hyperflex golf shoe is designed with innovative ideas to give you maximum comfort with balance. The outlook of the shoe gives you a sporty look. In addition, the detail on the mesh makes the shoe look smart and playful. You will find both lace-up style and BOA fitting style in this model.
This shoe is available in three different color combinations. They are- Charcoal with Grey, Grey with White and Blue, and Navy with Blue. Any of them will give you an elegant look with confidence on the golf course.
The outsole
The FootJoy hyperflex has a sturdy yet soft outsole. The sole is made of synthetic that is quite durable and comforting. There is no spike on the sole. But it provides you with an excellent traction performance on the greens. The OptiFlex outsole features serpentines throughout the sole that ensures optimal traction. Also, the sole is very soft and flexible. It follows how you move your feet and flex according to that with your every swing shot.
The outsole is very pointed and flexible, which gives you an excellent grip with balance while playing golf on the golf course's greens.
If you are looking for some other spikeless golf shoes then visit our article on Best Spikeless Golf Shoes In 2021.
Comfort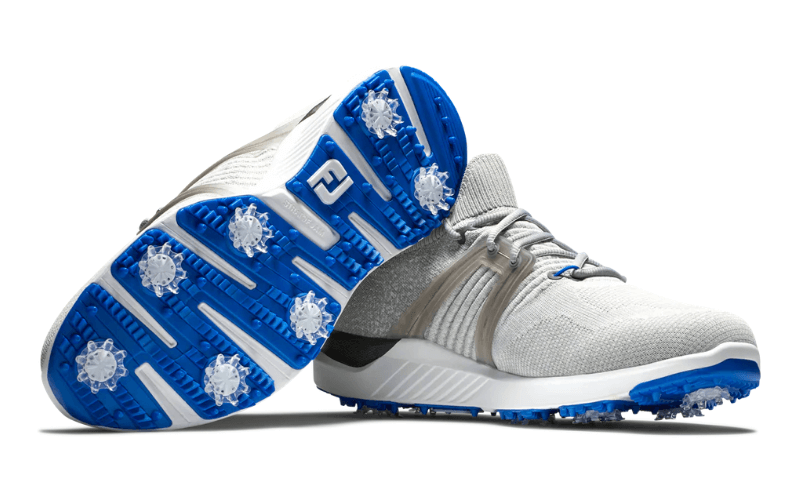 The FootJoy men's hyperflex golf shoes are designed and developed to ensure maximum comfort for your feet. It has a layer of StratoFoam in it. The StratoFoam is, this shoe's proprietary foam compound specially innovated for golf shoes. This foam maximizes underfoot comfort and reduces underfoot fatigue. This shoe has a molded EVA Fit-Bed as well to ensure your underfoot comfort. It is designed in such a way that the shoe will absorb all the shocks while walking or swinging on the golf course.
The Upper Mesh
Unlike other golf shoes, the FootJoy Hyperflex golf shoes feature an engineered upper mesh. The performance mesh with hot melt yarn gives you comfort all day long. That makes it highly absorbing so that your feet don't feel soggy or damp in the shoes. 
Also, the upper mesh of this golf shoe is water-resistant. You will be able to use this golf shoe on the golf course every season without the worry of damaging them.
You May Also Like: Best Golf Shoes For Wide Feet
The fitting
FootJoy hyperflex shoes come with the laser sport fit feature. It has a full rounded toe character to fit through the forefoot and instep. The shoe is featured with a slightly narrow heel that completes the athletic style of this golf shoe. The shoe is true to size. If you can buy the actual size of yours, the shoe will fit you perfectly.
The insert system
The insert system of this hyper flex golf shoe is very innovative. The insert system indicates the type of receptacle found on the sole of the golf shoes. The FootJoy hyperflex insert system is featured with a Fast Twist 3.0 cleat system with Pulsar LP cleats. This is a locking post design that ensures consistent torque of the cleat for balanced performance.
Pros
This shoe has a synthetic sole that will run for a long time.
The hyperflex golf shoe is very light in weight.
You will find the ultimate comfort for your feet in these shoes.
This shoe is truly breathable.
The laser sport fit meets your feet with the perfect fit.
You can choose between 3 exciting colors in this model.
This shoe has no metal spike on the sole.
You can wear these golf shoes on any golf course.
This is a 100% waterproof sports shoe.
You can choose between a lace-up style or a BOA style.
Cons
There are some golfers who complain about the outsole and the StratoFoam lining of this shoe.
Some of the sizes are not available in this model.
The price of this shoe is very high.
Are you looking for a women's golf shoe? Check our article Best Women's Golf Shoes To Buy In 2021.
Conclusion
In this article, we have tried to cover up every detail about this shoe in a nutshell. FJ HyperFlex is a shoe that has many features for your comfort and gives you a great on the ground. It will give you good support while swinging with the golf club. This shoe is worth a try.
If you still have any doubt or want to ask any questions please let us know. Leave your words in the comment section. We will get back to you as soon as possible.