Golf shoes are crucial for you as it makes you comfortable on the golf course. Therefore, you need a soft and breathable shoe that helps you get a good grip on the grasses. These days, many golf shoes from renowned brands claim to be featured with all these facilities.
The FootJoy Flex XP is a shoe with a good craze in the market. We have spent a couple of days finding out the advantages and disadvantages of this shoe. So let's dig into the FootJoy flex Xp review to find out if it is worthy for you or not.
FootJoy Men's Fj Flex Xp Golf Shoe Reviewed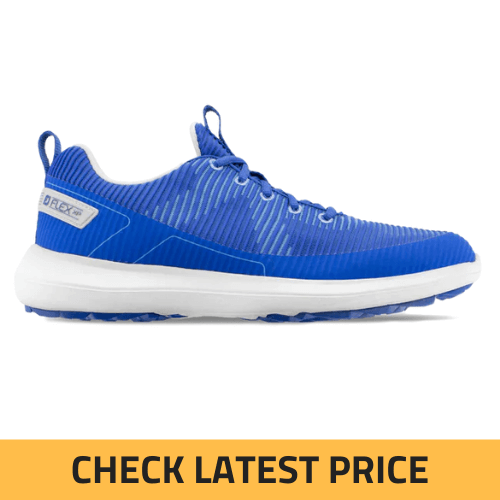 Design
The FJ flex XP golf shoe is a lace-up closure type shoe. It is designed in a modern yet classy way. The shoe looks very smart and sophisticated. Thich lace has been used for this one. It has a plastic strap lining around the bottom portion of the upper mesh.
The shaft measure of this flex XP is approximately mid-top from the arch. The outsole of this shoe is thick as well. With support for the heel at the back of the shoe, it completes the profile for an athletic shoe.
This flex Xp shoe is available in 4 different colors. They are- Gray, Black, White, and Blue. All these colors are absolutely perfect to meet your athletic personality. But every size is not available in this model.
Outsole
The FJ flex Xp shoe features a thick outsole. The outsole is made of high-quality synthetic material. The outsole is designed with unique technology. It is engineered with traction elements on the outsole. This is called the versa-trax outsole. There are some mechanical slits on the sole. It increases the flexibility of the shoe while swinging or hitting the ball on the ground.
This shoe is designed for the summer season only. It will work well on the dry golf course, but things may worsen in the sticky situation. So be careful with it.
Upper mesh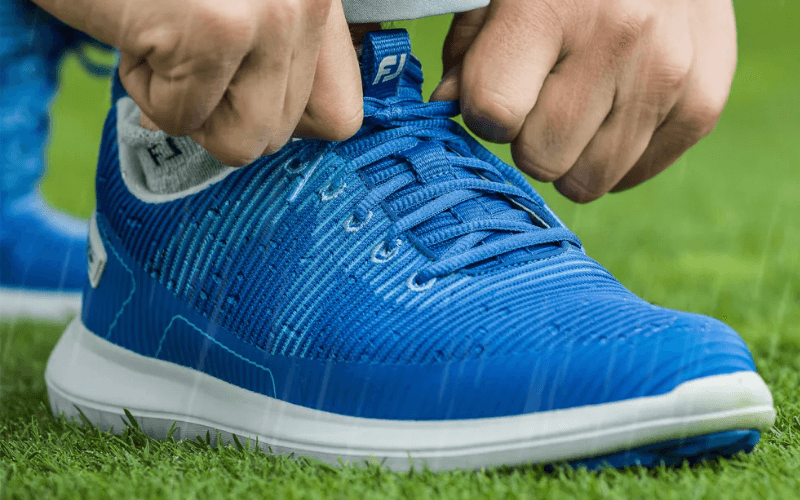 The upper mesh of this shoe is quite unique. It has lovely detailing on the top. The material of the upper mesh is very light in weight and soothing. As a result, the shoe is very supple, comfortable, and breathable. It has no coating on the upper mesh, so your feet won't sweat and damp in a short time in this shoe.
The upper mesh is waterproof as well. But you can not use it in every weather. Furthermore, this shoe is designed for the summer season only. So if you are looking for a golf shoe which is waterproof and also that can be used all year round, then this one is not for you. Instead, you can go for the FootJoy Men's Pro/Sl Golf Shoe.
Comfort
The FootJoy Flex Xp is absolutely pleasant and plush. This shoe is featured with an EVA midsole that makes the shoe very supple. Thus, it enhances your comfort and stability.
Also, it has an Eva fit-bed in the shoe for underfoot comfort. Moreover, this shoe is very lightweight and durable at the same time. You will love a long walk on the golf course with these shoes on.
Grip
As we have mentioned earlier, this Fj Flex Xp features a versa-trax outsole that increases the traction on the golf course. But the grip with this shoe is not too good to walk in damp conditions. You would find it tough to walk on this shoe. So. If you are looking for the one that you can use year-round, you can consider the FootJoy Men's Pro/Sl Golf Shoe.
Another problem with this shoe is it clicks while you are walking. And the sound is really annoying.
The fitting
The FootJoy flex XP is designed with the latest laser sport fit technology. It offers you a full rounded toe character with a standard fit for the forefoot and the instep. In addition, it has a toe spring and a slightly narrow heel which completes the athletic look and gives you a firm fitting. You will enjoy your swings and hitting with this shoe very much.
Pros
This FJ flex shoe is very comfy.
You will love the modern outlook of this shoe.
It is a spikeless shoe.
You have 4 different color options to choose from in this model.
This shoe is completely waterproof.
The laser sport fit ensures form-fitting.
Cons
The grip of this shoe is too bad.
Every size is not available in this model.
This shoe is not available in the BOA-fit style.
It is a noisy golf shoe.
Conclusion
If you are looking for a golf shoe that can provide maximum comfort, stability, and form-fitting, then the FootJoy Flex Xp golf shoe is for you. We have tried to briefly review this shoe in this article with all its advantages and disadvantages.
However, if you still have any questions, please don't hesitate to ask us. Leave your query in the comment section.