Choosing a new golf shoe for yourself is not an easy task as there are so many options available in the market. A good golf shoe is made of waterproof material, provides your feet enough space with comfort, and has an excellent grip on the grass. Along with these, a golf shoe has to be stretchable and flexible as it needs to concert with your feet when you go for a golf swing. So, when you buy a new golf shoe, you need all these features in your shoe for better playing on the golf course.
Footwear brands launch new golf shoes frequently in the market for golfers. Some of those shoes got a craze among the golfers. And one of those hype shoes of this season is the FootJoy Men's DNA golf shoes. The brand FootJoy praises this one highly. So we spent a couple of days finding out the truth about this FJ DNA shoe. Dig into this article to know whether this DNA shoe is worth buying or not.
FootJoy Men's DNA Golf Shoes Review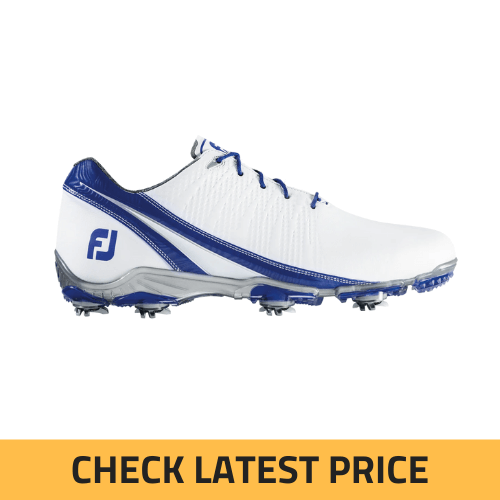 The word DNA in the name of the shoe stands for DryJoys Next Advancement. The FJ DNA shoe has many features to attract golfers. Some of the features that caught our attention are discussed below.
Design
The FJ DNA is designed in a very constructive way to complete the athletic look in the golf course. The outlook of this shoe is very smart and modern. There is a little bit of texture on the upper mesh of the shoe. It is a lace-up closure type of shoe featured with a SnugFit tongue.
The tongue of the shoe, incorporated with the MicroVent technology, has an excellent shape for the foot that provides breathability. Additionally, this shoe has a molded 3d Foam Collar for your ankle to feel comfortable with style. What you should consider is the tendency of slipping of the tongue that may occur side to side while walking.
This shoe is available in 4 different color combinations. They are- White with Royal Blue, White with Red, Black, and White with Platinum. Any of these colors are worth going with your golfing personality.
If you are a young golfer, you may not prefer this model because it matches the personality of senior golfers. And if you are a senior golfer, look for your size first. Because this model is not available in every size.
Outsole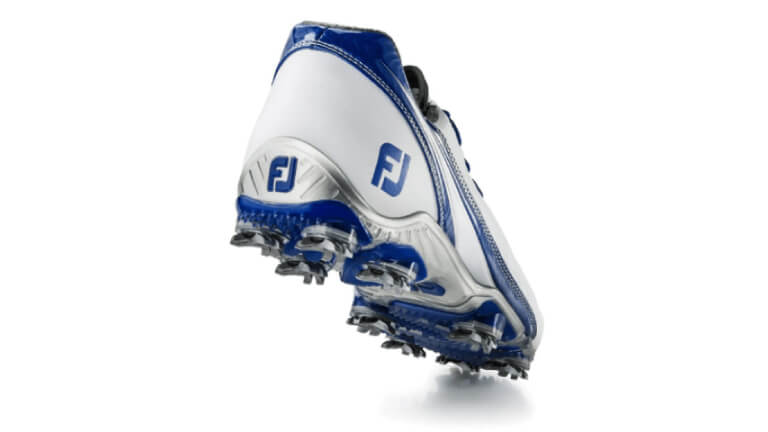 The outsole of the FJ DNA golf shoe is synthetic. It is a nitro-thin TPU outsole. This outsole is very soft and flexible. You won't find it rough while walking hours after hours on the golf course.
As the picture shows, this DNA shoe is a spiked golf shoe. However, instead of metal spikes, this shoe is featured with Tornado cleats, a kind of soft spikes. These soft spikes help you to get a low profile performance throughout your golf tour.
Remember to check whether your golf course lets you play on the grass with this shoe on or not. Because spikes are not allowed in every golf course. They harm the grass on the field and affect the course. So make sure you are allowed with it.
You May Also Like: Best Golf Shoes For Wide Feet
Upper mesh
The upper mesh of the DNA shoe is brilliant. The main material of this part is ChromoSkin leather. It is a performance leather developed by the Pittards of England. This material is very supple and light in weight. Moreover, it makes the shoe waterproof.
Learn More About: Waterproof Golf Shoes
It's made in such a way that you can wear it in any season of the year. So do not worry about the rain or the mud. Just keep it clean after each round as it's white in color. And be careful about the lace. It may break easily.
Comfort
Comfort is the most crucial factor in a sports shoe, and the FootJoy DNA golf shoe has a lot to offer you regarding this. This shoe is featured with exceptionally lightweight materials. In addition, it has a soft cushioning of the fine-tuned foam (ftf) fit-bed that gives you maximum comfort for your underfoot. And also, you get good support for your heels.
This shoe is featured with the Nitro Last technology. It offers you a full rounded toe character with a slightly shallow forefoot, slightly narrow heel, and standard instep. All these things make the shoe very comfortable to wear for a long time.
This shoe has an extreme cushioning of the fit bed. The thing that may bother you is the feeling of your feet squeezing inside the shoe. So before buying, make sure you are comfortable with it.
You can also check our article about the best footjoy golf shoes to find out more product from Footjoy brand.
Grip
The FJ DNA golf shoes provide you a good grip on the golf course. As we told you earlier, this shoe has tornado cleats on the outsole to give you optimal traction on the grass. Along with that, the NitroThin TPU outsole gives you stability and balance for better performance. But you need to remember one thing that soft spikes or tornado cleats won't provide you a grip like that of metal spikes.
Things we liked:
Additional tonal laces with this golf shoe.
Completely waterproof golf shoe.
Can be cleaned easily..
Maximum comfort.
4 brilliant color options.
Excellent grip on the golf course.
Light in weight, absorbing, and durable.
Your feet won't feel damp with this golf shoe.
The cushioning of this shoe is very soft.
Long-lasting
Things that can be improved:
This shoe is available in some selective sizes.
The lace of the shoe slits easily.
Some golfers complain about the side shifting of the tongue of this shoe.
As this is a spiked shoe, you need to check if it is allowed in the golf course you will play.
Due to heavy cushioning, you may feel squishiness.
Don't like spiked shoes? Find out the best spikeless golf shoes on the market.
Conclusion
If you are looking for a stylish golf shoe that provides you comfort, durability, and stability on the golf course, then you can try this FootJoy DNA golf shoe. Made of high-quality materials, this shoe has many features to give you maximum comfort with good traction and flexibility. For any more questions regarding this product, please leave your words in the comment section. Also, let us know what you think about this FJ DNA golf shoe. We will get back to you as soon as possible.