Did you know, a round of golf is a 4-5 mile walk over varied terrain and surfaces where there is green, sand, rocks, water sources, and so on. It is quite a long way every golfer needs to walk around the course on every round. Having a comfortable women's golf shoe eases the hardships and adds comfort to your journey. It is as beneficial as having a good ladies' golf club set, a nice golf towel, or golf stand bag. There are a lot of brands and companies in the golf shoe industry producing huge amounts of shoes every month. And it is quite a challenge to choose the best match for you. Isn't it? 
We have done the hard work of researching and reviewing the top quality shoes for you. And here in this article, we will be sharing our review reports of the top 10 women's golf shoes which includes tags like women's leather golf shoes, women's water resistant golf shoes, women's lightweight golf shoes and comfortable womens golf shoes along with their features, positives, and negatives. You will find some tips to choose the best golf shoes after the reviews as well.
10 Best Women's Golf Shoes Reviewed
We have researched and reviewed the best golf shoes based on their features, specifications, looks, and performance and listed out the top 10 here. All these shoes look very nice and feature the best you will get in the market. We have analyzed the user responses as well.
1. adidas Women's W Tech Response Golf Shoe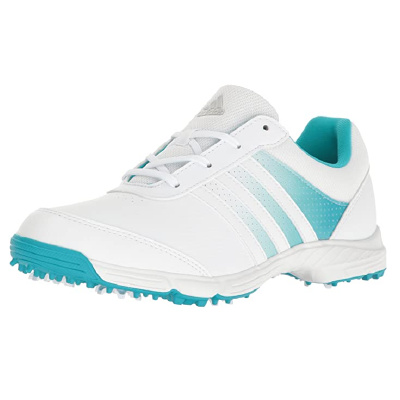 Adidas is one of the giant sportswear brands in the world. They are very much popular for their quality and wide range of products. adidas women's W tech response golf shoe is composed of microfiber leather and synthetic sole.
The insole provides an ultra-light cushioning and comfort. Microfiber leather is water-resistant and keeps your feet dry. Spikes under the shoe provide long-lasting abrasion resistance and traction. Available color variants: 7. Available sizes: 12 different sizes; From shoe size 5 to shoe size 1
You can also check our article about the best golf shoes for wide feet.
Things we liked
Microfiber Leather/Climastorm
Synthetic sole
Cloud foam insole
6-spike thin tech outsole
Comfortable
Long-lasting abrasion resistance
Things that can be improved
Questionable waterproof performance
Final verdict:
These comfortable womens golf shoes from adidas are very strong and beautiful. Especially wide design for women. And has a good build quality.
2. Skechers Women's Max Golf Shoe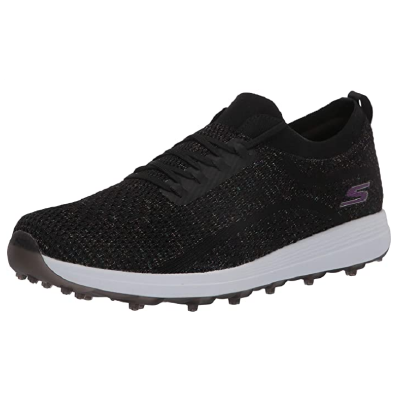 Top of the Skechers women's mac golf shoe is composed of mesh textile and synthetic to make this shoe very lightweight but very much durable at the same time. It is water-resistant. so, you can use it even when you are around water too. Shaft measures approximately mid-top from arch. It has featured the GOGA MAX insole that delivers enhanced high-rebound cushioning for more comfort.
Though it is spikeless shoe, it has a firm grip on the ground with a durable TPU outsole. The Skechers logo at the back looks good on it. Skechers have produced this model in 21 color variants and they are very likely to be chosen. Check out the size chart to have a good fit size for you as there are more than 20 sizes available.
You can also check our article about the best golf shoes for walking.
Things we liked
Side stitching and overlay detail trim
Contrast-colored outsole trim
Spikeless
Cushioned comfort insole based on GOwalk Max walking shoe design
Soft woven mesh fabric and smooth synthetic upper
Things that can be improved
Better water resistance performance would be better
Final Verdict:
Composed of one of the finest compositions for golf shoes. It is a pair of cute golf shoes. They look great and durable too. Has a firm hold on the ground being spikeless.
3. adidas Women's Adipure Sport Golf Shoe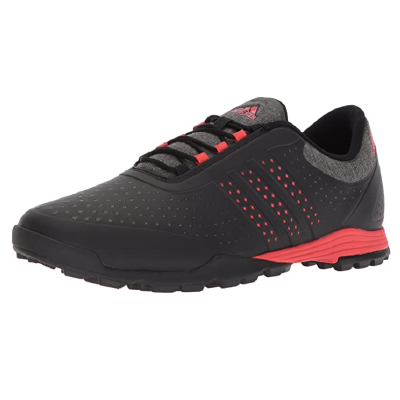 Adidas being Adidas. Another quality golf shoe from Adidas in this golf shoe top chart. The synthetic top and rubber sole mechanism worked for Adidas very well. For optimal traction, they have used highly flexible adiwear spikeless outsoles with pure motion lugs. Shaft measures approximately low-top from arch. It's spikeless. And designed in 4 color variants and 12 different sizes.
New adipure women's last features a more rounded toe and lower ceiling height for improved comfort and aesthetics. Adidas has produced classically inspired designs and material choices, rooted in genuine craftsmanship, combined with performance-enhancing technology to deliver the epitome of comfort and elegance.
Things we liked
Comfortable
Fits easily
Classic outlook
Things that can be improved
Final verdict:
The materials are easy to clean, breathable, slim, and feel nice to feet. Very comfortable and true to size.
4. adidas Women's W Climacool Knit Golf Shoe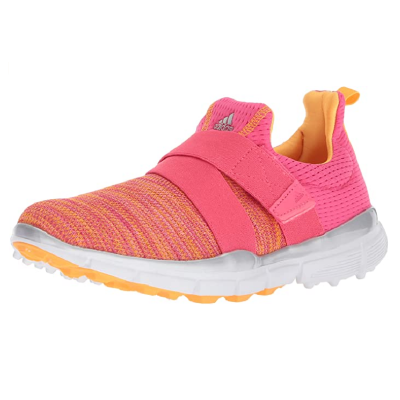 No more laces. Adidas has come up with velcro strap fitting. The climacool knit golf shoes from Adidas are very colorful and match with women's fashion pretty well. 100% textile material with rubber sole used in manufacturing the shoes. Shaft measures approximately low-top from arch.
The materials feature superior breathability and stretch comfort while providing golf specific lateral stability. Besides the wider midsole-outsole platform and velcro strap enhances stability. It is spikeless but features Swing Plane Traction for enhanced flexibility and grip. 3 color variants available in several sizes.
Things we liked
Colorful
Velcro strap fitting
Comfortable and flexible
Things that can be improved
Very limited size options
Final Verdict:
Stylish and colorful, might match with your wardrobe collection. Built quality-wise is a quality shoe and expected to serve you a long way. But available for a few sizes only.
5. PUMA Women's Monolite Cat Woven Golf Shoe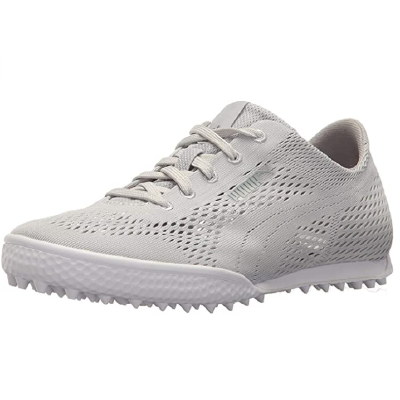 Shaft measures approximately low-top from the arch for Puma women's monolite cat woven golf shoes. It is one of those cute golf shoes that is constructed with a lightweight and breathable mesh upper for an athletic fit and feel.
Synthetic sole is used for durable sole performance that gives you excellent grip and long-lasting durability. The super soft and durable sock liner is made out of yoga mat material that provides all-day cushioning and comfort to keep your feet relaxed.
Things we liked
Lightweight and breathable mesh
Comfortable
Good looking
Things that can be improved
Sand goes into the little holes
Final Verdict:
From outlooks and built quality it is a standard golf shoe but it might not protect your feet from water and sands for its design which has quite a few holes in between.
6. ECCO Women's Soft Low Hydromax Golf Shoe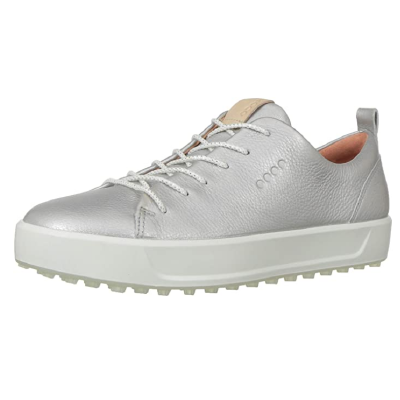 ECCO Women's soft low hydro max golf shoe features ECCO HYDROMAX leather which has water-repellent characteristics to keep feet dry. These shoes are also made of leather and rubber sole. Shaft measures approximately low-top from arch as well. Marketed in 5 different colors and several sizes. The shoes look bold and sporty. It is built with an E-DTS outsole with 800 traction angles to ensure flawless grip and stability.
The removable inlay sole feature can be very handy to you to make space in the shoe. With a distinctly urban influence and a thick outsole in contrasting white, this ladies' golf hybrid shoe is crafted from naturally tumbled leather for outstanding performance on and off the green.
Things we liked
Bold and sporty outlook
Stable performance
Removable sole
Water-resistant
Things that can be improved
Final Verdict:
It is a women's water resistant golf shoe. It is a value for a money golf shoe with its built quality, performance, and durability.
7. ECCO Women's S-lite Golf Shoe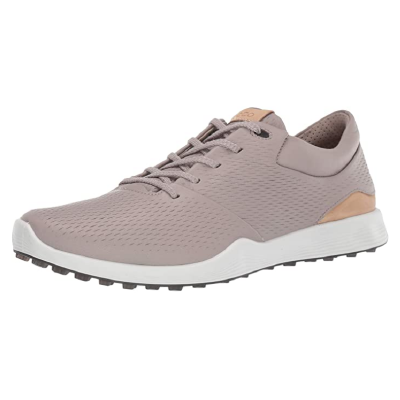 The ECCO Women's S-lite golf shoe is built with a leather top and synthetic sole. Designed in 5 different colors and available in several sizes. The shaft measures approximately low-top from arch. This is probably the lightest leather golf shoe you can find. Constructed with YAK leather with highly innovative ultralight DynaKnit E-DTS outsole.
It is bold, bright, and packed with technology. The shoe features a FLUID FORM midsole which provides good stability. Besides the outsole has a wider heel base for improved stability during your swing and transition while being flexible, strong, and durable.
Things we liked
Original leather made
Lightweight
A bold and bright outlook
Things that can be improved
Narrow design is too narrow for some customers
Final verdict:
ECCO S-lite is a popular women's lightweight golf shoe. Based on build quality and features it is a value for money golf shoes.
8. Skechers Women's Go Walk Sport Relaxed Fit Golf Shoe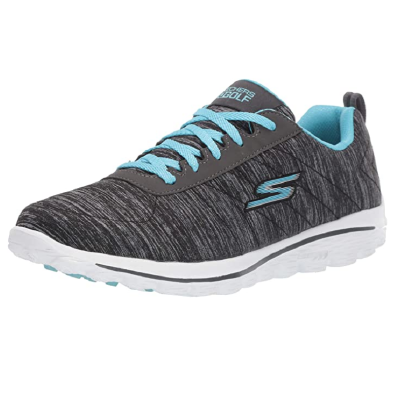 Skechers have produced this women's' go walk relaxed golf shoe with a breathable mesh upper and rubber sole combination. It is designed in 4 color variants and all of them give an athletic outlook. Lace-up design and shaft measures approximately mid-top from arch.
Skechers have used Goga Max technology insoles in their Go Walk golf shoes for high-rebound cushioning. You can walk and wear this shoe for a long time. The Relaxed Fit design gives you 2mm more width in the toe box.
Things we liked
Athletic and lace-up design
Lightweight
Spikeless
Things that can be improved
Uneven support of the sole causes discomfort sometimes, especially if you have pain in legs already
Final verdict:
Spikeless, lightweight and comfortable, in short, a value for money and has most features you might be looking for.
9. FootJoy Women's Sport Sl-Previous Season Style Golf Shoes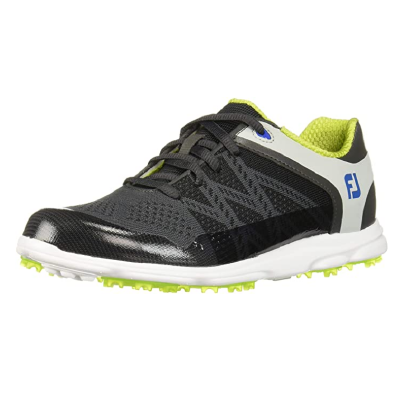 Footjoy women's SI-previous season style golf shoes are 100% textile made. Synthetic sole with EVA (Ethyl Vinyl Acetate) Fit-Beds provides lightweight cushioning underfoot. The cushioning will remain the same as EVA does not take a set. It has lace-up closure which provides a good fit for your feet. Waterproof construction ensures durability and the easy care synthetic upper offers comfort and breathability.
This DuraMax rubber outsole provides turf gripping performance and durability. Designed in 4 different color variants and all of them look great. But available in a few sizes only.
You can also check our article about the best footjoy golf shoes to find out more product from Footjoy brand.
Things we liked
Waterproof construction
Comfortable and durable
Enhanced traction and gripping performance
Things that can be improved
More size option would have been better
Too narrow width might hurt your feet sometimes
Final verdict:
The quality of the shoe is very good. It's sturdy and durable and the waterproof protection saves your feet from getting wet. Be sure about the sizes before buying the narrow models because they might be too narrow for you.
10. New Balance Women's Minimus WP Waterproof Spikeless Comfort Golf Shoe
New Balance came up with technologically advanced features in this Women's waterproof golf shoes. It is composed of textile and synthetic on top and has flexible NDurance spikeless rubber sole at bottom. New Balance has used REVLite midsole which offers a lightweight ride without minimizing construction or sacrificing underfoot cushioning or stability.
Waterproof mesh provided in this shoe with ultralight FantomFit support. Shaft measures approximately low-top from arch. The sole is sturdy and provides maximum durability used in high wear areas. 3 different color options to choose from and available in several different sizes.
Things we liked
Lightweight and flexible
Sturdy
Waterproof
Things that can be improved
Not very comfortable to walk a long way
Final verdict:
It is spikeless, waterproof, lightweight, and sturdy. Waterproof protection performance is better than other shoes in this price range. It is a value for money shoes.
Buying Guide: Tips to Choose the Best Women's Golf Shoes
Shoes should reflect your personality, right? And they should match your beauty, shouldn't they? What are the factors you usually consider before buying a pair of shoes? Outlook, price, and sizes mostly. But there are few other factors you should consider too before selecting your golf shoes. Have a look at the following facts to ensure that you buy the best golf shoes:
Water Resistance
Golf courses often have variations on the ground like fairways, greens, and water hazards. And besides golf is played all over the calendar year in different corners of the world. It is wise to have an all-weather shoe, especially water-resistant ones. Else they might not be durable as expected and make you suffer in the golf course. Women's water resistant golf shoes are listed in the aforementioned analysis.
Size
Choose the best size that fits your feet and you can walk a long way with it. You won't feel comfortable with too loose or too tight shoes. If the shoes are too loose it may slip away from your feet. And if it is too tight it will hurt your feet and affect your performance a bit.
Lightweight but sturdy
As you will require to walk a good distance it will not be wise to carry heavyweight shoes. Your golf shoe should weigh light but sturdy enough to serve you for a long time. Microfiber composition is a good material for this, they are light but solid. Women's lightweight golf shoes are also there in the aforementioned review analysis.
Comfortable
Comfortable womens golf shoes are must because, all of the above you should be comfortable with what you are using. Whether its proper size or appropriate weight, sturdiness, or design you must be comfortable using it. Manufacturers have researched and found what most people feel comfortable. And most shoes are comfortable for users.
Style
Who doesn't want to look good? Ladies have a great taste of fashion and everything they wear should look good on them. Isn't it? Even the manufacturing companies know that. As a result, they offer a wide range of variants. You will find shoes of different designs and color variants. Choose a pair of golf shoes that fit your personality and your wardrobe.
Material
There are golf shoes that are made of waterproof mesh which look cute but womens leather golf shoes are best for all season. They are also durable and stylish. You may not find women's pink golf shoes in leather materials but the leather shoes look pretty good as well.
Frequently Asked Questions About Wonen's Golf Shoes
The following questions are often asked on the internet regarding women's golf shoes. Here are the responses from our experts.
What shoes do women wear golfing?
Majority of the women golfers wear golf shoes in the golf course. You can wear golf sandals as well. But note that, many of the golf courses don't allow spike shoes or sandals with heels that may damage the golf course.
Who makes the most comfortable golf shoe?
There are several brands like Callaway, Precise, TaylorMade and many more who make the most comfortable golf shoes. Comfort varies from person to person. But it is likely that shoes with comfortable materials construction will provide comfort to you.
What is the most popular golf shoe on tour?
Golf shoes like Footjoy SI, Skechers Max, ECCO S-lite are often seen on the tour. They are built with quality construction and look great on the golf course. That is why professional golfers tend to like these golf shoes a lot.
How to tell the difference between mens and womens golf shoes?
Size, style, and color options are major differences between a men's golf shoe and a women's golf shoe. There is hardly any difference in construction materials or manufacturing procedures. If you like a men's golf shoe style and find it comfortable to use, you can buy one and have a go.
Conclusion
Comfortable legs help to have a proper stance which eventually helps you swing properly. We have reviewed and listed out 10 best golf shoes that are surely comfortable for you based on their construction quality, performance, and other features. And shared some tips to choose the best shoes in the market.
Women's golf shoes aren't just enough for looking fantastic at the golf course while playing 18 holes, they also give you enough traction to stay balanced during your swing and are comfortable enough to avoid tiring your legs out. To ease your selection and get the best women's golf shoes i.e. women's leather golf shoes, women's water resistant golf shoes, women's lightweight golf shoes and comfortable women's golf shoes we did the research for you and reviewed them based on the facts you should consider before buying the best golf shoe.
And we have shared our opinion on which factors you need to focus on to do the selection on your own. I hope this article helped you. Drop any queries and we will get back to you.