Lots of laser rangefinders and pretty similar features may confuse you to choose the best golf rangefinder. If you doubt spending big on top rangefinders at the earlier stage of your golfing career then, the Wosports H111 laser rangefinder is a gadget for you. Because it has basic features like distance calculation and flag acquisition at a very affordable price.
This article is about Wosports rangefinder review. Here we will examine the golf rangefinder and analyze if it is the best value rangefinder under the $150 price tag or not.
If you are searching for such a product and unsure about the product performance, scroll down and we are sure you will find the best answer because we have spent hours to find the best answer for you.
Wosports Rangefinder Review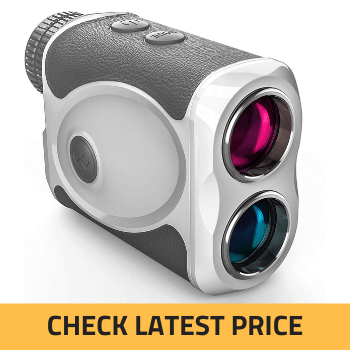 Wosports is not an old brand in golf rangefinders. They have golf rangefinders, hunting rangefinders, and trail cameras in their portfolio. And the list is growing slowly. Till now wosports have introduced 4 golf rangefinders and all of them are under the $200 price range.
Features and Performance
Producing and marketing quality rangefinders on such a budget is never an easy task. But we would say, wosports is handling the business nicely. The H111 model golf rangefinder, that we are reviewing has a recharging feature. So you need not carry extra batteries every time nor you need to worry about changing them.
Along with the rechargeable battery feature, the Wosports rangefinder offers some effective benefits in their rangefinders too. The H111 includes 6x magnification with fully multi-coated lens coatings. It makes the device durable and allows you to have a clear view of the distant object; mostly flags you are aiming.
In the package, you will get a 3.7V 750mah rechargeable lithium battery with a Convenient USB Charging cable. You can charge the device anytime and anywhere with a source of electricity. The charging port is the regular one, so, if you lose the cable by any means, no worries, you can charge the rangefinder with any similar charger.
The device has a flag locking feature. It vibrates automatically when locked onto any target. Besides, that will enjoy several modes like continuous scan, speed measurement support along distance measurement.
Here is the list of features and specifications you will have with the Wosports golf rangefinder.
Magnification: 6X
The Wosports H111 has multi-coated lens coatings
It has a Built-in Rechargeable Lithium-ion 3.7V 750mAh battery
Low Battery Indicator: Yes; you can be aware of when to charge your device
Flag-lock: Yes
Scan Mode: Yes
Water Resistant: Yes
What's in the package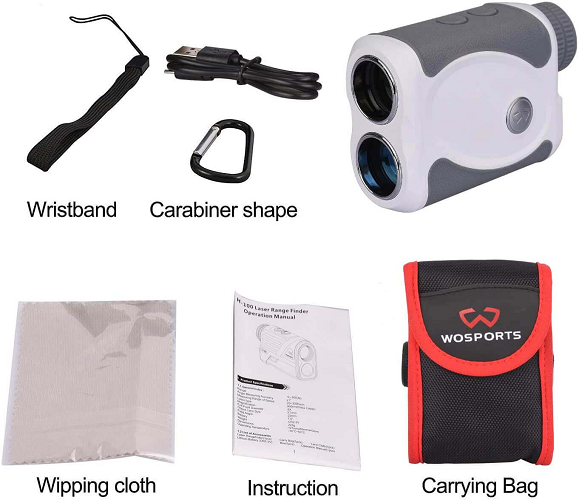 The package includes the followings:
1x rangefinder
1x carrying bag
1x carabiner shape
1x wristband
1x whipping cloth
Instruction manual
Pros
Advanced flag acquisition
The meter/yard switch works perfectly
The diopter offers better results with a perfect LCD display
Cons
Slightly difficult to operate in the early stage
Alternatives to WOSPORTS
It is hard to find rangefinders under $100 that serve the purpose of distance measurement as well as some features like slope measurement. There are very few models that match such criteria.
You May Also Like: Cheap Rangefinder
Considering the price tag and the features that provide such a quality performance, the wosports golf rangefinder is a very good choice. But if you can spend a little more to enjoy a lot more benefits then you can consider the Nikon Coolshot or Precision Pro golf nexus as alternatives to the wosports h-111 golf rangefinder. Have a look at the comparisons below:
| | | | |
| --- | --- | --- | --- |
| | | | |
| Model | Wosports H-111 | Precision Pro Golf Nexus | Nikon Coolshot |
| Magnification | 6x | 6x | 6x |
| Range | 800 yards | 400 yards | 800 yards |
| Price | | | |
Conclusion
The wosports rangefinder is a good choice for beginners to learn about rangefinders and get used to it. It has enough technology and features to serve the purpose of distance measurement as well as slope measurements. If you are not willing to spend high and need only these results then, a wosports rangefinder is recommended.