Wait! Stop! Your quest for the best value rangefinder ends here. The VPRO500S is the rangefinder that can fulfill your needs. Take a breath, and go through this article because we will be sharing why this is the best value rangefinder you can afford. Here you get a detailed review of its looks, features, performance against the price they are asking.
TecTecTec!

TecTecTec, headquartered in France, is one of those few brands on which you can rely. They have been consistent in providing quality rangefinders since 2014. They are now a top-performing brand in the list of technologically advanced but affordable golf laser rangefinders manufacturers.
TecTecTec produces not only golf rangefinders but also some different gadgets. In their portfolio, they have hunting rangefinders, action cameras, spotting scope, and many more.
For golfers, TecTecTec has GPS watches, rangefinders, and rangefinders accessories. In this article, we will be reviewing one of their most popular golf rangefinder naming the VPRO500S.
TecTecTec VPRO500S Slope Golf Rangefinder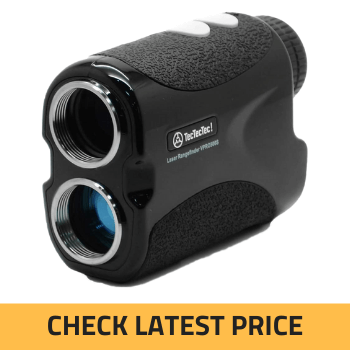 The VPRO500S slope golf rangefinder from TecTecTec is the ultimate choice for beginners. It is accurate, good-looking, and affordable. You can own this top-performing rangefinder for under $200.
What would be the best way to review a golf rangefinder? Analyzing its performance and comparing it with the price and benefits. Isn't it? We would have done the same.
This review will find out why the TecTecTec VPRO500S is a value for money rangefinder. Let's glance at the product specifications first before going further in the detailed review report.
Magnification: 6x
Range: Up to 540 yards
Technology: Pin-Slope technology
Continuous Scan Mode, First Target Priority
Weight: 6.52 oz
Dimension: 4.09 x 2.83 x 1.61 inches
Battery: CR-2 lithium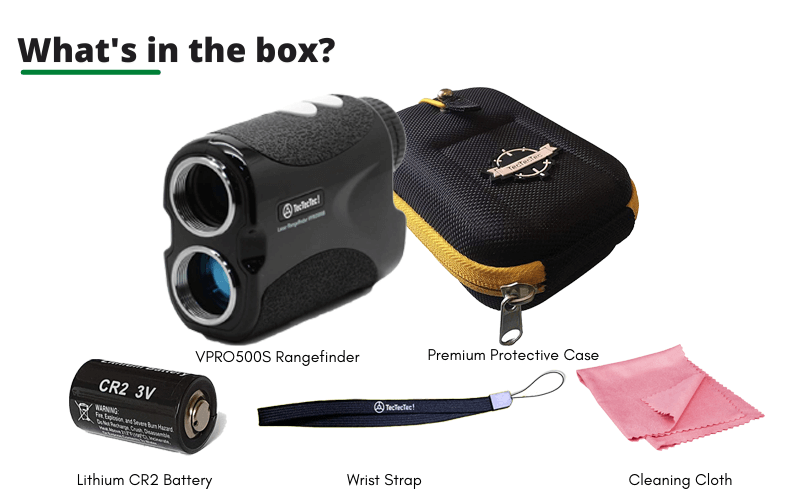 Looks
The VPRO500S has a stylish outlook. The matt finish on it looks premium and gives a premium feel as well while using it. The device is available in black color. There are no other color options available, even for the cases.
Not just the device, the shock protective case looks excellent as well. Due to its compact size design, the rangefinder sits easily in your hand. Besides, it weighs just 6.52 oz. So, you have no issues carrying it.
Performance
The performance of a rangefinder influences most in a buying decision. And this is where you will be satisfied the most. You will enjoy a clear view of up to 540 yards range with 6x magnification.
Features like advanced pin seeker mode, optional slope mode, continuous scan mode work well. You can use this rangefinder in 3 different methods. They are advanced pin seeker mode, optional slope mode, and continuous scan mode. The in-depth analysis is as follows:
Range and Accuracy
The maximum range that TecTecTec VPRO500S can cover is 540 yards. The degree is not as high as the other products like ULT-X or similar in the same price bracket. But within this limited range, the VPRO500S is capable of providing very precious distances and clear views. Moreover, you can enjoy the results within seconds. You can rely on the results.
Is the target mode for the TecTecTec rangefinder beneficial?
The TecTecTec introduced the primary target mode for its golf rangefinders. In this mode, the rangefinder uses flag seeker or pin-seeker technology that captures the closest pin ignoring the background like trees, bushes, and other distractions. Not only that can lock onto a target to get the best distance measurement with its target lock technology. This technology is beneficial, especially if your hands are shaky. 
Does the VPRO500S unit have a scan mode?
Yes, like most rangefinders, the VPRO500S also has a scan mode where you can identify hazards to avoid bunkers. This feature is named ProScan. The continuous scan mode is fast and accurate. It allows you to have a quick look and evaluate the course at a glance.
Pros
Lightweight, Portable, Rainproof
Fast and accurate results
Clear view with 6x magnification
Is TecTecTec VPRO500S legal to use in tournaments?
Although it has a slope feature, you can use TecTecTec VPRO500S but switch off the slope feature. The slope calculation is not legal to use in competitive games. For this reason, you can buy the VPRO500 instead of this one.
TecTecTec VPRO500 vs VPRO500S
TecTecTec has launched two very identical rangefinders; VPRO500 and VPRO500S. The only difference between them is the slope feature. VPRO500S has a pin slope technology; on the other hand, VPRO500 doesn't have this slope feature.
Final Remark
The latest technology and features are definitely worth purchasing, especially for under $200. Users are happy with the performance. If you are also worried about the usage of slope in the tournaments, you may buy the VPRO500, which is a similar product but lacks slope technology. Apart from this, the VPRO500S (slope) is the best rangefinder in this price range. And that is why it is one of the best selling rangefinders in the market.