A golf rangefinder can speed up your round in the golf course by helping you to precise your strokes. Searching for a rangefinder with a clear image, accurate distance reading, and portability? The TecTecTec ULT-X should be on your priority list because you will get such results in this rangefinder.
The ULT-X was first launched on November 13, 2018, by TecTecTec. You can have a clear view up to 1000 yards and pick any flag within 450 yards using its high-quality 6x magnification. Not only just viewing, but its distance readings are also very accurate.
Here you get the review of ULT-X that we arranged after our long research and colossal analysis. This review will help you find out how you can be beneficial from this golf laser rangefinder.
TecTecTec!

You must be aware of the brand TecTecTec as it's one of the best in the rangefinders industry, and you can rely on their products. TecTecTec is headquartered in France.
Since 2014, they have been consistent in providing quality rangefinders and gaining a significant customer base. TecTecTec produces golf rangefinders and some other great gadgets like hunting rangefinders, action cameras, spotting scope, and many more.
For golfers, TecTecTec has GPS watches, rangefinders, and rangefinders accessories. And their product portfolio for golfers is growing year after year. In this article, we will be reviewing their ULT-X golf rangefinder.
TecTecTec ULT-X Golf Rangefinder Review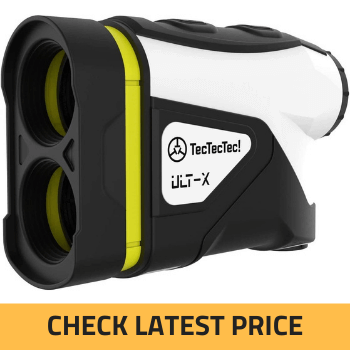 The ULT-X will satisfy you. Though it may seem overpriced to you, the performance compensates the price. The device offers many features, including slope, that will help you on the golf course.
Not just the slope or other technologies, the ULT-X rangefinder is portable, compact, waterproof, and accurate in readings. There are many reasons to own this rangefinder.
TecTecTec ULT-X is a laser rangefinder; compared to other laser rangefinders like Bushnell tour V4 shift or TecTecTec VPRO models, the ULT X is faster and more accurate.
ULT-X has a 6x magnification with a broad range of 1000+ yards and 400+ yards for maximum coverage to flag. You will get a crystal clear view of the extremely sharp and clear optics used in the ULT X.
You might be amazed by the outlook and feel of the rangefinder. The black and white body looks great. And the inside part with yellow makes it very visible when you are using the slope.
You will be enjoying three different modes with the TecTecTec ULT-X rangefinder. They are scan mode, pin-seeker mode, and slope mode. It is effortless to change the ways and get the best benefits of the rangefinder. Here is the video included for your better understanding:
What's in the box:
ULT-X Rangefinder
a pouch,
CR2-3V battery,
wrist strap,
microfiber cleaning cloth and
quick start guide for easy setup
Features and Specifications
Max Range of 1000 Yards
Optional Slope Mode, Continuous Scan Mode
Pin Seeker with Vibration Mode
Slope: Yes
Target Lock Technology
TecTecTec ULT-X vs. Bushnell Tour v4
Would you like to buy a rangefinder with fewer features but more price? Let's have a look at the golf rangefinders with similar characteristics or performance and their prices. The comparison will help make a better buying decision.
| | | | | |
| --- | --- | --- | --- | --- |
| | | | | |
| Model | TecTecTec ULT-X | Bushnell Tour V4 Shift | Leupold GX-2i3 | Precision Pro NX7 Pro |
| Max Range to Hazards | 1000 Yards | 1000 Yards | 800 Yards | 400 Yards |
| Pinsensor With vibration | ✓ | ✓ | ✓ | ✓ |
| Slope | ✓ | ✓ | ✓ | ✓ |
| Scan | ✓ | | | |
| Accuracy at 300 Yards | ±0.3 yards | ±1 yards | ±1 yards | ±1 yards |
| PinSeeker with JOLT | ✓ | | ✓ | |
| Water Resistant | ✓ | ✓ | ✓ | ✓ |
| Magnification | 6X | 6X | 6X | 6X |
| Visible Slope Switch | ✓ | | | |
Advantages
Great looking and smart design to switch on and off the slope mode
Fast and extremely accurate
Incredibly compact and pocket friendly
It is water-resistant, specially rainproof, and moisture resistant.
Disadvantages
Better image stabilization would have been better.
Frequently Asked Questions (FAQs) on Golf Rangefinders
Golfers often ask the following questions regarding golf rangefinders. You may have similar queries too. Here we list them so that you don't need to search further.
What is better, golf GPS or rangefinder?
Golf GPS is better than laser rangefinders if you play in limited golf courses and access the internet. Because golf GPS is more accurate and faster than laser rangefinders, suppose you don't have a proper internet connection and cannot download the maps. In that case, a laser rangefinder is a better option because it can measure the target without an internet connection.
If you are still confused about which one you should pick, You can check our in-depth research about golf GPS vs rangefinder.
Should I get a rangefinder with a slope?
If you are a beginner and play friendly or practice matches mostly, then the answer is a definite YES. But if you are an advanced player and participate in competitive games and tournaments, we recommend not playing with slope because it is considered illegal in most matches.
Is a rangefinder worth it for golf?
If you are passionate about improving your golfing skills, then gadgets like golf rangefinders and golf GPS are worth it. Such devices help a lot in practice. They provide necessary information along with some efficient tips and suggestions that allow a golfer to develop. You need not worry about the price. Due to technological advancement and easy access, rangefinders and GPS are available at affordable prices.
Final Words
The TecTecTec ULT-X is a value for the money. You will get all the features you should be looking for. Compared to the performance and other specifications, the price is reasonable. The pin-seeker mode has to vibrate features that help you ensure that you have locked the correct location. The slope provides precise readings, and the result is consistent. Besides, it is straightforward to switch it on and off. Overall, the TecTecTec ULT-X is highly recommended to have for a golfer, regardless of his skillset.