Between branded expensive rangefinders or inexpensive and relatively new brands, what would be your pick? If you are likely to select the second category, then the precision pro nx9 should take a position on your choice list. This article will illustrate why NX9 is an excellent competition for rangefinders like the Bushnell Tour series (Bushnell Tour V4, Bushnell Tour V5) and the Garmin Z series (Garmin Approach Z82).
Precision Pro Golf is known for producing the best-value golf rangefinders. The NX9 is the latest edition in their portfolio. It is a laser rangefinder that has 6x magnification with a 400-yard range. The features are lucrative, but the question is, how does it perform? We will be reviewing its performance in this article.
Precision Pro NX9 Review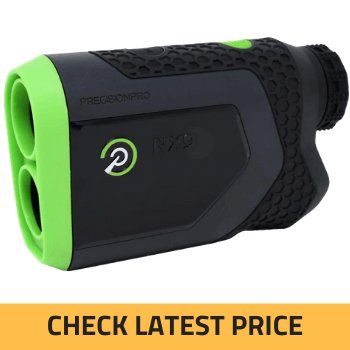 From 2013 to date, precision pro made a mark among golfers. There was a time when rangefinders were expensive, and it was hard for golfers who had a low budget for such accessories.
Clay Hood and Jonah Mytro, two avid golfers, then came up with a vision of providing rangefinders in a comparatively lower price range. They formed an institute and named it Precision Pro Golf. Golf rangefinder models like NX7, Nexus, and NX9 became favorite golf rangefinders to many golfers produced by the precision pro.
The Precision Pro Golf NX9 is available in 2 variants. One includes slope calculation, and the other excludes such features to make the rangefinder more authentic for tournaments. The building quality of NX9 may also amaze you as it is built with a brighter and high definition resolution.
Nevertheless, the shockproof magnetic design might surprise you along with the magnetic cart mount. You can easily attach your rangefinder to the cart and move on. Such features are convenient and make the device a lot more portable to use.
Let's dig into the performance analysis of NX9 with loads of features.
Performance: fast, clear, and accurate
You will enjoy 6x magnification with a range of 400-yard range capacity. Though the range is not up to the mark considering other top quality rangefinders, the accuracy compensates the range. The NX9 displays 1/10-yard measurements with adaptive slope technology. You can switch off the slope mode in the NX9 slope model, too, and use it in the tournaments. Yes, after switching off, it will be legal in matches.
If you want any suggestions about its accuracy, we would like to assure you that you can rely on the accuracy of the NX9. not just the accuracy; it's fast and transparent too. The performance of the NX9 golf rangefinder will make you feel confident. And such interpretation is a result of some effective technologies behind the device. Here are they:
Techs behind such performance
Pulse Vibration Technology
Confidence to know you hit your desired target. The rangefinder gives a short vibration after successfully measuring the distance to let you know the number on display is the right one.
Magnet Grip Technology
You can secure your NX9 HD laser rangefinder to your golf cart as it has a built-in magnet so that your rangefinder is always within easy reach for every shot.
Adaptive slope feature
Slope measurement helps golfers improve their performance immensely. But it is considered unethical in many tournaments, as the USGA declared it illegal. But the NX9 pro rangefinder offers an adaptive slope. That allows you to switch on and off the slope mode according to your need and make this rangefinder tournament legal.
Additional features
Apart from these technologies and slope features, the precision pro nx9 HD slope rangefinder provides some valuable features. They are as mentioned:
Measures in Yards and Meters
+/- 1 Yard Accuracy
6x Magnification
Water-Resistant
400 Yard Measurements
What else in the package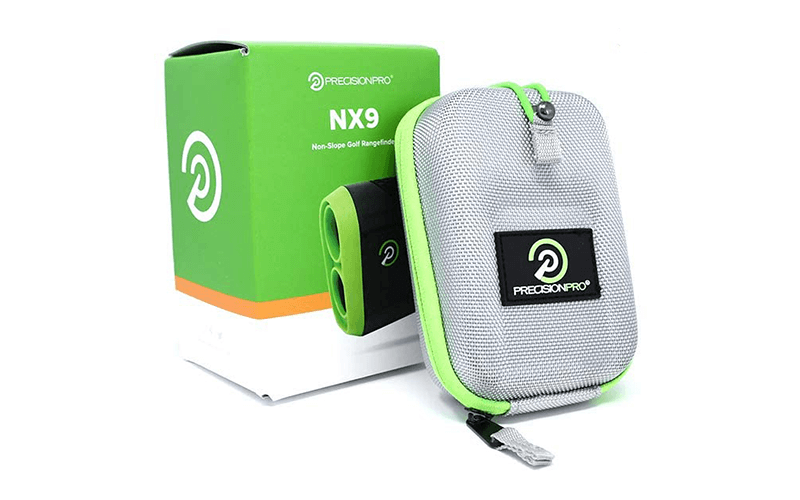 Along with these lucrative features, the precision pro offers a lot in the package too. You will get the followings with the NX9 rangefinder device in the box:
Premium Hard Carrying Case
CR2 3v Battery
Instruction Manual
Lanyard
Cleaning Cloth
Pros
6x magnification with clear optics
Slope adaptive technology
Magnetic Grip
Cons
Limited to 400-yard range
Alternatives to Precision Pro NX9
Under the $300 price bracket, precision pro NX9 is one of the best. And its best competitors are TecTecTec ULT-X and Bushnell Tour V5. you can check out the detailed review of these models on our site. Meanwhile, here is a glimpse of the differences:
| | | | |
| --- | --- | --- | --- |
| | | | |
| Model | Precision Pro NX9 | TecTecTec ULT-X | Bushnell Tour V5 |
| Magnification | 6x | 6x | 6x |
| Pin seeking/ Target locking | ✓ | ✓ | ✓ |
| Target locking distance and total range | Locks target up to 400- yard and a total range of 1000 yards | Locks target up to 600- yard and a whole range of 1000 yards | Locks target up to 450- yard and a full range of 1300 yards |
| Slope measurement | Adaptive Slope | Yes, and you can turn it off | No slope |
| Price | | | |
Final Verdict
What features are a must in a laser rangefinder buying criteria? We say looks, price, performance with accuracy, and technological advancement. The precision pro nx9 has all of these. If you want the best golf rangefinder in a segment of the 400-yard range and under the $300 price tag, then the nx9 rangefinder will be on top of our recommendations.