Golf rangefinders can be a great asset in the golf course to reduce your stroke and win the match. A low-quality rangefinder can do the opposite as well, resulting in a bogey instead of a birdie or par. If you are searching for the best golf rangefinder but not sure about the budgetary ones, Precision Pro Golf is there to help. Precision Pro has been working relentlessly since 2013, to provide the best quality rangefinders at an affordable price.
Precision Pro NX7 Review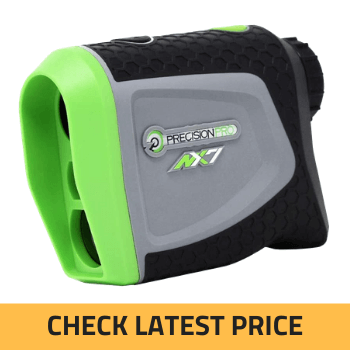 In 2013, Precision Pro Golf started its journey with a vision of providing golf rangefinders at a much lower price than the competitors. The high cost of rangefinders hinders the average golfer who would love to improve their gameplay. By 2021, precision golf is very much successful in its vision. If you list out the best laser rangefinders for the money, precision golf will surely make a mark on that list.
In the last few years, precision has introduced a couple of rangefinder models. The NX7 is a remarkable one among them. You will enjoy features and performance like the Bushnell Tour V4 in the NX7, which too at almost half price. Sounds good? Here is the explanation.
Performance: fast, clear, and accurate
The NX7 Pro is a redesigned model by Precision Pro Golf for better accuracy and user-friendliness. It gives accurate distances on any surface such as flat and slope using it. As a result, you will be able to predict the better club for a perfect swing based on the situation.
The NX7 has a 600-yard capacity with a plus or minus one-yard distance reading accuracy. Additionally, you can switch the reading metrics within a second. Also, the 6x magnification optics provides a clear and detailed view up to the 600-yard range.
Techs behind such performance: target acquisition and pulse vibration
Precision Pro NX7 has a similar feature like pin-seeker that gives a vibrating signal when it locks on to any flag. Precision Golf named this technology "target acquisition technology." So, you need not bother if you have a shaky hand. With this feature, you will feel confident that you have measured the correct flag. 
Adaptive slope feature
The NX7 pro golf laser rangefinder has an adaptive slope. It helps golfers improve their performance immensely. Slope measurement is illegal in many tournaments. Even USGA declared it illegal. But the NX7 pro rangefinder offers an adaptive slope. That allows you to switch on and off the slope mode according to your need and make this rangefinder tournament legal.
We recommend you be very sure about the legal issues prior to carrying this in any tournaments.
Additional features
Apart from these technologies and slope features, the precision pro golf NX7 provides some valuable features too. They are as mentioned:
Measures in Yards and Meters
+/- 1 Yard Accuracy
6x Magnification
Water and Fog Resistant
Protection Plan
600 Yard Measurements
What is in the package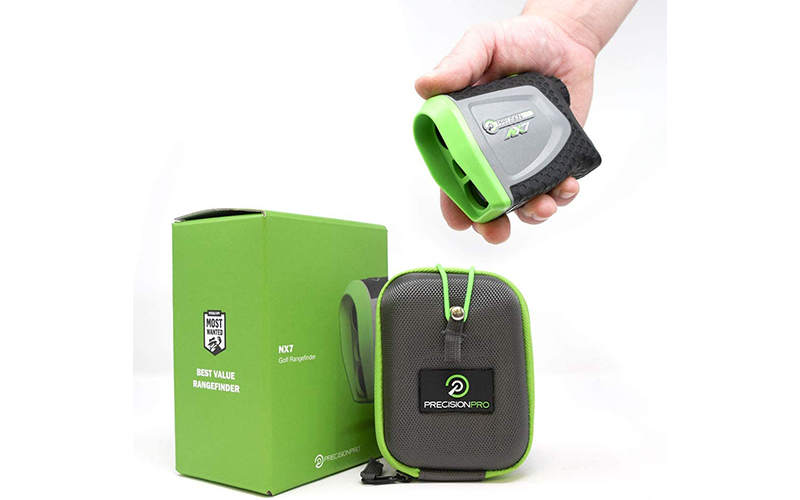 Along with these lucrative features, the precision pro offers a lot in the package too. You will get the followings with the NX7 pro rangefinder package:
NX7 Pro Slope Golf Rangefinder
Premium Hard Carrying Case
CR2 3v Battery
Instruction Manual
Lanyard
Cleaning Cloth
Pros
Provides fast, clear, and accurate results.
Doesn't cost much despite many essential features.
Water and Fog Resistant.
Cons
Bulky in shape than most rangefinders
Alternatives
It is a challenging task to find out a top-quality rangefinder. Because there are lots of brands and models available. Choosing among them gets a little confusing sometimes. Considering that, if you are not satisfied with the precision pro NX7, then you may consider the TecTecTec VPRO 500 in a similar price range. This model has similar features as well. And provides a standard performance at the same time.
Buy Precision Pro Golf NX7 Now!
Final Verdict
If you are searching for a budgetary rangefinder that performs amazing with accuracy, the NX7 is highly recommended. Despite the low price, it does not feel cheap in hand. It looks standard and feels good in the hand, too. The readings are very accurate. And it offers features that you would require in a tournament match.
Drop your comment on the Precision pro NX7 and let us know if we missed out on any crucial information to share.