Inexpensive rangefinders don't mean cheap quality. PEAKPULSE golf laser rangefinder is the best example to prove it.
If you are in quest of top-quality, affordable golf laser rangefinders, then the peakpulse 6Pro is a model you can try. This rangefinder also made a place in our ten best golf rangefinder list. The PEAKPULSE 6pro has features like slope measurement, fast-focus, and flag acquisition that too in a budget of less than $150.
The brand PEAKPULSE is not a familiar name among the golf community. But they are producing some top-quality golf DMDs like rangefinders, and GPS watches in recent years. And the performance is worth making into the top chart.
Let's scroll down to find out its performance review and find out whether you should own one or not.
Peakpulse Rangefinder Review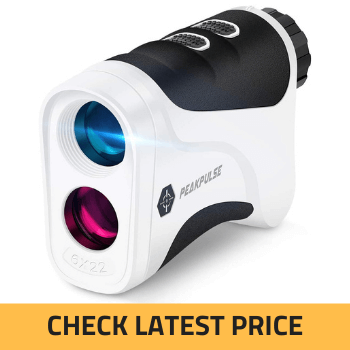 The Peakpulse 6 golf rangefinder is available in 2 different variants. The slope variant is named 6Pro, and the non-slope variant is called 6S. Other than the slope, the rest features are the same. But you need not worry much about the models, and if you need slope calculation occasionally, you can have 6Pro. Because it has a slope switch technology that lets you switch it off when not required.
Apart from the slope measurement, the PEAKPULSE rangefinder offers some other features like fast focus and flag acquisition. They are equally very effective in helping golfers grow. The 6x magnification is a great assist in providing a precise view of the course. You will get accurate distance readings to +/- 1 yard. 
The PEAKPULSE is a good choice for less than 500 yards target. Its accurate, consistent, and affordable. Here is the list of items that you will get in the box.
What's in the package
1x 6Pro Golf Laser Rangefinder
1x Carrying Case
1x CR2 Battery
1x Instruction Manual
1x Lanyard, and
1x Cleaning Cloth
Features
The peakpulse rangefinder model we are discussing has some fantastic features. Now, we will be demonstrating how these features can benefit you.
Flag Acquisition Technology
It is a challenging task to lock your aim with a rangefinder if you have shaky hands. Then comes the flag acquisition technology to help you. With this feature, it is elementary to lock your target to the flag because it automatically recognizes the flag and locks the target on behalf of you. You may doubt whether it chose the right flag or not, don't worry; the peakpulse golf laser rangefinder has pulse vibration technology as well. And so you will get vibration alert if it locks any target.
Fast Focus System
Focusing has never been as easy as the Peakpulse golf laser rangefinder. Turn the eyepiece, and it starts focusing better. As a result, it won't be an issue even if you have the glasses on. 
Slope Technology
Slope measurement needs no introduction. The importance of slope calculation in golf can't describe enough in words. The slope helps to measure the actual distance, considering the incline and decline of the golf course. And the slope measurement enables you to hit your stroke close to the target.
Pros
Sturdy and durable
Excellent magnification (6x)
Ergonomic Design
Comfortable to use
Buy PEAKPULSE Golf Rangefinder Now!
Alternatives: You Can Consider
It is hard to find rangefinders that serve the purpose of distance measurement features with slope calculation at an affordable price tag. There are very few models that match such criteria. Considering the price tag and the features that provide such a quality performance, the peakpulse golf rangefinder is a very good choice.
But if you can spend a little more to enjoy a lot more benefits then you can consider the Nikon Coolshot or Precision Pro golf nexus as alternatives to the peakpulse. Have a look at the comparisons below:
| | | | |
| --- | --- | --- | --- |
| | | | |
| Model | Peakpulse | Precision Pro Golf Nexus | Nikon Coolshot |
| Magnification | 6x | 6x | 6x |
| Range | 500 yards | 400 yards | 800 yards |
| Slope | Yes | No | Yes |
| Price | | | |
Conclusion
If you are not likely to spend big on golf rangefinders, then the peakpulse 6S or 6pro is recommended for you. But if you can spend a little more, then precision pro nexus is a proven rangefinder over the years.
After precision pro golf, the peakpulse is another brand that is providing some top-quality laser rangefinders in a more affordable price range. The 6 pro from peakpulse has enough features to help you play golf with accurate distance readings and minimal features like fast focus and flag acquisition.
We have spent hours peakpulse rangefinder review and gathered the required information for you. If we missed out any, drop a comment below, and we will ensure the best answer to your queries.