Carrying a rangefinder can be troublesome for many of us. The best golf rangefinder manufacturers must have identified that and been working for it. The magnetic bite technology from Bushnell is a great innovation in this regard.
But how would you carry the rangefinder when you don't have any magnetic source nearby you? Nikon has come up with an idea to design the rangefinder in a smaller size to fit in your pocket. And it is a great solution to rangefinder portability.
If you are searching for a budget-friendly, lightweight, and compact size rangefinder that gives accurate yardage, then the Nikon Coolshot 20 GII is the perfect find for you. It is small in size and you can easily carry it in your hand and in your pocket as well. And definitely an affordable price tag.
Related: Cheap Rangefinder
But, how does the coolshot 20 gii perform? We will be reviewing that in this article and help you decide whether you should invest in this rangefinder or not. Stay with us.
Nikon Coolshot 20 GII Review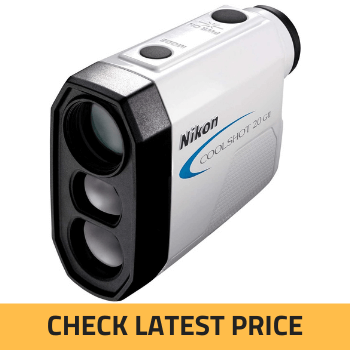 Nikon is a hundred years old brand known for its optics and lenses. They have been involved in the golf industry for some years now. And the Coolshot 20 GII laser rangefinder is the latest contribution from Nikon in the golf industry.
The Nikon coolshot 20 gii golf laser rangefinder is constructed with 6x optical monocular with multilayer coating. This feature ensures that you have a clear and bright image ranging nearly 800-yards. Its laser technology provides precise distance measurements with an accuracy of +/- 2 yards. The device also features an eyepiece focus diopter and long eye relief. That benefits you to focus on your own exact vision and allows you to use the device with sunglasses or eyeglasses.
The best feature about the Nikon Coolshot is the lightness of it. You will hardly feel it carrying in your pocket. You can make the rangefinder fit in your hands by its ergonomic design. Besides, the case isn't too noticeable on the side of your bag. Instead of the magnetic attachment, this rangefinder offers a velcro strap. Magnetic attachment feature with the velcro strap bag would have been a great option to have.
Apart from the build quality, the coolshot 20 GII offers some effective features to ensure the performance of the rangefinder. For example:
First Target Priority Mode
The GII automatically grabs the closest target, mostly flags avoiding backgrounds like trees. It is fast and found quite accurate in reading the distance. But you can find the range of other objects like hills, trees, bunkers, lakes, golf carts, and many more with this device. While finding the distance of a desired object, you won't not need satellites or reflectors.
Easy setup and use
You will get the rangefinder in a ready-to-use condition. There is nothing really challenging to set up the device. Once you switch on the rangefinder, you are ready to measure the distance. Just point on your target and press the PWR ON button to know the distance. Enjoy the following video and you can use the device within a minute.
What is in the box
The box includes the following
Nikon Coolshot rangefinder
A carrying case,
Pros
Compact and ergonomic design
First target priority mode
6x optical monocular
Easy to use
Cons
No magnetic attach system
No target locking vibration alert
Alternatives to Nikon Coolshot 20 GII
There are lots of rangefinders available in the market with similar features. But the performance is different along with the price. Nikon Coolshot is found as the most favorite under the $200 price segment. Yet if you don't like anything about the Nikon coolshot 20 GII, you shall check our review on Callaway 300 Pro and Precision Pro NX9. These models are recommended too in this price and performance segment. Here is a summary of their features:
| | | | |
| --- | --- | --- | --- |
| | | | |
| Model | Callaway 300 Pro | Nikon Coolshot 20 GII | Precision Pro NX9 |
| Magnification | 7x | 6x | 6x |
| Range | 1200 yards | 800 yards | 400 yards |
| Accuracy | +/- 1 yard | +/- 2 yards | +/- 1 yard |
| Slope | Yes | No | Yes |
| Price | | | |
Final Verdict
Distance measuring system becomes easy when you have a rangefinder. And using a rangefinder becomes easier when you can set it up easily. Nikon coolshot gives you exactly that advantage. And also you get accurate data here that is a must for a rangefinder. Recommended for its high quality and easy to use features.