Ease your life on a golf course with a rangefinder. It helps you by sharing important information and suggestions like a coach to improve your performance at the beginning of your career. The advanced technology like GPS or laser used in the golf rangefinders are capable of providing very accurate results on metrics like total distance, loft angle, slope distance, etc. You will find some top quality rangefinders that will help you by suggesting the best club for the stroke. Moreover, using a rangefinder is as easy as you would want.
You can't ignore the effectiveness of using a golf rangefinder, once you have experienced it. Golf Rangefinders helps to know the distance needed to hit and select the best club for that. Not only the distance, you can explore the wind impact, slope calculation and many more. Though most of the features are not allowed in competitive golf, you can use these features in your practice to improve your game.
Now, the question arises, what technology is used in rangefinders, is it trustworthy, and how it helps you as a golfer? You will get to know all this in-depth information along with a list of top rangefinders brands. Without further delay, let's learn more about it.
Golf Rangefinders and Its Classification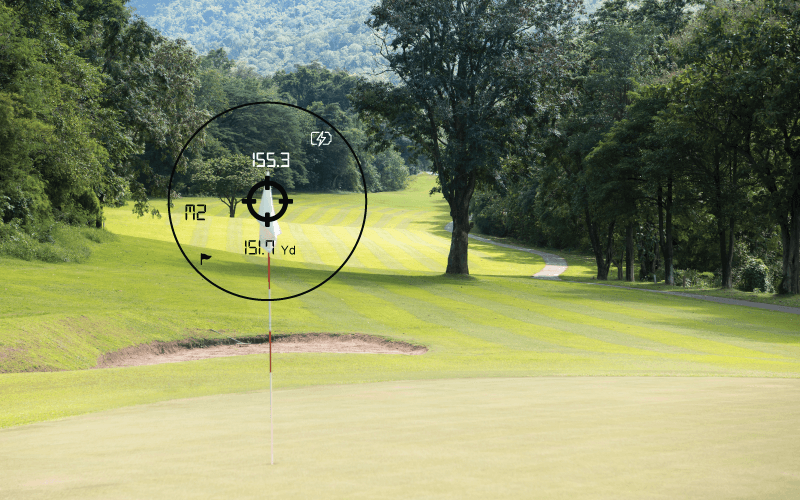 A golf rangefinder is a small handycam-like device that works as a distance measuring gadget for golfers. You can use this gadget in practices as well as in competitive tournaments, because USGA has allowed its use. A rangefinder works using laser beam or GPS technology to calculate the distance from point A to point B.
Golf rangefinders use pin-seeker technology to set the flag as a target, and laser beam or GPS (sometimes both) is used to do the measurements. In Golf, with the help of a rangefinder, you can understand which golf club to use for better performance. Modern rangefinders suggest the best club for the stroke itself too.
There are 2 significant classifications in rangefinders based on the technologies it uses. They are named as laser rangefinder, GPS rangefinder.
How Does a Golf Rangefinder Work
Laser rangefinders and GPS rangefinders work differently. The laser rangefinder works using laser beam technology, and the GPS rangefinder works with the help of preloaded GPS maps. Both types of rangefinders have this. Besides this, there are some devices that have the slope technology to help you get better output.
Laser Rangefinder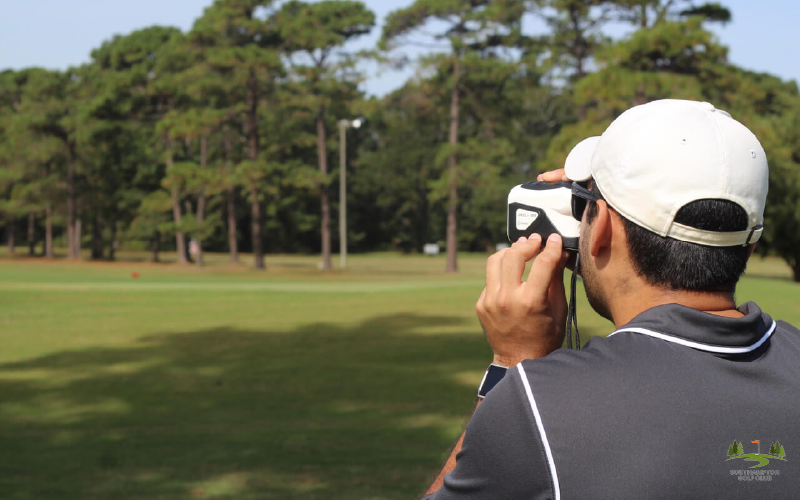 The laser rangefinder uses an infrared laser beam to calculate distance. This is the most popular type of rangefinder among golfers. Because it is very easy to use and can be accessed on any golf course. You can rely on the results of a laser rangefinder because the top-quality laser rangefinders can provide you with accurate results.
How can a laser rangefinder benefit you?
You can use it easily
Laser rangefinders can give accurate results
You can use laser rangefinders almost everywhere
No internet connection required to operate a laser rangefinder
GPS Rangefinder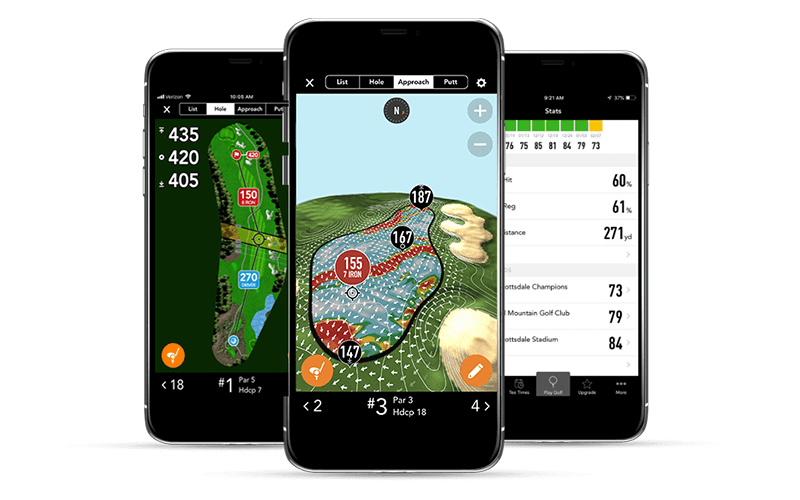 Another top-selling type of golf rangefinder is the GPS rangefinder. It uses GPS technology to calculate the distance. As it uses preloaded maps to calculate the distance, GPS rangefinders can provide faster and more accurate results than laser rangefinders. But GPS golf rangefinders have some shortfalls too. You can't use it unless you have downloaded the map of the golf course. But this will improve in the future as the technologies are advancing forward.
How can a GPS rangefinder benefit you?
You can get faster outputs than laser golf rangefinders
You will get more accurate readings as it uses GPS technology
Drawbacks of GPS rangefinder
Require preloaded maps
Needs internet connection to download any new map
Can not be used in every golf course
How Golf Rangefinder Mechanism Can Help You More
The mechanism behind such accurate and fast output from golf rangefinders consists of laser beam technology or GPS technology and sometimes both. When both GPS and Laser can be used in a golf rangefinder, it is named hybrid golf rangefinder.
Apart from measuring distance, modern rangefinders can analyze and provide some other information using technologies like slope technology, jolt technology, magnification, auto-target acquisition, etc. Knowing these technologies will help you understand how a rangefinder works, why it can produce accurate results, and things you should consider before buying any golf rangefinder.
Calculating slope distance
Slope is a mathematical term that means the steepness of a line. You can check the tutorial video on the slope from VirtualNerd for a better understanding of the term. This technology helps to measure the actual distance caused by ups and downs of curved golf course fields.
Besides the straight line distance while playing a ground shot and flighted shot distance will never be the same. Your strokes on the golf course will not be like a straight line rather it would be like an arc, putt can be an exception here. This is when the slope calculation takes place.
Slope calculation helps a lot in having a better idea of the power and club needed to reach your goal. You may use this feature in regular gameplay or in practice sessions but not in the competitive matches. Use of slope is not legal. Rangefinders like Bushnell Tour V4 and Pro X2 and Precision Pro Golf NX7 Pro have this feature.
Magnifying your view
Magnification technology is the zooming technology in reality. This technology helps you to see distant targets clearly and easily. The latest rangefinders offer a 7x magnification feature, whereas 5x magnification is quite a normal scenario in other rangefinders. If your rangefinder doesn't have such a feature, we recommend you to own one with this feature.
Locking your target with pin-seeking jolt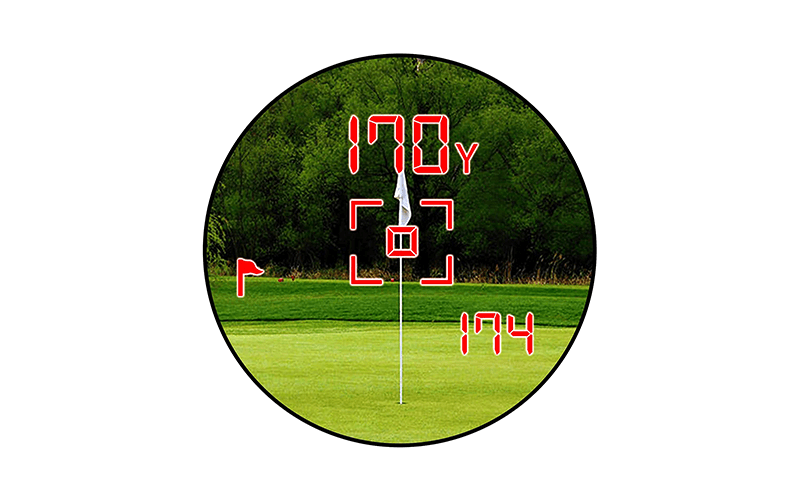 Pin-seeking jolt technology plays a crucial role in calculating the distance in rangefinders. The pin-seeking technology helps to lock the target properly so that the device can do the calculation with better accuracy.
Now you know how a golf rangefinder works and what technologies work behind it. These technologies help you determine the distance of a target and a few models of rangefinders suggest the ideal club to cover the distance. But executing a stroke properly to get the desired output depends on your skillset. So, should you have it or not?
Should You Have a Rangefinder?
The answer is 'Yes'. You should have a golf rangefinder regardless of your skillset. Though rangefinders are a great assist for beginners, professionals may need them on several occasions too. Knowing the distance prior to playing a shot is an added advantage for a player to execute the shot perfectly. Additionally, carrying a rangefinder is considered legal in recent days, according to the report of the golf news. So, the advantage should be taken when available. isn't it? You can learn about its use from our dedicated post on how to use a rangefinder.
If our explanation satisfies you then you must be looking for the best of the rangefinders. Here we go. 
Related: Cheap Rangefinder
List of Top-ranking Rangefinders Brands
There are a lot of models of several brands available in the market. But here we list out the top 5 rangefinders that will benefit you the most.
| Model | Slope | Magnification | Other major technology | Price |
| --- | --- | --- | --- | --- |
| Bushnell Pro X2 | Yes | 5x | Pin-seeking | |
| Precision Pro Golf, NX7 | Yes | 6x | Precise | |
| Bushnell Tour V4 | No | 5x | Jolt | |
| TecTecTec VPRO500 | No | 6x | Advanced Pin-seeker | |
| Nikon Coolshot Pro Stabilized | Yes | 6x | Pin locking | |
Conclusion
A rangefinder is a great assist for beginners to practice and have an idea of the distance they play and learn which club is best for such a stroke. Apart from that, you can always take help of it to improve your gameplay. Rangefinders with the latest technologies like slope, magnification, and pin-seeking are pretty accurate to rely on them.