There are hardly any golfers who don't know about Callaway Golf. It is known for golf clubs like drivers, putters, wedges, etc., and golf balls. But you might be surprised to know that Callaway introduced laser rangefinders to their portfolio in a few years.
Callaway is consistent in bringing the golfers' best technology in their golf clubs, especially in drivers. Among top brands of golf laser rangefinders, let's find out how Callaway performs in this industry. It is a very demanding question nowadays. We will be answering such questions as we will review the Callaway 300 Pro Golf laser rangefinder in this article.
Callaway 300 Pro Review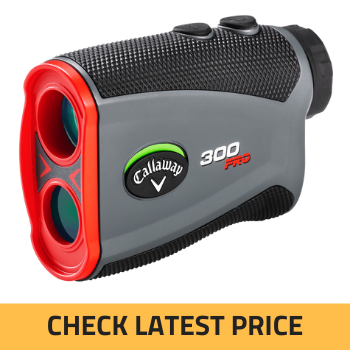 You can maximize your game with the Callaway Golf 300 Pro. The importance of a laser rangefinder in golf needs no introduction. And if the rangefinder consists of pin acquisition features, pulse confirmation with 6x magnification, what else would you need?
The Callaway 300 Pro provides superior accuracy in a comprehensive range of 5-1000 yards with such features. Not just yards, you can measure the distance in meters too. Additionally, you can switch on and off the slope calculation on demand. Due to this specialty, the Callaway 300 pro rangefinder is tournament legal when the slope is not in use.
With the rangefinder, here is the list of items you shall get in the package:
Callaway 300 pro golf laser rangefinder with slope measurement
a premium molded hard case
a convenient elastic band connector
Let's find out the detailed review analysis.
Features of Callaway 300 pro golf laser rangefinder
Callaway provided some advantageous features like slope measurement, maximum magnification with Pin acquisition technology, and so on. Have a look on these features and how it benefits you.
Precise Slope Measurement: you can calculate the angle of incline and decline and find out slope adjusted distance for more precise accuracy with the Callaway 300 pro. It shows very accurate readings, including the slope calculation. You can switch it off when needed if the tournament disallows slope calculation.
Pin Acquisition Technology: Like the Pin-seeker technology from Bushnell golf, Callaway has similar technology. And it is named Pin Acquisition Technology, also known as P.A.T. Additionally, the laser rangefinder will send a signal (burst vibration) when it locks on to any target. You can lock your target using this feature up to 300 yards with the Callaway 300 pro.
Maximum Magnification: you will be enjoying maximum magnification with the Callaway 300 Pro as it offers 6x magnification. There are very few laser rangefinders that provide more than 6x magnification
Advantages and Disadvantages of Callaway 300 Rangefinder
Advantages
Slope Measurement can be switched off and make this DMD tournament legal.
Manage Multiple Targets
Water and fog-proof
Disadvantages
Locks target within 300 yards only
Non-rechargeable batteries
FAQs on Callaway 300 Pro Golf Laser Rangefinder
Here is the list of questions that are often asked on different platforms of the internet. We spend hours sorting them and come up with the best answers so that you can have all your queries answered in one article.
Can the slope function be turned off for tournaments in Callaway 300?
You can turn off the slope feature in Callaway 300 rangefinder. It is straightforward to change the slope status and make this device tournament legal. You need to hold the mode button for a few seconds to switch on and off the slope.
Is Callaway 300 waterproof?
Yes, Callaway 300 rangefinder is waterproof. This model is fog-proof as well. You can continue to play golf during rainstorms or fog because the Callaway 300 is built with high-quality plastic materials. As a result, it ensures a tremendous exterior body performance.
Does the Callaway Pro 300 have a power turn-on and off switch?
Unlike most laser rangefinders, the Callaway pro 300 does not have any power button. The device automatically shuts down if you keep the device inactive for more than 10 seconds. The best factor in such a feature is it preserves the power and allows you to use the rangefinder for a more extended period. Simply press the mode button to start the device when it is automatically shut.
Is this rangefinder battery rechargeable?
The Callaway 300 comes with a replaceable CR2 battery, which is not rechargeable. The battery lasts enough that you can complete your round of play. But this is a disadvantage too.
Alternatives That You Can Consider
If you are looking for similar rangefinders as an alternative, you can consider the Nikon Coolshot 20i GII Golf Laser Slope Rangefinder or PEAK PULSE Golf Laser Rangefinder. These models are available in the same price bracket and consist of very similar features but different performance and outlook.
Model

Callaway 300 Pro

Nikon Coolshot 20 GII

PEAKPULSE Golf Laser
Rangefinder

Magnification

6x

6x

6x

Range

5-1000 yards

6-800 yards

6-400 yards

Slope

Yes

Yes

Yes, different variants available

Target locking

Up to 300 yards

No target locking

Up to 600 yards

Price
Final Verdict
Considering the price and comparing it to the other models, the Callaway 300 pro golf laser rangefinder stands apart from the rest. There is hardly any better laser rangefinder under the